In life every person has to face some past memories, some memories are sweet and some are bitter. Sweet memories never die and make a man rejuvenate when he is in gloomy mood and sometime he gets inspiration by recalling these memories. Some memories relate to person like friends, family, loved ones and some memories are of places you visited. Here are some Poems About Happy Memories as well memories with friends.
Poems About Memories of Childhood
The Return
by John Burroughs
He sought the old scenes with eager feet 
The scenes he had known as a boy;
"Oh, for a draught of those fountains sweet,
And a taste of that vanished joy!"
He roamed the fields, he wooed the streams,
His schoolboy paths essayed to trace;
The orchard ways recalled his dreams,
The hills were like his mother's face.
O sad, sad hills! O cold, cold hearth!
In sorrow he learned this truth 
One may return to the place of his birth,
He cannot go back to his youth.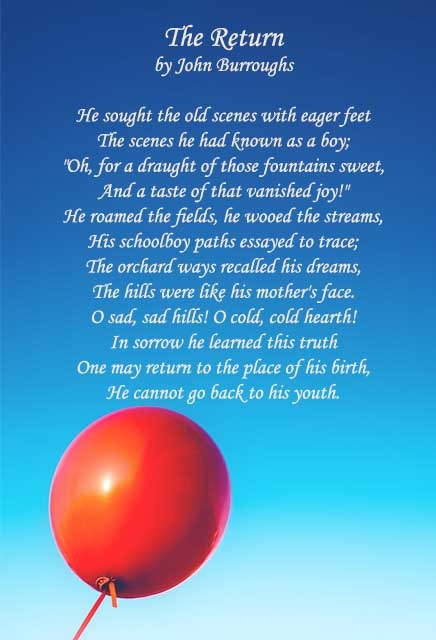 ****—-****—-****
The Old-Time Fire
by Samuel Harden
"Talk about yer buildin's
That's het up by steam
Give me the old oak fire
Where the old folks used to dream.
"The rickety dog-irons,
One-sided as could be;
The ashes banked with 'taters
That was roastin' there fer me.
"The dog on one side, drowsin', Or barkin' near the door;
The kitten cuttin' capers With the knittin' on the floor.
"An' me a little tow head
By mammy's side at night;
With both my cheeks a-burnin'
From the red flames leapin bright.
"These steam-het buildin's make me
Jest weary fer the blaze
That was heap more comfortable
In my childhood's nights and days.
"An I'd give the finest heater
In the buildin's het by steam
Fer the old-time chimbley corner
Where the old folks used to dream."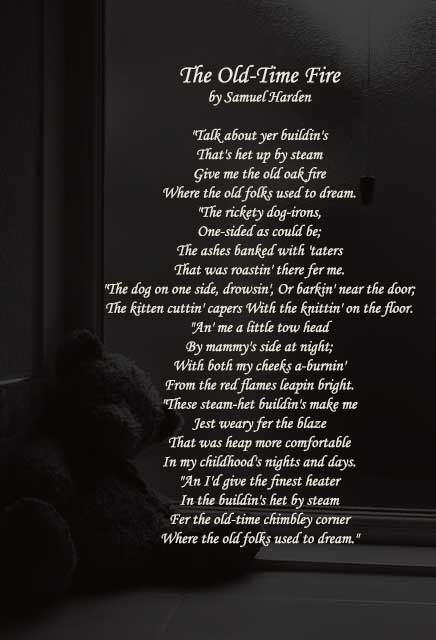 ****—-****—-****
The Old Homestead
by William Henry Venable
Enshrined among roses
The Homestead reposes
With vines mantled o'er;
Ground-ivy and clover
Are running all over
The stone at the door.
Pinks, lilies, are blowing,
Blue violets showing
Gold hearts to the June;
Bees going and coming
Keep evermore humming
Their Hyblean tune.
'Twas here that I wasted
Youth's flower and tasted
Love's first honey-dew;
A boy here I slumbered,
By care unencumbered,
Long, balmy nights through.
The wood-birds each morning
Gave musical warning
For shadows to fly;
Their rhapsody choral
Foretold the auroral
First flush of the sky.
With rising emotion
Akin to devotion
The scene I behold;
With fond recollections
Of tender affections
Too sweet to be told.
****—-****—-****
I Remember, I Remember
by Thomas Hood
I remember, I remember,
The house where I was born,
The little window where the sun
Came peeping in at morn;
He never came a wink too soon,
Nor brought too long a day,
But now, I often wish the night
Had borne my breath away!
I remember, I remember,
The roses, red and white,
The vi'lets, and the lily-cups,
Those flowers made of light!
The lilacs where the robin built,
And where my brother set
The laburnum on his birthday,
The tree is living yet!
I remember, I remember,
Where I was used to swing,
And thought the air must rush as fresh
To swallows on the wing;
My spirit flew in feathers then,
That is so heavy now,
And summer pools could hardly cool
The fever on my brow!
I remember, I remember,
The fir trees dark and high;
I used to think their slender tops
Were close against the sky:
It was a childish ignorance,
But now 'tis little joy
To know I'm farther off from heav'n
Than when I was a boy.
****—-****—-****
Excerpt From "The Young Artist"
by Hannah Flagg Gould
Sister, gather the buds of Spring,
All dewy and bright, as they're opening!
Treasure them up from the frost and blight,
For a lowering day and a starless night;
And they will be fresh in thy bosom still,
When all without may be dark and chill.
Another will seek to be crowned by thee
Lord of thy heart and thy destiny!
Thou may'st bestow, in thy riper years,
Laurels to water with daily tears.
Then will memory love to come
Through mist and shade, to thine early home,
Within the halo that brightly beams
Around the scene of thine infant dreams.
Again thou wilt playfully sit, and look
On the artless sketch of thy brother's book,
And own no moment of earthly bliss
So pure, so holy, and sweet as this!
****—-****—-****
The Place Where I Was Born
by James W. Whilt
There's a little old log cabin,
And its walls have fallen down,
Snow has broken down its rafters,
Not one log that's left is sound.
The brush obscures the doorway,
Everything looks so forlorn,
'Tis the little old log cabin,
The place where I was born
Briers o'errun the pathway
Which leads to the crystal spring,
That cradled the tiny brooklet
Where the oriole used to sing.
The hills are fields and pastures
Where I roamed when but a child;
It was all unbroken forest,
And it stretched out far and wild.
The meadows ran in wavelets,
When the wind so wild and free
Blew o'er their level surface
Like a green and billowy sea.
There was childhood's shout and laughter
Within that cabin small;
But to me it was a palace,
With wide and stately hall.
Our pleasures there were sweeter
Than a rose without a thorn,
In that little old log cabin,
The place where I was born.
Oh! the little old log cabin!
Where the air was sweet and cool,
Where our school-house was the forest,
And we went to Nature's school;
Could I but re-trace my footsteps
Over life's uncertain road,
Could I go back to that cabin,
Lighter far would be my load.
****—-****—-****
Home Memories
by Kate Slaughter McKinney
I am thinking of a cottage
Where the roses used to bloom,
How they talked beside the pavement
In low whispers of perfume,
Or climbed up beside the window
To look in my little room.
I am thinking of the door-way
Where the vine I used to train,
That snowed down its flaky petals
With a pleasant summer rain;
Where I used to sit and listen
To the old mill's low refrain.
I'm thinking of the sunflower, too,
That towered above the gate;
Of the friends who called me hither
When the day was cool and late.
Ah! those hours seem so distant
And the year, an ancient date.
I am thinking of the grape-vine
Where the crippled robin fed,
How he lingered there each morning
'Till fresh crumbs for him were spread.
Is he feeding there this summer
From a stranger's hand, instead?
I am thinking of the children
Who crept to the little yard,
Begging me to grant permission
That they play upon the sward.
Could I bar them from the entry?
Thus might Heaven me discard.
I am thinking of a morning
That wrung from my heart a sigh,
When I kissed warm lips that trembled,
With a tear-drop in my eye;
While I closed our cottage windows
And pronounced the word-good-bye.
****—-****—-****
My Pioneer Home In Kansas
by Ed Blair
I am weary and must go
For my mind it seems to stray,
Back again to boyhood's home
On the prairie far away.
Where barefoot I rambled far
List'ning for old Brindle's bell,
And then slowly brought the cows
As the twilight shadows fell.
None but those who once have dwelt
Where the prairies stretch away,
From the pioneer's new home,
E'er can feel as I today.
How I long to see the flowers
Nature planted for me there,
And to hear the larks sweet song
Swell out on the balmy air.
Then at evening from the fields
O'er our cabin to their nests,
Swift the prairie chickens flew
Without hunters to molest.
And at noon "Bob White" would ring
Sharply on the summer air,
To be echoed by a boy
Listening with rapture there.
And in Autumn, Oh! how oft
Have I watched the prairie fire
From our cabin home at night.
Yet I never seemed to tire,
Watched until it spread away;
Over hills and vales and mounds,
'Till the line of fire seemed but
Musketry of battle grounds.
Take me back-yes, take me back,
To the cabin on the wild,
To my trundle bed once more,
Where I slept when but a child.
Take me to my cabin home
'Mong the blue stem far away,
Out upon the prairies wild
To my Kansas home today.
****—-****—-****
The Old Farmhouse
by Ellen P. Allerton
A crystal spring, a sunny hill,
A gray old house with mossy sill,
Hemmed in by orchard trees,
With massive trunks of age untold,
Whose luscious fruits, like mounds of gold
When autumn nights grow crisp and cold,
Lay heaped about their knees.
And when the trees, bare, gaunt and grim,
Tnvsing aloft each naked limb,
Breasted the sleety rain;
When the summer sounds were heard no more,
When birds had sought a southern shore,
When flowers lay dead about the door,
And winter reigned again:
Then met the household band beside
A clean swept hearth, a chimney wide,
Where roared a maple fire.
When all the streams were fettered fast,
When fiercely blew the wintry blast,
And clouds of snow went whirling past.
The logs were piled the higher.
How fondly memory recalls
The cheer within those old gray walls,
Beside that shining hearth.
peaceful scene of calm content!
Where happy faces came and went,
And heart with heart was closely blent,
In sadness as in mirth!
I see them all: the aged sire
Deep in some book; the glowing fire
Gleams on his silver hair.
The mother knits; her loving eye
Smiles on the children flitting by;
Her needles, clicking as they fly,
Tell of her household care.
A group of stalwart boys I see,
Brimful of mirth-as boys will be
When evening tasks were done:
And-least of all-a little maid,
Her small head crowned with auburn braid,
Who, when the merry games were played,
Was foremost in the fun.
How gay we were! what songs we sang,
Till the old walls with echoes rang,
While the wind roared without.
Again we sat, wild-eyed and pale,
And listened to some ancient tale
How witches rode upon the gale,
Or white ghosts roamed about.
'Twas long ago; those days are o'er:
I hear those songs no more, no more,
Yet listen while I weep.
Time rules us all. No joys abide.
That household band is scattered wide,
And some lie on the green hillside,
Wrapped in a dreamless sleep.
****—-****—-****
Amid the Corn
by Hattie Howard
When roasting ears are peeping through
Their silken tassel curls,
When corn leaves glisten in the dew
Like ribbons strewn with pearls;
When Phoebus' splendor is revealed
And gilds the summer morn,
I love to walk the furrowed field
Among the rows of corn.
It brings to mind those vanished days
In adolescence sweet,
When through familiar seas of maze
With ardent, childish feet
That never tired, the glebe I trod
The "hired man" to warn
Where grew the tares, or where a clod
Obstructed hills of corn.
A happy home upon the farm
In memory holds a place,
That city life with all its charm
Can never quite efface.
O give me back the days of yore!
When I, a farmer born,
In pantalet and pinafore
Grew up amid the corn.
O that I could to nature true
From etiquette relax,
And follow, as I used to do,
Papa's unerring tracks!
A scholar, who could wield the pen,
Whose honors well were borne,
Was he-this noblest, best of men
Who plowed and hoed the corn.
I'd rather be, though dumb and droll,
An effigy to-day,
A man of straw upon a pole
To scare the crows away,
Than like a figure fashion-spun
A palace to adorn,
Disdainfully look down on one
Who works amid the corn.
****—-****—-****
Poems About Memories of Loved Ones
A Memory
by William Stanley Braithwaite
My heart to thee an answer makes,
O long, slow whisper of the sea,
Whose charm of mournful music wakes
A dream, a memory.
Touched hands, met lips, and soft fair speech
Soul's silence to the past replies,
When love and hope illumined each,
Within a girl's blue eyes.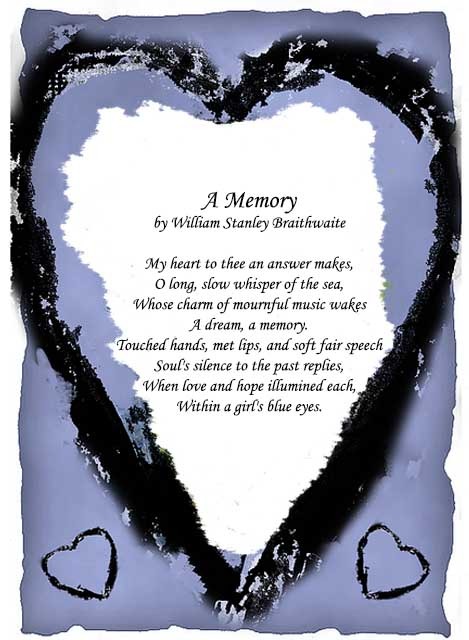 ****—-****—-****
The Playthings
by Hannah Flagg Gould
"Oh! mother, here's the very top,
That brother used to spin;
The vase with seeds I've seen him drop
To call our robin in;
The line that held his pretty kite,
His bow, his cup and ball,
The slate on which he learned to write,
His feather, cap and all!"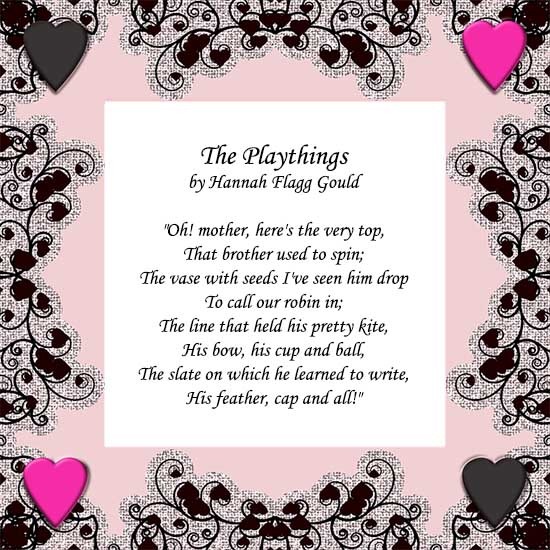 ****—-****—-****
To Yesterday
by Ruby Archer
O Yesterday, you saw him. In your warm
Sweet light we wandered idly, happily.
Unto your deep of blue his eyes were lent,
And through your moments lingered yet his voice.
Bide near me, Yesterday. You know of him;
And I may turn to you-now he is gone
Remind you of a glance, a word, a touch,
A thousand glints of soul revealed to soul
And thus defer the thought of poor To-day.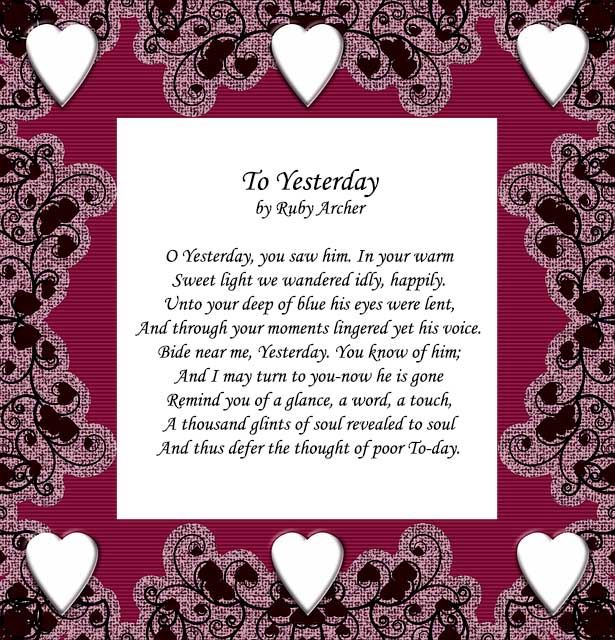 ****—-****—-****
Pictures of Memory
by Alice Cary
Among the beautiful pictures
That hang on Memory's wall,
Is one of a dim old forest,
That seemeth best of all;
Not for its gnarled oaks olden,
Dark with the mistletoe;
Not for the violets golden,
That sprinkle the vale below;
Not for the milk-white lilies,
That lean from the fragrant hedge,
Coquetting all day with the sunbeams,
And stealing their golden edge;
Not for the vines on the upland,
Where the bright red berries rest,
Nor the pinks, nor the pale, sweet cowslip,
It seemeth to me the best.
****—-****—-****
The Grandfather
by Charles G. Eastman
The farmer sat in his easy-chair
Smoking his pipe of clay,
While his hale old wife with busy care,
Was clearing the dinner away;
A sweet little girl with fine blue eyes,
On her grandfather's knee, was catching flies.
****—-****—-****
The Breast-Pin
by Hannah Flagg Gould
Come, thou dear, thou hallowed treasure,
Make thy home upon my breast,
Till my days have filled their measure,
Till I, too, am gone to rest!
Not because I love your glitter,
Dazzling gold and sparkling stone,
For your charms have dashed with bitter
Life's whole fount for many a one.
****—-****—-****
Memorials
by Emily Dickinson
Death sets a thing significant
The eye had hurried by,
Except a perished creature
Entreat us tenderly
To ponder little workmanships
In crayon or in wool,
With "This was last her fingers did,"
Industrious until.
****—-****—-****
Poems About Happy Memories
At the Fireside
by John Davis Long
At nightfall by the firelight's cheer
My little Margaret sits me near,
And begs me tell of things that were
When I was little, just like her.
Ah, little lips, you touch the spring
Of sweetest sad remembering;
And hearth and heart flash all aglow
With ruddy tints of long ago!
I at my father's fireside sit,
Youngest of all who circle it,
And beg him tell me what did he
When he was little, just like me.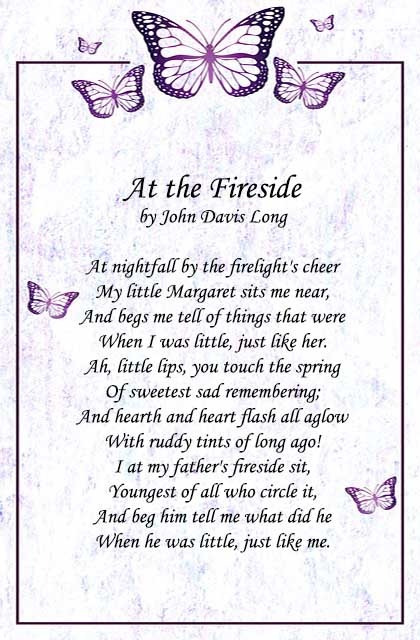 ****—-****—-****
With Flowers
by Emily Dickinson
If recollecting were forgetting,
Then I remember not;
And if forgetting, recollecting,
How near I had forgot!
And if to miss were merry,
And if to mourn were gay,
How very blithe the fingers
That gathered these to-day!
****—-****—-****
Places
by Sara Teasdale
Places I love come back to me like music,
Hush me and heal me when I am very tired;
I see the oak woods at Saxton's flaming
In a flare of crimson by the frost newly fired;
And I am thirsty for the spring in the valley
As for a kiss ungiven and long desired.
I know a bright world of snowy hills at Boonton,
A blue and white dazzling light on everything one sees,
The ice-covered branches of the hemlocks sparkle
Bending low and tinkling in the sharp thin breeze,
And iridescent crystals fall and crackle on the snow-crust
With the winter sun drawing cold blue shadows from the trees.
Violet now, in veil on veil of evening
The hills across from Cromwell grow dreamy and far;
A wood-thrush is singing soft as a viol
In the heart of the hollow where the dark pools are;
The primrose has opened her pale yellow flowers
And heaven is lighting star after star.
Places I love come back to me like music
Mid-ocean, midnight, the waves buzz drowsily;
In the ship's deep churning the eerie phosphorescence
Is like the souls of people who were drowned at sea,
And I can hear a man's voice, speaking, hushed, insistent,
At midnight, in mid-ocean, hour on hour to me.
****—-****—-****
On Memory
by Eliza and Sarah Wolcott
Life is sweeten'd by thy power,
And the fallen years return,
Draws the eurtain from an hour,
Thither we a lesson learn.
Take the veil from former years,
Brightens eyes bedim'd with grief,
Sooths our sorrows and our tears,
Thither may we find relief.
Mem'ry cheers in joy or wo,
Though our earthly hopes are riven,
Though our tears awhile may flow,
Soon our bark may rest in heaven.
****—-****—-****
A Remembrance
by Bliss Carman
Here in lovely New England
When summer is come, a sea-turn
Flutters a page of remembrance
In the volume of long ago.
Soft is the wind over Grand Pré,
Stirring the heads of the grasses,
Sweet is the breath of the orchards
White with their apple-blow.
****—-****—-****
Rain on the Roof
by Coates Kinney
When the humid showers gather over all the starry spheres,
And the melancholy darkness gently weeps in rainy tears,
'Tis a joy to press the pillow of a cottage chamber bed,
And listen to the patter of the soft rain overhead.
Every tinkle on the shingles has an echo in the heart,
And a thousand dreamy fancies into busy being start;
And a thousand recollections weave their bright hues into woof,
As I listen to the patter of the soft rain on the roof.
****—-****—-****
The Treasure
by Rupert Brooke
When colour goes home into the eyes,
And lights that shine are shut again
With dancing girls and sweet birds' cries
Behind the gateways of the brain;
And that no-place which gave them birth, shall close
The rainbow and the rose
Still may Time hold some golden space
Where I'll unpack that scented store
Of song and flower and sky and face,
And count, and touch, and turn them o'er,
Musing upon them; as a mother, who
Has watched her children all the rich day through
Sits, quiet-handed, in the fading light,
When children sleep, ere night.
****—-****—-****
Poems About Memories With Friends
Only In Sleep
by Sara Teasdale
Only in sleep I see their faces,
Children I played with when I was a child,
Louise comes back with her brown hair braided,
Annie with ringlets warm and wild.
Only in sleep Time is forgotten
What may have come to them, who can know?
Yet we played last night as long ago,
And the doll-house stood at the turn of the stair.
The years had not sharpened their smooth round faces,
I met their eyes and found them mild
Do they, too, dream of me, I wonder,
And for them am I too a child?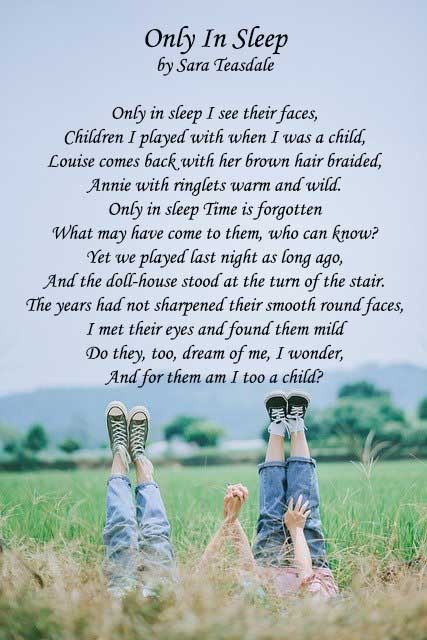 ****—-****—-****
An Evening's Stroll
by Ed Blair
When July's sun has spent her fierceness on
The sweltering earth; I love to ramble then
Along the narrow banks of dear Elm Creek
And be for one short hour a boy again.
To make the rocks skip o'er the waters smooth
And see the frogs plunge from the water's edge,
And hear the gentle cooing of the dove
Among the elms and from the distant hedge.
Oh, boyhood days ne'er come so near to me
As in these strolls in Summer eve's twilight;
I view again the scenes I love so well
And watch the gentle coming of the night.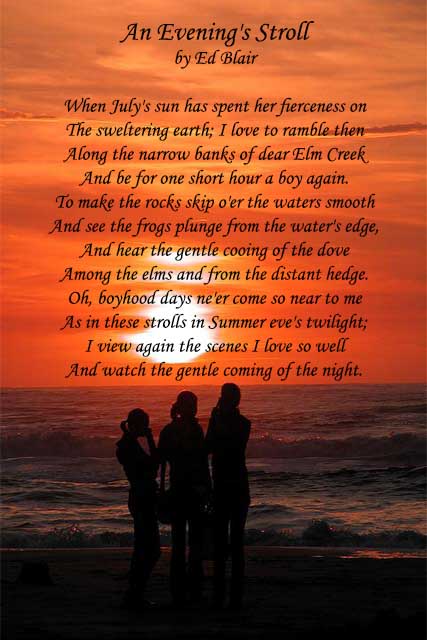 ****—-****—-****
Bill and Joe
Oliver Wendell Holmes
Come, dear old comrade, you and I
Will steal an hour from days gone by
The shining days when life was new,
And all was bright as morning dew,
The lusty days of long ago,
When you were Bill and I was Joe.
Your name may flaunt a titled trail
Proud as a cockerel's rainbow tail,
And mine as brief appendix wear
As Tam O'Shanter's luckless mare;
To-day, old friend, remember still
That I am Joe and you are Bill.
You've won the great world's envied prize,
And grand you look in people's eyes,
With HON. and LL. D.,
In big, brave letters fair to see,
Your fist, old fellow! Off they go!
How are you, Bill? How are you, Joe?
You've worn the judge's ermined robe;
You've taught your name to half the globe;
You've sung mankind a deathless strain;
You've made the dead past live again:
The world may call you what it will,
But you and I are Joe and Bill.
The chaffing young folks stare and say,
"See those old buffers, bent and gray;
They talk like fellows in their teens;
Mad, poor old boys! That's what it means"
And shake their heads; they little know
The throbbing hearts of Bill and Joe
How Bill forgets his hour of pride,
While Joe sits smiling at his side;
How Joe, in spite of time's disguise,
Finds the old schoolmate in his eyes,
Those calm, stern eyes, that melt and fill,
As Joe looks fondly up to Bill.
Ah! pensive scholar, what is fame?
A fitful tongue of leaping flame;
A giddy whirlwind's fickle gust,
That lifts a pinch of mortal dust;
A few swift years, and who can show
Which dust was Bill, and which was Joe.
The weary idol takes his stand,
Holds out his bruised and aching hand,
While gaping thousands come and go
How vain it seems, this empty show!
Till all at once his pulses thrill:
'T is poor old Joe's, "God bless you, Bill!"
And shall we breathe in happier spheres
The names that pleased our mortal ears;
In some sweet lull of heart and song
For earth born spirits none too long,
Just whispering of the world below
When this was Bill, and that was Joe?
No matter; while our home is here,
No sounding name is half so dear;
When fades at length our lingering day,
Who cares what pompous tombstones say?
Read on the hearts that love us still,
Hic jacet Joe. Hic jacet Bill.
****—-****—-****
Read More: Funny Birthday Poems