Impressing your crush is very hard thing. We make it easy by sharing these romantic crush poems and quotes. A list of poems for your crush.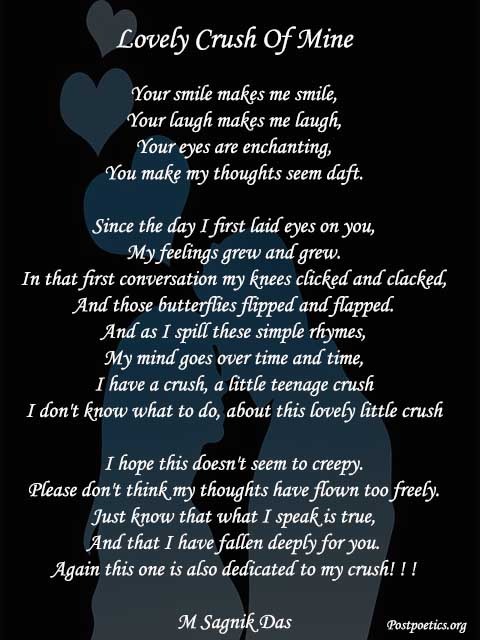 Lovely Crush Of Mine
Your smile makes me smile,
Your laugh makes me laugh,
Your eyes are enchanting,
You make my thoughts seem daft.
Since the day I first laid eyes on you,
My feelings grew and grew.
In that first conversation my knees clicked and clacked,
And those butterflies flipped and flapped.
And as I spill these simple rhymes,
My mind goes over time and time,
I have a crush, a little teenage crush
I don't know what to do, about this lovely little crush
I hope this doesn't seem to creepy.
Please don't think my thoughts have flown too freely.
Just know that what I speak is true,
And that I have fallen deeply for you.
Again this one is also dedicated to my crush! ! !
M Sagnik Das
♥♦♥———♥♦♥———♥♦♥
Love Crush
Kiss the edge of fantasy, lick
your lips and dwell in the shine.
Enter the room of pink filled
fabric. Drape yourself in loves
comforting magic. Dip those eager
fingers into the pool of velvet blush
and taste the erotica of loves fruit crush.
Take your extended minds and plunge
into a passion filled ocean. Listen to the
sighs of loves rising tide. Feel the waves
that tingle inside. Release your bottled
pleasures, that electricity you're feeling.
Splash into the flavour of new passion
and scream.
Jon.London
♥♦♥———♥♦♥———♥♦♥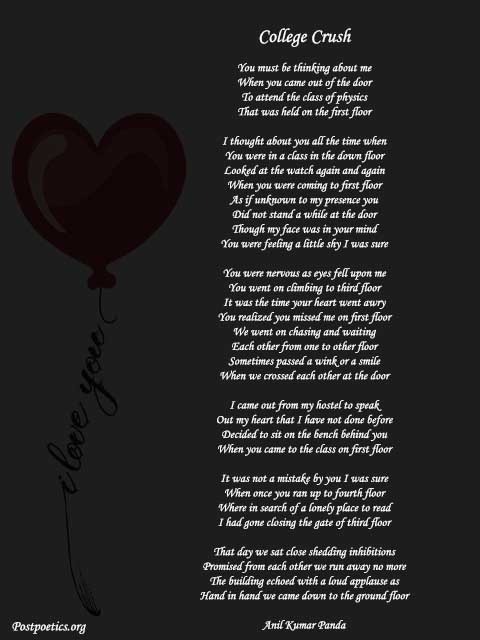 College Crush
You must be thinking about me
When you came out of the door
To attend the class of physics
That was held on the first floor
I thought about you all the time when
You were in a class in the down floor
Looked at the watch again and again
When you were coming to first floor
As if unknown to my presence you
Did not stand a while at the door
Though my face was in your mind
You were feeling a little shy I was sure
You were nervous as eyes fell upon me
You went on climbing to third floor
It was the time your heart went awry
You realized you missed me on first floor
We went on chasing and waiting
Each other from one to other floor
Sometimes passed a wink or a smile
When we crossed each other at the door
I came out from my hostel to speak
Out my heart that I have not done before
Decided to sit on the bench behind you
When you came to the class on first floor
It was not a mistake by you I was sure
When once you ran up to fourth floor
Where in search of a lonely place to read
I had gone closing the gate of third floor
That day we sat close shedding inhibitions
Promised from each other we run away no more
The building echoed with a loud applause as
Hand in hand we came down to the ground floor
Anil Kumar Panda
♥♦♥———♥♦♥———♥♦♥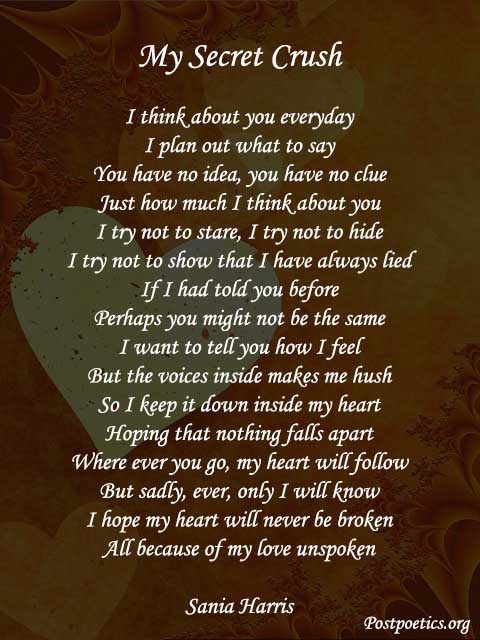 My Secret Crush
I think about you everyday
I plan out what to say
You have no idea, you have no clue
Just how much I think about you
I try not to stare, I try not to hide
I try not to show that I have always lied
If I had told you before
Perhaps you might not be the same
I want to tell you how I feel
But the voices inside makes me hush
So I keep it down inside my heart
Hoping that nothing falls apart
Where ever you go, my heart will follow
But sadly, ever, only I will know
I hope my heart will never be broken
All because of my love unspoken
Sania Harris
♥♦♥———♥♦♥———♥♦♥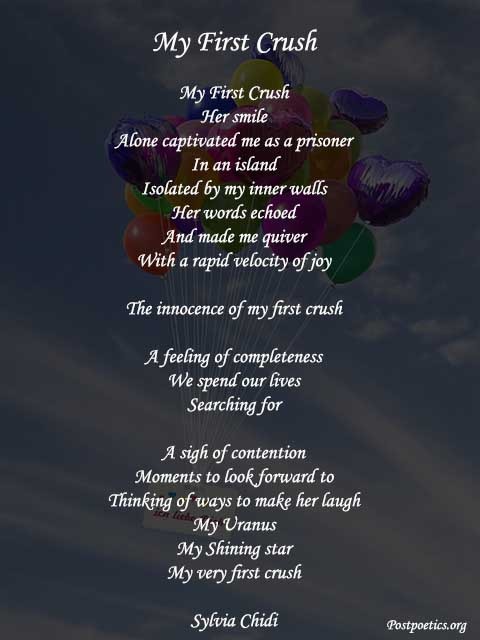 My First Crush
My First Crush
Her smile
Alone captivated me as a prisoner
In an island
Isolated by my inner walls
Her words echoed
And made me quiver
With a rapid velocity of joy
The innocence of my first crush
A feeling of completeness
We spend our lives
Searching for
A sigh of contention
Moments to look forward to
Thinking of ways to make her laugh
My Uranus
My Shining star
My very first crush
Sylvia Chidi
♥♦♥———♥♦♥———♥♦♥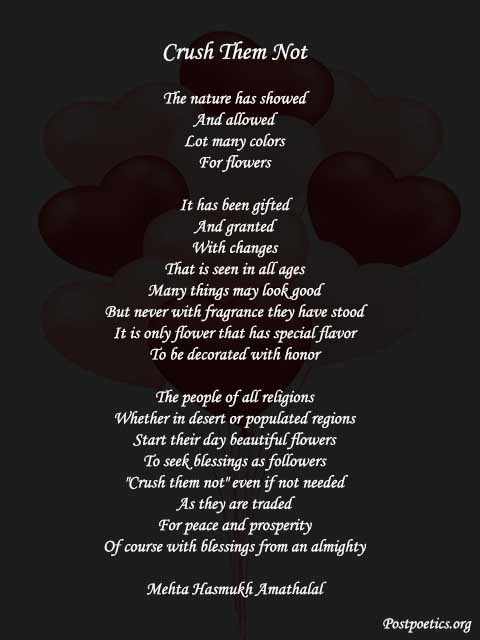 Crush Them Not
The nature has showed
And allowed
Lot many colors
For flowers
It has been gifted
And granted
With changes
That is seen in all ages
Many things may look good
But never with fragrance they have stood
It is only flower that has special flavor
To be decorated with honor
The people of all religions
Whether in desert or populated regions
Start their day beautiful flowers
To seek blessings as followers
"Crush them not" even if not needed
As they are traded
For peace and prosperity
Of course with blessings from an almighty
Mehta Hasmukh Amathalal
♥♦♥———♥♦♥———♥♦♥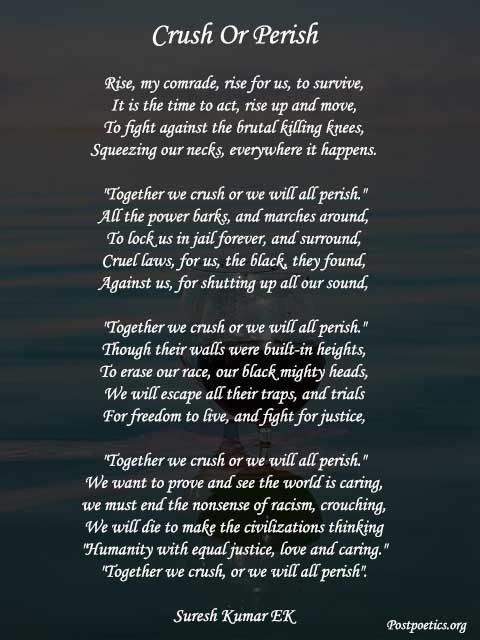 Crush Or Perish
Rise, my comrade, rise for us, to survive,
It is the time to act, rise up and move,
To fight against the brutal killing knees,
Squeezing our necks, everywhere it happens.
"Together we crush or we will all perish."
All the power barks, and marches around,
To lock us in jail forever, and surround,
Cruel laws, for us, the black, they found,
Against us, for shutting up all our sound,
"Together we crush or we will all perish."
Though their walls were built-in heights,
To erase our race, our black mighty heads,
We will escape all their traps, and trials
For freedom to live, and fight for justice,
"Together we crush or we will all perish."
We want to prove and see the world is caring,
we must end the nonsense of racism, crouching,
We will die to make the civilizations thinking
"Humanity with equal justice, love and caring."
"Together we crush, or we will all perish".
Suresh Kumar EK
♥♦♥———♥♦♥———♥♦♥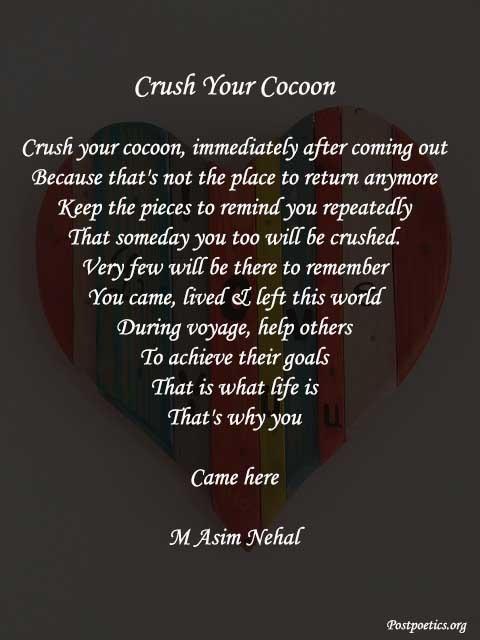 Crush Your Cocoon
Crush your cocoon, immediately after coming out
Because that's not the place to return anymore
Keep the pieces to remind you repeatedly
That someday you too will be crushed.
Very few will be there to remember
You came, lived & left this world
During voyage, help others
To achieve their goals
That is what life is
That's why you
Came here
M Asim Nehal
♥♦♥———♥♦♥———♥♦♥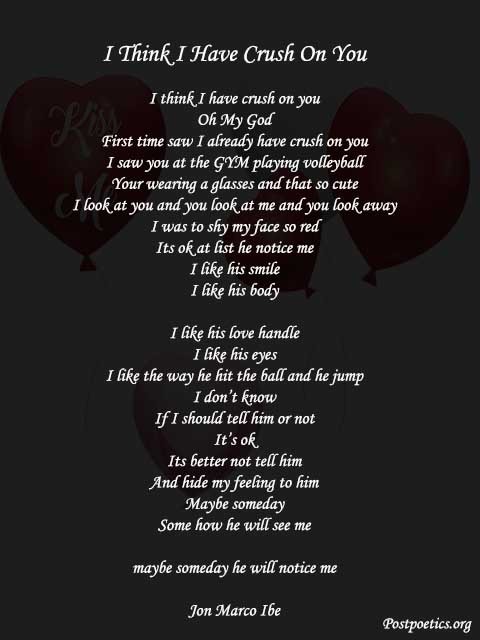 I Think I Have Crush On You
I think I have crush on you
Oh My God
First time saw I already have crush on you
I saw you at the GYM playing volleyball
Your wearing a glasses and that so cute
I look at you and you look at me and you look away
I was to shy my face so red
Its ok at list he notice me
I like his smile
I like his body
I like his love handle
I like his eyes
I like the way he hit the ball and he jump
I don't know
If I should tell him or not
It's ok
Its better not tell him
And hide my feeling to him
Maybe someday
Some how he will see me
maybe someday he will notice me
Jon Marco Ibe
♥♦♥———♥♦♥———♥♦♥
One And Only Crush! ! !
Do you know every night I dream of you…
Visions of your hands upon mine.
Have you any idea how much I think of you…
So much it has become a pastime.
Are you aware of how often I drown…
Inside your perfect brown eyes.
My mind is so crowded with reflections of you…
For other thoughts I do not have the time.
Haven't you noticed how we belong together…
Just the notion is too sublime!
Endlessly I want to feel your touch…
And to be always on your mind.
If we were never to be together…
That would be a terrible crime.
Don't you know that you mean everything to me…
I want to give you my heart for all time.
You are the only one in this world I want…
To be forever and always mine.
Give me a chance at romance…
And I promise you'll never ask why! ! !
M Sagnik Das
♥♦♥———♥♦♥———♥♦♥
Crush
I can see thee
dancing with roses
unaware of me
hugging my loneliness
I can see thee
flying up high
in my hollow dream
in this silent night
and sometimes I think
I'm in your eyes
feeling I can swim
all the way into your heart
We are walking on blue waters
feeling the breeze of the sea
for I'm with you nothing matters
for we are together, I breath
holding hand to hand
we walk to the moon
into a dreamland
on a hot balloon
but the dream is over
and there you are
dancing with roses
feeling like a czar.
Anabel Anguiano
♥♦♥———♥♦♥———♥♦♥
My First Crush
In the sea of faces I saw a face
All in a haze, so filmy
Nothing did I see clearly
But a pair of love lit eyes
Riveted on me
My heart skipped a beat
Did my face grow pale?
Or got coloured by a blush?
I lowered my eyes
And looked away
But I saw him advancing
Coming straight to me
My heart began to race
My breath got hitched
My lips went dry and parched
I didn't hear what he asked
Words got stuck in my throat
When they came
They came out broken and raspy
I felt as if struck
By congenital paralysis
Unable to move my facial muscles
Either to utter a word
Or curve my lips into a smile!
Felt butterflies in my stomach
A tremor took over my hands and legs
Beads of sweat appeared on my brow
My mind went blank
The world came to a sudden halt
Forgot where I was
I got frozen in time
This is how I felt
When I had my first crush!
Not knowing the futility of adolescent yearning
For long, I juggled with his unspoken words
"I L….O….V…..E you!
Valsa George
♥♦♥———♥♦♥———♥♦♥
When I Had A Crush On You
When I had a crush on you,
You acted as if I did not exist.
You persisted to avoid my advances.
Some of them were innocently delivered.
When I had a crush on you.
You wanted to play hard to get.
At least that is how I interpreted it!
As you intentionally flirted with others.
When I had a crush on you…
You toyed with my emotions.
And put me through the best tests,
I have ever yet from anyone else I've met.
When I had a crush on you,
The last thing I expected…
Was to hear you say to me, 'I do'.
And ever since marriage has happened to us…
I find myself rushing to the door.
After fussing and cussing in a rage,
Pacing the floor.
Wondering 'where' you kept your fangs,
And 'how' did that monster I see now…
Every other day,
Manage to stay away from my view!
When I had a crush on you!
Lawrence S. Pertillar
♥♦♥———♥♦♥———♥♦♥
The Final Crush
Shimmering over autumn leaves
the whispering of springtime breeze
brushing off the years of dust
the final love
the final crush
Admiration haunts your mind
one of a million and a kind
you blush to look and feel within
the tingle that torments your skin
Millennia have passed you by
you wondered how and wondered why
and sometimes you just sat and cried
and put away your childish sighs
You remember youthfull times
when spring was sweet and love devine
speckled shadows through the trees
that danced in splendour with the breeze
Sweet sensation nature brings
you want it all with everything
when bird song caused your heart to rush
the final love
the final crush.
Charles M Moore
♥♦♥———♥♦♥———♥♦♥
My Crush
Sitting alone in this lonely hallway
As you can see there's nothing left
Since I'm the only one here
I can finally tell myself
I miss you and love you
But everyone laughs I don't understand why I must move on
All this frustration wont go away
All this anger wont make it better
I want to hit the walls and make the glass shatter
Maybe you'll run and rescue me this time
Now dont get carried away our I'll fall into heavy waves
Look I miss you to death
I need time to gather myself
I lay at night
The ceiling stands white
Everyone already dreaming
I refuse to close my eyes till you come into my life…..
my crush, my crush……
ice johnson
♥♦♥———♥♦♥———♥♦♥
I Wish She'D Give Up Her Crush On Him
I wish she would make me the apple of her eye.
Then her every desire, I would satisfy.
I wish I could feed her grapes from the vine,
And spoil her with all kinds of wine.
I wish I could take her to Monte Carlo and Montego Bay.
For that, I hope and pray.
I wish she would tell me that I'm the man of her dreams.
And kiss me by rivers and streams.
I wish she'd give up her crush on him
And just focus on me.
I really love her, you see.
Jeff Fleischer
♥♦♥———♥♦♥———♥♦♥
Crush Your Ego!
Like a serpent it will crawl on you
By the time you realize
it will creep in a zick- zack route
Those who love somebody, hates them later
All lies, hatred, jealousy, vanity
Are highly poisonous and disastrous
Mind is the workshop,
Of self destructive weapons
Like a snake you will pamper
And will hide out from public your true nature.
Each and every human keep as much secrets as possible
Most people seems to be humble and harmless
But when they come to do business
They turn out to be poisonous.
Catching the cobra in people is not an easy job
Same way to catch and control the human ego,
Is the most difficult mission to accomplish?
The ego is continuously tempting people
to use some or other poisonous weapon
Sometimes for simple pleasure,
Sometimes for selfish motives.
But the result is same
And their ego inflates by knowledge
Virtues are like firewall that protect us from evils
Live this life with simplicity without nurturing evils.
M Asim Nehal
♥♦♥———♥♦♥———♥♦♥
I Have A Crush On You
I have a crush on you,
I know it is for real.
Not like any other crushes I used to have,
This one I can feel.
When you walk by me,
My heart start to race.
When I stare at you,
I feel your warm embrace.
We rarely talk at all,
Just a wave and smile down the hall.
How did I fall for you?
How did I know this crush is true?
Maybe it's your smile,
Maybe it's your eyes,
That I just can't resist.
I know you know,
That I have a crush on you.
I hope you feel the same,
But that's just too untrue.
I finally decided,
To tell you how I feel.
I just need to know what you would say,
You may say, I'm sorry,
I don't like you at all.
Or i just want to be friends
Or even a simple. yes
If you say no at least
It was worth the try,
And as they always say,
Any one can be your friend,
But only one, can be your soul mate.
alejandro m..
♥♦♥———♥♦♥———♥♦♥
Crush
There is a boy I once new
Who looked so much like you
There's nothing else to do than to say I love you to
You're my brother friend you're my secret crush
But most of all when I am around you I blush
AURORA BANNECKJ
♥♦♥———♥♦♥———♥♦♥
Crushed By Your Crush
When your crush finds out that you like him everything goes wrong
From not talking to you to talking about you behind your back
Or telling all of their friends
Then gets back to yours
Millions of questions but no answers to be found
Alls all
But not all is done
but when crushed by your crush
Having a crush goes alll wrong
♥♦♥———♥♦♥———♥♦♥
Nobody Can Crush Your Dreams
Nobody can crush your dreams.
Your blessings will come in reams.
Strivers are winners, not losers.
Things happen for a good reason.
Do not fear a strange season.
Things will be fine; if the trousers
Fit, wear them. Make the best
Of every situation. The rest
Of us loves you and is praying
For you. This is sad and intriguing.
The world is big. Everybody is watching.
This looks like a big sting,
But you have a great future
Ahead of you. Mother Nature
Is patient and watching too.
Everybody loves you.
You are innocent of all charges.
Do not worry about the changes.
This sort of things happens all the time.
Be calm, because you've committed no crime.
God is on your side, as you go forward,
As you advance toward the ward.
Your rewards and trophies are forthcoming.
This is a big world. Everybody is watching.
Beloved friends, Ignore the tiny splinters.
Dreamers are not losers; they are winners.
Nobody can crush your dreams.
Nobody can dent your metal rims.
This is simply a minor setback.
Great champions take a huge step back,
Before breaking the long standing world records.
Figuratively, sharpen your swords.
Many decisions are temporary.
There are plenty of flowers on the prairie.
Do not ever fear the unknown,
Open the windows to view the lawn.
In spite of all, you have a great future,
Because you're young, smart and matured.
This is a delay, you will be fine,
You will be the first to cross the line.
Strivers are winners, not losers,
Not cowards and not freeloaders.
Dreams have no limits, no borders.
Dreamers are winners.
Hebert Logerie
♥♦♥———♥♦♥———♥♦♥
Retrospective Crush
Another man took me out tonight, but his hair was dark.
We made painful small talk in a hotel bar
Before I cut the evening short with an excuse.
You would have laughed, I'm sure.
I can picture you still as you were:
Short, blond, crouching on top a rusting see-saw
Reciting Edgar Allan Poe.
When I hear The Bells I think of you.
You introduced me to O. Henry and Twain.
I took them to bed and they're still there—
But you have never joined us.
Do you think of me when you read them? When you sleep?
Sometimes, I imagine we pass carts in the supermarket,
Though I wouldn't know you today—
Last I saw you we were thirteen—
Yet I imagine that you recognize me somehow.
Do you say nothing then because you're shy,
And your tongue is tied by the adult me
That reminds you of the younger you:
The shy boy who conversed with poetry, not people?
For years I never thought of you,
For years I couldn't remember your name—
Now I can't get it out of my head
Not that I seem to want to.
Am I the only crazy woman in the world
Who has picked apart her childhood
For a hint that a boy might be thinking of her as a man?
Sometimes I wonder.
Perhaps I am just grateful now for what you gave me then,
Or perhaps a part of me wants to go back to being thirteen
And thinks you can take me there,
Like a girl believes she can kiss a frog and catch a prince.
Ridiculous! I am a 21st Century woman of sophistication!
I don't need a frog, or a kiss, or a man!
But then I stand, saner and happier than ever,
In front of a class of impatient preteens,
Reciting Edgar Allan Poe—
And when the bells ring, I still think of you.
Is it possible I was in love and never knew?
Hannah Everette
♥♦♥———♥♦♥———♥♦♥
Read More: How Much I Love You Poems