What is Contemporary Poetry?
Contemporary poetry is defined as poetry written after the 1920s, with some improvement taking place in the 1950s.
Norton Anthology of Modern and Contemporary Poetry?
The new addition norton anthology of modern and contemporary poetry now available in two paper pack volumes – includes 1,596 poems by 195 poets (half of the poems are new), from Walt Whitman and Thomas Hardy in the late nineteenth century to Anne Carson and Sherman Alexie in the twenty-first. The Norton Anthology of Modern and Contemporary Poetry continues to be the most comprehensive collection of twentieth-century poetry in English. It richly represents the major figures, while also giving full voice to ethnic American poetries, experimental traditions, postcolonial poetry, and the long poem, eclipsing all other anthologies in scope, clarity, and balance. here are some examples of contemporary poetry.
I Carry Your Heart With Me (I Carry It In)
BY E. E. CUMMINGS
i carry your heart with me(i carry it in
my heart)i am never without it(anywhere
i go you go,my dear;and whatever is done
by only me is your doing,my darling) i fear
no fate(for you are my fate,my sweet)i want
no world(for beautiful you are my world,my true)
and it's you are whatever a moon has always meant
and whatever a sun will always sing is you
here is the deepest secret nobody knows
(here is the root of the root and the bud of the bud
and the sky of the sky of a tree called life;which grows
higher than soul can hope or mind can hide)
and this is the wonder that's keeping the stars apart
i carry your heart(i carry it in my heart)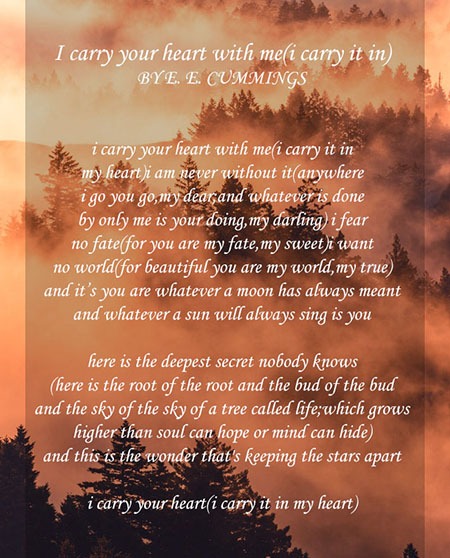 ****—-****—-****
Thank You
BY ROSS GAY
If you find yourself half naked
and barefoot in the frosty grass, hearing,
again, the earth's great, sonorous moan that says
you are the air of the now and gone, that says
all you love will turn to dust,
and will meet you there, do not
raise your fist. Do not raise
your small voice against it. And do not
take cover. Instead, curl your toes
into the grass, watch the cloud
ascending from your lips. Walk
through the garden's dormant splendor.
Say only, thank you.
Thank you.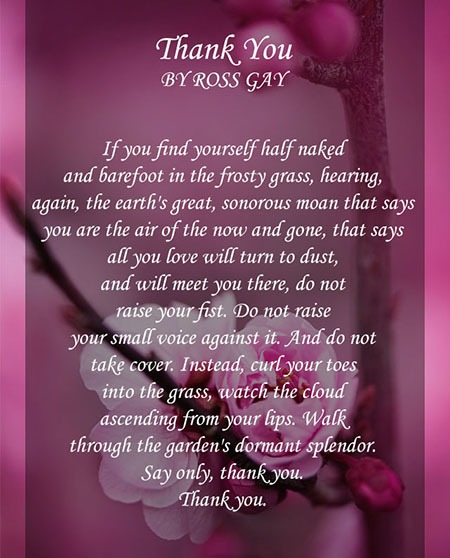 ****—-****—-****
The Good Life
BY TRACY K. SMITH
When some people talk about money
They speak as if it were a mysterious lover
Who went out to buy milk and never
Came back, and it makes me nostalgic
For the years I lived on coffee and bread,
Hungry all the time, walking to work on payday
Like a woman journeying for water
From a village without a well, then living
One or two nights like everyone else
On roast chicken and red wine.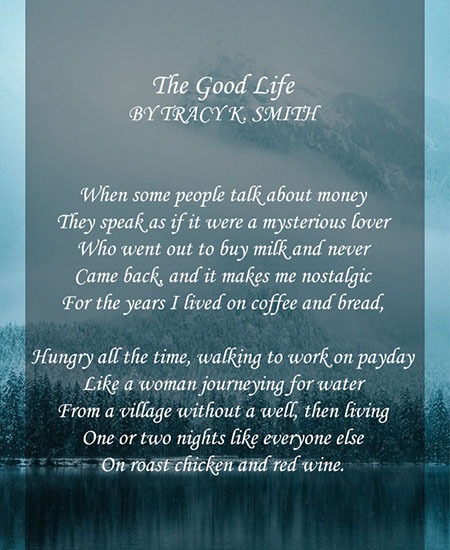 ****—-****—-****
How to Triumph Like a Girl
Ada Limón
I like the lady horses best,
how they make it all look easy,
like running 40 miles per hour
is as fun as taking a nap, or grass.
I like their lady horse swagger,
after winning. Ears up, girls, ears up!
But mainly, let's be honest, I like
that they're ladies. As if this big
dangerous animal is also a part of me,
that somewhere inside the delicate
skin of my body, there pumps
an 8-pound female horse heart,
giant with power, heavy with blood.
Don't you want to believe it?
Don't you want to lift my shirt and see
the huge beating genius machine
that thinks, no, it knows,
it's going to come in first.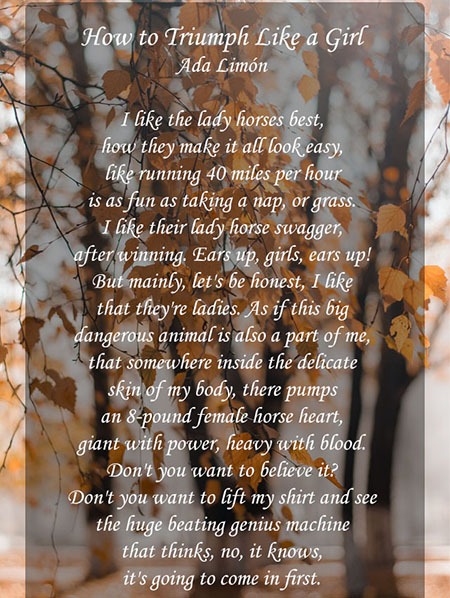 ****—-****—-****
To the Desert
BY BENJAMIN ALIRE SÁENZ
I came to you one rainless August night.
You taught me how to live without the rain.
You are thirst and thirst is all I know.
You are sand, wind, sun, and burning sky,
The hottest blue. You blow a breeze and brand
Your breath into my mouth. You reach—then bend
Your force, to break, blow, burn, and make me new.
You wrap your name tight around my ribs
And keep me warm. I was born for you.
Above, below, by you, by you surrounded.
I wake to you at dawn. Never break your
Knot. Reach, rise, blow, Sálvame, mi dios,
Trágame, mi tierra. Salva, traga, Break me,
I am bread. I will be the water for your thirst.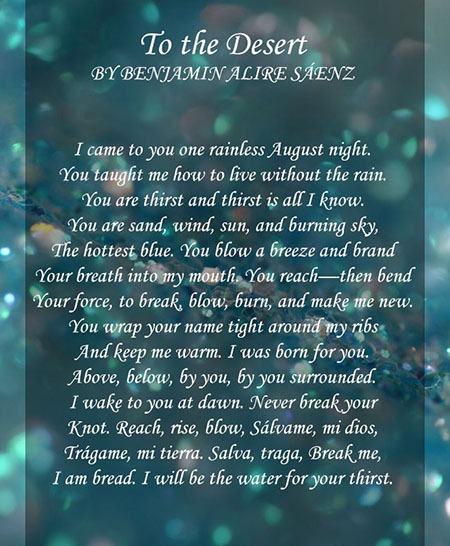 ****—-****—-****
Mother to Son
BY LANGSTON HUGHES
Well, son, I'll tell you:
Life for me ain't been no crystal stair.
It's had tacks in it,
And splinters,
And boards torn up,
And places with no carpet on the floor,
Bare.
But all the time
I'se been a-climbin' on,
And reachin' landin's,
And turnin' corners,
And sometimes goin' in the dark
Where there ain't been no light.
So boy, don't you turn back.
Don't you set down on the steps
'Cause you finds it's kinder hard.
Don't you fall now—
For I'se still goin', honey,
I'se still climbin',
And life for me ain't been no crystal stair.
****—-****—-****
RISK
BY ANAÏS NIN
And then the day came,
when the risk
to remain tight
in a bud
was more painful
than the risk
it took
to blossom.
****—-****—-****
Siren Song
BY MARGARET ATWOOD
This is the one song everyone
would like to learn: the song
that is irresistible:
the song that forces men
to leap overboard in squadrons
even though they see the beached skulls
the song nobody knows
because anyone who has heard it
is dead, and the others can't remember.
Shall I tell you the secret
and if I do, will you get me
out of this bird suit?
I don't enjoy it here
squatting on this island
looking picturesque and mythical
with these two feathery maniacs,
I don't enjoy singing
this trio, fatal and valuable.
I will tell the secret to you,
to you, only to you.
Come closer. This song
is a cry for help: Help me!
Only you, only you can,
you are unique
at last. Alas
it is a boring song
but it works every time.
****—-****—-****
The Snow Man
BY WALLACE STEVENS
One must have a mind of winter
To regard the frost and the boughs
Of the pine-trees crusted with snow;
And have been cold a long time
To behold the junipers shagged with ice,
The spruces rough in the distant glitter
Of the January sun; and not to think
Of any misery in the sound of the wind,
In the sound of a few leaves,
Which is the sound of the land
Full of the same wind
That is blowing in the same bare place
For the listener, who listens in the snow,
And, nothing himself, beholds
Nothing that is not there and the nothing that is.
****—-****—-****
Diving into the Wreck
By Adrienne Rich – 1929-2012
First having read the book of myths,
and loaded the camera,
and checked the edge of the knife-blade,
I put on
the body-armor of black rubber
the absurd flippers
the grave and awkward mask.
I am having to do this
not like Cousteau with his
assiduous team
aboard the sun-flooded schooner
but here alone.
There is a ladder.
The ladder is always there
hanging innocently
close to the side of the schooner.
We know what it is for,
we who have used it.
Otherwise
it is a piece of maritime floss
some sundry equipment.
I go down.
Rung after rung and still
the oxygen immerses me
the blue light
the clear atoms
of our human air.
I go down.
My flippers cripple me,
I crawl like an insect down the ladder
and there is no one
to tell me when the ocean
will begin.
First the air is blue and then
it is bluer and then green and then
black I am blacking out and yet
my mask is powerful
it pumps my blood with power
the sea is another story
the sea is not a question of power
I have to learn alone
to turn my body without force
in the deep element.
And now: it is easy to forget
what I came for
among so many who have always
lived here
swaying their crenellated fans
between the reefs
and besides
you breathe differently down here.
I came to explore the wreck.
The words are purposes.
The words are maps.
I came to see the damage that was done
and the treasures that prevail.
I stroke the beam of my lamp
slowly along the flank
of something more permanent
than fish or weed
the thing I came for:
the wreck and not the story of the wreck
the thing itself and not the myth
the drowned face always staring
toward the sun
the evidence of damage
worn by salt and sway into this threadbare beauty
the ribs of the disaster
curving their assertion
among the tentative haunters.
This is the place.
And I am here, the mermaid whose dark hair
streams black, the merman in his armored body.
We circle silently
about the wreck
we dive into the hold.
I am she: I am he
whose drowned face sleeps with open eyes
whose breasts still bear the stress
whose silver, copper, vermeil cargo lies
obscurely inside barrels
half-wedged and left to rot
we are the half-destroyed instruments
that once held to a course
the water-eaten log
the fouled compass
We are, I am, you are
by cowardice or courage
the one who find our way
back to this scene
carrying a knife, a camera
a book of myths
in which
our names do not appear.
****—-****—-****
Autumn
BY T. E. HULME
A touch of cold in the Autumn night-
I walked abroad,
And saw the ruddy moon lean over a hedge
Like a red-faced farmer.
I did not stop to speak, but nodded,
And round about were the wistful stars
With white faces like town children.
****—-****—-****
Kissing in Vietnamese
Ocean Vuong
My grandmother kisses
as if bombs are bursting in the backyard,
where mint and jasmine lace their perfumes
through the kitchen window,
as if somewhere, a body is falling apart
and flames are making their way back
through the intricacies of a young boy's thigh,
as if to walk out the door, your torso
would dance from exit wounds.
When my grandmother kisses, there would be
no flashy smooching, no western music
of pursed lips, she kisses as if to breathe
you inside her, nose pressed to cheek
so that your scent is relearned
and your sweat pearls into drops of gold
inside her lungs, as if while she holds you
death also, is clutching your wrist.
My grandmother kisses as if history
never ended, as if somewhere
a body is still
falling apart.
****—-****—-****
Read Also: Epitaph Poems Quote Examples