When you are away from your friends, relatives or loved ones, you know that this distance will somehow close and you will reach out to him / her but it is not possible. In that case you can share the distance of your love by sharing these poems with your loved ones. Let's read and share
Love Poems For Him Long Distance
Everything Is So Confusing
Everything is so confusing
not being able to be with you.
It's making me crazy,
and I don't know what to do.
You mean everything to me.
I hope we never break apart,
because I'm in love with you
and you have a special place in my heart.
Not a day goes by
that I don't think about you.
I want to be with you forever.
It's crazy, but I do.
You took away my pain.
You're always in my dreams.
I'll love you forever.
At least that's how it seems.
—Kirstie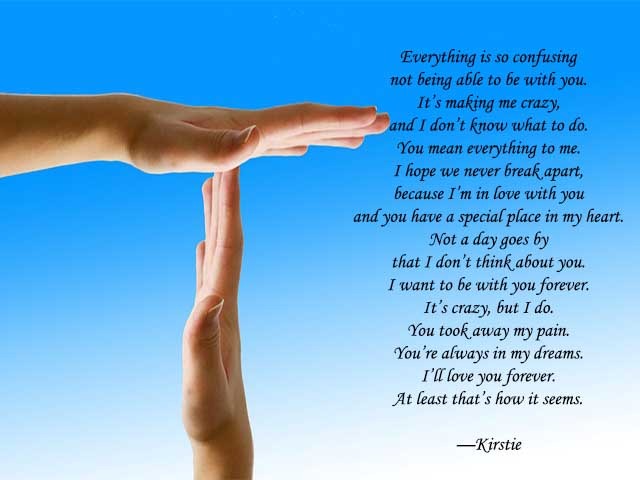 ***********
Time And Distance
Destiny's hands shows the right chosen way
When to let go, when to cut loose in its rhyme
He has the final say to our paths in time
To what so ever draws in our soft palms
My love will perpetually be true to your heart
Time is passing by, something we can't undermine
Time travels without a pause to croon its chant
Even distances cuddle us, meddling in our affairs
my love will forever remain to see your smiling face
I'll be your shinning star, your guiding light
Watching you from the distance, day and night
For my love is here, no matter what you do
I shall be here by your side, loving you
We will always be each in others hearts
Even if the oceans divide us apart
Even distance has been a thorn in our lives
Whiles love is the rose that bonded our hearts
our lips pine for each others touch
promise, the oceans will not blow away our love
Our hands long to be hand in hand
Our hearts yearn to live entwine
For the rest of our lives
Oh I pray one day fate delivers you into my arms
—Catrina Heart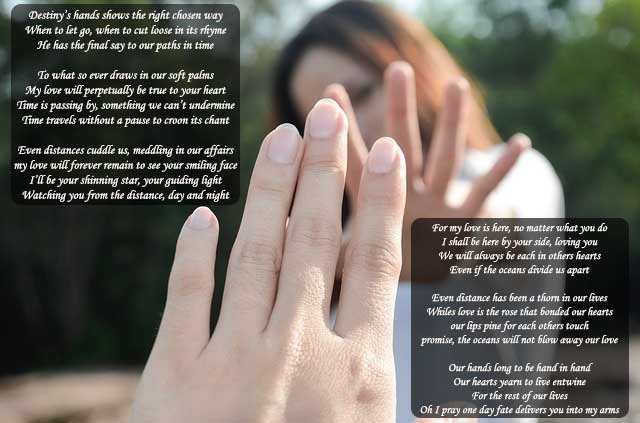 ***********
Piece Of You
When you said had to go,
I knew I'd never make it through
Unless I had a piece of you
To help me make it through the day
And help me keep the tears at bay.
So, I keep a bit of you
Inside my heart through all I do
So, when I end up feeling blue,
It's there to brighten up my mood.
A bit of your laughter, your smile, too,
It's there inside my heart so true.
I keep it close and hold it tight
Because you're my sweetest
love and light….
—Amy Finley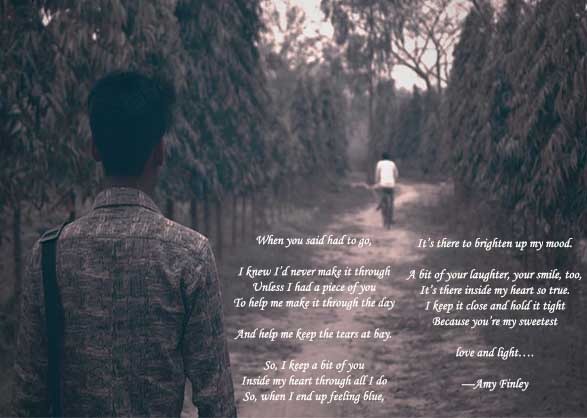 ***********
Heart Song
Until our final kiss goodbye
I didn't know that hearts could fly
But mine flew away
With you that day.
Distance, so few thoughts I gave,
Until you had to leave that day.
But in that moment I could feel
That distance is heavy, hard, and real.
I didn't know that heartstrings tied
And tangled up so much inside.
Until the last smile you sent my way
When you had to go that day.
I never thought that time could seem
So cold and cruel that I could scream.
Until the long hours after you'd gone,
As my heart cried until the dawn.
Now I am just holding on
For the moment our love's sweet song
Together loud and true will ring
As so in love our hearts will sing.
—Anonymous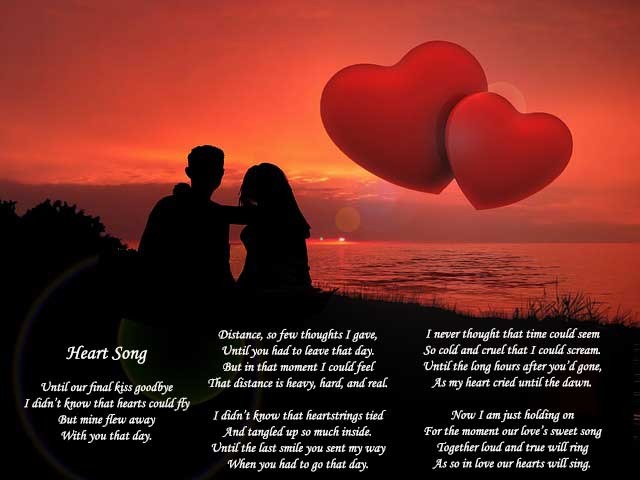 ***********
Sun And Moon
You were like the sun who brought light
Into my cold, dark, and lifeless night.
You made me realize that no matter what I do,
My life will always revolve around you.
Just when I thought that darkness was all around,
You showed me your light and picked me up off the ground.
In your arms, love and care is what I found.
With you, peace and ease surrounds.
We are like the sun and the moon.
Far in every way, but I wish to see you soon.
We are miles and miles apart,
But never forget we are always connected in our heart.
—Del Kayler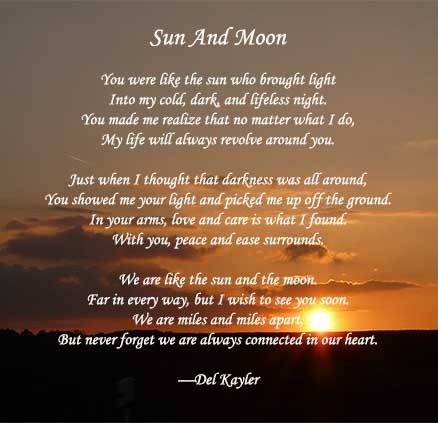 ***********
My Dearest Love
I see you in my thoughts and dreams,
When I awake, how real it seems.
You aren't here to comfort me,
But soon I hope you will be.
No one truly knows or understands;
You have my heart in your hands.
My love is what you truly own.
Come soon and make our house a home.
Inside those walls you are doing your time,
Not being here with me is your only true crime.
Others in your life will come and go,
But my love is true, and I'm sure you know.
I may not be rich or the prettiest one,
But I love you so much; you are my sun.
You light up my life every time you call.
When the time is up, I begin to fall.
You are my stars, you are my moon,
Being with you will come very soon.
So when you sleep, take this to heart,
No one or nothing will keep us apart.
—Sherri Brown
 Inhale
I woke,
And I buried my nose in your shirt:
It still smells like you
In your absence.
It is such a comfort,
To me, your lover,
On the small island.
We are far in miles,
But I have your shirt
To inhale.
—Anonymous
Miles Away
Long distance
1500 miles
44 days to walk
Who cares? If you love me
As I love you
We're not apart
Despite the miles
We are together
Together at heart
Distance matters to minds
But hearts don't care
We fell in love
Long distance
We'll stay in love
Long distance
Our hearts are together
Though we're far apart
Though we fell in love
Long distance
—Anonymous
Love Poems For Her Long Distance
Long Distance Love
Humble beginnings are the ones that were hard
Momma crying, begging me not to go so far
I held my tears as I held her tight
I said momma forgive me, but I need a start
I've got dreams to realize
A desire to leave this place
A child I was chased
An adult misplaced
But momma don't worry
I remember what you've taught me
Patience is a virtue and that it is key
That strength is weakness, unless I get on my knee
To help others, that's one way to plant a tree
You taught me fairness and honesty
You've done a lot, as you were both of my parents
I learned to let go of my anger
As I learned from your patience
Your generous heart gave so much love
You still thought it was not enough
I pray to the one above
That soon I see you laugh
I miss your smile and I miss you smell
Until then, I wish you well
Truly Yours, my sweet angel!
—Bilal Khoukhi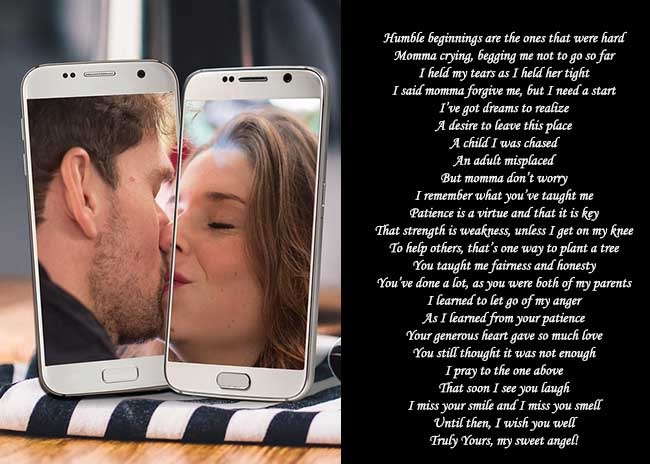 ***********
That Special Moment!
My love, how much I want to be there with you,
To feel your touch and see your smile.
To hear you say, I love you so,
For all the ways you'll show me how.
O my love, I long to be with you,
O my love, words will never express,
The feelings I have for you inside,
I'll give my all, just to be with you,
being in your arms, safe and sound,
to see your tender smile again.
Holding me softly, with your tender touch,
being ever so close and never apart.
O my Love I need You so,
my soul is on fire.
My passion and emotion is here for you,
with much desire, I just can't explain.
My heart is ready to surrender all.
Come to me, I'm ready for love,
I want it to be that special time!
—David Yearwood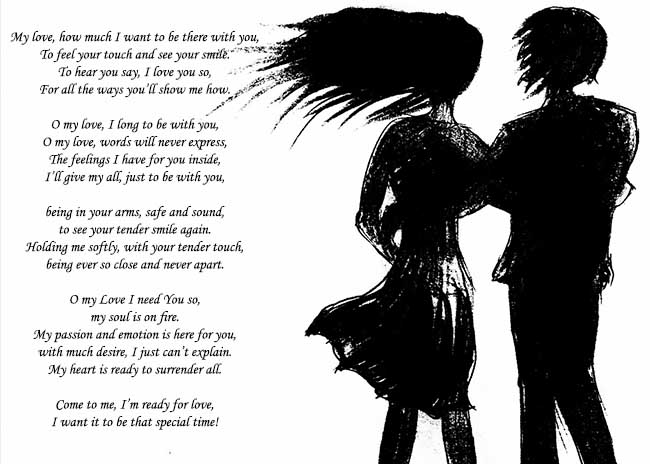 ***********
Sealing The Distance
Yo! Girl, this one's fo you..
And no matter how hard it may seem,
I promise we're gonna make it through.
I tried to call you up, 'cause i got a fear inside me and that's filling me up.
What if i'm losing you love.. Will i ever love to see those 7 seven colors above?
You're the only one thing that makes me all feel good..
Then why don't you let me feel the way i should?
May be you should come a lil' bit closer now,
And make me understand if i've ever been too rude.
I've been standing here for so long..
My heart aches to see myself alone.
Hazes filled the way to the brighter days,
Nor i can turn back to where i belong.
It's hard to keep my feets on the ground,
But i can't wait girl to see you back in the town.
Despite of all the miseries, i believe one day we will this series.
But till that time if i fail to stand still,
Girl won't you help me to get back on my knees..?
Distance is all you have to cover now..
If you care for tears i'm crying out..
And i'll give myself, i'll give my all,
To feel you breathing right inside my heart.
—Menime Soul
Someone
Words simply can't describe
My feelings for you,
For my feelings are so many
But words, they are so few.
Encouragement you give me
And a connection that is true.
I'm glad while reaching out
I found someone like you.
You give your love so sweetly.
I am lost if you are away.
You have me so completely.
I cherish you night and day.
You make me laugh
When I want to cry.
You make me happy
When you don't even try.
Your laugh makes me smile.
You make my life a better place.
I love everything about you.
You're someone I could never replace.
It's you that keeps me up all night.
The one getting me through the day,
And so it seems to me that there
Is only one thing left to say.
I don't know how to say it
To make it sound so true,
So I'll say it how I feel it.
I'm in love with you.
No distance can keep us apart.
You are someone I can't forget.
You will always be in my heart.
I know I'll be with you yet.
I will tell you from my heart
We will never drift apart.
You keep me from being blue,
And I love you for being you…
—Owain L. Derbyshire
I Can't Stop Thinking Of You!
I look at the clock,
It says 1:41,
I know thinking of you I'll never be done.
You run through my mind,
and occupy all my time,
Wondering why you are gone and why you are not mine,
I think of you constantly,
For some reason I can't stop,
Knowing that for always,
You'll forever have my heart,
My days go by so slow, because you run through my head.
I said I love you forever,
Isn't that enough to say,
You also haunt my dreams if you know what I mean,
I wake up often with sweets and creams.
Why do I sleep by myself,
I'm alone in my bed,
I know I'll be thinking of you,
Till the day I'm dead,
Now still all this thought,
Just run through my brain,
Can't stop thinking of "blank"
I think I'm going to be insane.
—Jannier
Our One Star
Look at the stars tonight
As we see the same light
And in that moment
It will be alright
If you miss a falling star
I'll catch it for you
Keep it in my heart
And we can share it too
Keep holding on
As life goes along
Pain is short-lived
As you are so strong
I will hold your hand
And look in your eyes
But it is only then
That our star will shine.
—Colby Barker
Love Online
How did this happen I continue to ask?
As I get online waiting for time to pass
You are now fast asleep half a world away
This distance is nothing, I mumble away
I never loved another who was so very sweet
God I look forward to rubbing your feet
The smell of your skin; the warmth of your touch
Is all I want and so very much
As I ask permission to view your cam
My heart beats heavy; there is sweat in my hand
To be with you is my only dream
As the time passes I can't help but scream
Pulling my hair and stomping the ground
Please turn on your cam to see my frown
My frown turns around as I see you smile
Yes, I know baby, you leave in a while
Long distance love is hard to grasp
But our love for each other will surely last!
—Jeremy
Long Distance Love
Long distance love, how are you?
Are you thinking of me too?
I thought about you again today,
Just hoping that you are okay,
Can't you please pick up the phone?
As I sit here all alone.
Long distance love, do you recall?
The times it seemed we had it all,
The times we thought would never end,
But now I need more than a friend,
Everything could be so right,
If you would just come home tonight.
Long distance love, can't you see?
How much you really mean to me,
Sometimes it seems to be my fate,
To have to sit at home and wait,
But if this is what I have to do,
I will always be here for you.
—Alan W. Jankowski
Slipping
Together
I am gleaming opal
Bright
Full
Shining, Shining
Apart
I am faded porcelain
Dull
Fragile
Breaking, Breaking
Dark night meets darker sea
I am slipping
Can you feel me?
s
l
I
p
p
I
n
g
out
of
the
sky
Entwine your fingers with mine
Give me something to hold
Something to hope
Across the miles pull me to you
Safely into your embrace
Catch me
Catch me before I slip
Forever out of reach
—Steve Wilson
Read More: Love Poems for Wife