Be inspired and motivated by these beautiful smile poems! Smiling and laughing are one of the good things about life that have a lot of health benefits. You will never know the impact one of your smiles may have on another person's life. A smile is viewed as a positive form of communication.
Add a positive thought to your day by reading these poems. Share them with others who need a change in their facial expression.
Sunshine Of Your Smile – Poem by David Harris
Everyday that I wake
something wonderful waits for me
the sunshine of your smile,
that I what I wake to see.
Outside maybe gloomy,
dark clouds may mar the blue,
but then I look around,
and what do I see,
the sunshine of your smile,
that warms the heart of me.
No tears of sorrow,
at what tomorrow might bring,
because your face is lit up,
with the sunshine of your smile.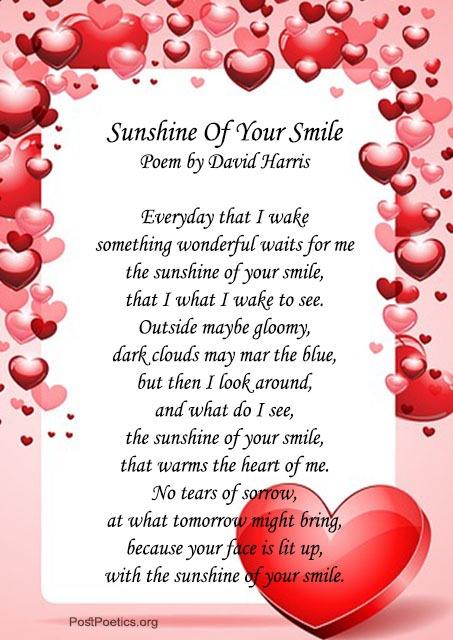 ***********************
Hold You In My Smile – Poem by Ernestine Northover
Sweet moment, stay with me,
and pray do not flee so soon,
Let me enjoy the bliss of that
first kiss beneath the moon.
I wish to cradle this feeling,
that has only just been found,
A feeling that has unexpectedly
turned my world around.
Do not depart, Oh please remain
within my heart awhile,
So that I can savour you once more,
and hold you in my smile.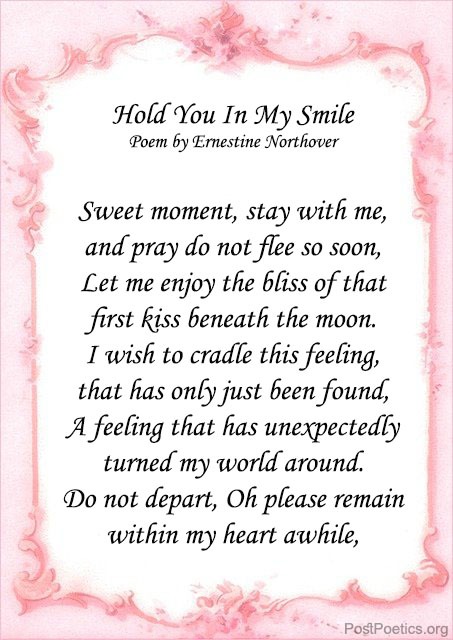 ***********************
Smile At A Girl – Poem by Uriah Hamilton
Eating canned beans
And saying a brief grace,
I walk out into the cool night
And wink at stars.
I know there is suffering
In this cobweb entangling universe,
But everyday I fall in love
And smile at a girl,
And sometimes she smiles back.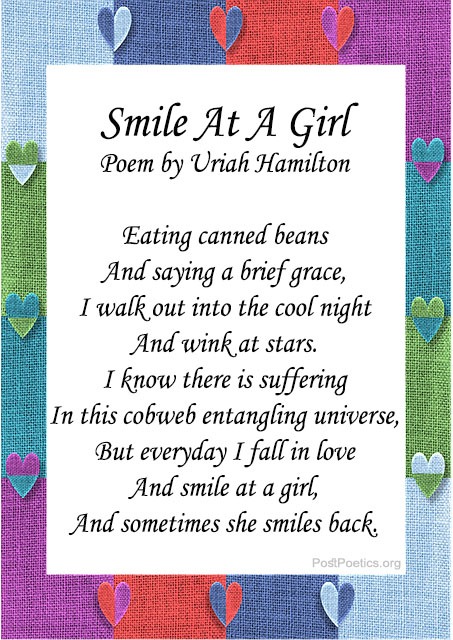 ***********************
Smile – Poem by Anoop Lokkur
Smile,
Everytime you think of me smile;
Smile,
All the pain will fade away smile;
Smile,
This beautiful world for you and me smile;
Smile,
If your happy and cheerful smile;
Smile,
Look around you and you shall find love so smile;
Smile,
For no reason at all smile;
Smile,
And let me be the reason for your smile;
Smile,
'cos i would do anything for you to just smile.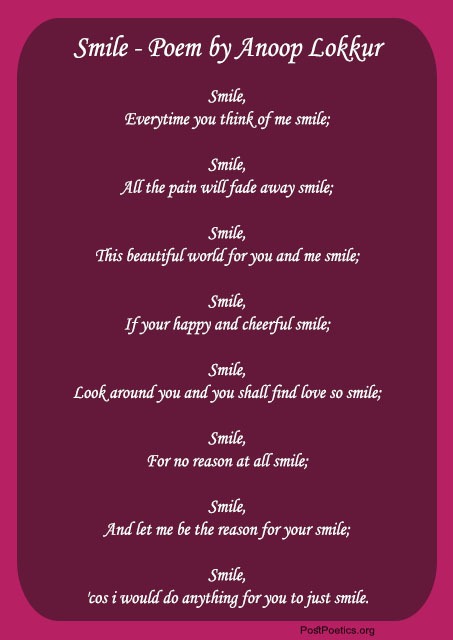 ***********************
I Wish I Made You Smile – Poem by John Kipling Lewis
looking past the trees
into the summer skies
not a hint of a cloud
in your brilliant blue eyes.
lying here beside you
I wish I could envision
that I could make you smile
and be an obvious decision
so off you go
I know my role
we're sure to be good friends
and if you find
you've changed your mind
perhaps you'll smile in the end.
***********************
Smile At Me – Poem by Ernestine Northover
Can't you just smile back at me
When I send a smile to you,
Why is it that your lips are tight
And seem so frosty blue,
Can't you let your mouth just raise
Both sides a little bit,
Or is it that my face just doesn't,
In your mind, quite fit.
If you would smile, your face would be
A very handsome one,
And I believe that you and I
Could have a lot of fun,
But until you give a welcome grin,
There's nothing I can do,
Except, when you look across at me,
I'll keep smiling back at you.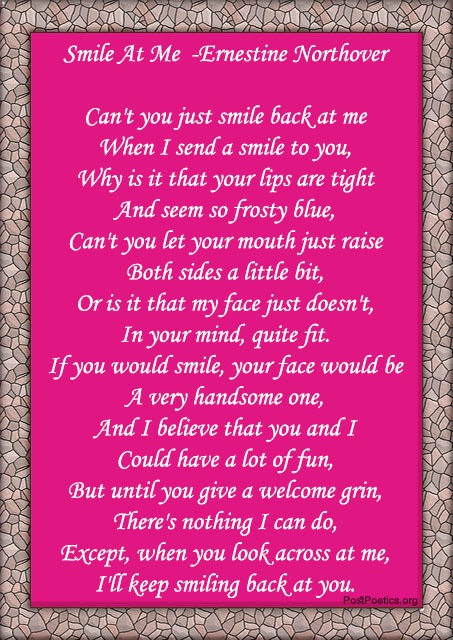 ***********************
Only A Smile – Poem by Mathilde Blind
No butterfly whose frugal fare
Is breath of heliotrope and clove,
And other trifles light as air,
Could live on less than doth my love.
That childlike smile that comes and goes
About your gracious lips and eyes,
Hath all the sweetness of the rose,
Which feeds the freckled butterflies.
I feed my love on smiles, and yet
Sometimes I ask, with tears of woe,
How had it been if we had met,
If you had met me long ago,
Before the fast, defacing years
Had made all ill that once was well?
Ah, then your smiling breeds such tears
As Tantalus may weep in hell.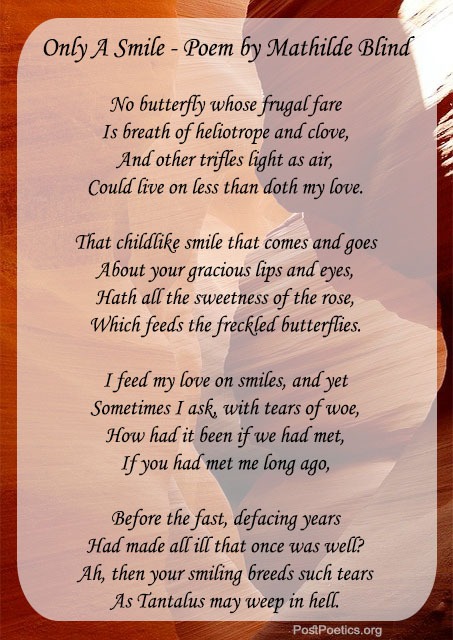 ***********************
A Smile – Poem by Kurt Hearth
A smile
is a frown turned upside down.
A smile
is painted on the face of a clown.
A smile
brightens a dreary day.
A smile
chases tears away.
A smile
is a gift that shows you care.
A smile
is priceless no matter where.
A smile
is the key to happiness.
A smile
a sure sign of success.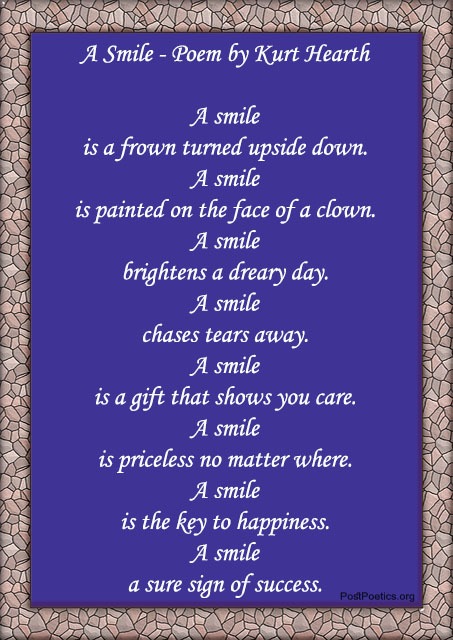 ***********************
Smile – Poem by Frantz Dorsain
Smile
brings joy to all of us
brights up our day
a smile is like a sunshine shining the universe
A smile brings comfort to those in sorrow
A smile brings hope to those in despair
A smile brings happiness to those in distress
As we move on with our lives remember to smile to the people
we love and cherish because the end might be near
A smile is a beginning to a new chapter of our lives
Smile each and everyday
Let celebrate life with a smile!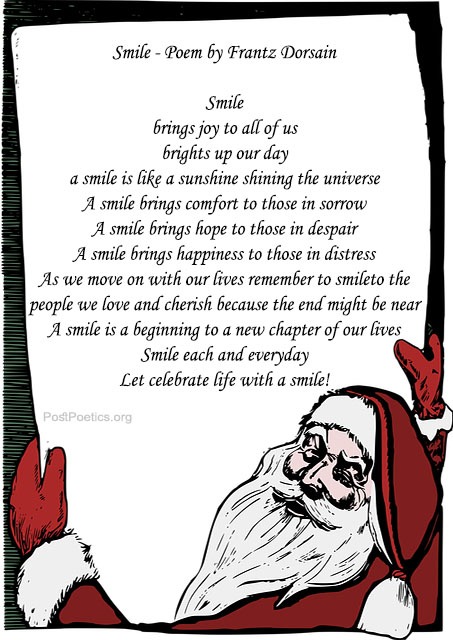 ***********************
You Smile Upon Your Friend To-Day
Poem by Alfred Edward Housman
You smile upon your friend to-day,
To-day his ills are over;
You hearken to the lover's say,
And happy is the lover.
'Tis late to hearken, late to smile,
But better late than never;
I shall have lived a little while
Before I die for ever.
***********************
Reason To Smile – Poem by Lendl Ian Servillon
How can one smile such sweet smiles,
When one is so saddened by sorrows for miles,
How can I smile the same smiles,
When life brings me nothing but tears,
I wondered for so long,
What reason you had to smile that long,
To keep smiling though troubles come,
And still remain sweet and silently overcome,
It's such a mystery to me,
Your smiles from heaven with glee,
I adore and yet envy thee,
But I'd rather you smile those at me,
I feel happy when I see you smile,
Even if I'm sad and lonely,
Your smiles bring me somewhere,
I don't even know where,
But it was you,
You gave me the reason to smile,
To smile with no reason,
To smile for a smile,
I guess life is just like that,
We need not a reason to smile,
For a smile is the reason itself,
To rejoice and open-heartedly give thanks,
I learned to smile because of you,
Because your smiles bring me joy when blue,
It proves how well and powerful,
A simple sweet smile can become so beautiful,
Smile for the sake of a smile,
Smile for the sake of happiness,
Smile for the sake of life,
Smile because of hope left in life,
Smile my friends,
Smile for me my Love,
Smile those same sweet smiles,
Smile so the world can be a peaceful dove…
***********************
Smile, Smile, Smile – Poem by Wilfred Owen
Head to limp head, the sunk-eyed wounded scanned
Yesterday's Mail; the casualties (typed small)
And (large) Vast Booty from our Latest Haul.
Also, they read of Cheap Homes, not yet planned;
For, said the paper, "When this war is done
The men's first instinct will be making homes.
Meanwhile their foremost need is aerodromes,
It being certain war has just begun.
Peace would do wrong to our undying dead, —
The sons we offered might regret they died
If we got nothing lasting in their stead.
We must be solidly indemnified.
Though all be worthy Victory which all bought,
We rulers sitting in this ancient spot
Would wrong our very selves if we forgot
The greatest glory will be theirs who fought,
Who kept this nation in integrity."
Nation? — The half-limbed readers did not chafe
But smiled at one another curiously
Like secret men who know their secret safe.
This is the thing they know and never speak,
That England one by one had fled to France
(Not many elsewhere now save under France).
Pictures of these broad smiles appear each week,
And people in whose voice real feeling rings
Say: How they smile! They're happy now, poor things.
***********************
The Made To Order Smile – Poem by Paul Laurence Dunbar
When a woman looks up at you with a twist about her eyes,
And her brows are half uplifted in a nicely feigned surprise
As you breathe some pretty sentence, though she hates you all the while,
She is very apt to stun you with a made to order smile.
It's a sublte combination of a sneer and a caress,
With a dash of warmth thrown in to relieve its iciness,
And she greets you when she meets you with that look as if a file
Had been used to fix and fashion out the made to order smile.
I confess that I'm eccentric and am not a woman's man,
For they seem to be constructed on the bunko fakir plan,
And it somehow sets me thinking that her heart is full of guile
When a woman looks up at me with a made to order smile.
Now, all maidens, young and aged, hear the lesson I would teach:
Ye who meet us in the ballroom, ye who meet us at the beach,
Pray consent to try and charm us by some other sort of wile
And relieve us from the burden of that made to order smile.
***********************
Awake To Smile – Poem by Robert William Service
When I blink sunshine in my eyes
And hail the amber morn,
Before the rosy dew-drop dries
With sparkle on the thorn;
When boughs with robin rapture ring,
And bees hum in the may,–
Then call me young, with heart of Spring,
Though I be grey.
But when no more I know the joy
And urgence of that hour,
As like a happy-hearted boy
I leap to land aflower;
When gusto I no longer feel,
To rouse with glad hooray,–
Then call me old and let me steal
From men away.
Let me awaken with a smile
And go to garden glee,
For there is such a little while
Of living left to me;
But when star-wist I frail away,
Lord, let the hope beguile
That to Ecstatic Light I may
Awake to smile.
***********************
Smile–Smile–Smile – Poem by Lealon R. Tate
A smile is beautiful with all its charm
Something to give but does no harm
A smile is a frown only upside down
It has a good feeling, just look around
A smile is a flash that cannot be sold
It has everlasting pleasure we are told
A smile is like the sunshine at its very best
Some wear it all the time until they lay down to rest
A smile is valuable like silver and gold
But it cannot be bought just always on hold
A smile is nothing till someone gives it away
Just try your best to receive it some day
A smile is like a statue that enriches the mind
You cannot steal or throw away but not hard to find
A smile is for the rich also for the poor
The benefits are the same till there is no more
A smile is for everyone with its action so true
It creates happiness in the home for me and you
A smile is a smile as known to mankind
Stand up in front and smile not stand behind.
***********************
Hide Behind A Smile – Poem by Ivy Christou
My friend,
Let me hide behind a smile,
Even if you know the truth.
Yes,
I know,
My eyes can't lie
But I owe it to myself
To fool you all,
To fool me.
I want to hide behind a smile
So that you,
Who love me,
Don't sense my pain,
Because you will feel it too.
I want to hide behind a smile,
So that you,
Who don't care about me,
Don't see me down
Before I have the chance to get up.
I must hide behind a smile,
So that you,
Who hate me,
Don't feel proud
For what you have done..
***********************
A Smile – Poem by Jennifer Rondeau
A smile from his face made me smile,
His laughter,
How he makes me laugh,
A thunderstorm can't stop me from loving him,
Even thou he and I are no longer together,
But his laughter, his smile,
Will always make me smile,
He was my first love,
My first crush,
My everything,
I loved everything about him,
His smile,
His laughter,
His warmth,
He will soon enough will know how I feel,
Heavens sent me above,
Above from this beyond white clouds,
His footsteps,
He keeps something's apart of me,
Apart that he has but his smile will always be remembered.
***********************
Times When I Smile – Poem by Sandra Osborne
You may not even know me,
Or know what I mean,
Understand my world,
Or hear me when I scream.
You may not ever see me,
Or ever touch my mind,
Because all that is real
Are only dreams in time.
Don't try to fit me in
To your ridged mold,
All the world is free,
At least, thats what I'm told.
So please, don't scream and worry
Or cry for me at night.
No matter how I'm different,
I will win my fight.
I will be the victor
Of all my many trials,
Because all that's real are dreams,
And times when I smile.
***********************
A Smile For A Smile – A Tribute To All
Poem by Samanyan Lakshminarayanan
What a variety of people we have here
nine to a ninety of age would be there
what a variety of poets we have here
some would paint lovely pictures
some would bring lovely music
some could paint and play music together
all of it only with words in order
some are naughty
some are just heart broken
a lot write on god
yet to see an 'atheist' poet here
what a variety of poets we have here
Is there a rat race here?
I admit that i visit the 'promote your poems' now and then
I do it to see how much iam read
I certainly want to be read
I do request a lot of poets to read me
I do respond to their requests too…that's it
a rat race here is a shame
who can overtake whom in 'creativity'
each one's individuality is what matters
to me creativity would sustain humanity
I used to be writing in tamil
i used to read it to my wife and daughters
i owe it to my wife..she is my first fan
my daughters gave up tamil and took up french
when i started writing in english…they left the country itself
I think it is a boon to be read by so many
i think it is a boon to read so many
I thank every body for their support and guidance.
***********************
The Best Smile – Poem by Rajaram Ramachandran
It was a portrait
Of six feet height
Full size Lady Grace,
Minus lips on her face.
With all his skill
The artist failed still,
To give her a smile,
Free from any style.
He scanned every mile,
For that unseen smile,
One lovely to admire,
Forever, the world over.
Smiles, smiles every where,
But not a smile there,
New, true and plain,
His lady should own.
His wife smiled.
His girl smiled.
His servant smiled.
His boss smiled.
The milkmaid smiled.
The cartman smiled.
The beggar smiled.
The neighbour smiled.
The dandy smiled.
The waiter smiled.
The grocer smiled.
The councilor smiled.
He saw an ambitious smile,
Not an aesthetic smile,
And a cunning smile,
Not a winning smile.
He saw a dubious smile,
Not a divine smile,
And a greedy smile,
Not a graceful smile.
He saw a mischievous smile,
Not a magnanimous smile,
And a voluptuous smile,
Not a virtuous smile.
Smiles, with strings, he found,
Wherever he went round,
But not the best one,
The Lady Grace won.
The smile, the best,
He found at last,
From his own child,
Rocking in the cradle.
Now the Lady Grace smiled.
Thanks to the child.
The portrait was acclaimed,
The best of its kind.
***********************
Smile-Once More – Poem by Prasanna Kumari
smile caressing your lips
fondles my body in bliss
smile a glossy smile
to enliven my mind in style
smile a smile to sparkle
to enlighten my soul to dazzle
smile and smile with you
enthrone my spirit with you
smile a lustrous smile
to enrich my route awhile
smile for Heavens to bloom
smile to cast away my gloom
smile as moonlight glance
see my rhythmic dance
smile on my shoulders' wings
Oh! listen, the bird sings
smile when at its best
cast Cupid's arrow on my chest.
***********************
Pass A Smile – Poem by Sumita Datta
I smile when I am shy
I smile when I want to cry
I smile when I am sad
I smile, when I just go mad
I smile when I am envious
I smile when I am very jealous
I smile when I am happy
I smile when I feel shaky
I smile when I am emotional
I also smile when I act abnormal
I smile when I am overloaded
I smile when I miss my beloved
I smile when I think something
I smile when I think just nothing
Do you know why I am smiling? When I smile at you?
Dear friend, I think it's a very tough question I asked you! !
Never mind whatever be the reason behind my smile,
Dear, just pass me a smile, at least I feel good for a while.
***********************
Woone Smile Mwore – Poem by William Barnes
O! MARY, when the zun went down,
Woone night in spring, w' viry rim,
Behind the nap wi' woody crown,
An' left your smilen face so dim;
Your little sister there, inside,
Wi' bellows on her little knee,
Did blow the vire, a-glearen wide
Drough window-panes, that I could zee,—
As you did stan' wi' me, avore
The house, a-parten,—woone smile mwore.
The chatt'ren birds, a-risen high,
An' zinken low, did swiftly vlee
Vrom shrinken moss, a-growen dry,
Upon the lanen apple tree.
An' there the dog, a-whippen wide
His hairy tail, an' comen near,
Did fondly lay agan you zide
His coal-black nose an' russet ear:
To win what I 'd a-won avore,
Vrom your gay; face, his woone smile mwore.
An' while your mother bustled sprack,
A-getten supper out in hall,
An' cast her shade, a-whiv'ren black
Avore the vire, upon the wall;
Your brother come, wi' easy pace,
In drough the slammen gate, along
The path, wi' healthy-bloomen face,
A-whis'len shrill his last new zong:
An' when he come avore the door,
He met vrom you his woone smile mwore.
Now you that wer the daughter there,
Be mother on a husband's vloor,
An' mid ye meet wi' less o' care
Than what your harty mother bore;
An' if abroad I have to rue
The bitter tongue, or wrongvul deed,
Mid I come hwome to share wi' you
What 's needvul free o' pinchen need:
An' vind that you ha' still in store
My evenen meal, an' woone smile mwore.
***********************
Smile For Me – Poem by Jay P Narain
When you smile,
You create a language of intimate interaction,
When you smile,
You send an instant message of heart to heart communication.
When you smile,
You create a dream world of happiness,
When you smile,
The whole world smiles with you,
When you smile,
The despair and troubles seem so far away,
When you smile,
The hope and cheers seem only a stone's throw away.
When you smile,
My heart gets the will to survive in distress,
When you smile,
My mind gets the power to overcome all the hurdles.
When you smile,
My heart belongs to you,
when you smile,
The whole world belongs to you.
***********************
The Very Memory Of Your Smile – Poem by LLM Mbatha
The very memory of your smile
The thoughts of seeing you again
Make each day worth while
Even as I feel the falling rain
Don't take my dreams away
Tell me, you'll come sometime
My hope lies on what you say
Promise me you'll come sometime
Don't make me wait forever baby
Or until my days of prime are done
I only wanna make you happy
In a world that's yours and mine
What more can I say or write
Give me a chance to make it show
There's a flame that you ignite
It never dies though winds may blow.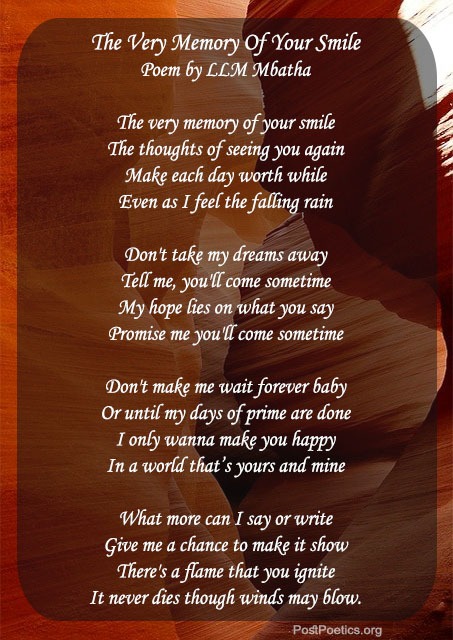 ***********************
I Smile – Poem by Mariana Zita
I smile and laugh
when I am happy
I cry and sob
when I am sad
I giggle and grin when
something is funny
I blush and hide when
I see my crush walk by
I scream and yell
when I am mad
But no matter what
my emotions are I
will always love and
be loved.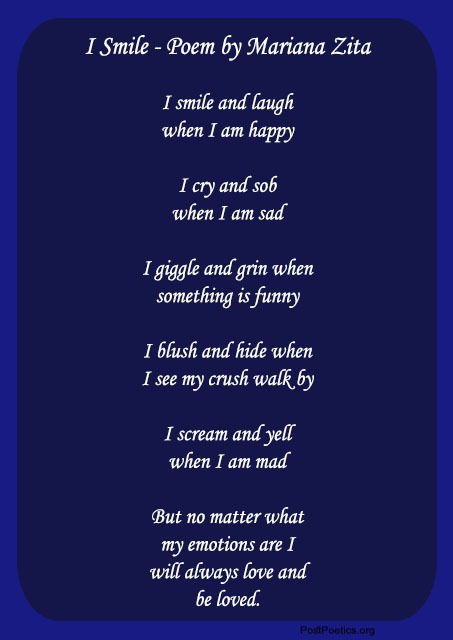 ***********************
Smile At Me – Poem by Ernestine Northover
Can't you just smile back at me
When I send a smile to you,
Why is it that your lips are tight
And seem so frosty blue,
Can't you let your mouth just raise
Both sides a little bit,
Or is it that my face just doesn't,
In your mind, quite fit.
If you would smile, your face would be
A very handsome one,
And I believe that you and I
Could have a lot of fun,
But until you give a welcome grin,
There's nothing I can do,
Except, when you look across at me,
I'll keep smiling back at you.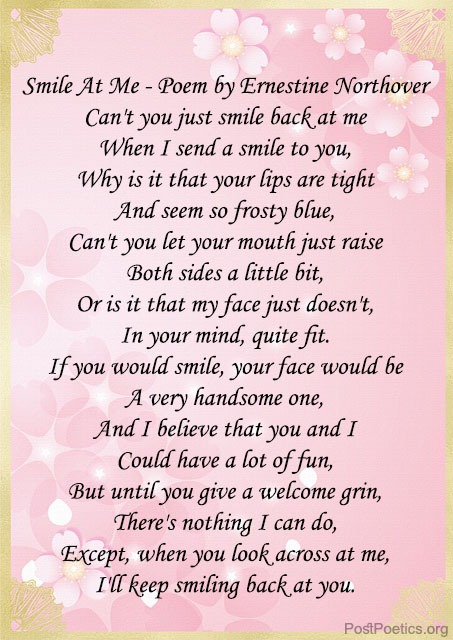 ***********************
You May Interest: Love Poems
Smile Smile – Poem by Kumarmani Mahakul
What Jack says this is his smile,
File?
Cutter cuts nail and is this his style?
Bile!
Jack, uprising nose tells nail is tile,
Pile!
Showing his finger behind nails he runs mile,
Vile?
Jack twisting his eyes indicates to have wile,
Defile!
Still Jack tells cutter, "Please do not revile, "
Abseil!
Wow! Jack's cut nails are running towards sky,
Guy!
Smile of Jack gives a big blowing violet thunder,
Under,
Nail cutter says your nails run towards a drain,
Rain!
Jack tells, I have kept nails in my violet file,
Smile!
***********************
You Make Me Smile – Poem by Jon Marco Ibe
You make me smile
You make me smile whenever I see you
You make me smile whenever I hear you voice
You make me smile whenever you kiss me or cuddle me
I felt warm and comfort just knowing you are on my side
Every time I think of our memories its makes me smile
Even though have few
That's way makes me smile.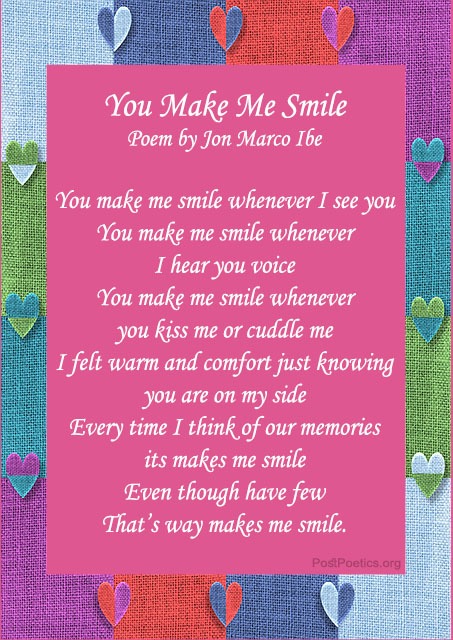 ***********************
Smile, Smile, Smile – Poem by Walterrean Salley
A smile will pick you up
When you are down.
It'll make you feel better—
Turn your day around.
So get yourself a smile,
And get rid of the frown.
Smile. Smile. Smile.
Smile at the sky,
Smile at the sun.
Smile at the flowers
Just for fun.
Smile if you're dragging
Or on the run.
Smile. Smile. Smile.
Smile when you're happy
And when you are sad.
Smile when you're grumpy,
It'll make you feel glad.
It could be the best day
You've ever had
If you Smile. Smile. Smile.
Smile at the sky,
Smile at the sun.
Smile at the flowers
Just for fun.
Smile if you're dragging
Or on the run.
Smile. Smile. Smile.
Do yourself a favor and smile.
***********************
The Mind's Strange Beauty, With Its Smile
Poem by Michael Shepherd
It's said, that when our mind
awakes, out of that sweetest place
in which it sleeps, rests, is refreshed;
in the morning; or in those
rare moments when we let it take its rest;
this wondrous instrument, invisible,
yet holding all we think is ours…
in the twinkling before it spreads our world
before us, like some awed geographer
unrolling with two hands a map from polished rods,
inviting exploration, conquest, or desire…
in that great moment, as it emerges from that place
which is to us no place… that holy place,
of universal mind before it's individual –
that bran tub where we thrust our eager arm –
splits its precious unity, which some mighty force
beyond place and time itself, has decreed that mind
may find itself, or lose itself, in multiplicity –
splits this onely mind into polarity:
scans like some godly radar,
its whole vast world surveyed;
surveyed in truth; indifferent
as that sweeping line which arcs incessantly
to show, there's this and this…
a fraction of a moment, and then we
clothe all this playground of the soul
(glancing so quickly, setting up
imaginary walls, beyond which
be dragons and our mortal enemies…) with our illusions,
our beloved illusions, the land
where we may play, pretend ourselves
to be ourselves… our world
of friction and duality:
from small (it thinks) to great (it fears) ,
from good (it likes) to bad (it scorns..)
the pleasing and unpleasing there;
the loves and hates; all the illusions
that we defend, fight over, argue, build…
the friction of the tire on road…
all set against each other – in our mind;
'nor good nor bad, but thinking makes it so'…
This is the magic of the mind; with this,
ourselves as conmen, tricksters – sometimes
healers, teachers, wise men too –
with this, in this we play,
as poets with a dictionary;
know this – and watch this ticking, exquisite watch,
its intricate fine mechanism
running on until its spring winds down:
know this, and laugh that heavenly laugh
that blows away illusion; that laugh
that has the sweetest sound you ever heard,
as if you laughed with gods; or,
smiling as a goddess smiles.
***********************
Her Smile Makes Me Smile – Poem by Paul Holmes
Whenever I feel sad
And life's troubles wear me down
I just look upon her face
And no longer wear a frown.
Whenever the cold rain
Pours and saturates the ground
It's then that I sense sunshine
Each time that she's around.
Her smile makes me smile,
And I feel so pleased to be
In the same room as her,
In her close proximity.
Her smile makes me smile
At people that pass me by;
There's a spring in my step
And a twinkle in my eye.
***********************
Smile Woman Smile – Poem by Elizabeth Jacqueline Mpanga
Smile woman smile, smile baby smile.
You have been made with love and care.
Smile woman smile,
God smiled when he made you,
Smile baby smile,
He took all the emotion and love he had and put it in you
Smile woman smile,
He created you to share the gift of creation with him,
Smile baby smile,
He made you sensitive, emotional, gentle, kind, loving, thoughtful and self sacrificing,
Smile woman smile,
The angels ululated and rejoiced when they saw what a wonderful creation woman was,
Smile baby smile
He put in you the natural motherly instinct; he knows with you around there will be enough love to go around,
Enough empathy and care to go around.
You are special because you have been made soft yet strong.
In times of pain, you sooth.
When there is sickness you care,
You are the glue that sticks a family together and a pillar of the community.
How great you are. How wonderful and blessed you are.
Smile woman smile,
Smile baby smile.
***********************
Come Smile At Me Again – Poem by Herbert Nehrlich
Come smile at me
come smile at me again.
And use the only smile you have,
the selfless and exquisite one.
And keep your eyes on me.
I'd like to study
the nuances of your smile.
Come look at me.
Come look at me again.
And use the only look you have:
The one of pure
Manuka Honey.
And keep your look on me.
I'd like to study
all the markings on your face.
Come close to me.
Come close to me again.
And hold your warm and tender body close to mine.
Come closer yet.
I'd like to study
YOU, and hope to never graduate.
***********************
Peeling Eggs Makes Me Smile – Poem by Mary Nagy
You may wonder
how peeling the shells off eggs
makes me smile……
but it does!
I've been making egg salad sandwiches
and smiling the whole time!
While I am wrestling with the eggs
trying to get the paper-thin shell
to come off without removing too much egg…….
I'm reminded of my dad.
Whenever my dad would peel eggs
it would kick him off
into an hour long tangent….
"Those stupid farmers! "
"They are so greedy they give the chickens
something to make them lay more eggs
and it's making their shells so thin I can't remove it
without losing half the egg! "
He would go on and on while we rolled our eyes
and gave eachother "the look".
"Here he goes again! "
We learned to volunteer to peel the eggs
just to avoid hearing the speech.
Well, he's been gone for 12 yrs now……..
What I wouldn't give to hear that speech again!
I still hear him.
Only now, I smile while I wrestle the shells off the eggs.
***********************
Smile Little Man – Poem by Lovina Sylvia Chidi
Smile little man, smile!
Show me some love
Radiate some care
Lighten up the atmosphere
Scare us not with a retarded fearful face
A smile goes a lenghty way at a steady pace
Everytime I see you, I see your frown
Your thoughts are glaring at me as if I am a vicious enemy
Demanding of you to surrender to my battalion army
Why not change your facial expressions for once
If you deem yourself not worty of silver, at least aim for bronze
Common smile little man
Show me some white teeth
Give me some love
Acknowledge I'm here
Why hath thou so miserable, day by day
A smile will make a difference to your face
Your smile will make you attractive in every place
A smile will make us listen sympathetically to your case
Drive not away the innocent ones
Allow not your frown to spoil our fun
Smile little man, smile
Smile, once, then smile twice
Smile for the ladies, smile for you
Smile for me, smile for everyone
Smile for the old ladies crossing the street
Smile little man, smile
Common give some real love for once
If you deem yourself not worty of silver, at least aim for bronze.
***********************
Sunshine Of Your Smile – Poem by David Harris
Everyday that I wake
something wonderful waits for me
the sunshine of your smile,
that I what I wake to see.
Outside maybe gloomy,
dark clouds may mar the blue,
but then I look around,
and what do I see,
the sunshine of your smile,
that warms the heart of me.
No tears of sorrow,
at what tomorrow might bring,
because your face is lit up,
with the sunshine of your smile.
***********************
Smile – Poem by Michael Sombrero
And then…..you smiled
I thought it was nothing,
I kept looking, it would be a mild …
Innocent encounter, no bother
A flow touching softly, a sun rising quietly….
It had a color, it had a glory
It had a song, it had a story…
Growing in the shy neighbor of the garden
Shyness protects, but never hardens
Unresolved contemplations in the depth
Surface smooth, may be thorny at a depth
There should be a key
Relaxed in the sea,
There should be a way
Unavoidable pathway..
A sentence to say…
It's a word and only a word
That could bring the best and change the world
I wonder what, I wonder when
We hear to listen, we say to pray
Something flowing, never to be stopped
Beauty flying, not to be dropped…
you shall dance, you shall sing
Forget about the thing
It was a smile
Tomorrow another mile
Details we can write
Will bring all to light
Flow is never to be mistaken
Happiness, a choice
Never given but always taken
Weird state of mind, something new of its kind
Always wanted, rarely granted
Absolute is there, don't be afraid, ask and dare
You have the right, you are the light…
…It was a cute smile,
The key to a thousand mile …
***********************
A Thousand Smile From You – Poem by Gil Gregorio
Everyday
I've walked a long way to field
I can't forget that simple smile
in your face;
Your lovely eyes I can see,
wearing a lonely heart for me.
Sometimes I fear to hold you tight
that tender touch of dreams…
My heart trembles a thousand rocks
where the springs of the mountain care.
Now, I can see you close to me
laughters have changed my fears;
holding your hands in memory
keeping my heart in tears…
Once in a lifetime I have count
that simple smile from you;
I just wanna see you smile
counting a thousand view…
Just stay, and I'll be with you
a friend to hold and cares for you!
***********************
Hiding Behind A Smile – Poem by Holly Heron
Hiding behind a smile,
I'm watching the world fly by,
I'm covering my pain,
Hiding behind a smile,
A shadow of a former life,
I'm lost in this grief,
I'm lost in your loss,
You took my soul,
As I found you,
Pain fills whats left behind,
Hiding behind a smile,
I can't find myself,
Hiding behind a smile,
I'm losing myself.
***********************
Smile Inside. – Poem by John Kipling Lewis
There's a smile inside
I can find it when I'm alone
in a cafe when it rains.
When I pratfall and no one notices.
It's a wonderful new place unexplored
or the flaw in an ancient vase.
I catch it in the mirror.
It's a face I can't practice.
It's not full of fear
or double thought.
It's the fresh path that leads
to new stimulus.
And I don't mind being alone
***********************
Behind My Smile – Poem by blood red angel
I'm in a prison I can't escape,
Battling my own nightmares,
And it's pretty clear to me,
That no-one even cares,
I'm sat in the darkness,
In the corner of my mind,
And all I can think of is,
There is no reality to find,
I've reached my breaking point,
And my head is in my hands,
My lank hair touching the floor,
No life in the copper strands,
All I hear are my own words,
My own visions of hell,
I know that my soul is leaving my body,
Leaving this empty shell,
I'm alone and no one knows,
But through the years, all the while,
I am still trapped,
Trapped behind my smile.
***********************
Smile…! – Poem by Midhu .P. Koshy
Smile…just once!
Smile doesnt have a price….
So, you Smile!
In laughter….even in a little smile…
There are waves of music….
When you drown yourself in the sea of music,
Does not a li'l smile appear on you golden face? ?
So now you smile…
and burst into laughter! ! !
Let me too drown in the waves of your laughter…
***********************
Smile Graveyard Truce – Poem by Uriah Hamilton
Smile graveyard truce:
I accept tombstones of doom,
I've abandoned promise,
I've abandoned love.
I've told death,
I'm your son,
Can we begin eternity?
***********************
Loving Smile – Poem by Otteri Selvakumar
How too live
Happy….?
On the world
All are wanted
Happy…!
How so happy
Live the life…? !
Learn happy
Each one of
The thing…
With lision…!
Think to making
Life for
Every secounds
Too true happy
Fastely you
Started
With your's
Loving smile…! ?
***********************
You Smile, And Smile And Smile A Bit More, – Poem by Beautiful Lie
You smile, and smile and smile a bit more,
but theres something missing,
that just shows,
Something very deep, hidden under those hazel, green eyes,
Theres something not right,
you're eyes are telling me something but i cant read,
The language of the eyes i could never master, i just never succeed,
Theres is something not right,
You smile, what are you trying to hide?
I caught you staring at me, those eyes, they just melted me,
Eyes never lie, doesn't matter how hard you try,
but there is something definitely not right,
Everyone think that you are alright,
but i know that there is something not exactly right,
Am i right?
It's just that your eyes, aren't you aware they're the window to your soul,
so for sure they are saying something, you have failed to hide,
but for how long dear can you suppress, and conceal these tears,
maybe you don't know, that i lied,
because i can read your eyes……….
***********************
Smile – Poem by Sumita Datta
Smile…. it actually costs nothing,
So, you can smile for anything
Do you know smile acts like a magic?
When your life is loaded with tragic!
Smile is priceless- no matter where,
Smile can easily vanish you fear…
Do you know when you are ill?
A sweet smile can act like a pill?
Smile can be short, smile can be long,
You can smile loud, nothing is wrong! !
Smile, it improves your face value
Smile is a gift by God, given to you! ! !
***********************
Brenda Smith's Smile – Poem by Amanda Lukas
Her name was not important.
She'd even worked in Canada
for a year or two as Brenda Smith.
Her smile, however, well that was unforgettable.
I remember telling the man
that sells loaves of fresh bread at the mall
when he'd asked about her.
His tears were also unforgettable.
How could this man be moved
into tears when he'd barely even known her?
She was one in a million.
Her stride was that of a proud stallion.
That woman always greeted people with warmth and dignity.
Her eyes told so many sad tales,
the kind of stories her lips
would always try to hide.
Her name was not important,
for she couldn't have been anybody
but herself.
But her smile, well that was unforgettable.
***********************
Let The Smile Never Fade /3 – Poem by Kirstie Kehner
So why did he do it
Knowing that it would make so many people cry
Thinking how he still went through with it
Is still the biggest surprise
The secret lie which concealed his pain
Laid upon his moon lit face
The rope from which he told his feelings
Was his last and final embrace
He let his mark on all our lives
Whether it be a smile or a tear
And even though he chose his fate
He's still going to be with us for many years
A place in our hearts will always belong to him
For all the good times and the bad
And all the tears that fall at night
Are for the memories that were left to be had
So why did he give up?
Even though he'd know that everyone would cry
Still wondering why that little miracle gave in
Is still the biggest and hardest surprise.
***********************
One Little Smile – Poem by B.J. Ayers
Once in a life, to all it will come,
A chance to be nice, to someone you see,
An opportunity to help, to others in need,
Before it's too late, before you succumb.
It doesn't take money, or gifts you may think,
Just a friendly smile, or "can I help you, please",
A small friendly gesture, is all that's required,
To change someone's day, in one small blink,
You may find your day, may also improve,
The feeling within you, the smile on your face,
To know you have given to someone else,
A wonderful feeling, yourself will approve.
***********************
Smile And Smile – Poem by Gajanan Mishra
Smile and smile,
Everywhere you can
See smile,
And all they know
Why they are here.
It is true
No one is dying.
All they know
What for they are here.
What are they doing
They are well aware of that.
Yes, they are just
Talking about with all
cleverness that they know all.
I'Ll Smile When You Die… – Poem by Christina Moore
I push you away
And your voice is running through my veins
But I'll smile when you die –
If it's by my hands.
And if I have to watch you gasp
then it might not be so fun
But I'll smile anyways –
And look on…
Don't test me and
You know I'll love hating you
Eventually
And smiles are only skin deep –
But I'll smile when you die
If it's by my hands
And if I have to see you struggle
Then it might not be too great
But when it's said and done
It's your misery over mine.
***********************
Magic Smile – Poem by Marvin Brato Sr
My heart is full of love
I wish it is as great as that Above
Careful thoughts linger in my emotion
Hearty feelings I possess in motion
Awe with the beauty the right creature
Even in my dreams I see her feature
Light flashes as she smiles.
Joy electrifies my inner self
on that smile she reveals herself
how beautiful she is to behold
none else on earth i wish to hold.
Mysterious she may be for now
A time will soon come somehow
Real love will lead the way
Girl in my dreams will soon stay
And I will be so happy to greet
That beauteous lady i will meet
End of my trip.
***********************
Please Smile – Poem by hazem al jaber
smile..
just for my eyes..
and to put a smile at my lips too..
and to a heart full of love to your smile..
please smile…
to let a roses bloom…
and to let a hearts fullblown..
and to let a soul beloved..
just by your smilling…
smile…
to let pens writes..
and to let papers writen..
and to talk about you a nicest stories…
simle…
to let your sweet-smelling go out..
and a flowers to sing…
and a moon to send his light…
to all lovers…
smile…
your smile surpass a moons` light..
and a suns` brightness…
and an emerald s` radiance..
and a diamond s` shine…
and a lady s` femininity…
smile…
smile o.. a lady of ladies on the world..
simle my lady….
***********************
I Smile – Poem by Brandi Young
I smile to cover the pain
I smile to hide my misery
But I'm tired of life and I wanna die
I want to escape from this hell Im living in
Will someone please take all the pain away
Take me to a place where I can be set free
Never again to know this agony
Never again to know the shit he puts me through
Take me to a place where I can be myself
Take me to a place of love & peace
Take me to a place where I can fly
There is only one problem
He lives off my pain, agony, and misery
He smiles at the site of my pain
But I just smile so no one can see the shit he puts me through
When I smile I turn into a different person
When I smile I lose another piece of my being
Every time I smile I hope someone sees through me
Sees through this fake skin and saves me before I die.
***********************
A Genuine Smile – Poem by Joseph T. Renaldi
When an acquaintance asks you how you are,
And how you coped with a trying day,
Then think of all of your blessings,
And then in a gentle manner say –
Just fine – with a genuine smile.
The day may have been a little tough,
And many obstacles seemed to stay,
Show you've got a positive attitude
And answer in a positive way –
Just fine – with a genuine smile.
Many other people have problems, too,
As your personal life reveal.
A firm handshake may suffice
To help them gain confidence and feel –
Just fine – with a genuine smile, too.
***********************
Smile And Smile – Poem by Hasmukh Amathalal
Smile and smile
Even though your response is cold
As I am told
But your smile
Stays fine
It evils
And heals
Feelings
For well being
Not all peolecando
And stand through
As same through crisis
As you insist and persist
You may have your way
Toss ay
Calm and energetic
The smile hides no basic
Come all and open
The gate for heaven
The earth smile with rain
So you also smile sans pain.
***********************
Smile When The Sun Don'T Shine – Poem by Rabi Anata
She walked through streets
All day long,
She skipped and smiled
And sang a song.
She went to markets,
Here and there.
She looked at dolls
And teddy bears.
But all she had
Was just two cents.
Her pockets were
All filled with lint.
What ashame…
You would have said
Such a sweet girl…
Her life so bad.
Not enough money
To buy one doll.
Lived a penniless life
But wore a smile.
Everyday…
Wore tattered clothes.
Having to deal with the
Oohs, Ahs, and Ohs.
Never did she,
Shed a tear.
She had no worries,
She had no fears.
Her mother was sick,
Her mother would cry.
Her mother would suffer
And lay down to die.
But this little girl,
She had not a care.
And she had not a bonnet
Or clean dress to wear.
But Daddy said,
Dear Caroline,
You smile when the sun don't shine.
***********************
A Smile To Remember – Poem by Charles Bukowski
we had goldfish and they circled around and around
in the bowl on the table near the heavy drapes
covering the picture window and
my mother, always smiling, wanting us all
to be happy, told me, 'be happy Henry!'
and she was right: it's better to be happy if you can
but my father continued to beat her and me several times a week while
raging inside his 6-foot-two frame because he couldn't
understand what was attacking him from within.
my mother, poor fish,
wanting to be happy, beaten two or three times a
week, telling me to be happy: 'Henry, smile!
why don't you ever smile?'
and then she would smile, to show me how, and it was the
saddest smile I ever saw
one day the goldfish died, all five of them,
they floated on the water, on their sides, their eyes still open,
and when my father got home he threw them to the cat
there on the kitchen floor and we watched as my mother smiled.
***********************
Did You Smile? – Poem by Luke Pere
I am asleep;
dreaming of elusive worlds.
I sensed emotions I deemed
were real.
I saw a memory that
Gave me warmth.
I awoke, except I was
still smiling.
As I laid there in wonder,
I broke into morning laughter.
t'was a vivid dawn to a simple happiness.
***********************
Smile All The While – Poem by Arti Chopra
send out a smile today,
see it being returned
lighten someones burden
your love wont be spurned
its difficult to smile
when the days cares lie heavy
but the result is really worth it
youll soon be smile savvy
everyone is harried
while rushing about by day
a cheery wave, a happy smile
has so much to say
for the shy ones, takes courage
to smile at someone unknown
but try it and you will see,
how cheerily its condoned.
a smile makes you feel happy,
give you a warm glow inside,
makes the day seem lighter
and worries to subside.
so lighten up all you serious ones,
and smile away your cares,
you give one., you'll get one free,
even ward off someones tears.
resolve to be happy,
spread cheer to near and dears,
work harder, sincerely and happily,
smile are contagious, not tears.
***********************
Read Also: Short Friendship Poems