This page is dedicated to funny poems for kids. We've gathered poetry that will make you laugh as well as tongue twisters and silly stories in verse. Let's start a fun
Now We Are Six
When I was One,
I had just begun.
When I was Two,
I was nearly new.
When I was Three
I was hardly me.
When I was Four,
I was not much more.
When I was Five,
I was just alive.
But now I am Six,
I'm as clever as clever,
So I think I'll be six now for ever and ever.
BY A.A Milne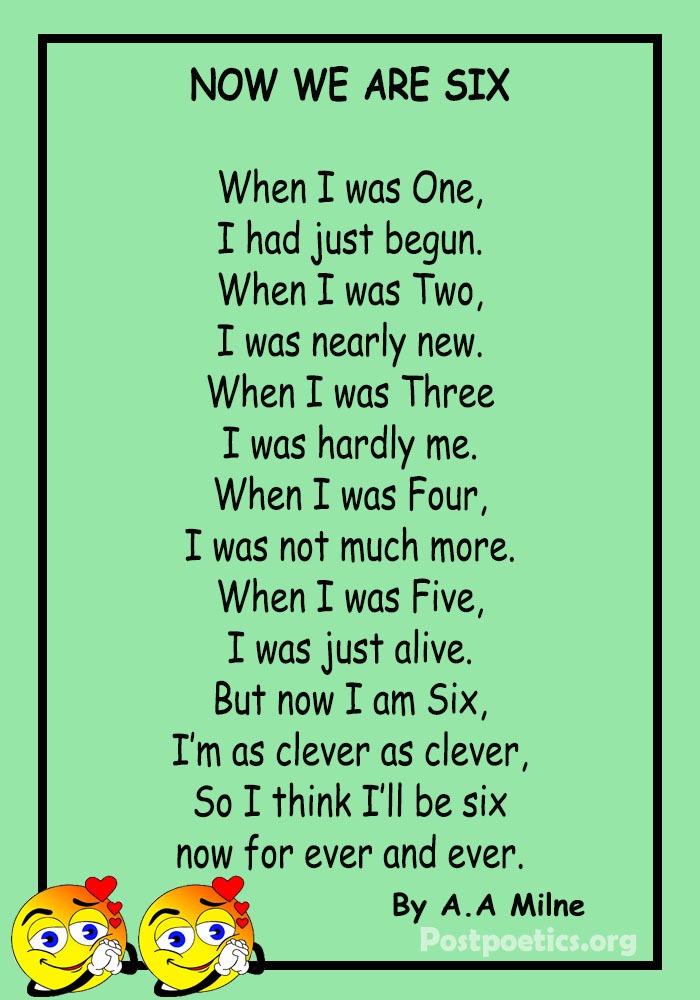 **************
The Crocodile
How doth the little crocodile
Improve his shining tail,
And pour the waters of the Nile
On every golden scale.
How cheerfully he seems to grine,
How neatly spreads his claws,
And welcomes little fishes in,
With gently smiling jawas!!
By Lewis Carroll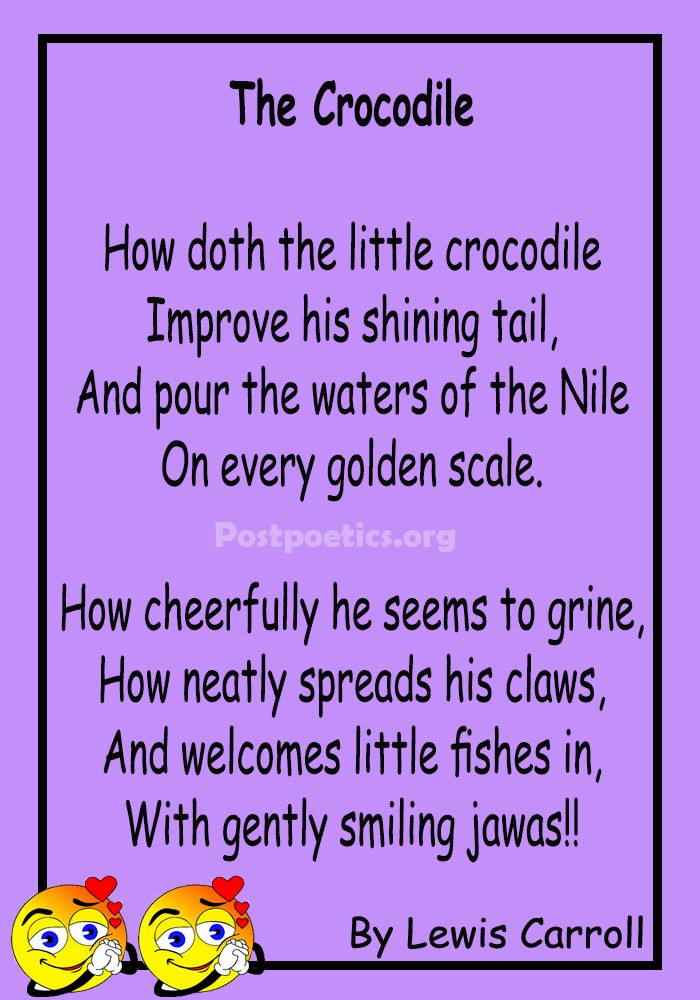 **************
My Cat Is Fat
I've a cat named Vesters,
And he eats all day.
He always lays around,
And never wants to play.
Not even with a squeaky toy,
Nor anything that moves.
When I have him exercise,
He always disapproves.
So we've put him on a diet,
But now he yells all day.
And even though he's thinner,
He still won't come and play.
By James McDonald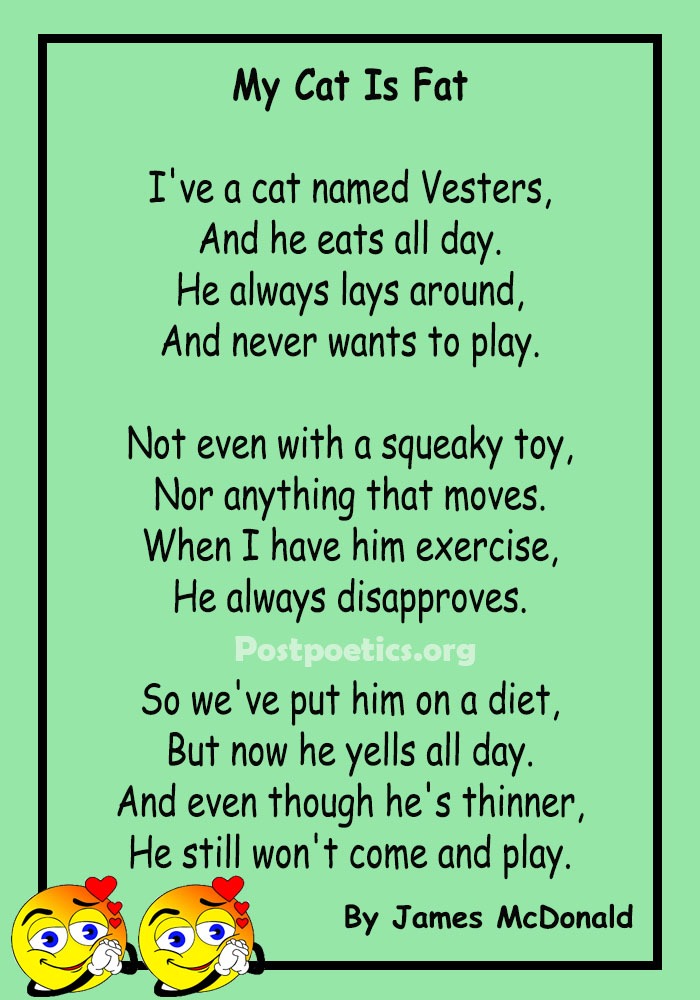 **************
Dust
The grey dust runs on the ground like a mouse,
Over the doorstep and into the house,
Under the bedsteads and tables and chairs,
Up to the rooms at the top of the stairs,
Down to the cellar, across the brick floor-
There! It is off again by the back door!
Never a mousetrap can catch the grey mouse
Who keeps the brooms busy all over the house!
By P. A. Ropes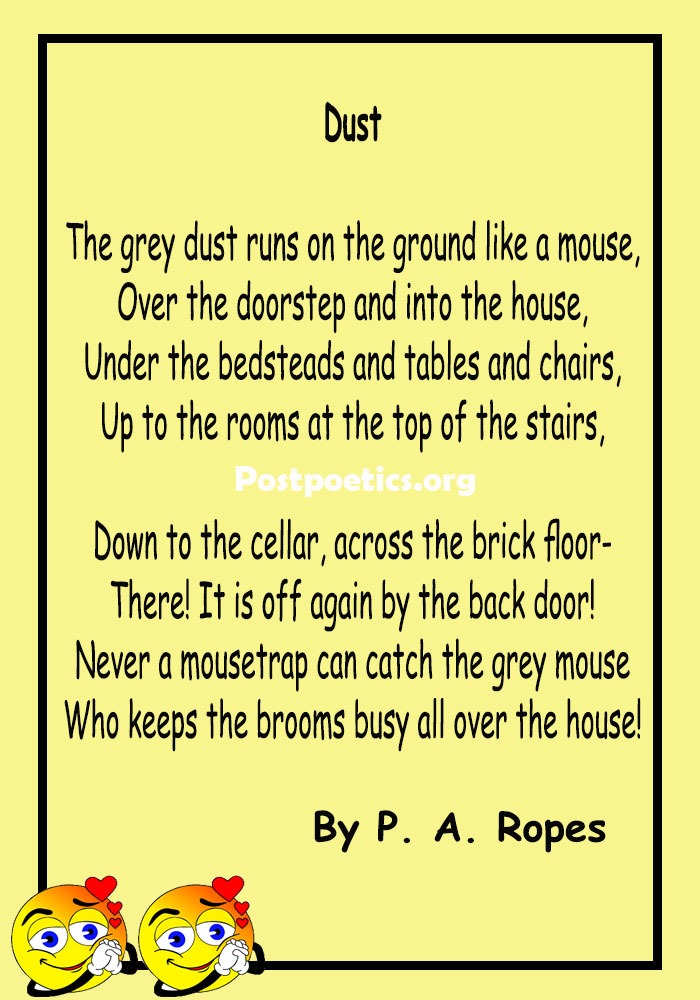 **************
More Funny Poems for Kids
The Upside-Down World
I know a place that holds the Sky
A place where little white clouds lie;
The edge is all green as Grass,
The middle is as smooth as Glass;
And there the round sun makes his Bed;
And there a tree stands on its Head;
Sometimes a Bird sits on that Tree;
Sometimes it sings a song to me;
And always in that shining place
I see a little smiling Face;
She nods and smiles; but all the same
The Girl down there won't tell her name.
By Hamish Hendry
**************
I'm Nobody! Who Are You
I'm Nobody! Who are you?
Are you – Nobody – too?
Then there's a pair of us!
Don't tell! they'd advertise – you know!
How dreary – to be – Somebody!
How public – like a Frog –
To tell one's name – the livelong June ,
To an admiring Bog!
**************
When the Teacher Isn't Looking
When the teacher's back is turned,
we never scream and shout.
Never do we drop our books
and try to freak her out.
No one throws a pencil
at the ceiling of the class.
No one tries to hit the fire alarm
and break the glass.
We don't cough in unison
and loudly clear our throats.
No one's shooting paper wads
or passing little notes.
She must think we're so polite.
We never make a peep.
Really, though, it's just because
we all go right to sleep.
By Kenn Nesbitt
**************
My Doggy Ate My Essay
My doggy ate my essay.
He picked up all my mail.
He cleaned my dirty closet
and dusted with his tail.
He straightened out my posters
and swept my wooden floor.
My parents almost fainted
when he fixed my bedroom door.
I did not try to stop him.
He made my windows shine.
My room looked like a palace,
and my dresser smelled like pine.
He fluffed up every pillow.
He folded all my clothes.
He even cleaned my fish tank
with a toothbrush and a hose.
I thought it was amazing
to see him use a broom.
I'm glad he ate my essay
on "How to Clean My Room."
 By Darren Sardelli
**************
The Mad Gardener's Song
He thought he saw an Elephant,
That practised on a fife:
He looked again, and found it was
A letter from his wife.
'At length I realise,' he said,
The bitterness of Life!'
He thought he saw a Buffalo
Upon the chimney-piece:
He looked again, and found it was
His Sister's Husband's Niece.
'Unless you leave this house,' he said,
"I'll send for the Police!'
He thought he saw a Rattlesnake
That questioned him in Greek:
He looked again, and found it was
The Middle of Next Week.
'The one thing I regret,' he said,
'Is that it cannot speak!'
He thought he saw a Banker's Clerk
Descending from the bus:
He looked again, and found it was
A Hippopotamus.
'If this should stay to dine,' he said,
'There won't be much for us!'
He thought he saw a Kangaroo
That worked a coffee-mill:
He looked again, and found it was
A Vegetable-Pill.
'Were I to swallow this,' he said,
'I should be very ill!'
He thought he saw a Coach-and-Four
That stood beside his bed:
He looked again, and found it was
A Bear without a Head.
'Poor thing,' he said, 'poor silly thing!
It's waiting to be fed!'
He thought he saw an Albatross
That fluttered round the lamp:
He looked again, and found it was
A Penny-Postage Stamp.
'You'd best be getting home,' he said:
'The nights are very damp!'
He thought he saw a Garden-Door
That opened with a key:
He looked again, and found it was
A Double Rule of Three:
'And all its mystery,' he said,
'Is clear as day to me!'
He thought he saw a Argument
That proved he was the Pope:
He looked again, and found it was
A Bar of Mottled Soap.
'A fact so dread,' he faintly said,
'Extinguishes all hope!'
By Lewis Carroll
**************
Daddy Fell into the pond
Everyone grumbled. The sky was grey.
We had nothing to do and nothing to say.
We were nearing the end of a dismal day,
And then there seemed to be nothing beyond,
Then
Daddy fell into the pond!
And everyone's face grew merry and bright,
And Timothy danced for sheer delight.
"Give me the camera, quick, oh quick!
He's crawling out of the duckweed!" Click!
Then the gardener suddenly slapped his knee,
And doubled up, shaking silently,
And the ducks all quacked as if they were daft,
And it sounded as if the old drake laughed.
Oh, there wasn't a thing that didn't respond
When
Daddy Fell into the pond!
By Alfred Noyes
**************