Read beautiful poems to make someone feel special, they can be girlfriend, boyfriend, wife or someone in family. These love poems will make your special one feel even more special.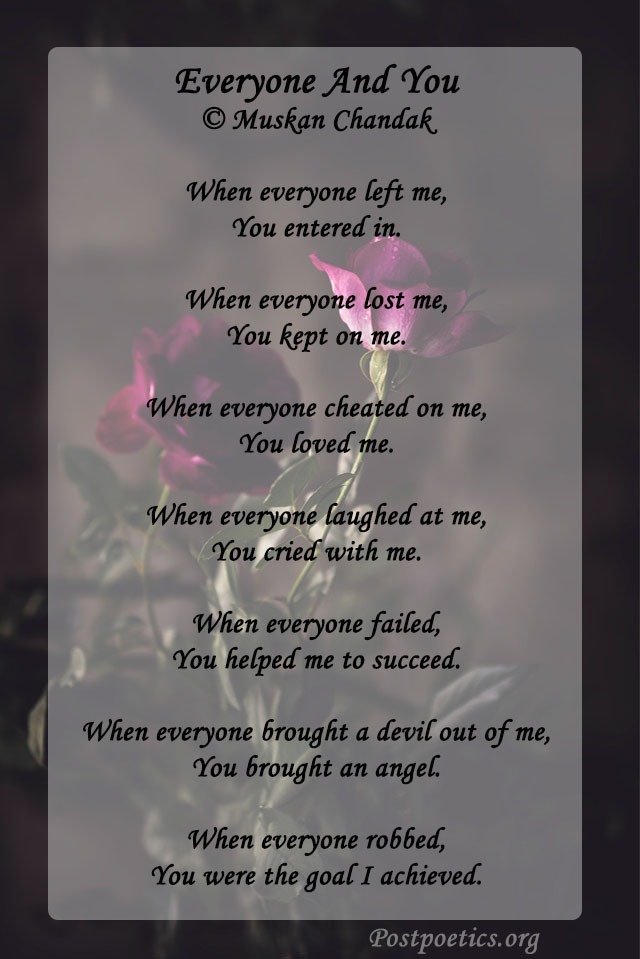 Everyone And You
© Muskan Chandak
When everyone left me,
You entered in.
When everyone lost me,
You kept on me.
When everyone cheated on me,
You loved me.
When everyone laughed at me,
You cried with me.
When everyone failed,
You helped me to succeed.
When everyone brought a devil out of me,
You brought an angel.
When everyone robbed,
You were the goal I achieved.
…………….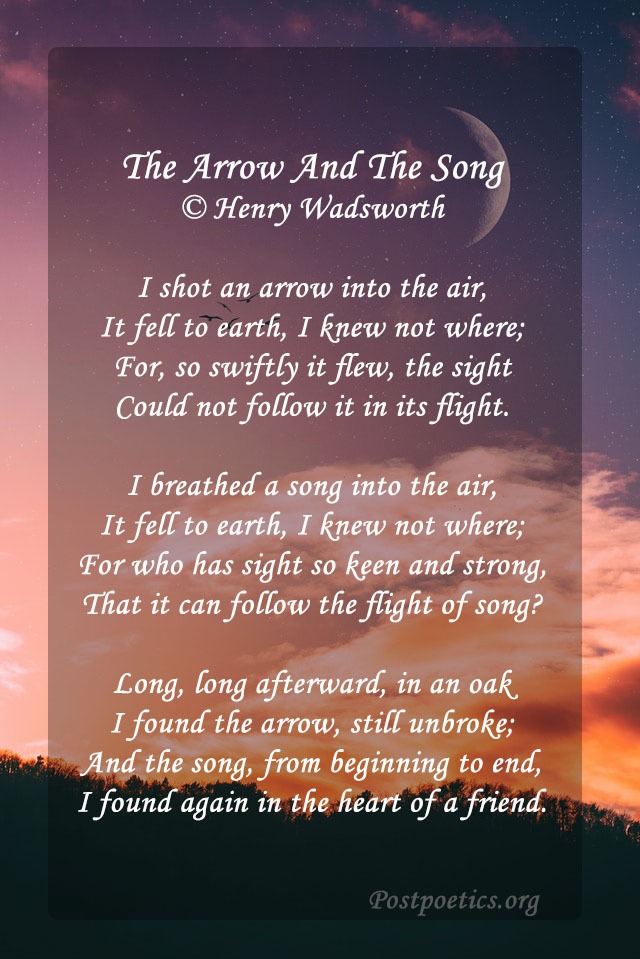 The Arrow And The Song
© Henry Wadsworth
I shot an arrow into the air,
It fell to earth, I knew not where;
For, so swiftly it flew, the sight
Could not follow it in its flight.
I breathed a song into the air,
It fell to earth, I knew not where;
For who has sight so keen and strong,
That it can follow the flight of song?
Long, long afterward, in an oak
I found the arrow, still unbroke;
And the song, from beginning to end,
I found again in the heart of a friend.
…………….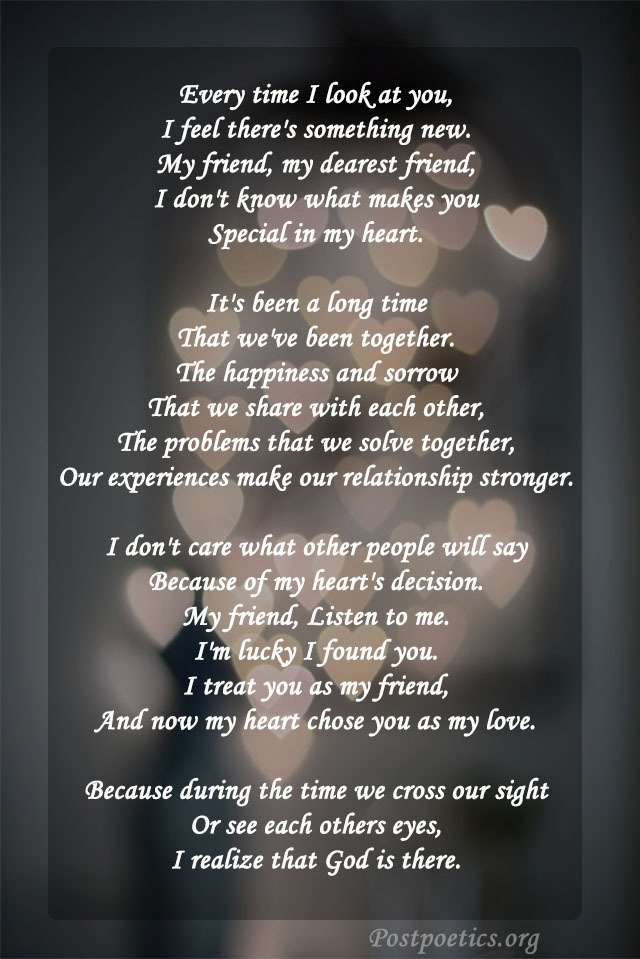 I Love You, Friend
© Jerson
Every time I look at you,
I feel there's something new.
My friend, my dearest friend,
I don't know what makes you
Special in my heart.
It's been a long time
That we've been together.
The happiness and sorrow
That we share with each other,
The problems that we solve together,
Our experiences make our relationship stronger.
I don't care what other people will say
Because of my heart's decision.
My friend, Listen to me.
I'm lucky I found you.
I treat you as my friend,
And now my heart chose you as my love.
Because during the time we cross our sight
Or see each others eyes,
I realize that God is there.
…………….
Once And Now
© Mike Critchfield
As a cloud wafting through the sky,
Blowing with the wind,
Never quite complete in form,
Ever sought, ever evading.
Gust after gust reforming, renewed,
Sometimes to dissolve away.
Then again to be reborn,
In a completely different view.
When finally the formation full,
The shape and lovely hue,
And sweet rain from it fall,
In a promise of sunlight anew.
…………….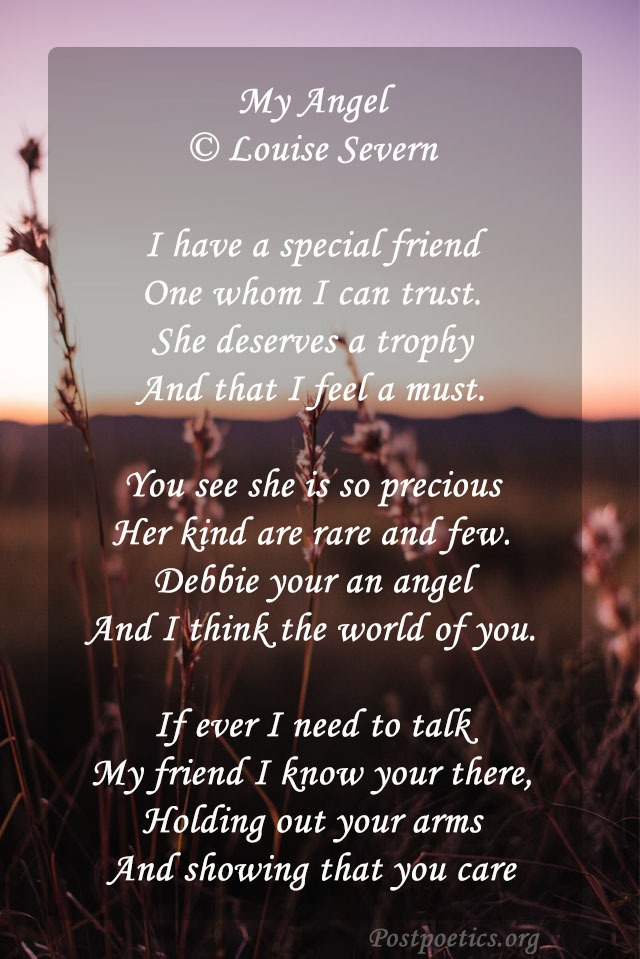 My Angel
© Louise Severn
I have a special friend
One whom I can trust.
She deserves a trophy
And that I feel a must.
You see she is so precious
Her kind are rare and few.
Debbie your an angel
And I think the world of you.
If ever I need to talk
My friend I know your there,
Holding out your arms
And showing that you care
Debbie you are special
Friends like you are hard to find
I must be one of the lucky ones to have you in my life.
…………….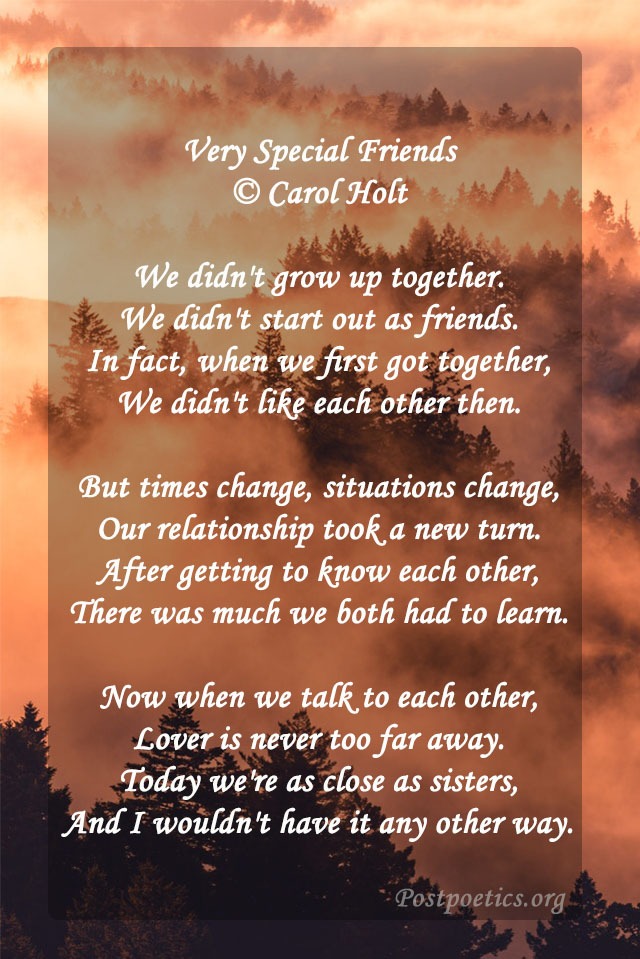 Very Special Friends
© Carol Holt
We didn't grow up together.
We didn't start out as friends.
In fact, when we first got together,
We didn't like each other then.
But times change, situations change,
Our relationship took a new turn.
After getting to know each other,
There was much we both had to learn.
Now when we talk to each other,
Lover is never too far away.
Today we're as close as sisters,
And I wouldn't have it any other way.
…………….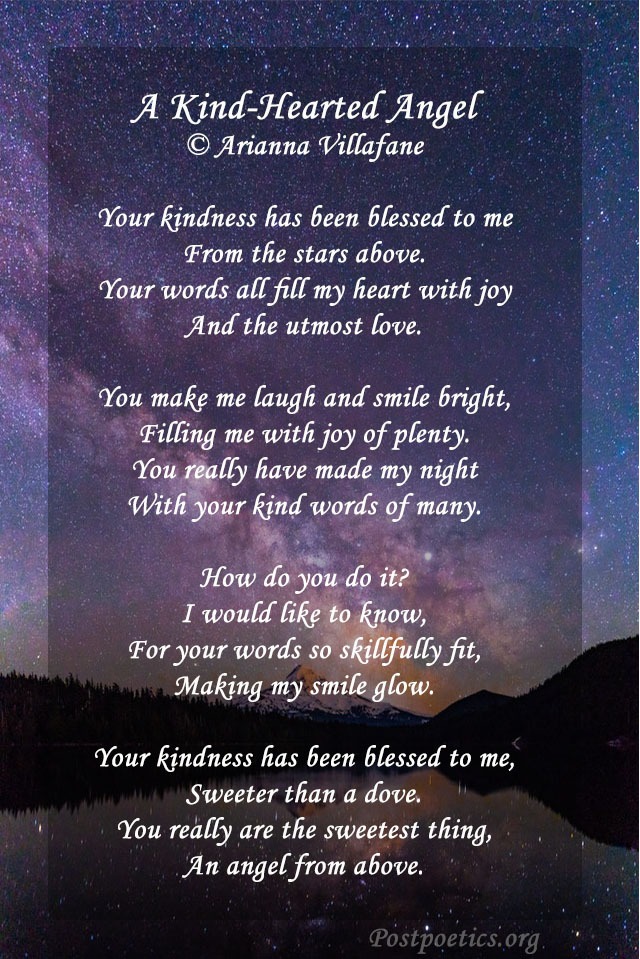 A Kind-Hearted Angel
© Arianna Villafane
Your kindness has been blessed to me
From the stars above.
Your words all fill my heart with joy
And the utmost love.
You make me laugh and smile bright,
Filling me with joy of plenty.
You really have made my night
With your kind words of many.
How do you do it?
I would like to know,
For your words so skillfully fit,
Making my smile glow.
Your kindness has been blessed to me,
Sweeter than a dove.
You really are the sweetest thing,
An angel from above.
…………….