Sometimes we love someone without being materialistic. This love either can be your husband, wife or family. This love can't even described in words because sometime we love him / her selflessly. Here is a little effort to express this unconditional love. I have presented a bunch of Poems On Unconditional Love by well known poets of the world.
To My Dear and Loving Husband
– Anne Bradstreet
If ever two were one, then surely we.
If ever man were loved by wife, then thee;
If ever wife was happy in a man,
Compare with me ye women if you can.
I prize thy love more than whole mines of gold,
Or all the riches that the East doth hold.
My love is such that Rivers cannot quench,
Nor aught but love from thee, give recompence.
Thy love is such I can no way repay,
The heavens reward thee manifold I pray.
Then while we live, in love lets so persever,
That when we live no more, we may live ever.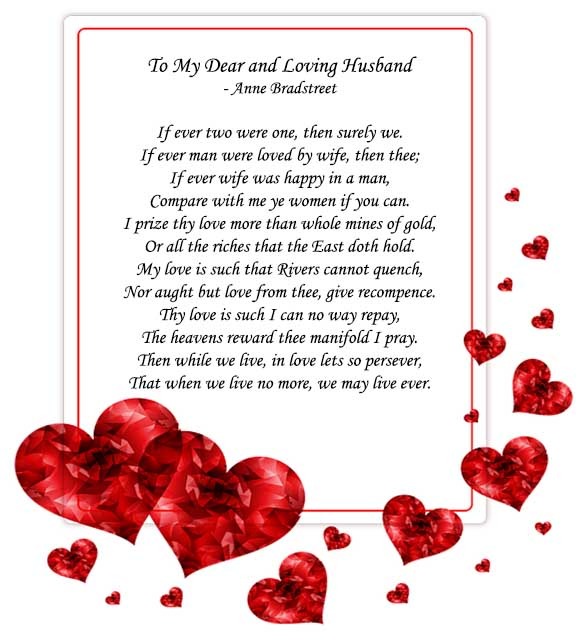 ****—-****—-****
Mad Girl's Love Song
– Sylvia Plath
I shut my eyes and all the world drops dead;
I lift my lids and all is born again.
I think I made you up inside my head.
The stars go waltzing out in blue and red,
And arbitrary blackness gallops in:
I shut my eyes and all the world drops dead.
I dreamed that you bewitched me into bed
And sung me moon-struck, kissed me quite insane.
I think I made you up inside my head.
God topples from the sky, hell's fires fade:
Exit seraphim and Satan's men:
I shut my eyes and all the world drops dead.
I fancied you'd return the way you said,
But I grow old and I forget your name.
I think I made you up inside my head.
I should have loved a thunderbird instead;
At least when spring comes they roar back again.
I shut my eyes and all the world drops dead.
I think I made you up inside my head.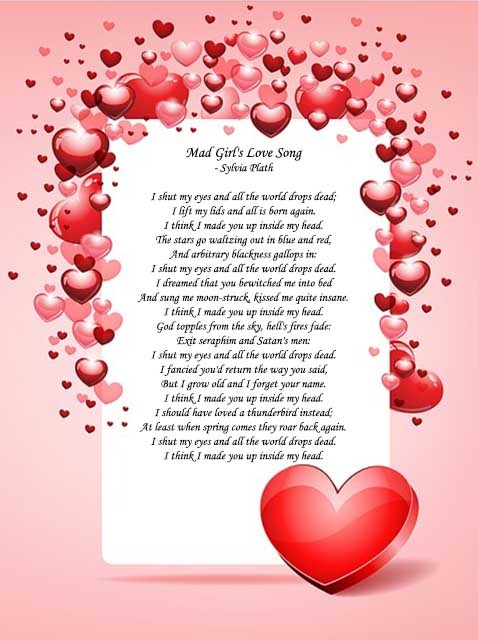 ****—-****—-****
A Red, Red Rose
– Robert Burns
O my Luve is like a red, red rose
That's newly sprung in June;
O my Luve is like the melody
That's sweetly played in tune.
So fair art thou, my bonnie lass,
So deep in luve am I;
And I will luve thee still, my dear,
Till a' the seas gang dry.
Till a' the seas gang dry, my dear,
And the rocks melt wi' the sun;
I will love thee still, my dear,
While the sands o' life shall run.
And fare thee weel, my only luve!
And fare thee weel awhile!
And I will come again, my luve,
Though it were ten thousand mile.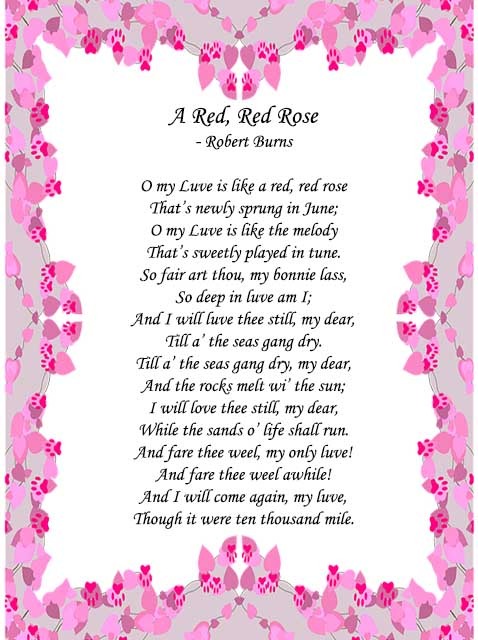 ****—-****—-****
My True Love Hath My Heart, and I Have His
– Philip Sidney
My true love hath my heart, and I have his,
By just exchange one for the other given:
I hold his dear, and mine he cannot miss;
There never was a bargain better driven.
His heart in me keeps me and him in one;
My heart in him his thoughts and senses guides:
He loves my heart, for once it was his own;
I cherish his because in me it bides.
His heart his wound received from my sight;
My heart was wounded with his wounded heart;
For as from me on him his hurt did light,
So still, methought, in me his hurt did smart:
Both equal hurt, in this change sought our bliss,
My true love hath my heart, and I have his.
For as from me on him his hurt did light,
So still, methought, in me his hurt did smart.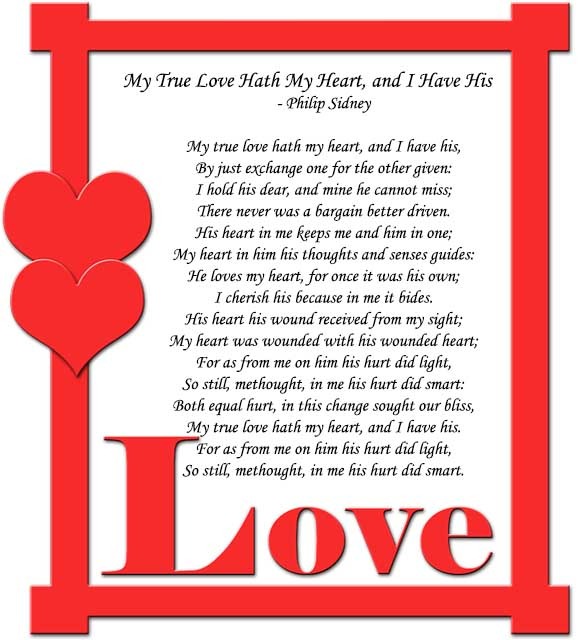 ****—-****—-****
How Do I Love Thee? Let Me Count the Ways
– Elizabeth Barrett Browning
How do I love thee? Let me count the ways.
I love thee to the depth and breadth and height
My soul can reach, when feeling out of sight
For the ends of being and ideal grace.
I love thee to the level of every day's
Most quiet need, by sun and candle-light.
I love thee freely, as men strive for right.
I love thee purely, as they turn from praise.
I love thee with the passion put to use
In my old griefs, and with my childhood's faith.
I love thee with a love I seemed to lose
With my lost saints. I love thee with the breath,
Smiles, tears, of all my life; and, if God choose,
I shall but love thee better after death.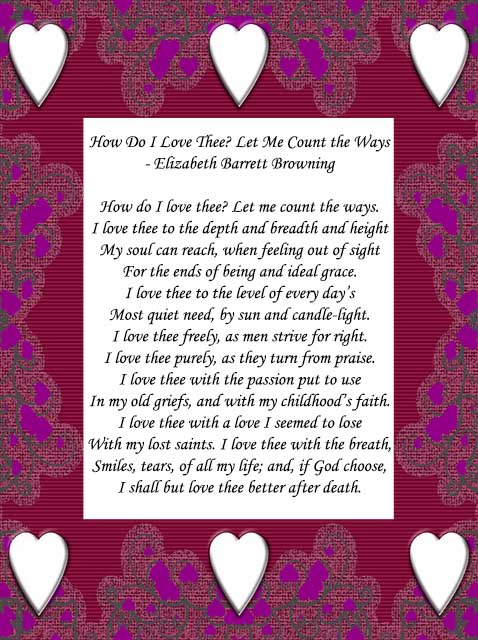 ****—-****—-****
Come, and Be My Baby
– Maya Angelou
The highway is full of big cars going nowhere fast
And folks is smoking anything that'll burn
Some people wrap their lives around a cocktail glass
And you sit wondering
where you're going to turn.
I got it.
Come. And be my baby.
Some prophets say the world is gonna end tomorrow
But others say we've got a week or two
The paper is full of every kind of blooming horror
And you sit wondering
what you're gonna do.
I got it.
Come. And be my baby.
****—-****—-****
Love (III)
– George Herbert
Love bade me welcome. Yet my soul drew back
Guilty of dust and sin.
But quick-eyed Love, observing me grow slack
From my first entrance in,
Drew nearer to me, sweetly questioning,
If I lacked any thing.
A guest, I answered, worthy to be here:
Love said, You shall be he.
I the unkind, ungrateful? Ah my dear,
I cannot look on thee.
Love took my hand, and smiling did reply,
Who made the eyes but I?
Truth Lord, but I have marred them: let my shame
Go where it doth deserve.
And know you not, says Love, who bore the blame?
My dear, then I will serve.
You must sit down, says Love, and taste my meat:
So I did sit and eat.
****—-****—-****
Shake Hands, We Shall Never Be Friends, All's Over
– A. E. Housman
Shake hands, we shall never be friends, all's over;
I only vex you the more I try.
All's wrong that ever I've done or said,
And nought to help it in this dull head:
Shake hands, here's luck, good-bye.
But if you come to a road where danger
Or guilt or anguish or shame's to share,
Be good to the lad that loves you true
And the soul that was born to die for you,
And whistle and I'll be there.
****—-****—-****
A Prayer for My Daughter
– W. B. Yeats
Once more the storm is howling, and half hid
Under this cradle-hood and coverlid
My child sleeps on. There is no obstacle
But Gregory's wood and one bare hill
Whereby the haystack- and roof-levelling wind,
Bred on the Atlantic, can be stayed;
And for an hour I have walked and prayed
Because of the great gloom that is in my mind.
I have walked and prayed for this young child an hour
And heard the sea-wind scream upon the tower,
And under the arches of the bridge, and scream
In the elms above the flooded stream;
Imagining in excited reverie
That the future years had come,
Dancing to a frenzied drum,
Out of the murderous innocence of the sea.
May she be granted beauty and yet not
Beauty to make a stranger's eye distraught,
Or hers before a looking-glass, for such,
Being made beautiful overmuch,
Consider beauty a sufficient end,
Lose natural kindness and maybe
The heart-revealing intimacy
That chooses right, and never find a friend.
Helen being chosen found life flat and dull
And later had much trouble from a fool,
While that great Queen, that rose out of the spray,
Being fatherless could have her way
Yet chose a bandy-leggèd smith for man.
It's certain that fine women eat
A crazy salad with their meat
Whereby the Horn of Plenty is undone.
In courtesy I'd have her chiefly learned;
Hearts are not had as a gift but hearts are earned
By those that are not entirely beautiful;
Yet many, that have played the fool
For beauty's very self, has charm made wise,
And many a poor man that has roved,
Loved and thought himself beloved,
From a glad kindness cannot take his eyes.
May she become a flourishing hidden tree
That all her thoughts may like the linnet be,
And have no business but dispensing round
Their magnanimities of sound,
Nor but in merriment begin a chase,
Nor but in merriment a quarrel.
O may she live like some green laurel
Rooted in one dear perpetual place.
My mind, because the minds that I have loved,
The sort of beauty that I have approved,
Prosper but little, has dried up of late,
Yet knows that to be choked with hate
May well be of all evil chances chief.
If there's no hatred in a mind
Assault and battery of the wind
Can never tear the linnet from the leaf.
An intellectual hatred is the worst,
So let her think opinions are accursed.
Have I not seen the loveliest woman born
Out of the mouth of Plenty's horn,
Because of her opinionated mind
Barter that horn and every good
By quiet natures understood
For an old bellows full of angry wind?
Considering that, all hatred driven hence,
The soul recovers radical innocence
And learns at last that it is self-delighting,
Self-appeasing, self-affrighting,
And that its own sweet will is Heaven's will;
She can, though every face should scowl
And every windy quarter howl
Or every bellows burst, be happy still.
And may her bridegroom bring her to a house
Where all's accustomed, ceremonious;
For arrogance and hatred are the wares
Peddled in the thoroughfares.
How but in custom and in ceremony
Are innocence and beauty born?
Ceremony's a name for the rich horn,
And custom for the spreading laurel tree.
****—-****—-****
Mother o' Mine
– Rudyard Kipling
If I were hanged on the highest hill,
Mother o' mine, O mother o' mine!
I know whose love would follow me still,
Mother o' mine, O mother o' mine!
If I were drowned in the deepest sea,
Mother o' mine, O mother o' mine!
I know whose tears would come down to me,
Mother o' mine, O mother o' mine!
If I were damned of body and soul,
I know whose prayers would make me whole,
Mother o' mine, O mother o' mine!
****—-****—-****
I Carry Your Heart With Me (I Carry It In)
– E. E. CUMMINGS
i carry your heart with me(i carry it in
my heart)i am never without it(anywhere
i go you go,my dear;and whatever is done
by only me is your doing,my darling)
i fear
no fate(for you are my fate,my sweet)i want
no world(for beautiful you are my world,my true)
and it's you are whatever a moon has always meant
and whatever a sun will always sing is you
here is the deepest secret nobody knows
(here is the root of the root and the bud of the bud
and the sky of the sky of a tree called life;which grows
higher than soul can hope or mind can hide)
and this is the wonder that's keeping the stars apart
i carry your heart(i carry it in my heart)
****—-****—-****
Variations On The Word Love
– Margaret Atwood
This is a word we use to plug
holes with. It's the right size for those warm
blanks in speech, for those red heart-
shaped vacancies on the page that look nothing
like real hearts. Add lace
and you can sell
it. We insert it also in the one empty
space on the printed form
that comes with no instructions. There are whole
magazines with not much in them
but the word love, you can
rub it all over your body and you
can cook with it too. How do we know
it isn't what goes on at the cool
debaucheries of slugs under damp
pieces of cardboard? As for the weed-
seedlings nosing their tough snouts up
among the lettuces, they shout it.
Love! Love! sing the soldiers, raising
their glittering knives in salute.
Then there's the two
of us. This word
is far too short for us, it has only
four letters, too sparse
to fill those deep bare
vacuums between the stars
that press on us with their deafness.
It's not love we don't wish
to fall into, but that fear.
this word is not enough but it will
have to do. It's a single
vowel in this metallic
silence, a mouth that says
O again and again in wonder
and pain, a breath, a finger
grip on a cliffside. You can
hold on or let go.
****—-****—-****
I Loved You First: But Afterwards Your Love
– Christina Rossetti
I loved you first: but afterwards your love
Outsoaring mine, sang such a loftier song
As drowned the friendly cooings of my dove.
Which owes the other most? my love was long,
And yours one moment seemed to wax more strong;
I loved and guessed at you, you construed me
And loved me for what might or might not be –
Nay, weights and measures do us both a wrong.
For verily love knows not 'mine' or 'thine;'
With separate 'I' and 'thou' free love has done,
For one is both and both are one in love:
Rich love knows nought of 'thine that is not mine;'
Both have the strength and both the length thereof,
Both of us, of the love which makes us one.
****—-****—-****
Read More: Poems To Make Someone Feel Special