Poems on Nature allow us to truly appreciate the world in the meaningful words. Poems about Nature enjoying the calm, serenity and beauty of nature. Let's try to share these popular poems of famous poets.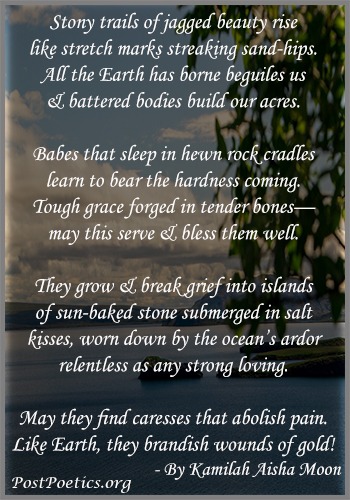 Stony trails of jagged beauty rise
like stretch marks streaking sand-hips.
All the Earth has borne beguiles us
& battered bodies build our acres.
Babes that sleep in hewn rock cradles
learn to bear the hardness coming.
Tough grace forged in tender bones,
may this serve & bless them well.
They grow & break grief into islands
of sun-baked stone submerged in salt
kisses, worn down by the ocean's ardor
relentless as any strong loving.
May they find caresses that abolish pain.
Like Earth, they brandish wounds of gold!
By Kamilah Aisha Moon
——————————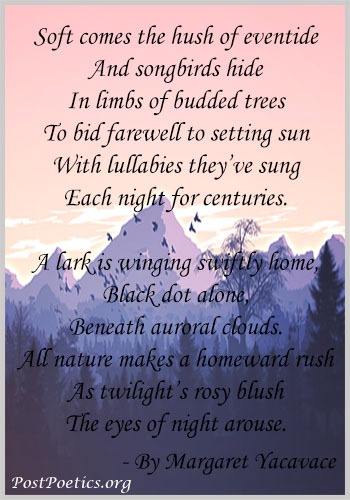 Soft comes the hush of eventide
And songbirds hide
In limbs of budded trees
To bid farewell to setting sun
With lullabies they've sung
Each night for centuries.
A lark is winging swiftly home,
Black dot alone,
Beneath auroral clouds.
All nature makes a homeward rush
As twilight's rosy blush
The eyes of night arouse.
By Margaret Yacavace
——————————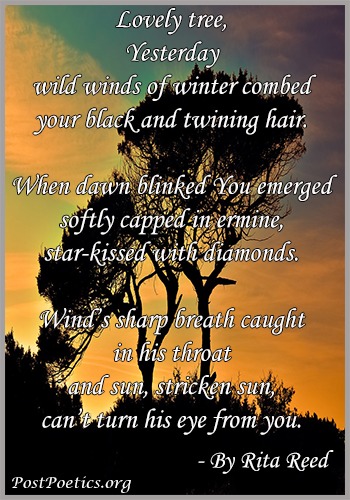 Lovely tree,
Yesterday
wild winds of winter combed
your black and twining hair.
When dawn blinked
You emerged
softly capped in ermine,
star-kissed with diamonds.
Wind's sharp breath caught in his throat
and sun, stricken sun,
can't turn his eye from you.
By Rita Reed
——————————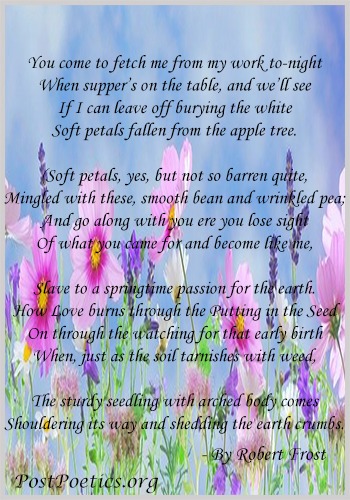 You come to fetch me from my work to-night
When supper's on the table, and we'll see
If I can leave off burying the white
Soft petals fallen from the apple tree.
(Soft petals, yes, but not so barren quite,
Mingled with these, smooth bean and wrinkled pea;
And go along with you ere you lose sight
Of what you came for and become like me,
Slave to a springtime passion for the earth.
How Love burns through the Putting in the Seed
On through the watching for that early birth
When, just as the soil tarnishes with weed,
The sturdy seedling with arched body comes
Shouldering its way and shedding the earth crumbs.
By Robert Frost
——————————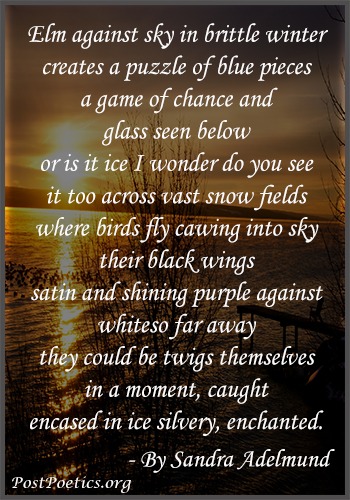 Elm against sky in brittle winter
creates a puzzle of blue pieces
a game of chance and glass seen below
or is it ice I wonder
do you see it too across vast snow fields
where birds fly cawing into sky
their black wings
satin and shining purple against white
so far away
they could be twigs themselves
in a moment, caught
encased in ice
silvery, enchanted.
By Sandra Adelmund
You May Interest: Best Funny Quotes
——————————
Read More Beautiful Poems on Nature
I come from haunts of coot and hern,
I make a sudden sally
And sparkle out among the fern,
To bicker down a valley.
By thirty hills I hurry down,
Or slip between the ridges,
By twenty thorpes, a little town,
And half a hundred bridges.
Till last by Philip's farm I flow
To join the brimming river,
For men may come and men may go,
But I go on for ever.
I chatter over stony ways,
In little sharps and trebles,
I bubble into eddying bays,
I babble on the pebbles.
With many a curve my banks I fret
By many a field and fallow,
And many a fairy foreland set
With willow-weed and mallow.
I chatter, chatter, as I flow
To join the brimming river,
For men may come and men may go,
But I go on for ever.
I wind about, and in and out,
With here a blossom sailing,
And here and there a lusty trout,
And here and there a grayling,
And here and there a foamy flake
Upon me, as I travel
With many a silvery waterbreak
Above the golden gravel,
And draw them all along, and flow
To join the brimming river
For men may come and men may go,
But I go on for ever.
I steal by lawns and grassy plots,
I slide by hazel covers;
I move the sweet forget-me-nots
That grow for happy lovers.
I slip, I slide, I gloom, I glance,
Among my skimming swallows;
I make the netted sunbeam dance
Against my sandy shallows.
I murmur under moon and stars
In brambly wildernesses;
I linger by my shingly bars;
I loiter round my cresses;
And out again I curve and flow
To join the brimming river,
For men may come and men may go,
But I go on for ever.
By Alfred Tennyson
——————————
Poem on Nature
Come, walk with me into the forest's blessed abode,
To see the wondrous beauty the Earth has bestowed;
We'll bask in the surreal splendor that surrounds us,
And listen to nature composing the forest's grand opus,
As sounds of whispering trees and burbling streams,
Send our minds wandering into a poet's lovely dreams.
We'll walk where sunlight sets the forest's leaves aglow,
Weaving open paths to dapple golden light on all below;
Where trees shade us from summer heat and harsh rays,
Freeing our minds so we can see Mother Nature's ways,
Of creating nurturing sanctuaries for life dwelling there,
To shield its tender wards from storms too hard to bear.
Come sit beneath the glowing embers of an autumn tree,
Whose rich hues are a natural wonder many come to see,
While colorful leaves glide down in a whirling course,
Like embers breaking loose from their flaming source.
Glowing for a moment as if falling to their ending fate,
Instead, nourishing Earth for rebirth into a new state.
The wintering forest seems to be a still, desolate place.
Yet, under the snow and autumn leaves of a tree's base,
Beats the promising pulse of new life that patiently waits
For spring's warmth and rain to open wide nature's gates;
Roam with me under the trees standing strong over it all,
To watch them quietly sleep until nature's beckoning call.
Let us stroll in spring's forest where we will reap
The joy of Earth awakening its children from sleep,
And hear life's chorus and watch its offspring grow,
As waking trees renew their canopy over all below;
Come share with me the forest's spirit at rebirth,
So we too are reborn within this temple of Earth.
Every now and then let us answer the forest's call,
To come see life's beauty and the miracle of it all;
If we listen with our hearts as we walk among trees,
We may understand the message carried on a breeze,
For us to blend with the forest's spirit so it will beguile
Us into walking under its lovely trees for just a while.
By Belinda Stotler
——————————
A Beautiful Poem about Nature
It's true there were times when it was too much
and I slipped off in the first light or its last hour
and drove up through the crooked way of the valley
and swam out to those ruins on an island.
Blackbirds were the only music in the spruces,
and the stars, as they faded out, offered themselves to me
like glasses of water ringing by the empty linens of the dead.
When Delilah watched the dark hair of her lover
tumble, she did not shatter. When Abraham
relented, he did not relent.
Still, I would tell you of the humbling and the waking.
I would tell you of the wild hours of surrender,
when the river stripped the cove's stones
from the margin and the blackbirds built
their strict songs in the high
pines, when the great nests swayed the lattice
of the branches, the moon's brute music
touching them with fire.
And you, there, stranger in the sway
of it, what would you have done
there, in the ruins, when they rose
from you, when the burning wings
ascended, when the old ghosts
shook the music from your branches and the great lie
of your one sweet life was lifted?
 By Joseph Fasano
——————————
A  Poem on Nature
Take a moment.
Put the worries behind.
Take in the beauty around.
Let it relax your mind.
Watch the golden glow
Of the rising morning sun.
Embrace the peaceful aura
Of the break of dawn.
Savor the soft caress
Of the gently moving breeze.
Listen to its nifty tune
Among the swaying trees.
Enjoy the lovely scene
Of a floating butterfly.
Graceful flight and happy tweets
Of a bird perched up high.
Peruse the evening sky
In its dazzling splendor.
The wide and open pallet
Merging shapes and colors.
Relish the loving sight
Of children having fun,
Skipping feet and carefree voices
Under the setting sun.
Spare a still moment
Every once in a while.
Take in the beauty around.
Take it in with a smile.
By Abimbola T. Alabi
——————————
 Poem of Nature
I love the whir of the creature come
to visit the pink
flowers in the hanging basket as she does
most August mornings, hours away
from starvation to store
enough energy to survive overnight.
The Aztecs saw the refraction
of incident light on wings
as resurrection of fallen warriors.
In autumn, when daylight decreases
they double their body weight to survive
the flight across the Gulf of Mexico.
On next-to-nothing my mother
flew for 85 years; after her death
she hovered, a bird of bones and air.
By Robin Becker
——————————
Beautiful Poem on Nature
The world outside is a wondrous place,
Filled with many miracles to see.
It's a place to hear and smell and feel.
It's a place so unfettered and free.
From the welcome warmth of the morning sun,
As it plays upon your eyes,
Enticing you from your slumber
To awaken and come alive.
Or the gentle touch of an Autumn breeze,
As it chills and caresses your face,
Beckoning you to start your day
And let go of the night's embrace.
The sound of the birds as they twitter and sing,
Still nestled in the warmth of the trees.
Soon they will lift their wings in flight,
Shooed away by the fluttering leaves.
To smell that earthy, Autumn air,
As you step outside and breathe.
To hear that steady, familiar crunch,
As you wade through the dried, dead leaves.
To look up and get lost in a ceiling-less sky,
Deep blue or an ominous grey.
Squinting against the brightest of suns,
Or getting soaked by a sudden, cold rain.
To feel beads of sweat on your clammy face,
In the heat of a blistering day.
Then submerge in a river that seeps through your skin,
Dousing the fire in your veins.
To trudge through the deepest, blistering snow,
As the ice stings your rosy red cheeks.
To smell all the fireplaces burning,
As those faint of heart retreat.
To see your breath float on the air,
As your toes and fingers freeze.
And witness an icy, white blanket of snow,
Just as far as you can see.
The snowflakes falling harder now,
The earth is in a blur.
Your clothes feel damp and heavier,
Your speech begins to slur.
Yes, the outside is a wondrous place,
A world of beauty and brawn.
It's independent but so reliable.
It's vulnerable and yet so strong.
Remember the smell of the summer flowers,
With bright colors all around?
Deep green lawns and the aroma of grass,
Trees plush with leaves abound.
The ocean's glistening, thundering waves,
The gritty, infinite sands.
The forests of trees that reach up to the sky,
The mountains that tower over the land.
The outside world is an endless place.
It shows us how small we can be.
It can nurture and comfort our troubled hearts.
It can grant us sweet moments of peace.
If you take the time to really see,
The outside is a glorious place.
And how lucky we are that this Paradise,
Is only a few steps away.
By Pat A. Fleming
——————————
Poem about Nature
No one can tell me,
Nobody knows,
Where the wind comes from,
Where the wind goes.
It's flying from somewhere
As fast as it can,
I couldn't keep up with it,
Not if I ran.
But if I stopped holding
The string of my kite,
It would blow with the wind
For a day and a night.
And then when I found it,
Wherever it blew,
I should know that the wind
Had been going there too.
So then I could tell them
Where the wind goes…
But where the wind comes from
Nobody knows.
By A. A. Milne
——————————
Poem on Nature
It is true that the rivers went nosing like swine,
Tugging at banks, until they seemed
Bland belly-sounds in somnolent troughs,
That the air was heavy with the breath of these swine,
The breath of turgid summer, and
Heavy with thunder's rattapallax,
That the man who erected this cabin, planted
This field, and tended it awhile,
Knew not the quirks of imagery,
That the hours of his indolent, arid days,
Grotesque with this nosing in banks,
This somnolence and rattapallax,
Seemed to suckle themselves on his arid being,
As the swine-like rivers suckled themselves
While they went seaward to the sea-mouths.
By Wallace Stevens
——————————
Poem about Nature Beauty
My favorite color is navy blue,
the color of a childhood book about stars.
My father read it to me on the couch,
took me outside and showed me
the Big Dipper, and the Little Dipper,
and how to find the North Star.
All of this was right in front of our house.
We looked up into the sky until it looked back.
The book said we spin without realizing it.
It told where we are in the Milky Way
but my father and I don't know how we got here.
Neither of us mentions it.
We do not know how to do the math
on astronomical odds as big as that.
By Loueva Smith
——————————