Short Funny birthday poems and rhyming that will tickle your funny bone. The best poke fun at life, love and everything in between. Choose your favorite now.
Short Funny Birthday Poems 
Have some fun
Giggle a little and have some fun,
Because it's your birthday fun,
Dance a little more today,
Coz tomorrow will be a new day,
So, enjoy your day today,
As it's your birthday,
Wish you a happy birthday!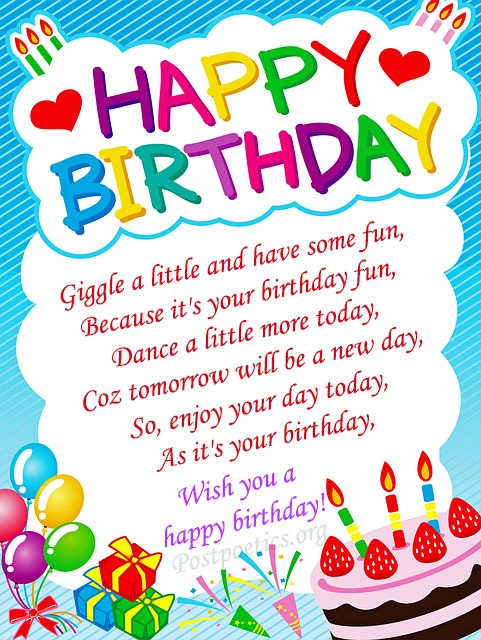 *******************
It's your day today
Happy birthday to you,
You still look the same over the years,
Some sort of makeup you use,
Oh I did not mean to make fun,
Because you always look number one
Stay blessed!
Happy birthday to you!
*******************
Funny Birthday Poems For Friends  That Rhyme
No matter what friends are asserting
No matter what friends are asserting,
29 (or other relevant age) creeps away without hurting,
Your chances for wealth,
For joy and good health,
Are still yours with a little exerting.
*******************
I have known you quite a while
I have known you quite a while,
When you talk, you make me smile.
A special friend, I will probably keep,
If you buy me a cool jeep.
It's your birthday, I nearly forgot,
Searched on-line, bought you squat.
Hope you don't turn all bitter,
Since you've never been a quitter.
I nearly quit, writing this verse,
Mind is blank, it's a curse,
Soon your party will be here,
If I wake up, I'll surely appear.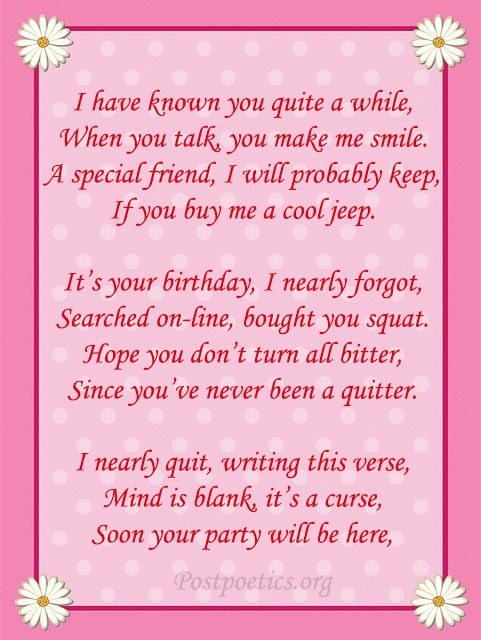 *******************
Its your day again
Its your birthday again
God please save me from this torture
Again I have to pretend
And do things to please you
Again I have to buy every stuff so new
Oh your birthday is so much fun
I was just doing some time pass
Please don't mean it or none
Coz your birthday fun has just began
Wishing a very happy birthday to you
God bless you!
*******************
You look so fat you know
You look so fat with that shirt
And age is looking on your face
Oh you have also lost that grace
Your birthday is a special time
When you can forget all this a while
And enjoy your day to have some fun
Because you are truly the number one
Wishing a very happy birthday to you
God bless you!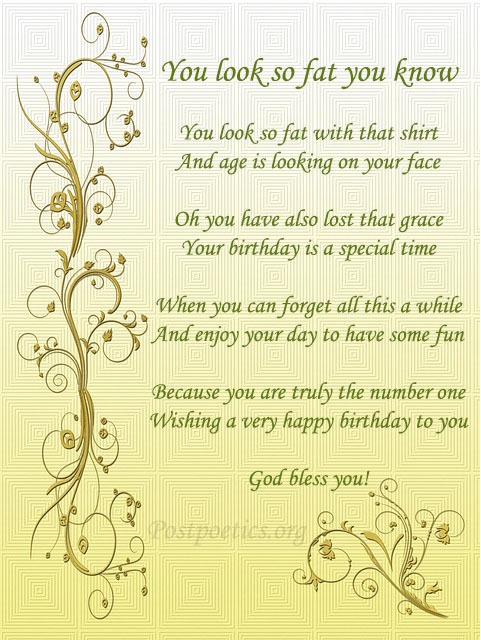 *******************
Funny Birthday Poem For a Family Member
I wish you
I wish you something, just can't remember,
Don't be upset, you're my family member.
It was clearly, on my mind,
With so many thoughts, it's hard to find.
Visions appear of colorful balloons,
In the background I hear those fine tunes.
Near the end of the dream, I can taste a delicious cake,
It must be your birthday, as I awake.
*******************
Happy Birthday, Sister
Once a year we celebrate
with stupid hats and plastic plates
the fact that you were able to make
another trip around the state.
So, let's eat to your charming health
and hope that you do not forget us
In the chance of finding place and wealth.
Happy Birthday,
now you're 19 years old.
Happy Birthday,
your life still isn't over.
Happy Birthday,
you do not accomplish much,
but you did not trouble me today.
I guess that is good enough.
© Anushka Sharma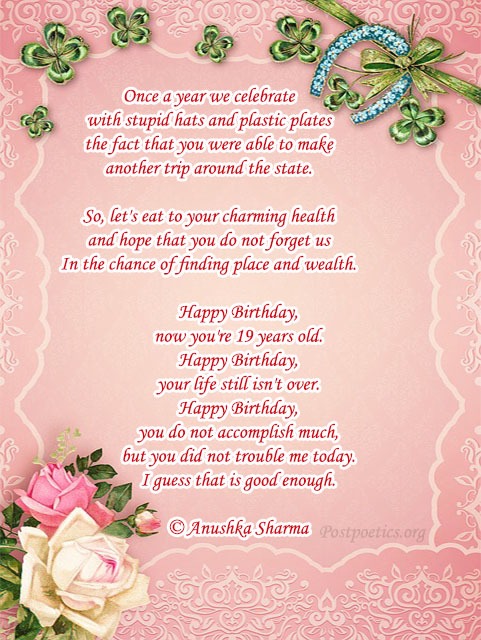 *******************
Funny Birthday Poems For Her / Him
The way you look
You cannot do anything about the way you look,
All the aging stories that you cook,
One day your makeup will get exposed,
And, that time I will raise the toast,
Hey don't crib my friend,
I was just making some fun,
You are always the number one,
Happy birthday to you!
Stay blessed!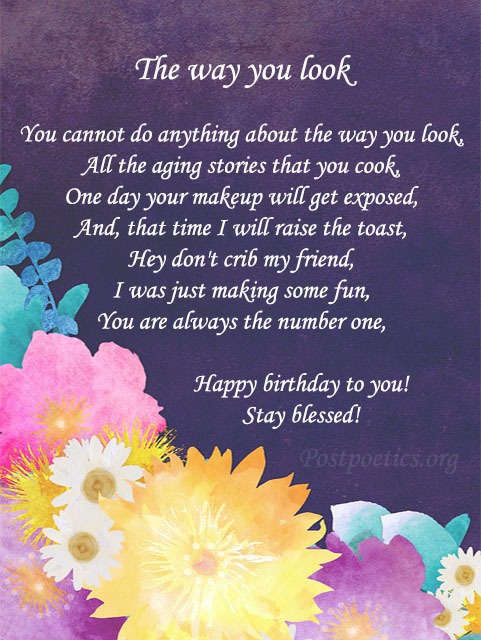 *******************
Today is your birthday
Today is your birthday, don't pull your hair,
Look in the mirror, nature was fair,
Not a day over twenty,
I'm kidding, you're plenty.
Don't mean to burst your bubble,
But stop asking for trouble,
You know what I mean,
When you drink that caffeine.
What should I bring?
Just give me a ring.
Elephant or clown?
I knew you would frown.
*******************
I carry your hear with me ( I carry it in my heart),
I am never without it ( anywhere I go you, my dear; and whatever is done
by only me is your doing, my darling)
*******************
Here's a kiss and a hug from your granny,
And the gentlest of pats on your fanny,
Which we grown-ups bestow,
When we hope that you'll grow,
To be hardworking, loving, and canny.
And your grandpa directs me to add,
a check for your mom and your dad,
To deposit for you,
So you can get through,
University as undergrad.
*******************
As I Grow Old
God keep my heart attuned to laughter,
When youth is done;
When all the days are gray days,
Coming after the warmth, the sun.
God keep me then from bitterness, from grieving,
When life seems cold;
God keep me always loving and believing,
As I grow old.
*******************
Funny Happy Birthday Poems For Dad
You may have crossed fifty
But mum says you are still nifty
You may have aged a bit
But young, is your spirit
You may have become weaker
But in your mind, you are stronger
Here's a birthday wish for a dad
Who by heart, is still a teenage lad.
*******************
My daddy is the strongest
Not because he can lift the heaviest
But because he is the reason
Why I can have fun
He is the coolest dude
Always happy, never crude
I want to grow up to be the same man
Because I am my daddy's biggest fan.
*******************
Funny Birthday Poems For Husband
My dear husband you are going to hit 40
But I am bit sad on your birthday
Yes, I am very happy for you on this day
Yes, I also bought a special gift for you
Yes, I invite all our family friends
Yes, I am fully satisfy from your love
Yes' I love you too
But, I am sad because I dropped
Your birthday cake and only 40 candles lefts.
*******************
Around your birthday our kids cry
Around your birthday cake, fly die
Your hunger views just annoyed
While some kids begged to be enjoyed
Big problems we have include your health
It leads to problems of your wealth
While most of us are greedy for the cake
Too many of us became needy
We complain and cry without a hitch
Because here on Facebook, we only rich.
*******************
On your birthday, let me sing a song
To lead the party and change your mood
You are 40's now but still behaving like 4
You are craving for birthday cake
But wandering in party without any sake
May your birthday fixed in hall of fame
Don't feel genius because you are still half baked.
*******************
Read Also: Funny Love Poems