Pablo Neruda is a famous American poet who became very popular in the twentieth century because of his love poetry. Here is a beautiful collection of ٖٖٖٖPablo Neruda Love Poems which is no less than a gift for his loved ones.
I Do Not Love You by Pablo Neruda
I do not love you as if you were salt-rose, or topaz,
or the arrow of carnations the fire shoots off.
I love you as certain dark things are to be loved,
in secret, between the shadow and the soul.
I love you as the plant that never blooms
but carries in itself the light of hidden flowers;
thanks to your love a certain solid fragrance,
risen from the earth, lives darkly in my body.
I love you without knowing how, or when, or from where.
I love you straightforwardly, without complexities or pride;
so I love you because I know no other way
than this: where I does not exist, nor you,
so close that your hand on my chest is my hand,
so close that your eyes close as I fall asleep.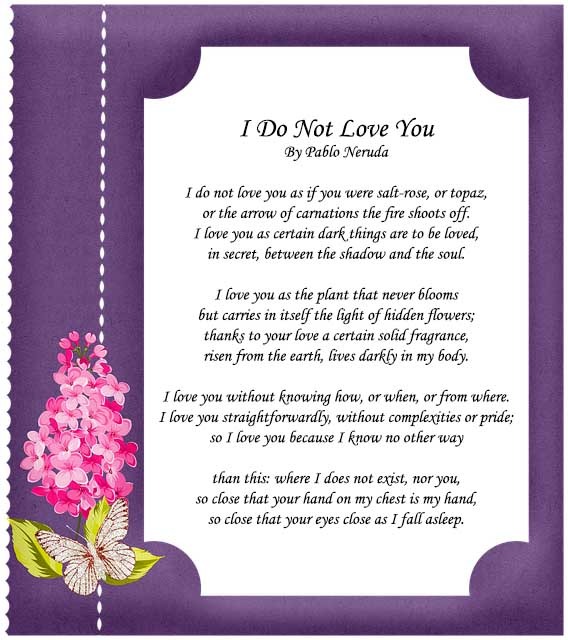 ****—-****—-****
Love Sonnet XI by Pablo Neruda
I crave your mouth, your voice, your hair.
Silent and starving, I prowl through the streets.
Bread does not nourish me, dawn disrupts me, all day
I hunt for the liquid measure of your steps.
I hunger for your sleek laugh,
your hands the color of a savage harvest,
hunger for the pale stones of your fingernails,
I want to eat your skin like a whole almond.
I want to eat the sunbeam flaring in your lovely body,
the sovereign nose of your arrogant face,
I want to eat the fleeting shade of your lashes,
and I pace around hungry, sniffing the twilight,
hunting for you, for your hot heart,
like a puma in the barrens of Quitratue.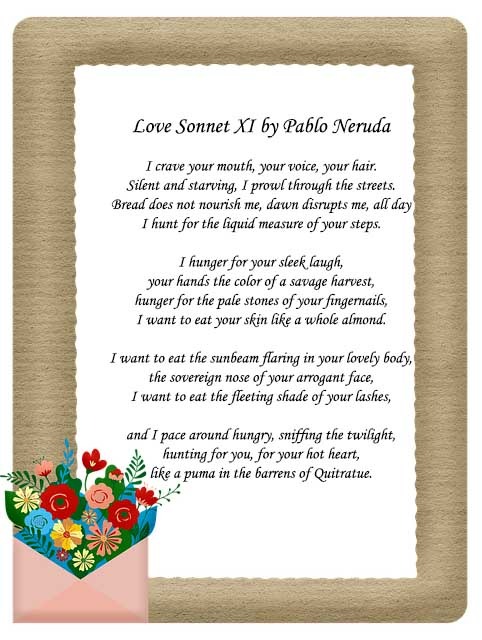 ****—-****—-****
You Are The Daughter Of The Sea by Pablo Neruda
You are the daughter of the sea, oregano's first cousin.
Swimmer, your body is pure as the water;
cook, your blood is quick as the soil.
Everything you do is full of flowers, rich with the earth.
Your eyes go out toward the water, and the waves rise;
your hands go out to the earth and the seeds swell;
you know the deep essence of water and the earth,
conjoined in you like a formula for clay.
Naiad: cut your body into turquoise pieces,
they will bloom resurrected in the kitchen.
This is how you become everything that lives.
And so at last, you sleep, in the circle of my arms
that push back the shadows so that you can rest,
vegetables, seaweed, herbs: the foam of your dreams.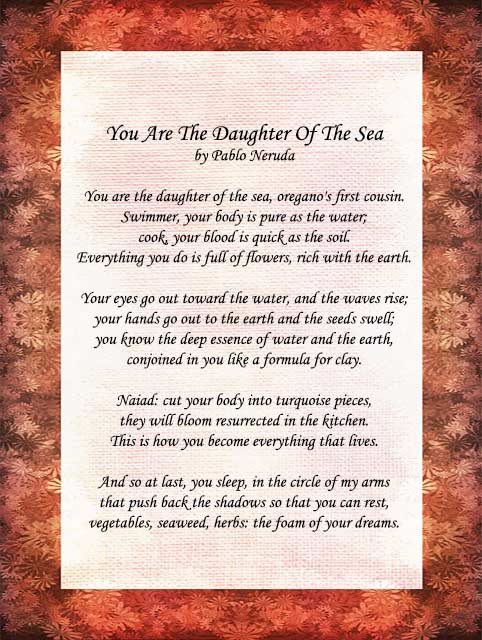 ****—-****—-****
If You Forget Me by Pablo Neruda
If You Forget Me
I want you to know
one thing.
You know how this is:
if I look
at the crystal moon, at the red branch
of the slow autumn at my window,
if I touch
near the fire
the impalpable ash
or the wrinkled body of the log,
everything carries me to you,
as if everything that exists,
aromas, light, metals,
were little boats
that sail
toward those isles of yours that wait for me.
Well, now,
if little by little you stop loving me
I shall stop loving you little by little.
If suddenly
you forget me
do not look for me,
for I shall already have forgotten you.
If you think it long and mad,
the wind of banners
that passes through my life,
and you decide
to leave me at the shore
of the heart where I have roots,
remember
that on that day,
at that hour,
I shall lift my arms
and my roots will set off
to seek another land.
But
if each day,
each hour,
you feel that you are destined for me
with implacable sweetness,
if each day a flower
climbs up to your lips to seek me,
ah my love, ah my own,
in me all that fire is repeated,
in me nothing is extinguished or forgotten,
my love feeds on your love, beloved,
and as long as you live it will be in your arms
without leaving mine.
****—-****—-****
And Because Love Battles by Pablo Neruda
And because love battles
not only in its burning agricultures
but also in the mouth of men and women,
I will finish off by taking the path away
to those who between my chest and your fragrance
want to interpose their obscure plant.
About me, nothing worse
they will tell you, my love,
than what I told you.
I lived in the prairies
before I got to know you
and I did not wait love but I was
laying in wait for and I jumped on the rose.
What more can they tell you?
I am neither good nor bad but a man,
and they will then associate the danger
of my life, which you know
and which with your passion you shared.
And good, this danger
is danger of love, of complete love
for all life,
for all lives,
and if this love brings us
the death and the prisons,
I am sure that your big eyes,
as when I kiss them,
will then close with pride,
into double pride, love,
with your pride and my pride.
But to my ears they will come before
to wear down the tour
of the sweet and hard love which binds us,
and they will say: "The one
you love,
is not a woman for you,
Why do you love her? I think
you could find one more beautiful,
more serious, more deep,
more other, you understand me, look how she's light,
and what a head she has,
and look at how she dresses,
and etcetera and etcetera".
And I in these lines say:
Like this I want you, love,
love, Like this I love you,
as you dress
and how your hair lifts up
and how your mouth smiles,
light as the water
of the spring upon the pure stones,
Like this I love you, beloved.
To bread I do not ask to teach me
but only not to lack during every day of life.
I don't know anything about light, from where
it comes nor where it goes,
I only want the light to light up,
I do not ask to the night
explanations,
I wait for it and it envelops me,
And so you, bread and light
And shadow are.
You came to my life
with what you were bringing,
made
of light and bread and shadow I expected you,
and Like this I need you,
Like this I love you,
and to those who want to hear tomorrow
that which I will not tell them, let them read it here,
and let them back off today because it is early
for these arguments.
Tomorrow we will only give them
a leaf of the tree of our love, a leaf
which will fall on the earth
like if it had been made by our lips
like a kiss which falls
from our invincible heights
to show the fire and the tenderness
of a true love.
****—-****—-****
Don't Go Far Off Poem by Pablo Neruda
Don't go far off, not even for a day, because —
because — I don't know how to say it: a day is long
and I will be waiting for you, as in an empty station
when the trains are parked off somewhere else, asleep.
Don't leave me, even for an hour, because
then the little drops of anguish will all run together,
the smoke that roams looking for a home will drift
into me, choking my lost heart.
Oh, may your silhouette never dissolve on the beach;
may your eyelids never flutter into the empty distance.
Don't leave me for a second, my dearest,
because in that moment you'll have gone so far
I'll wander mazily over all the earth, asking,
Will you come back? Will you leave me here, dying?
****—-****—-****
I Like For You To Be Still by Pablo Neruda
I like for you to be still
It is as though you are absent
And you hear me from far away
And my voice does not touch you
It seems as though your eyes had flown away
And it seems that a kiss had sealed your mouth
As all things are filled with my soul
You emerge from the things
Filled with my soul
You are like my soul
A butterfly of dream
And you are like the word: Melancholy
I like for you to be still
And you seem far away
It sounds as though you are lamenting
A butterfly cooing like a dove
And you hear me from far away
And my voice does not reach you
Let me come to be still in your silence
And let me talk to you with your silence
That is bright as a lamp
Simple, as a ring
You are like the night
With its stillness and constellations
Your silence is that of a star
As remote and candid
I like for you to be still
It is as though you are absent
Distant and full of sorrow
So you would've died
One word then, One smile is enough
And I'm happy;
Happy that it's not true.
****—-****—-****
Every Day You Play by Pablo Neruda
Every day you play with the light of the universe.
Subtle visitor, you arrive in the flower and the water,
You are more than this white head that I hold tightly
as a bunch of flowers, every day, between my hands.
You are like nobody since I love you.
Let me spread you out among yellow garlands.
Who writes your name in letters of smoke among the stars of the south?
Oh let me remember you as you were before you existed.
Suddenly the wind howls and bangs at my shut window.
The sky is a net crammed with shadowy fish.
Here all the winds let go sooner or later, all of them.
The rain takes off her clothes.
The birds go by, fleeing.
The wind. The wind.
I alone can contend against the power of men.
The storm whirls dark leaves
and turns loose all the boats that were moored last night to the sky.
You are here. Oh, you do not run away.
You will answer me to the last cry.
Curl round me as though you were frightened.
Even so, a strange shadow once ran through your eyes.
Now, now too, little one, you bring me honeysuckle,
and even your …. smell of it.
While the sad wind goes slaughtering butterflies
I love you, and my happiness bites the plum of your mouth.
How you must have suffered getting accustomed to me,
my savage, solitary soul, my name that sends them all running.
So many times we have seen the morning star burn, kissing our eyes,
and over our heads the grey light unwinds in turning fans.
My words rained over you, stroking you.
A long time I have loved the sunned mother-of-pearl of your body.
Until I even believe that you own the universe.
I will bring you happy flowers from the mountains, bluebells, dark hazels, and rustic baskets of kisses.
I want to do with you what spring does with the cherry trees.
****—-****—-****