Marie Oliver is a famous American poet who expresses frustration, sadness and feelings in her poetry and through poetry she encourages her readers to get out of life's difficulties. Here we have collected the best poems of Mary Oliver which is no less than a gift for her fans.
Wild Geese
by Mary Oliver
You do not have to be good.
You do not have to walk on your knees
for a hundred miles through the desert repenting.
You only have to let the soft animal of your body
love what it loves.
Tell me about despair, yours, and I will tell you mine.
Meanwhile the world goes on.
Meanwhile the sun and the clear pebbles of the rain
are moving across the landscapes,
over the prairies and the deep trees,
the mountains and the rivers.
Meanwhile the wild geese, high in the clean blue air,
are heading home again.
Whoever you are, no matter how lonely,
the world offers itself to your imagination,
calls to you like the wild geese, harsh and exciting –
over and over announcing your place
in the family of things.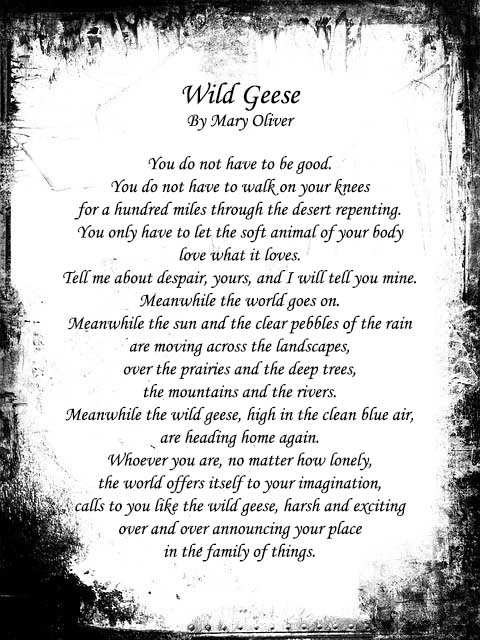 ***—-****—-****
Don't Hesitate
by Mary Oliver
If you suddenly and unexpectedly feel joy,
don't hesitate. Give in to it. There are plenty
of lives and whole towns destroyed or about
to be. We are not wise, and not very often
kind. And much can never be redeemed.
Still, life has some possibility left. Perhaps this
is its way of fighting back, that sometimes
something happens better than all the riches
or power in the world. It could be anything,
but very likely you notice it in the instant
when love begins. Anyway, that's often the
case. Anyway, whatever it is, don't be afraid
of its plenty. Joy is not made to be a crumb.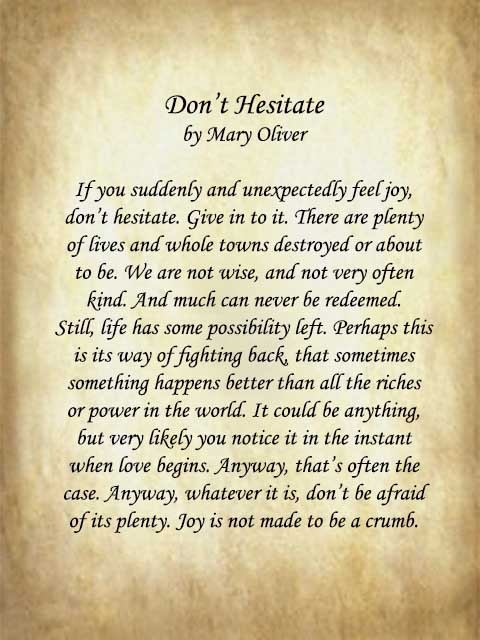 ***—-****—-****
Praying
by Mary Oliver
It doesn't have to be
the blue iris, it could be
weeds in a vacant lot, or a few
small stones; just
pay attention, then patch
a few words together and don't try
to make them elaborate, this isn't
a contest but the doorway
into thanks, and a silence in which
another voice may speak.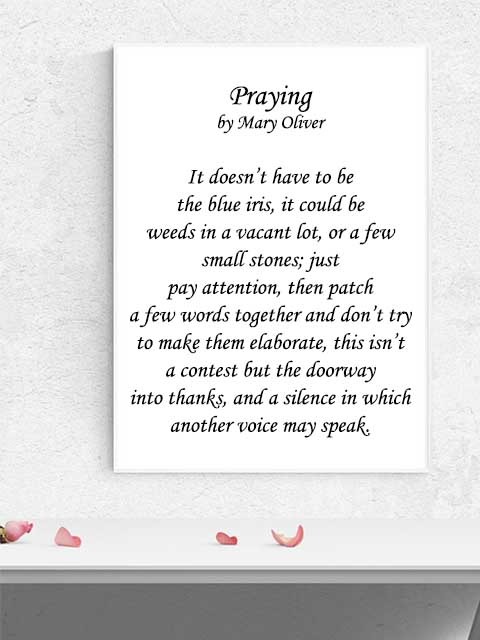 ***—-****—-****
The Swan
by Mary Oliver
Did you too see it, drifting, all night, on the black river?
Did you see it in the morning, rising into the silvery air 
An armful of white blossoms,
A perfect commotion of silk and linen as it leaned
into the bondage of its wings; a snowbank, a bank of lilies,
Biting the air with its black beak?
Did you hear it, fluting and whistling
A shrill dark music – like the rain pelting the trees – like a waterfall
Knifing down the black ledges?
And did you see it, finally, just under the clouds 
A white cross Streaming across the sky, its feet
Like black leaves, its wings Like the stretching light of the river?
And did you feel it, in your heart, how it pertained to everything?
And have you too finally figured out what beauty is for?
And have you changed your life?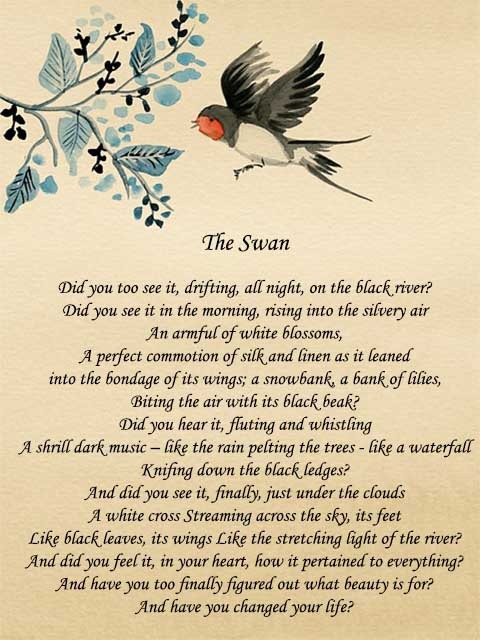 ***—-****—-****
Dogfish
by Mary Oliver
Some kind of relaxed and beautiful thing
kept flickering in with the tide
and looking around.
Black as a fisherman's boot,
with a white belly.
If you asked for a picture I would have to draw a smile
under the perfectly round eyes and above the chin,
which was rough
as a thousand sharpened nails.
And you know
what a smile means,
don't you?
.
.
I wanted the past to go away, I wanted
to leave it, like another country; I wanted
my life to close, and open
like a hinge, like a wing, like the part of the song
where it falls
down over the rocks: an explosion, a discovery;
I wanted
to hurry into the work of my life; I wanted to know,
whoever I was, I was
alive
for a little while.
.
.
It was evening, and no longer summer.
Three small fish, I don't know what they were,
huddled in the highest ripples
as it came swimming in again, effortless, the whole body
one gesture, one black sleeve
that could fit easily around
the bodies of three small fish.
.
.
Also I wanted
to be able to love. And we all know
how that one goes,
don't we?
Slowly
.
.
the dogfish tore open the soft basins of water.
.
.
You don't want to hear the story
of my life, and anyway
I don't want to tell it, I want to listen
to the enormous waterfalls of the sun.
And anyway it's the same old story..
a few people just trying,
one way or another,
to survive.
Mostly, I want to be kind.
And nobody, of course, is kind,
or mean,
for a simple reason.
And nobody gets out of it, having to
swim through the fires to stay in
this world.
.
.
And look! look! look! I think those little fish
better wake up and dash themselves away
from the hopeless future that is
bulging toward them.
.
.
And probably,
if they don't waste time
looking for an easier world,
they can do it.
***—-****—-****
Heavy
by Mary Oliver
That time
I thought I could not
go any closer to grief
without dying
I went closer,
and I did not die.
Surely God
had his hand in this,
as well as friends.
Still, I was bent,
and my laughter,
as the poet said,
was nowhere to be found.
Then said my friend Daniel,
(brave even among lions),
"It's not the weight you carry
but how you carry it 
books, bricks, grief 
it's all in the way
you embrace it, balance it, carry it
when you cannot, and would not,
put it down."
So I went practicing.
Have you noticed?
Have you heard
the laughter
that comes, now and again,
out of my startled mouth?
How I linger
to admire, admire, admire
the things of this world
that are kind, and maybe
also troubled 
roses in the wind,
the sea geese on the steep waves,
a love
to which there is no reply?
***—-****—-****
When Death Comes
by Mary Oliver
When death comes
like the hungry bear in autumn;
when death comes and takes all the bright coins from his purse
to buy me, and snaps the purse shut;
when death comes
like the measle-pox
when death comes
like an iceberg between the shoulder blades,
I want to step through the door full of curiosity, wondering:
what is it going to be like, that cottage of darkness?
And therefore I look upon everything
as a brotherhood and a sisterhood,
and I look upon time as no more than an idea,
and I consider eternity as another possibility,
and I think of each life as a flower, as common
as a field daisy, and as singular,
and each name a comfortable music in the mouth,
tending, as all music does, toward silence,
and each body a lion of courage, and something
precious to the earth.
When it's over, I want to say all my life
I was a bride married to amazement.
I was the bridegroom, taking the world into my arms.
When it's over, I don't want to wonder
if I have made of my life something particular, and real.
I don't want to find myself sighing and frightened,
or full of argument.
I don't want to end up simply having visited this world.
***—-****—-****
Starlings in Winter
by Mary Oliver
Chunky and noisy,
but with stars in their black feathers,
they spring from the telephone wire
and instantly
they are acrobats
in the freezing wind.
And now, in the theater of air,
they swing over buildings,
dipping and rising;
they float like one stippled star
that opens,
becomes for a moment fragmented,
then closes again;
and you watch
and you try
but you simply can't imagine
how they do it
with no articulated instruction, no pause,
only the silent confirmation
that they are this notable thing,
this wheel of many parts, that can rise and spin
over and over again,
full of gorgeous life.
Ah, world, what lessons you prepare for us,
even in the leafless winter,
even in the ashy city.
I am thinking now
of grief, and of getting past it;
I feel my boots
trying to leave the ground,
I feel my heart
pumping hard. I want
to think again of dangerous and noble things.
I want to be light and frolicsome.
I want to be improbable beautiful and afraid of nothing,
as though I had wings.
***—-****—-****
The Summer Day
by Mary Oliver
Who made the world?
Who made the swan, and the black bear?
Who made the grasshopper?
This grasshopper, I mean
the one who has flung herself out of the grass,
the one who is eating sugar out of my hand,
who is moving her jaws back and forth instead of up and down
who is gazing around with her enormous and complicated eyes.
Now she lifts her pale forearms and thoroughly washes her face.
Now she snaps her wings open, and floats away.
I don't know exactly what a prayer is.
I do know how to pay attention, how to fall down
into the grass, how to kneel down in the grass,
how to be idle and blessed, how to stroll through the fields,
which is what I have been doing all day.
Tell me, what else should I have done?
Doesn't everything die at last, and too soon?
Tell me, what is it you plan to do
with your one wild and precious life?
***—-****—-****
The Uses of Sorrow
by Mary Oliver
(In my sleep I dreamed this poem)
Someone I loved once gave me
a box full of darkness.
It took me years to understand
that this, too, was a gift.
***—-****—-****
Invitation
by Mary Oliver
Oh do you have time
to linger
for just a little while
out of your busy
and very important day
for the goldfinches
that have gathered
in a field of thistles
for a musical battle,
to see who can sing
the highest note,
or the lowest,
or the most expressive of mirth,
or the most tender?
Their strong, blunt beaks
drink the air
as they strive
melodiously
not for your sake
and not for mine
and not for the sake of winning
but for sheer delight and gratitude
believe us, they say,
it is a serious thing
just to be alive
on this fresh morning
in the broken world.
I beg of you,
do not walk by
without pausing
to attend to this
rather ridiculous performance.
It could mean something.
It could mean everything.
It could be what Rilke meant, when he wrote:
You must change your life.
***—-****—-****
Read More: Famous Emily Dickinson Poems