Read beautiful Love Poems for Wife. Poems from husband to wife about love, faithfulness and commitment. Show your wife your respect and love with a love poem. Find the right words with love poems for wife: romantic, sweet, cute, beautiful, long & short love poems for wife.
Short Love Poems For Wife From Husband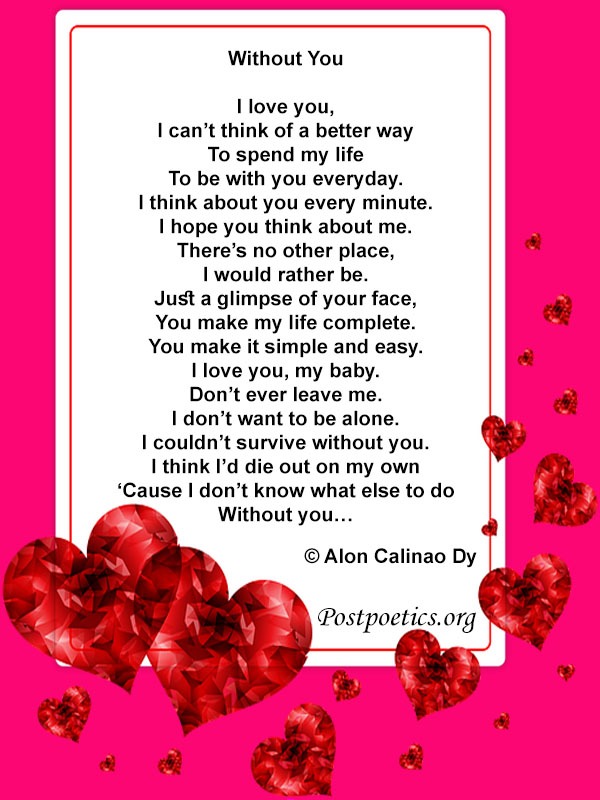 Without You
I love you,
I can't think of a better way
To spend my life
To be with you everyday.
I think about you every minute.
I hope you think about me.
There's no other place,
I would rather be.
Just a glimpse of your face,
You make my life complete.
You make it simple and easy.
I love you, my baby.
Don't ever leave me.
I don't want to be alone.
I couldn't survive without you.
I think I'd die out on my own
'Cause I don't know what else to do
Without you…
© Alon Calinao Dy
♥♥———–♥♦♥———–♥♥
The Taste Of Love
My wife
Beauty and grace
A smile on my face
A hand to hold
A companion to grow old
A mix of laughter & shouldered tears
We may age, but our love does not reflect the years
You gave me all in life I see as good
Made me dream of things I never thought I could
My pillar of strength deep in my soul
The one who made my life whole
Indescribable beauty inside and out
The love you reflect casts shade on my every doubt
The look in your eyes can make my heart skip
Ever since I meet you I've enjoyed this trip
So to you my love, I thank you so
& I pray the end of my love you never know.
© Sean O'Brien
♥♥———–♥♦♥———–♥♥
Lifeline
Like a skydiver needs a parachute
Like a singer needs to sing
And God breathes life into all living things
Like the water in the ocean
That all swimming creatures need to survive
And a baby's love for his mother
Because there is a sparkle in her eye
Like the sun shinning on your face
I swear there are angels on high
This is how I see my love for you
So now let me tell you why
You are my lifeline
So I can soar into new things
Just like an eagle that is gliding on his wings.
© Marcus Ditsworth
♥♥———–♥♦♥———–♥♥
To You I Promise
My love for you is unconditional and enduring.
To you I promise to always be reassuring.
My love for you protects you and is honorable.
To you I promise to always be faithful.
My love for you is understanding and passionate.
To you I promise to always be compassionate.
My love for you is thoughtful and cherishing.
To you I promise to always be devoted and caring.
My love for you is patient and kind.
To you I promise this always until the end of time.
My love for you is selfless and forgiving.
To you I promise this always, for as long as I am living.
My love for you is devoted and encouraging.
To you I promise to always listen and never be detouring.
I promise to show you, my wife, that I love you in all that I do.
I can promise these things because with all of my heart I love you.
© Danny Blackburn
♥♥———–♥♦♥———–♥♥
To My Wife
On this day we said our vows.
Now is a time to say just how
Much I appreciate you.
God-crafted for me alone,
You've done so well to make our home
A place of nurture and love.
Smoothing out my obtuse corners,
You help to make our family warmer
To the people who surround us.
I love you as much as on day one,
Even though many years have gone
By in the blink of a moment.
I am so happy I have years more
To be with you and to adore…
You.
© Jerry Boettcher
♥♥———–♥♦♥———–♥♥
A Gift From God
So young, so fresh, so new
The love and passion I felt for you.
I loved you so and you said yes
A gift from God, I was blessed
A beautiful woman with a heart so true
The love and passion I still feel for you
Throughout the pregnancy as you carry our son
A gift from God, I'm the lucky one
A wonderful mother and wife
The love and passion for all my life
A gift from God you truly are
A blessing from above to the luckiest man by far.
© Dino
♥♥———–♥♦♥———–♥♥
To My Wife
Two clouds that float together all the day
Along the sunny courses of the sky,
Will sadly part, as day's enchantments die,
And perish in the twilight's common gray.
Two rivulets, that find a wedded way,
And carol many a shining landscape by,
Descend at last where nameless waters lie
Beneath the ocean's all-dissolving sway,
Not such, dear wife, dear lover, is the goal
That waits for us upon our final breath, —
Two bubbles, crushed within a swirl of foam;
But like two piigrims, worn of sense and soul,
How happy we shall be when kindly Death
Points out the lights and open doors of home!
© Amos Russel Wells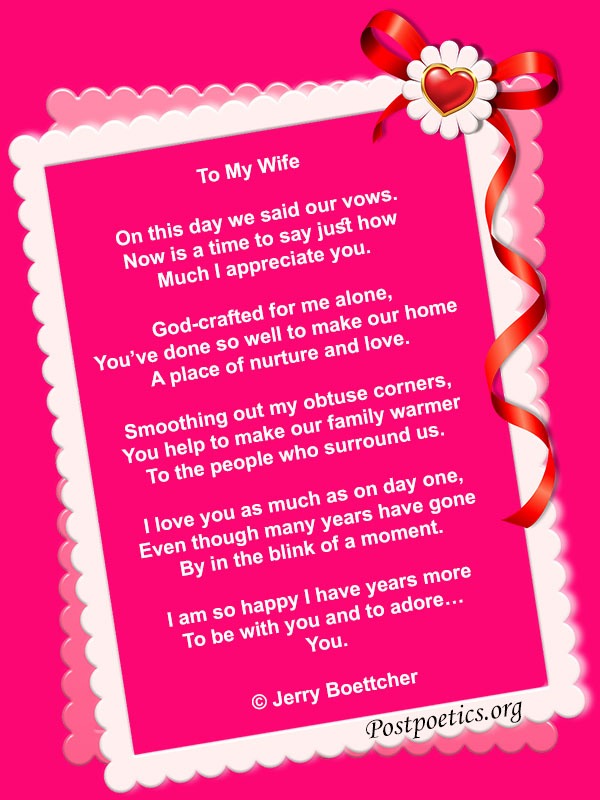 In Love With You
I'm happy I'm the one, to be in love with you,
I want to scream my lungs, till I'm blue,
I want the world to know, I have you.
How happy I am, to be in Love with you,
How lucky I am, I feel loved by you,
My mind is in a spin, with thoughts of you,
when it comes to romance, you are on my mind
You're my passion an desire, in all, I'm yours,
Every pulse of my body, burns like red hot fire.
Runs through my heart like a deep ravine,
the moment you smile, I get weak at the knees,
I'm swept off my feet, like a breeze from the sky.
My emotions are wild, and taking me over,
suddenly, life is better, cause, I'm in love with you!
© David Yearwood
♥♥———–♥♦♥———–♥♥
I Commend To You
Dear, to you this velvet rose I commend,
In which a model of yourself I tend.
How well within your palm its long stem rests,
So just your smiling eyes my vision nests.
To hold this goddess of mystique is life,
A touch of you is much more so, my wife.
The scent thins in air, the color is true,
As true, yet how much more special are you.
The petal serene, your hands need not toil,
Your faith in us is more so free of spoil.
You'll deem this dear as from me you have it;
Your trust is dearer, because you give it.
This rose as perfect as my kiss can seal,
Your love within my lofty heart does peal.
But this as all aspects peels in love's sight,
Whereas you, my wife, exceed in each right.
♥♥———–♥♦♥———–♥♥
When Compliments Pay Best
Your wife is growing old, man,
The white is in her hair,
But winsome to behold, man,
As when a maiden fair.
For there's an autumn beauty
More charming than the spring;
The grace of love and duty,
It is a wondrous thing!
Then tell your wife 'tis so, man,—
It's better lore than books,—
For women like to know, man,
That men still like their looks.
And maybe she will tell you,
For she's a guileful tongue,
The years so kindly spell you
That you are looking young!
© Amos Russel Wells
♥♥———–♥♦♥———–♥♥
In The Shadow Of Your Warm Love
In the shadow of your warm love
I feel so safe and secure,
And your soft, caring hands
Urge me on to bravely endure.
Your smiles soothe and ease the pain
Of another dark and lonely day;
The rainbow appears amid the rain,
My sorrow as quickly melts away.
A reassuring glow within your eyes
Tells me that you understand
The complicated ways of my sighs
Born of thoughts truly grand.
I continue to look upon your face
And gain a calm heart, my sweet solace.
© Paul Holmes
♥♥———–♥♦♥———–♥♥
Braided Souls
Souls braid to a single heart
Welds the seam, of the two we used to be
Hands held tenaciously
Dreams mesh in harmony
Tantalizing beauty
Lost in those eyes
Of blazing bronze
Leaves' of autumn full of envy
Passion glazed lips
Love's honeyed nectar,
Candies your kiss
Impassioned pulse,
An ardent serenade of feverish delight
This whetted appetite
Craves that elixir of your sweat
Beaded upon your perfumed neck
Intoxicating images,
Dancing in my mind
Yesterday's dreams,
Tomorrow's fantasy
Today's reality
Heartstrings gently strummed
Declares this delicious song
Overflowing the wellspring
Of devoted Love!
© Allen Ashburn
♥♥———–♥♦♥———–♥♥
Walk In My Shoes
If you walked in my shoes for a day,
You'd know how I love you in such a way.
You'd share the aching of my heart
for every moment we spend apart.
You'd feel electricity when I touch your skin
and the warmth I receive from seeing you grin.
You'd see me tumble into your eyes,
how they brighten up the greyest skies.
You'd smell the sweetness of your aura,
radiating like fresh picked flora.
You'd hear how saying three simple words
is like hearing the sweetest song of birds.
If you walked in my shoes for the rest of your life,
you'd know that I'm thankful that you're my wife.
© Steven P. Dawson
♥♥———–♥♦♥———–♥♥
My Christmas Wish Is You
Merry Christmas sweetheart
another year has passed
falling more in love with you
my heart feels like a mass
Kindness, Love and Patience
3 things I learned from you
Patience being number one
you've taught this through and through
Thank you for the memories
so many we have made
some bad, mostly good
but none I'll ever trade
Look inside my heart
it's filled through and through
The only thing I want for Christmas
Can come from only you
the most important thing I can give you
can't buy a single thing
time, a listening ear, and love
on your left hand a ring
a symbol of my commitment
not the value of gold
I will still be by your side
if that ring is sold
hopefully you have figured out
my wish HAS come true
Merry Christmas Sweetheart
My Christmas Wish is YOU
I Love you!
© John Anthony Lopiccolo
♥♥———–♥♦♥———–♥♥
Angelic Love
I made love with a angel.
I know how heaven feels.
I kissed the mouth of a angel.
I know how heaven tastes.
She held me tightly in her arms.
I died in her embrace.
If this is truly heaven.
Take my life today.
© Dennis Carlson
♥♥———–♥♦♥———–♥♥