In order to stay healthy, there must be some activity that keeps the body fit and is also enjoyed. Volleyball is a sport that keeps a person healthy and enjoyable. Some people are so keen on this game that they take time out of their busy schedule. We've got a collection of short but popular poems for fans of the Volleyball that make the game even more enjoyable.
Popcorn Volleyball
My daughter had tryouts for volleyball
it was a Junior Olympic team
A high level, nerve racking game
but it's great for her self-esteem
She practiced many hours
until the time arrived
to go to this big tournament
and show what she had inside
We arrived at the tournament center
We didn't know what to expect
The place was the size of a blimp hanger
which lent to a special effect
As you looked out over the expanse
It was amazing what you saw
all these volleyballs dancing in air
A popcorn machine at the mall
JoJo Bean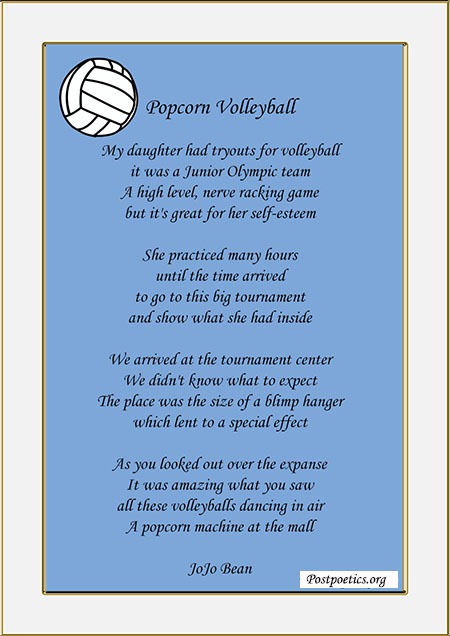 ****—-****—-****
Volleyball
thank you
told with a hand reached out from you
lost have we
never will be back this spring
the whistle ripped my high school days
six of us are going to be my very bests
Wabi Sabi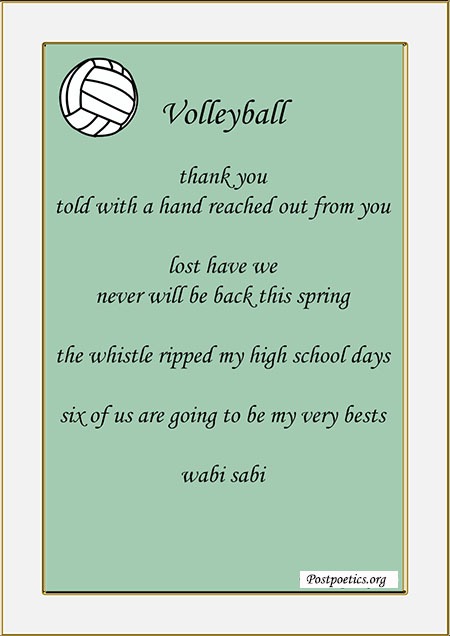 ****—-****—-****
Beach Volleyball
beach volleyball today.
you wear your cap
to protect you from the sun.
you wear your beach shorts
blue shorts with big white flowers
prints.
you walk barefoot.
and then you decide to walk straight
to the internet cafe.
and you are here now.
you do not like
anybody else.
cruel world. hot sun. your flight
is still tomorrow morning.
another loud night.
an impatient self trying to be
completely silent.
shut.
RIC BASTASA
****—-****—-****
Spring Volleyball – A Haiku
meandering thoughts
a high, volleyball volleying
out of untied shoe
n the gym forthwith
before hardwood floor bouncing
because of the net
James Edward Lee Sr.
****—-****—-****
Fivb Volleyball World Cup
Giba, Hugo Conte, Jimmy George, Josef Musil…
thrilling names in the mind,
smashing hit volleyball spikes, defense
enchanting moments keep ever in the heart,
days like waves take me in wings
petals of joy dancing around of me.
P A NOUSHAD
****—-****—-****
Volleyball
As that ball,
gets served over the net,
my heart pounds,
as I get ready to hit.
First, the passer,
then the setter goes,
then comes my turn,
to hit the ball.
A perfect pass,
an amazing set,
now it's up to me,
to get it over the net.
My hand touches the ball,
I bend my joint,
boom! Everyone cheers,
I scored a point.
Lisa Zhao
****—-****—-****
Volleyball&Track
Volleyball
fun, active
enduring, never-ending, hitting
hard, work, sweat, fight
running, gasping, jumping
loveable, hardcore
Track
vallery mitchell
****—-****—-****
Grade School Boys Playing Volleyball Early Morning
the streamers in different colors
look like leaves on trees lining the path
that i walk upon daily
i do not want any involvement now
i have so may ideas to think about
at the playground however, the cheers come out loud
for school boys playing the volleyball preparing for the Meet.
the coach with a fat belly like the volleyball twice its size
sits on a chair shouting to the little boys making the most of
what their tiny hands can do,
i remember the past, my hands too tiny to manipulate
the ball, and i feel humiliated with the strange hit
on my face.
i am involved now. On the same level, i am now
the sports spectator.
little dreams wanting to be big outright.
broken bodies, not worth it.
as early as that age when my fingers bend,
i opted for the dignity of just watching and then writing everything.
that little boy over there, his smile is so dry.
i can relate. I am like him, so afraid.
RIC BASTASA
****—-****—-****
Volleyball
I was scared
To call mine
For fear of
Attention
I was scared
To dive
For fear of
Not getting it
I was scared
To approach
The ball set to me
For fear of
Missing it
I was scared
To take the chance
Of messing up
In fear of
Looking weak
And useless
But one day
I took that chance
I dove for that ball
And hit it up
I hit that set
Killed it
I called that ball
And owned it
Now I tune out
Those voices that say
I can't make it
That I'll mess it up
Because I'm sick
Of being scared
Kelsey Martinson
****—-****—-****
Volleyball
blood pumping, adrenaline coursing through my veins
there is only one thing that crosses my mind
to win, crushing my opponent shamefully to the ground
where I can claim certain victory over them
just to feel the electric tension as points are scored and time runs out
feeling elated as my thunderous serves go untouched on the other side
bumps, sets, spikes are key to the game
but nothing is more important than teamwork
you yell, you scream, you call the ball
as its path crosses your zone
and teammates back you up
you dance on the court, keeping that single ball up
hoping to gain the points needed to reach the goal
as sweat and anxiety fills the court,
the winning point looming over the horizon
muscles become rigid and legs stay firmly on the ground
as we perform the final moves to defeat them
and as the crowd roars its support from the bleachers
we jump and celebrate at the hard work we put forth
as we rise above the ranks and become true champions
May Namoc
****—-****—-****
Read More:  Top Basketball Poems