A list of new Basketball Poems is composed of the works of modern poets. Best Basketball Poems ever written. Read all Poems about Basketball.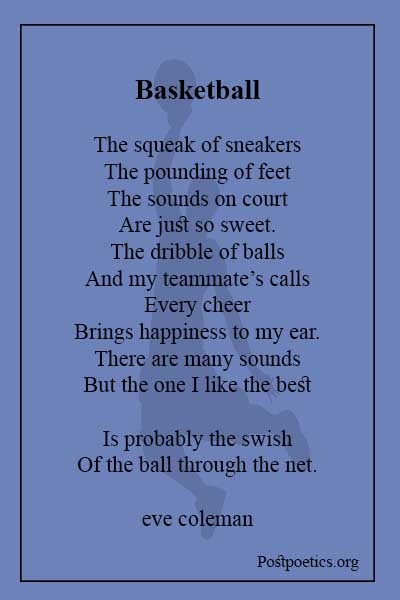 Basketball
The squeak of sneakers
The pounding of feet
The sounds on court
Are just so sweet.
The dribble of balls
And my teammate's calls
Every cheer
Brings happiness to my ear.
There are many sounds
But the one I like the best
Is probably the swish
Of the ball through the net.
eve coleman
——————————-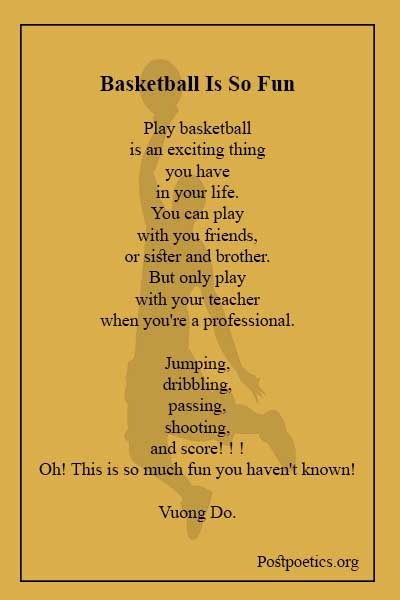 Basketball Is So Fun! ! !
Play basketball
is an exciting thing
you have
in your life.
You can play
with you friends,
or sister and brother.
But only play
with your teacher
when you're a professional.
Jumping,
dribbling,
passing,
shooting,
and score! ! !
Oh! This is so much fun you haven't known!
Vuong Do.
——————————-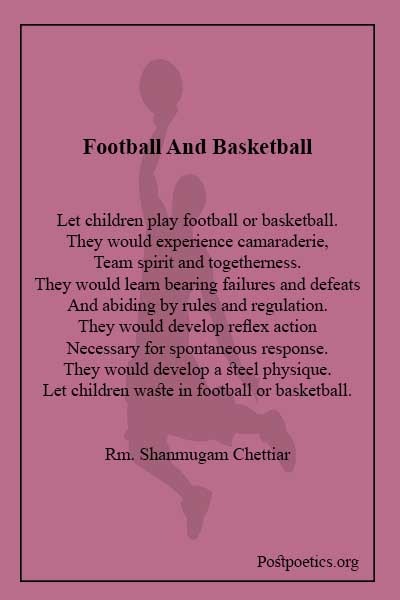 Football And Basketball
Let children play football or basketball.
They would experience camaraderie,
Team spirit and togetherness.
They would learn bearing failures and defeats
And abiding by rules and regulation.
They would develop reflex action
Necessary for spontaneous response.
They would develop a steel physique.
Let children waste in football or basketball.
Rm. Shanmugam Chettiar
——————————-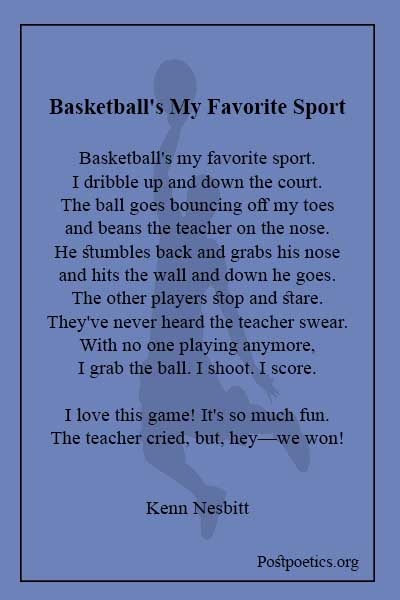 Basketball's My Favorite Sport
Basketball's my favorite sport.
I dribble up and down the court.
The ball goes bouncing off my toes
and beans the teacher on the nose.
He stumbles back and grabs his nose
and hits the wall and down he goes.
The other players stop and stare.
They've never heard the teacher swear.
With no one playing anymore,
I grab the ball. I shoot. I score.
I love this game! It's so much fun.
The teacher cried, but, hey—we won!
Kenn Nesbitt
——————————-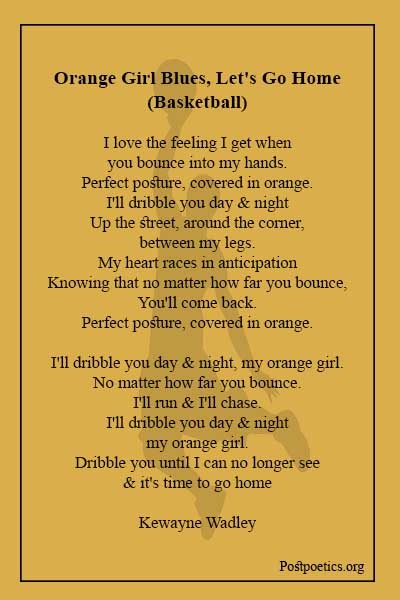 Orange Girl Blues, Let's Go Home (Basketball)
I love the feeling I get when
you bounce into my hands.
Perfect posture, covered in orange.
I'll dribble you day & night
Up the street, around the corner,
between my legs.
My heart races in anticipation
Knowing that no matter how far you bounce,
You'll come back.
Perfect posture, covered in orange.
I'll dribble you day & night, my orange girl.
No matter how far you bounce.
I'll run & I'll chase.
I'll dribble you day & night
my orange girl.
Dribble you until I can no longer see
& it's time to go home
Kewayne Wadley
——————————-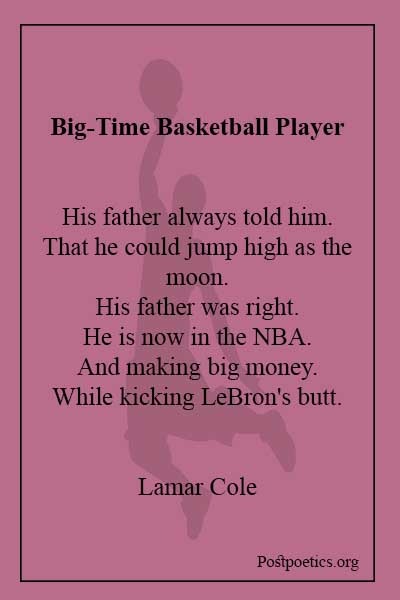 Big-Time Basketball Player
His father always told him.
That he could jump high as the moon.
His father was right.
He is now in the NBA.
And making big money.
While kicking LeBron's butt.
Lamar Cole
——————————-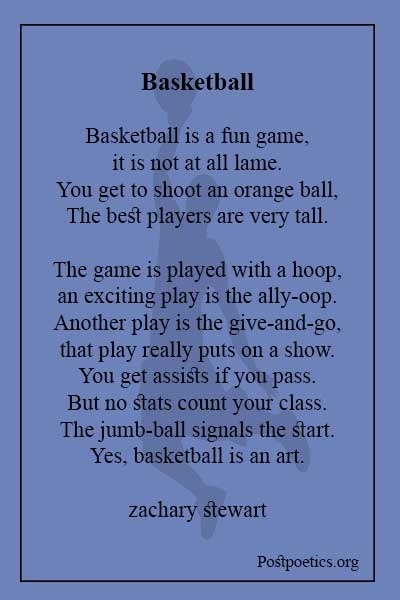 Basketball
Basketball is a fun game,
it is not at all lame.
You get to shoot an orange ball,
The best players are very tall.
The game is played with a hoop,
an exciting play is the ally-oop.
Another play is the give-and-go,
that play really puts on a show.
You get assists if you pass.
But no stats count your class.
The jumb-ball signals the start.
Yes, basketball is an art.
zachary stewart
——————————-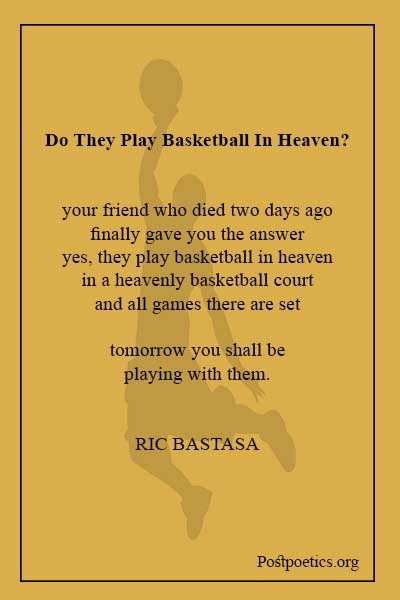 Do They Play Basketball In Heaven?
your friend who died two days ago
finally gave you the answer
yes, they play basketball in heaven
in a heavenly basketball court
and all games there are set
tomorrow you shall be
playing with them.
RIC BASTASA
——————————-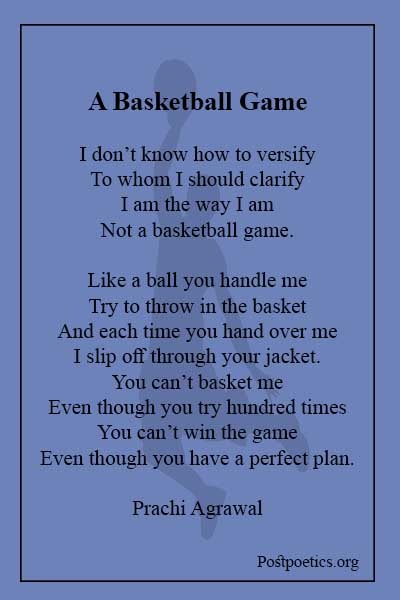 A Basketball Game
I don't know how to versify
To whom I should clarify
I am the way I am
Not a basketball game.
Like a ball you handle me
Try to throw in the basket
And each time you hand over me
I slip off through your jacket.
You can't basket me
Even though you try hundred times
You can't win the game
Even though you have a perfect plan.
Prachi Agrawal
——————————-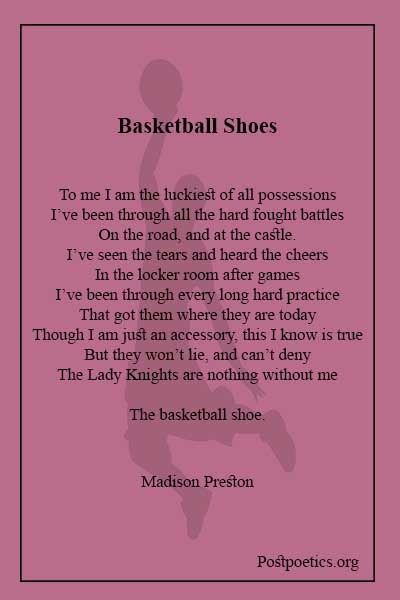 Basketball Shoes
To me I am the luckiest of all possessions
I've been through all the hard fought battles
On the road, and at the castle.
I've seen the tears and heard the cheers
In the locker room after games
I've been through every long hard practice
That got them where they are today
Though I am just an accessory, this I know is true
But they won't lie, and can't deny
The Lady Knights are nothing without me
The basketball shoe.
Madison Preston
——————————-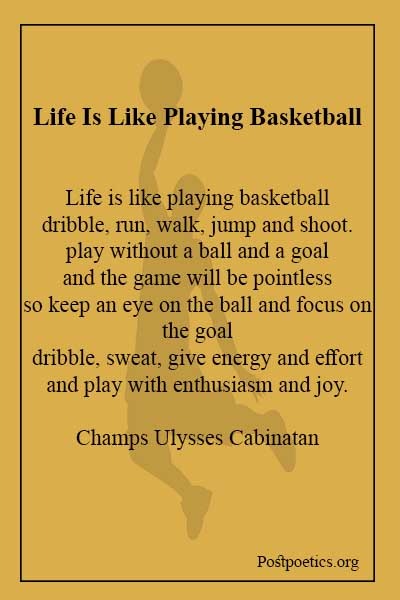 Life Is Like Playing Basketball
Life is like playing basketball
dribble, run, walk, jump and shoot.
play without a ball and a goal
and the game will be pointless
so keep an eye on the ball and focus on the goal
dribble, sweat, give energy and effort
and play with enthusiasm and joy.
Champs Ulysses Cabinatan
——————————-
Basketball
my heart pounds as i run downcourt
my hearts speeds as i plan to shoot
to watch the ball go thru the hoop
to watch the people cheer and scream
i wake up it was a dream
but when i am on a real court
i freeze unless i play w/ boyz
i cannot shoot
i cannot move
with boyz i play like a pro because i feel i have nothing to lose
but something to prove
that girls can play just as good
so when i score
i know that each point is worth so much more.
Priscilla Garcia
——————————-
Beer And Basketball
He felt that he knew it all.
To him life was just beer and basketball.
Whenever life tried to take him for a fall.
He always relied on beer and basketball.
At one time in his life, he had lost it all.
But he still had beer and basketball.
Lamar Cole
——————————-
Ex-Basketball Player
Pearl Avenue runs past the high-school lot,
Bends with the trolley tracks, and stops, cut off
Before it has a chance to go two blocks,
At Colonel McComsky Plaza. Berth's Garage
Is on the corner facing west, and there,
Most days, you'll find Flick Webb, who helps Berth out.
Flick stands tall among the idiot pumps—
Five on a side, the old bubble-head style,
Their rubber elbows hanging loose and low.
One's nostrils are two S's, and his eyes
An E and O. And one is squat, without
A head at all—more of a football type.
Once Flick played for the high-school team, the Wizards.
He was good: in fact, the best. In '46
He bucketed three hundred ninety points,
A county record still. The ball loved Flick.
I saw him rack up thirty-eight or forty
In one home game. His hands were like wild birds.
He never learned a trade, he just sells gas,
Checks oil, and changes flats. Once in a while,
As a gag, he dribbles an inner tube,
But most of us remember anyway.
His hands are fine and nervous on the lug wrench.
It makes no difference to the lug wrench, though.
Off work, he hangs around Mae's Luncheonette.
Grease-gray and kind of coiled, he plays pinball,
Smokes those thin cigars, nurses lemon phosphates.
Flick seldom says a word to Mae, just nods
Beyond her face toward bright applauding tiers
Of Necco Wafers, Nibs, and Juju Beads.
John Updike
——————————-
Playing Basketball
Boys playing basketball after school, just for fun.
They are funny as they go around in circles, dribbling
the ball, trying to keep it away from each other and
score points for themselves.
Jumping up, trying to slam dunk the ball, they end up
hanging on the rim with one hand.
It makes them feel tall, makes them feel cool, as they
identify with the pros.
Running, blocking, dribbling, feeling good about them-selves.
Every once in a while, making a basket when they don't
think about showing off to those who are watching them.
——————————-
The Poetry Of Basketball
All alone in the gym tonight-
Too early I guess for a game.
But the smells are here,
And in the silence I can even hear the sounds-
The shouts, the squeak of shoes on the floor.
Then the guys start to come-
One, two, three at a time.
One, three, six, seven, ten-
We've got ten; let's shoot for teams.
I'll guard the guy with the 'Bulls' shirt;
Who does he think he is, Michael Jordan?
I'm Michael Jordan.
And so we begin:
The dribble, the steal, the pass, the shot,
The rebound, the put back, the foul.
And over and over and over again-
Every time different, but each time the same.
I love the poetry of the game.
Hm. Nes
——————————-
Basketball
Some like it, but i love it
Some play it for fun, but i play it for love
Some play it for excersize, but i play it for passion
Some play till their tired, but i play till i collapse
Some like it for a while, but i will love it forever
Some call it a game, but i call it home
Marwan Asaad
——————————-
Basketball Poem
The student staff basketball game
was extremely lame
To Mrs. Fish
Who thought she was going to dish
a major beat down
To make Connor O'Neill frown
Connor O'Neill
——————————-
I Use To Play Basketball
Do you play basketball?
'I can.
I did.
Why do you ask? '
And…
You live in Connecticut, right?
'Yes.'
I've noticed from your writing,
There is a biting that defies description.
'What has that have to do with my ability to play basketball? '
Just curious.
Your eyes are penetrating.
As if you seek a challenge from me.
'A challenge?
From 'you'?
I said…
I use to play basketball.
In my much younger days.
However…
If I had been prepared for a challenge to play games,
I would have brought along a blindfold.
That's how confident I am of winning.'
Lawrence S. Pertillar
——————————-
Basketball
She thought that he was a nut.
When he walked behind her and palmed her butt.
He didn't think that he was a nut at all.
He just wanted to palm those basketballs.
If he had a better rap.
He wouldn't have ended up with a face slap.
Lamar Cole
——————————-
Read More: Memorial Day Poems