William Arthur Ward was born on December 17, 1921 in Louisiana and graduated from McMurray College and earned a master's degree from Oklahoma State University. His writings have been published by various people, including Reader's Digest, and Christian publications. His best and most popular books are Thoughts Of A Christian Optimist, For This One Hour, Miracles That I Have Seen, and Rewarding Moments. His poetry influenced people a lot. He died in December 1921 in Louisiana. His best and noble poetry is still alive in people's hearts.
More Than
Poet: William Arthur Ward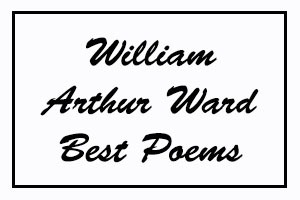 I am more than happy;
I am joyful.
I am more than healthy;
I am whole.
I am more than alive;
I am radiant.
I am more than successful;
I am free.
I am more than caring;
I am loving.
I am more than tranquil;
I am peaceful.
I am more than interested;
I am involved.
I am more than adequate;
I am triumphant.
I am more than fortunate;
I am prosperous.
I am more than human;
I am a child of God.
=========
With God
by William Arthur Ward
With God,
No mountain is too high
to keep you from climbing it…
No gaol is too great
to keep you from reaching it…
No problem is too difficult
to keep you from solving it…
No adversary is too powerful
to keep you from overcoming it…
No obstacle is too awesome
to keep you from overcoming it…
No burden is too heavy
to keep you from bearing it…
No aspiration is too noble
to keep you from attaining it.
We Cannot
By William Arthur Ward
We can ignore God but
We cannot escape Him.
We can resist Him but
We cannot elude Him.
We can reject Him but
We cannot silence Him.
We can deny Him but
We cannot destroy Him.
Spark
By William Arthur Ward
Love is the
spark that kindles the fire of compassion.
Compassion is the
fire that flames the candle of service.
Service is the
candle that ignites the torch of hope.
Hope is the
torch that lights the beacon of faith.
Faith is the
beacon that reflects the power of God.
God is the
power that creates the miracle of love.
=========
For This One Hour
Poet: William Arthur Ward
For This One Hour I can be grateful.
I can thank God for life itself, for opportunities,
For friends, and for a hundred other blessings and
Privileges to be counted, cherished, and enjoyed.
For This One Hour I can be cheerful.
Equipped with a smile, a song, and a sunny disposition,
I can transform the atmosphere, enrich my environment,
and brighten the day for others.
For This One Hour I can be optimistic.
Striking a happy medium between the pessimist and
the Pollyanna, I can realistically and confidently
expect good things to happen to me and through me.
For This One Hour I can spend some time in prayer.
I can pause to recharge my spiritual batteries,
renew my mental perspectives, refresh my physical energies,
and replenish my faith in God and my fellowman.
For This One Hour I can be unselfish.
I can take the Golden Rule off the shelf, dust it,
unwrap it, and put it to work in my thoughts,
words and actions… right now.
For This One Hour I can look for the best in others.
It may take some diligent searching, patient seeking,
and careful screening, but I will work at it, even as I
want others to look for the best in me.
For This One Hour I can help make someone happy.
I can do it through a word of encouragement or
comfort, or perhaps by a helping hand, a telephone
call, a letter, or a visit.
For This One Hour I can be forgiving.
I can leave the lowlands of resentment, grudges
and bitterness, and rise to the highlands of
understanding, love and forgiveness.
For This One Hour I can be generous.
I can listen quietly and attentively when others
want to talk. I can look for opportunities to give
a well-deserved compliment to someone who
needs it.
For This One Hour I can live in the present.
Now is the only time I have, and I can use
this hour wisely as a personal and precious
gift from God.
=========
If I Can
Poet: William Arthur Ward
If I can write one verse of truth today
Or give my fellow man a song to sing;
If I can push one needless cloud away
And help men live as children of the King:
If I can lend someone a helping hand
Or warm a place where friendship needs to be;
If I can build a bridge where fences stand
And light a lamp that other men might see;
If I can open doors of hope this day
By letting someone know that others care;
If I can speak in words that seem to say:
I know the heavy burdens that you bear.
If I can guide a pilgrim on his way
Or pause to bid him stay for food and rest;
If I can do these, Father, this I pray:
"O let me do them with my very best."
An Injustice
Looking through the wrong end of a telescope
Is an injustice to the astronomer,
To the telescope,
And to the stars;
Likewise, looking at our neighbor's faults
Instead of their attributes
Gives us an incorrect conception of
Ourselves, our neighbor, and our God.
Heaven On Earth
In his love for us,
God created heaven and earth;
With His love in our hearts,
We can create
Heaven on earth.
Walk With Love
by William Arthur Ward
Ours is not to understand God,
But to obey Him;
Not to sit in judgment of His children,
but to walk with them in love.
Steps to Achievement
by William Arthur Ward
Four steps to achievement:
Plan purposefully.
Prepare prayerfully.
Proceed positively.
Pursue persistently.
Gratitude
Gratitude can transform
common days into Thanksgiving,
Turn routine joys into joy,
And change ordinary opportunities
Into blessings.
Opportunity
Doors of opportunity are
Open to the optimist.
Gates of achievement
Swing wide for the person
Who sees infinite possibilities
In the insignificant
Prayer Is
Prayer is the prelude to peace,
The prologue to power,
The preface to purpose,
And the pathway to perfection
Deep Optimism
Deep optimism is aware of problems
But recognizes the solutions;
Knows about difficulties
But believes they can be overcome;
Sees the negative,
But accentuates the positive;
Is exposed to the worst,
But expects the best;
Has reason to complain,
But prefers to smile.
Trails You Leave
Every person has the power to make others happy.
Some do it simply by entering a room
others by leaving the room.
Some individuals leave trails of gloom;
others, trails of joy.
Some leave trails of hate and bitterness;
others, trails of love and harmony.
Some leave trails of cynicism and pessimism;
others trails of faith and optimism.
Some leave trails of criticism and resignation;
others trails of gratitude and hope.
What kind of trails do you leave?
=========
Transform The Common Task
Poet: William Arthur Ward
Do you seek nobility?
Do you want your work to last?
Using your ability
Just transform the common task.
If you want a famous name
Here is what the world would ask,
"Will you strive to play the game
And transform the common task?"
Would you give to life your best?
Shall your service upward soar?
Here again is still the test . . .
Will you do the common chore?
=========
Prayer
by William Arthur Ward
Prayer Can …
Prayer can make our week days strong,
Our trying days triumphant,
Our sabbath days sacred,
And our holidays wholesome.
Fortunately prayer does not always bring us what we want;
Rather it helps us to become the kind of person we should be.
The value of prayer is not in what it gives us
But in what it makes us.
It is not primarily a method of getting,
But it is a splendid ways of growing.
He who would earnestly desire spiritual growth
Must be ever vigilant lest his meditations become daydreams,
And his prayers become a play on words.
Prayer takes the lid off our aspirations,
The ceiling off our abilities,
And the limitations off our achievements.
Thoughts On Prayer
Prayer is the signature of the soul
On the correspondence with our Creator.
Prayer can chart our course and
Set our sails for each day's voyage.
The best cure for a short temper is
A lengthened prayer life.
Faith-filled prayers can calm the waves of anxiety
And undercurrents of fear.
The way we pray shows how we live;
The way we live shows how we pray.
Daily pressures can peeve, provoke, and perturb us;
Private prayers can strengthen, steady, and support us.
Brighten your corner with prayer;
It is the lamp of understanding.
When we pray for rain and do not bother to repair our roof,
Our petition is full of holes.
You can have poise over the which annoys when
You turn your cares into prayers.
A primary purpose of prayer is to attune
Our spiritual ears to hear divine whispers.
Prayer is the seed of miracles,
The soul of worship,
And the food of spiritual growth.
Prayer is our golden opportunity to transform
The blues into a red-letter day.
=========
Christmas 
by William Arthur Ward
Christmas Is More Than
Christmas is more than a time of music, merriment, and mirth;
It is a season of meditation, managers, and miracles.
Christmas is more than a time of gaiety, greenery, and gifts;
It is a season of wonder, worship, and wise men.
Christmas is more than a time of tinsel, trees, and toys;
It is a season of preparation, prayers, and peace.
Christmas is more than a time of festivities, family, and friends;
It is a season of generosity, gladness, and gratitude.
Christmas is more than a time of carols, cards, and candy;
It is a season of dedication, direction, and decision.
Christmas is more than Santa, stockings and surprises;
It is Christ, caring, and concern.
Christmas is more than parties, presents, and pleasures;
It is a star, a stable, and a Savior.
Christmas Can Be
Christmas can be the end of fear and doubt;
The beginning of faith and hope.
Christmas can be the end of selfishness and strife;
The beginning of love and good will.
Christmas can be the end of pessimism and cynicism;
The beginning of belief and trust.
Christmas can be the end of sadness and gloom;
The beginning of gladness and joy.
Christmas can be the end of emptiness and waywardness;
The beginning of happiness and purposefulness.
=========
Pessimist or Optimist
by William Arthur Ward
The pessimist finds fault;
The optimist discovers a remedy.
The pessimist seeks sympathy;
The optimist spreads cheer.
The pessimist criticizes circumstances;
The optimist changes conditions.
The pessimist complains about the apple seeds;
The optimist plants them.
The pessimist imagines impending peril;
The optimist sees signs of prosperity.
The pessimist disparages;
The optimist encourages.
The pessimist creates loneliness;
The optimist finds friends.
The pessimist nibbles at the negative;
The optimist is nourished by the positive.
The pessimist builds barriers;
The optimist removes roadblocks.
The pessimist invents trouble;
The optimist enriches the environment.
=========
While Others
Poet: William Arthur Ward
Believe while others are doubting.
Plan while others are playing.
Study while others are sleeping.
Decide while others are delaying.
Prepare while others are daydreaming.
Begin while others are procrastinating.
Work while others are wishing.
Save while others are wasting.
Listen while others are talking.
Smile while others are frowning.
Commend while others are criticizing,
Persist while others are quitting.
=========
The Golden Rule
Poet: William Arthur Ward
I asked three men this question yesterday:
"What does the Golden Rule mean most to you?"
One could not hear what each man had to say
Without becoming filled with faith anew.
The one was a man of God indeed
Who serves with consecrated heart and head.
His answer was the keynote of his creed:
"To love thy neighbor as thyself," he said.
The second man, an athlete on the court,
He paused to rest, and wore a handsome smile.
He told the Golden Rule of any sport:
"To me, it means to go the second mile."
The third, a friendly merchant in a store
Was quick to share his thoughts and point of view
To him the Golden Rule is giving more
Than one expects his fellow man to do.
I sought one answer best of all the three,
Then suddenly I clearly understood
The simple truth that each had said to me:
The Golden Rule is living Brotherhood.
=========
The Choices
Poet: William Arthur Ward
The choices we make each day of the week,
The paths that we take, the goals that we seek,
The kind of persons one day we will be
Is daily determined by you and me.
Each thought that we think, each word that we say
Affect our tomorrows in some strange way.
Each task that we finish, if it's well done,
Prepares us to tackle a bigger one.
For each of us has a talent or two,
A chance to make good on the jobs we do;
A measure of time to squander or use
Is given to us – it's our job to choose.
=========
Service To Others
Poems & Thoughts by William Arthur Ward
The climate of our days is influenced
More by the condition of our temperament
Than by the of our surroundings;
More by the humility in our heart
Than by the humidity of air;
More by the happiness we create
Than by the fun we seek;
More by the service we give
Than by the service we receive;
More by the friends we make
Than by the people we meet;
More by the example we set
Than by the breaks we get.
If the room of your life is filled with the darkness of despair,
it need not remain so.
You have the power to kindle the flame of faith,
to light a candle of hope,
to turn on the lamp of love,
to pull back the curtains of fear,
to raise the windows of doubt,
to unlock the doors of defeat,
and to step out into the street of service.
God needs you to be His instrument of peace,
His channel of love,
And His avenue of service of others.
Water under the bridge of failure
Can be drained into bayous of bitterness
Or channeled into streams of service.
We are all surrounded by acres of unfinished goodness
We should cultivate and complete.
Thinking big enlarges your horizons;
Giving a big lifts your spirits;
Serving big expands your soul.
After we look up to God in prayers,
We should reach out to others in service.
Feelings of futility frequently flee when we
Lose ourselves in service to others.
When we invest our days in service to others,
We have no time for the blues.
Every stream has a source;
Every mountain has a base;
Every deed has a thought.
We were created
to expand our consciousness through prayer,
to extend our hands in service,
to express our thanks with joy,
to expand our energies with wisdom,
and to exemplify our love by deeds.
Blessed is the person who
confidently builds birdges of understanding, and
who generously lightens the loads of his fellow man.
How easy to put another in his place;
how difficult to put ourselves in his place.
The secret of abundant life is giving –
our will to God, and
our service to the needs of others.
Learn and grow all you can;
serve and befriend all you can;
enrich and inspire all you can.
God needs you to be His instrument of peace,
His channel of love, and
His avenue of service to others.
=========
One Day
Poet: William Arthur Ward
Each of us will one day be judged
By our standard of life –
Not by our standard of living;
By our measure of giving –
Not by our measure of wealth,
By our simple goodness –
Not by our seeming greatness.
=========
Be Grateful
by William Arthur Ward
If the life of a river depended
Only on the rain that falls within the
Confines of its own banks,
It would soon be dry.
If the life of an
Individual depended
Solely on his own resources,
He would soon fall.
Be grateful for your tributaries.
=========
A Pinch Of Praise
by William Arthur Ward
A pinch of praise is worth
a pound of scorn.
A dash of encouragement is more helpful than
a dipper of pessimism.
A cup of kindness is better than
a cupboard of criticism.
=========
Forgiveness Is
by William Arthur Ward
Forgiveness is the key that
Unlocks the door of resentment
And the handcuffs of hate.
It is a power that breaks the chains
Of bitterness and
The shackles of selfishness.
=========
Do More
Poet: William Arthur Ward
Do more than belong: participate.
Do more than care: help.
Do more than believe: practice.
Do more than be fair: be kind.
Do more than forgive: forget.
Do more than dream: work.
Do more than teach; inspire.
Do more than earn; enrich.
Do more than give; serve.
Do more than live; grow.
Do more than suffer; triumph.
=========
Mistakes
Poet: William Arthur Ward
The mistakes to avoid:
Remorse over yesterday's failures.
Anxiety over today's problems.
Worry over tomorrow's uncertainty.
Waste of the moment's opportunity.
Procrastination with one's present duty.
Resentment of another's success.
Criticism of a neighbor's imperfection.
Impatience with youth's immaturity.
Skepticism of our nation's future.
Unbelief in God's providence.
=========
Wise Is
by William Arthur Ward
Wise is the person
Who profits from the mistakes of the past,
Recognizes the opportunities of the present,
And anticipates the challenges of the future.
The wise person feels
A kinship with antiquity,
A friendship with infancy,
And a fellowship with infinity.
=========
Brighten Your Corner
by William Arthur Ward
Brighten your corner with Gratitude;
it is the candle of contentment.
Brighten your corner with Kindness;
it is the flame of friendship.
Brighten your corner with Cheerfulness;
it is the light of good will.
Brighten your corner with Joy;
it is the window to health.
Brighten your corner with Humor;
it is the sunshine of the soul.
Brighten your corner with Faith;
it is the door to discovery.
Brighten your corner with Generosity;
it is the portrait of character.
Brighten your corner with Enthusiasm;
it is the torch of achievement.
Brighten your corner with Work;
it is the lantern of success.
Brighten your corner with Patience;
it is the reflection of maturity.
Brighten your corner with Love;
it is the power of Brotherhood.
Brighten your corner with Prayer;
it is the lamp of understanding.
=========
A Preacher Is…
by William Arthur Ward
A preacher is a person who
perceives parables in problems,
poetry in patience,
sermons in sunsets,
symphonies in snowflakes,
stories in smiles,
miracles in meadows,
messages in mountains,
fables in flowers,
lessons in leaves,
legends in laughter,
truth in trees,
wonder in water falls,
wisdom in windows,
greatness in gratitude,
grandeur in grasses,
goodness in gardens,
beauty in bridges,
inspirational in icicles,
crosses in crises,
and reverence in rainbows.
=========
Read More: J.J. Thorne Best Poems