You may have met a stranger who is now your memory and you are unable to meet him despite wanting to, or you fall in love with someone whom it is impossible to meet. In this case, we have collected some beautiful Twin Flame Poems and Quotes to comfort your heart. Let's read
Let Me Not To The Marriage of True Minds
"Let me not to the marriage of true minds
Admit impediments. Love is not love
Which alters when it alteration finds.
Or bends with the remover to remove:
O, no! it is an ever-fixed mark,
That looks on tempests and is not shaken;
It is the star to every wandering bark,
Whose worth's unknown, although his height be taken.
Love's not time's fool, though rosy lips and cheeks
Within his bending sickle's compass come;
Love alters not with his brief hours and weeks,
But bears it out even to the edge of doom,
If this be error, and upon me proved,
I never writ, nor no man ever loved."
~William Shakespeare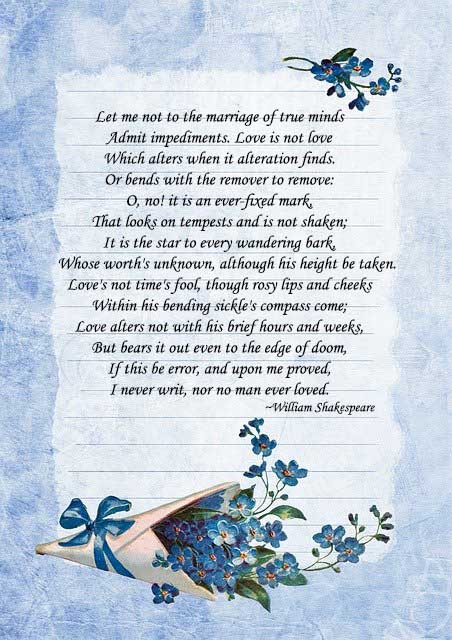 ****——****——***
My True Love Hath My Heart
"My true-love hath my heart, and I have his,
By just exchange one for another given:
I hold his dear, and mine he cannot miss,
There never was a better bargain driven:
My true-love hath my heart, and I have his,
My heart in me keeps him and me in one,
My heart in him his thoughts and senses guide:
He loves my heart, for once it was his own,
I cherish his because in me it bides:
My true-love hath my heart, and I have his."
~Sir Philip Sidney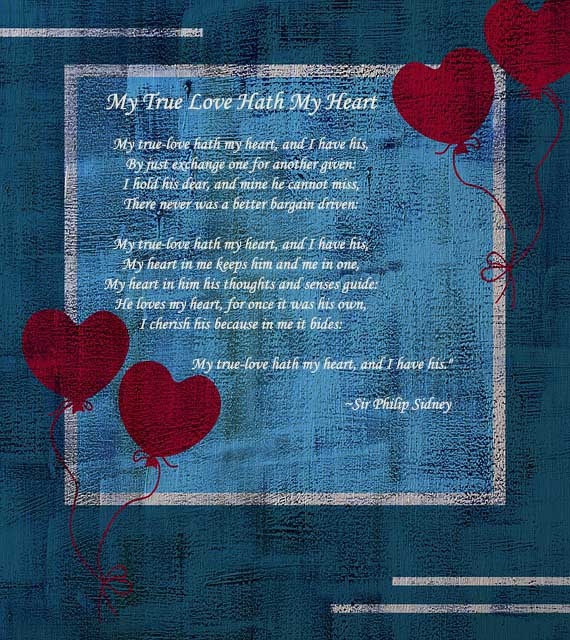 ****——****——***
Love's Philosophy
The Fountains mingle with the Rivers
And the Rivers with the Oceans,
The winds of Heaven mix forever
With a sweet emotion;
Nothing in the world is single;
All things by a law divine
In one spirit meet and mingle.
Why not I with thine? —
See the mountains kiss high Heaven
And the waves clasp one another;
No sister-flower would be forgiven
If it disdained its brother,
And the sunlight clasps the earth
And the moonbeams kiss the sea:
What is all this sweet work worth
If thou kiss not me?
~Percy Shelley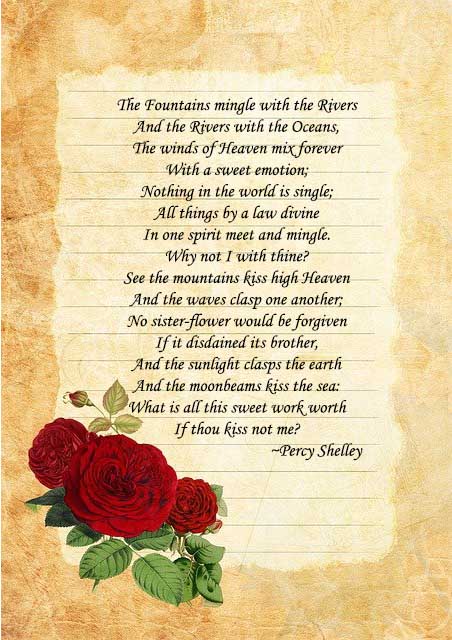 ****——****——***
A Marriage….
"Makes of two fractional lives a whole;
It gives to two purposeless lives a work
And doubles the strength of each to perform it
It gives to two questioning natures a reason for living,
And something to live for;
It will give a new gladness to the sunshine,
A new fragrance to the flowers,
A new beauty to the earth,
And a new mystery to life"
~Mark Twain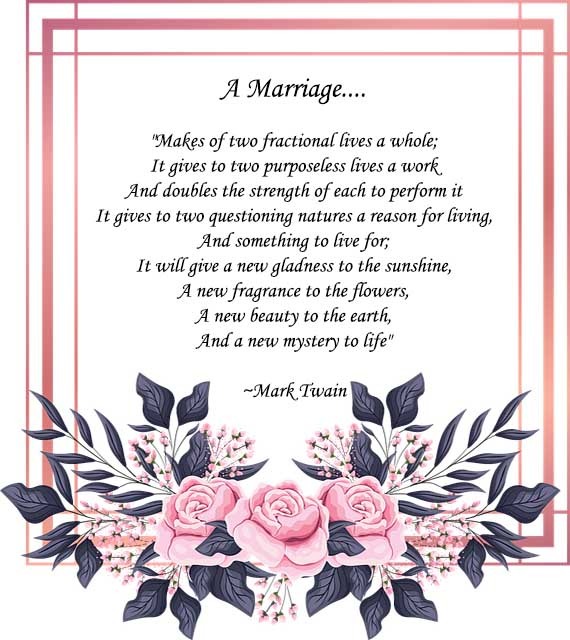 ****——****——***
I Carry Your Heart With me
I carry your heart with me (i carry it in
my heart)i am never without it(anywhere
i go you go,my dear; and whatever is done
by only me is your doing,my darling)
i fear
no fate (for you are my fate,my sweet) i want
no world (for beautiful you are my world,my true)
and it's you are whatever a moon has always meant
and whatever a sun will always sing is you
here is the deepest secret nobody knows
(here is the root of the root and the bud of the bud
and the sky of the sky of a tree called life;which grows
higher than the soul can hope or mind can hide)
and this is the wonder that's keeping the stars apart
i carry your heart(i carry it in my heart)
~ e.e. Cummings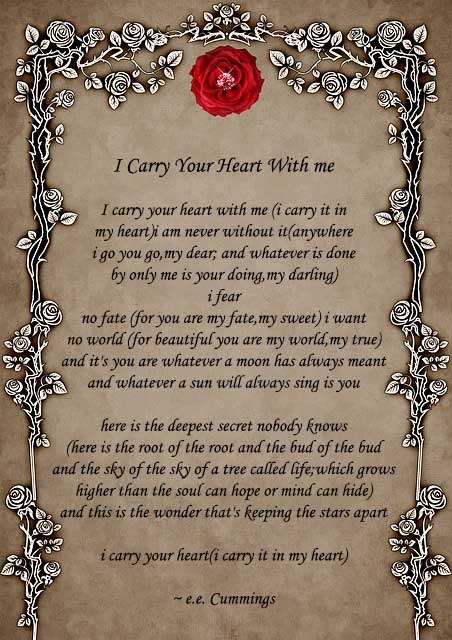 ****——****——***
The Sea Hath Its Pearls
The Sea Hath Its Pearls
The sea hath its pearls,
The heaven hath its stars;
But my heart, my heart,
My heart hath its love.
Great are the sea, and the heaven;
Yet greater is my heart,
And fairer than pearls or stars
Flashes and beams my love.
Thou little, youthful maiden,
Come unto my great heart;
My heart, and the sea and the heaven
Are melting away with love!
~Henry Wadsworth Longfellow
****——****——***
Now

Out of Your Whole Life 
Now
Out of your whole life give but a moment!
All of your life that has gone before,
All to come after it,–so you ignore
So you make perfect the present,–condense,
In a rapture of rage, for perfection's endowment,
Thought and feeling and soul and sense–
Merged in a moment which gives me at last
You around me for once, you beneath me, above me–
Me–sure that despite of time future, time past,–
This tick of our life-time's one moment you love me!
How long such suspension may linger? Ah, Sweet–
The moment eternal–just that and no more–
When ecstasy's utmost we clutch at the core
While cheeks burn, arms open, eyes shut and lips meet
~Robert Browning
****——****——***
The Gift
I want both of us to start singing like two
Traveling minstrels
About this extraordinary existence
We share,
As if
You, I, and God were all married
And living in
A tiny
Room.
~Hafiz (from The Gift)
****——****——***
Because She Would Ask Me Why I Loved Her
If questioning would make us wise
No eyes would ever gaze in eyes;
If all our tale were told in speech
No mouths would wander each to each.
Were spirits free from mortal mesh
And love not bound in hearts of flesh
No aching breasts would yearn to meet
And find their ecstasy complete.
For who is there that lives and knows
The secret powers by which he grows?
Were knowledge all, what were our need
To thrill and faint and sweetly bleed?.
Then seek not, sweet, the "If" and "Why"
I love you now until I die.
For I must love because I live
And life in me is what you give.
~Christopher Brennan
****——****——***
Sooner or Later
"Sooner or later we begin to understand
that love is more than verses on valentines,
and romance in the movies.
We begin to know that love is here and now, real and true,
the most important thing in our lives.
For love is the creator of our favourite memories
and the foundation of our fondest dreams.
Love is a promise that is always kept,
a fortune that can never be spent,
a seed that can flourish in even the most unlikely of places.
And this radiance that never fades,
this mysterious and magical joy, is the greatest treasure of all –
one known only by those who love."
~Henry Wadsworth Longfellow
****——****——***
If Thou Must Love Me
"If thou must love me, let it be for naught
Except for love's sake only. Do not say,
'I love her for her smile – her look – her way
Of speaking gently, for a trick of thought
That falls in well with mine, and certes brought
A sense of pleasant ease on such a day' –
For these things in themselves, beloved, may
Be changed, or change for thee – and love, so wrought,
May be unwrought so. Neither love me for
Thine own dear pity's wiping my cheeks dry:
A creature might forget to weep, who bore
Thy comfort long, and lose thy love thereby!
But love me for love's sake, that evermore
Thou mayst love on, through love's eternity."
~Elizabeth Barrett Browing
****——****——***
I Ask The Impossible
"I ask the impossible: love me forever.
Love me when all desire is gone.
Love me with the single-mindedness of a monk.
When the world and all its entirety,
and all that you hold sacred, advise you
against it: love me still more.
When rage fills you and has no name: love me.
When each step from your door to your job ties you-
love me; and from job to home again.
Love me when you are bored –
when everyone you see is more beautiful than the last,
or more pathetic, love me as you always have:
not as admirer or judge, but with
the compassion you save for yourself
in your solitude.
Love me as you relish your loneliness,
the anticipation of your death,
mysteries of the flesh, as it tears and mends.
Love me as your most treasured childhood memory-
and if there is none to recall –
imagine one, place me there with you.
Love me withered as you loved me new.
Love me as if I were forever –
and I will make the impossible
a simple act,
by loving you, loving you as I do."
~Anna Castillo
****——****——***
I Wanna Grow Old With You
"I wanna make you smile,
Whenever you're sad.
Carry you around when your arthritis is bad.
All I wanna do,
Is grow old with you.
I'll get you medicine,
When your tummy aches.
Build you a fire if the furnace breaks.
Oh it could be so nice,
Growin' old with you.
I'll miss you, kiss you,
Give you my coat when you are cold.
Need you, feed you.
Even let you hold the remote control.
So let me do the dishes in our kitchen sink.
Put you to bed when you've had too much to drink.
Oh I could be the man,
Who grows old with you.
I wanna grow old with you".
~Adam Sandler
****——****——***
The Magic Of Love
"Love is like magic
And it always will be,
For love still remains
Life's sweet mystery!
Love works in ways
That are wondrous and strange
And there's nothing in life
That love cannot change!
Love can transform
The most commonplace
Into beauty and splendour
And sweetness and grace!
Love is unselfish,
Understanding and kind,
For it sees with its heart
And not with its mind!
Love is the answer
That everyone seeks…
Love is the language
That every heart speaks…
Love can't be bought
It is priceless and free,
Love, like pure magic,
Is a sweet mystery!"
~Helen Steiner Rice
****——****——***
Somewhere
"Somewhere there waiteth in this world of ours
for one lone soul, another lonely soul –
Each chasing each through all the weary hours,
And meeting strangely at one sudden goal;
Then blend they – like green leaves with golden flowers,
Into one beautiful and perfect whole –
And life's long night is ended, and the way
Lies open onward to eternal day."
~Sir Edwin Arnold
****——****——***
Shall I Compare Thee To a Summer's Day
"Shall I compare thee to a summer's day?
Thou art more lovely and more temperate:
Rough winds do shake the darling buds of May,
And summer's lease hath all too short a date:
Sometime too hot the eye of heaven shines,
And often is his gold complexion dimm'd;
And every fair from fair sometime declines,
By chance, or nature's changing course untrimm'd;
But thy eternal summer shall not fade,
Nor lose possession of that fair thou ow'st;
Nor shall Death brag thou wander'st in his shade,
When in eternal lines to time thou grow'st:
So long as man can breath, or eyes can see,
So long lives this, and this gives life to thee."
~William Shakespeare
****——****——***
Love
Love is a friendship that has caught fire.
It is quiet understanding, mutual confidence, sharing and forgiving.
It is loyalty through good and bad.
It settles for less than perfection,
and makes allowances for human weakness.
Love is content with the present.
It hopes for the future and it doesn't brood over the past.
It's the day-in and day-out chronicle of irritations, problems, compromises, small
disappointments, big victories,
and working toward common goals.
If you have love in your life,
it can make up for a great many things you lack.
If you don't have it, no matter what else there is,
it is not enough, so search for it, ask God for it, and share it!
~Steven Curtis Chapman
****——****——***
Read More: Long Distance Love Poems