Thanks Teacher Poems is one of the best way to express your emotions to teachers how they important for you. Teachers Day Poems of appreciation, gratitude, and admiration. Also read Preschool and Kindergarten School Teacher Poems, Funny Teacher Poems and more.
Best Teacher Appreciation Poems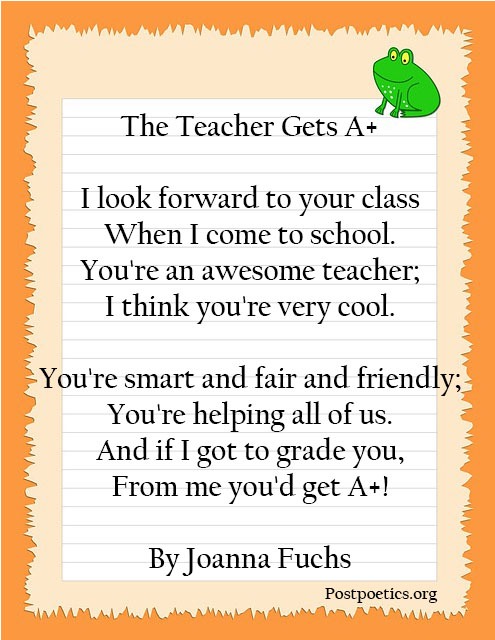 The Teacher Gets A+
I look forward to your class
When I come to school.
You're an awesome teacher;
I think you're very cool.
You're smart and fair and friendly;
You're helping all of us.
And if I got to grade you,
From me you'd get A+!
By Joanna Fuchs
—————————-
Don't Want To Say Goodbye
I remember the times when you were there for me.
Through my many tears you helped me really see
that you were always there for me.
You stood close to me like a friend, there for me
until the end.
I will never forget you and the things
you helped me through.
My inspiration is you.
You were always there when I needed you.
I now will always have great memories of you
You would ask me, "How are you doing?"
I would say I'm fine
as tears start to form in my eyes .
You always knew that I was really not fine.
You are someone I want to be like.
I found out who that person is; that person is you.
I hope that you remember me through your days.
You have touched my heart in so many ways.
I look up to you and I see a ray of sunshine
shining in on me.
I knew God sent me one of his angels
when he sent you to me.
You help me through it all,
coming to save me every time I fall.
If I could say one word, that wouldn't
tell it all.
I am so happy to have you with me.
You helped me to really see what I couldn't see.
You helped me to find the real me.
You turned me into the beautiful person
I was meant to be.
If I say goodbye to you, I will just fall apart
because you have always been in my heart.
I don't want to lose you.
You care about me and I care about you too.
I remember the day I first met you and you met me.
It was like it was really meant to be.
You are someone I hold close to my heart.
There I know that we will never be apart.
By Asha Cook
—————————-
A Teacher for All Seasons
A teacher is like
A teacher is like Spring,
Who nurtures new green sprouts,
Encourages and leads them,
Whenever they have doubts.
A teacher is like Summer,
Whose sunny temperament
Makes studying a pleasure,
Preventing discontent.
A teacher is like Fall,
With methods crisp and clear,
Lessons of bright colors
And a happy atmosphere.
A teacher is like Winter,
While it's snowing hard outside,
Keeping students comfortable,
As a warm and helpful guide.
Teacher, you do all these things,
With a pleasant attitude;
You're a teacher for all seasons,
And you have my gratitude!
By Joanna Fuchs
—————————-
Thank You Teacher Poems
I will strive to be just like you
A happy smile, contagious to all,
With a heart of gold that never falls.
As my role model, you set the bar high,
But you've taught me all I can do is try.
As my friend, you support me,
Helping me achieve goals I never imagined I could reach.
As my teacher, you motivate me
To become the best I can possibly be.
You're always there to help others,
Putting yourself second and acting like a mother.
You're a very admired teacher
Who's caring, kind, and smart.
Whether I like it or not,
You're always here for me
And with my best intentions in your heart.
I always know you'll have my back.
The way you love to help others learn
Is something for which I will always yearn,
And one day when I'm a teacher too,
I will strive to be just like you.
By Cristen Ottesen
—————————-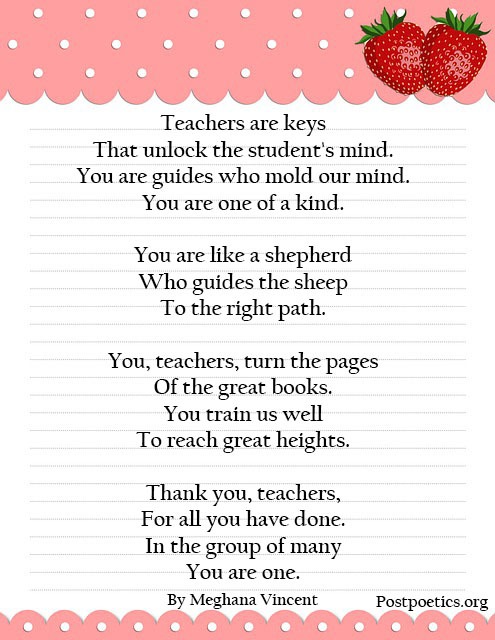 Thank You, Teachers
Teachers are keys
That unlock the student's mind.
You are guides who mold our mind.
You are one of a kind.
You are like a shepherd
Who guides the sheep
To the right path.
You, teachers, turn the pages
Of the great books.
You train us well
To reach great heights.
Thank you, teachers,
For all you have done.
In the group of many
You are one.
By Meghana Vincent
—————————-
Remember when we met
Remember when we met
When I was just a kid?
And you said to me,
"It's okay, we're all friends here."
And treated me like a normal kid.
Well even if you don't,
Thank you, as you now mean the world to me.
Remember when I first cried in front of you
When times were tough for me?
And you said to me,
"It's okay, I'm here."
And it all seemed a little better.
Well even if it's slipped your mind,
It made me who I am today.
Remember when you fell apart?
You couldn't cope without your Dad.
And I said to you,
"It's okay, I'm here for you."
And you put back up your mask
Because it had slipped that day and I saw
The real you, scared and hiding.
Remember when I left you
To move on to my next stage?
And you said to me,
"I'll always be here for you."
And we hugged and talked for hours.
You wanted me to chase my dreams
And helped me through my fear.
Remember when I became you
And you took to the sidelines?
And I said to you,
"I'm here to carry on."
And you watched like a proud parent
As I took my first steps?
Now it's me remembering you
As you lie in the ground.
I'll always remember your calming voice
And be grateful for what I found.
By Amelia Jane
—————————-
The first one
Sitting in a classroom with the smell of chalk and glue,
I think back to those days when I hated to get up early
Couldn't stand to be there and couldn't wait to get home.
In the beginning I was that child that struggled,
Until the day that special teacher came into my life-
The first one that believed in me and took time with me-
The first one that helped me find that school was fascinating
And that I was intelligent and had something to give-
The first time I did not have that blank stare-
The beginning of my lifelong love for learning-
The beginning of everything.
And now older and wiser I look forward to going,
Can't wait to do the work and enjoy every minute of it,
While most are just wanting to be finished with it.
There are those of us doing everything we can to get back to it.
By Katrina
—————————-
Funny Teachers Poems
A Note To My Algebra Teacher
A Note To My Algebra Teacher
I well recall what you used to say
That we'd use algebra every day
Without it, life wouldn't be complete
For, with algebra, it would be replete
But factoring equations has yet to arise
And no quadractics, what a big surprise
Slope I haven't yet needed to calculate
Methinks you did, somehow, misstate
To determine the value of X and Y
There hasn't yet been reason to try
I find binomial multiplication is of no worth
To ninety-nine point nine percent on earth
A lot more honesty you should have tried
For about the value of algebra, you lied!
I think I know where you are most likely to be
May it have asbestos computers so you can see
BY Elton Camp
—————————-
As I look back, it all seems funny now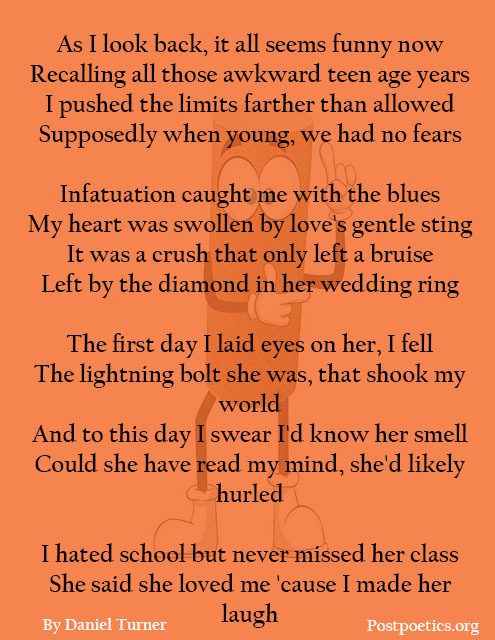 As I look back, it all seems funny now
Recalling all those awkward teen age years
I pushed the limits farther than allowed
Supposedly when young, we had no fears
Infatuation caught me with the blues
My heart was swollen by love's gentle sting
It was a crush that only left a bruise
Left by the diamond in her wedding ring
The first day I laid eyes on her, I fell
The lightning bolt she was, that shook my world
And to this day I swear I'd know her smell
Could she have read my mind, she'd likely hurled
I hated school but never missed her class
She said she loved me 'cause I made her laugh
—————————-
Bladder Problems in Class
Numbers on
White board…names written hori-
zontally
Students ask
To go pee…right when class starts –
THAT'S just wrong…
Bathroom line
Of students who have bladder
Problems – WOW!
People are
Not using lunchtime to do
Their business
No one knows
When to do their duties – SER-
IOUSLY?
No one knows
When to do their duties – SER-
IOUSLY?
By J.W Earnings
—————————-
Distraction In The Classroom
Some boys forget their mom's words,
they leave for school in a mad rush
with uncombed hair looking like nerds;
in the classroom they have a crush.
Liz, their teacher, wears tight jeans,
they can't concentrate on the test;
she's happy for attracting the teens,
their girlfriends notice their unrest.
They hate their beautiful teacher,
but her vulgarity makes them sneer:
her character isn't worthy of cheer.
When paper planes start a warfare,
Liz's hair seems a style so rare;
all the boys laugh: it is a snare.
By Andrew Crisci
—————————-
Ode To A Gym Teacher
Ode To A Gym Teacher
Amid brassiere and derrière
She strives to put her clothes on.
Her panties there, stockings here
The rest of it, she throws on.
At the mirror, shining bright
She struggles with her powder.
She holds her place with main and might
As others try to crowd her.
How can she dress so nimbly
In but five minutes of an hour?
The question's answered simply:
She did not take a shower.
By Barbara Dickenson
—————————-
The Red-Faced Sunday School Teacher
The Red-Faced Sunday School Teacher
The Sunday school lesson she must teach
Jesus to Lazarus inside his tomb did reach
About the great love it did take
From death his friend to awake
So to be sure to reach the childish heart
A question asked prior to the lesson start
"Who can tell what "resurrection" does mean?
A little girl to answer seemed to be very keen
"I'm not exactly sure, but I know one main thing.
If it lasts more than four hours, to a doc you bring."
The teacher stammered and her face turned red
She was unable to reply to what the child said
From the room, she carefully slipped away
"As teacher I resign," to the pastor she did say
By Elton Camp
—————————-
Preschool and kindergarten Teacher Poems
A Long-Felt Want
One day wee Willie and his dog
Sprawled on the nursery floor.
He had a florist's catalogue,
And turned the pages o'er,
Till all at once he gave a spring,
"Hurrah!" he cried with joy;
"Mamma, here's just the very thing
To give your little boy!
"For when we fellows go to school,
We lose our things, you know;
And in that little vestibule
They do get mixed up so.
"And as you often say you can't
Take care of 'em for me,
Why don't you buy a rubber plant,
And an umbrella tree?"
By Carolyn Wells
—————————-
Just playing
When I'm building in the block room,
Please don't say I'm "Just playing."
For, you see, I'm learning as I play,
About balance, I may be an architect someday.
When I'm getting all dressed up,
Setting the table, caring for the babies,
Don't get the idea I'm "Just Playing."
I may be a mother or a father someday.
When you see me up to my elbows in paint,
Or standing at an easel, or molding and shaping clay,
Please don't let me hear you say, "He is Just Playing."
For, you see, I'm learning as I play.
I just might be a teacher someday.
When you see me engrossed in a puzzle or some "playing" at my school,
Please don't feel the time is wasted in "play."
For you see, I'm learning as I play.
I'm learning to solve problems and concentrate.
I may be in business someday.
When you see me cooking or tasting foods,
Please don't think that because I enjoy it, it is "Just Play."
I'm learning to follow directions and see the differences.
I may be a cook someday.
When you see me learning to skip, hop, run, and move my body,
Please don't say I'm "Just Playing."
For, you see, I'm learning as I play.
I'm learning how my body works.
I may be a doctor, nurse, or athlete someday.
When you ask me what I've done at school today,
And I say, "I just played."
Please don't misunderstand me.
For, you see, I'm learning as I play.
I'm learning to enjoy and be successful in my work.
I'm preparing for tomorrow.
Today, I am a child and my work is play.
By Anita Wadley Schlaht
Read Also:  Funny Kids Poems