Rudyard Kipling was born in Mumbai India in 1865 and later moved to London UK where he died in 1936. He was a poet as well as a short story and novel writer. He wrote about the ups and downs of different stages of human life. He  wanted to somehow reduce the pain of humanity. He wanted no one to suffer, no one to be poor. He will always live in the hearts of people even after he leaves the world.
The Choice
Poet: Rudyard Kipling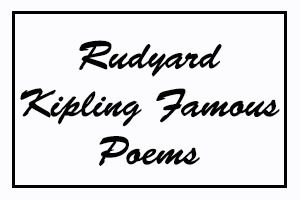 The American Spirit Speaks:
To the Judge of Right and Wrong
With Whom fulfillment lies
Our purpose and our power belong.
Our faith and sacrifice.
Let Freedom's land rejoice!
Our ancient bonds are riven;
Once more to us the eternal choice
Of good or ill is given.
Not at a little cost,
Hardly by prayer or tears.
Shall we recover the road we lost
In the drugged and doubting years.
But after the fires and the wrath.
But after searching and pain.
His Mercy opens us a path
To live with ourselves again.
In the Gates of Death rejoice!
We see and hold the good —
Bear witness, Earth, we have made our choice
For Freedom's brotherhood.
Then praise the Lord Most High
Whose Strength hath saved us whole,
Who bade us choose that the Flesh should die
And not the living Soul!
=========
IF
Poet: Rudyard Kipling
If you can keep your head when all about you
Are losing theirs and blaming it on you;
If you can trust yourself when all men doubt you,
But make allowance for their doubting, too:
If you can wait and not be tired by waiting.
Or being lied about, don't deal in lies,
Or being hated, don't give way to hating.
And yet don't look too good, nor talk too wise:
If you can dream — and not make dreams your master;
If you can think — and not make thoughts your aim;
If you can meet with Triumph and Disaster
And treat those two imposters just the same;
If you can bear to hear the truths you've spoken
Twisted by knaves to make a trap for fools.
Or watch the things you gave your life to broken.
And stoop and build'em up with worn-out tools;
If you can make one heap of all your winnings
And risk it on one turn of pitch and toss,
And lose, and start again at your beginnings
And never breathe a word about your loss;
If you can force your heart and nerve and sinew
To serve your turn long after they are gone.
And so hold on when there is nothing in you
Except the Will, which says to them: "Hold on";
If you can talk with crowds and keep your virtue,
Or walk with Kings — nor lose the common touch,
If neither foes nor loving friends can hurt you;
If all men count with you, but none too much;
If you can fill the unforgiving minute
With sixty seconds' worth of distance run,
Yours is the Earth and everything that's in it.
And — which is more — you'll be a Man, my son.
=========
Recessional
Poet: Rudyard Kipling
God of our fathers, known of old-
Lord of our far-flung battle line-
Beneath Whose awful Hand we hold
Dominion over palm and pine-
Lord God of Hosts, be with us yet,
Lest we forget-lest we forget!
The tumult and the shouting dies-
The captains and the kings depart-
Still stands Thine ancient Sacrifice,
A humble and a contrite heart.
God of Hosts, be with us yet,
Lest we forget-lest we forget!
Far-called, our navies melt away-
On dune and headland sinks the fire-
Lo, all our pomp of yesterday
Is one with Nineveh and Tyre!
Judge of the Nations, spare us yet,
Lest we forget-lest we forget!
If, drunk with sight of power, we loose
Wild tongues that have not Thee in awe-
Such boasting as the Gentiles use
Or lesser breeds without the Law-
Lord God of Hosts, be with us yet,
Lest we forget-lest we forget!
For heathen heart that puts her trust
In reeking tube and iron shard,
All valiant dust that builds on dust,
And guarding calls not Thee to guard-
For frantic boast and foolish word,
Thy mercy on Thy people, Lord!
=========
The Glory of the Garden
Poet: Rudyard Kipling
Our England is a garden that is full of stately views,
Of borders, beds and shrubberies and lawns and avenues
, With statues on the terraces and peacocks strutting by;
But the Glory of the Garden lies in more than meets the eye.
For where the old thick laurels grow, along the thin red wall,
You'll find the tool- and potting-sheds which are the heart of all
The cold-frames and the hot-houses, the dung-pits and the tanks,
The rollers, carts, and drain-pipes, with the barrows and the planks.
And there you'll see the gardeners, the men and 'prentice boys
Told off to do as they are bid and do it without noise;
For, except when seeds are planted and we shout to scare the birds,
The Glory of the Garden it abideth not in words.
And some can pot begonias and some can bud a rose,
And some are hardly fit to trust with anything that grows;
But they can roll and trim the lawns and sift the sand and loam,
For the Glory of the Garden occupieth all who come.
Our England is a garden, and such gardens are not made
By singing:-'Oh, how beautiful,' and sitting in the shade
While better men than we go out and start their working lives
At grubbing weeds from gravel-paths with broken dinner-knives.
There's not a pair of legs so thin, there's not a head so thick,
There's not a hand so weak and white, nor yet a heart so sick
But it can find some needful job that's crying to be done,
For the Glory of the Garden glorifieth every one.
Then seek your job with thankfulness and work till further orders,
If it's only netting strawberries or killing slugs on borders;
And when your back stops aching and your hands begin to harden,
You will find yourself a partner In the Glory of the Garden.
Oh, Adam was a gardener, and God who made him sees
That half a proper gardener's work is done upon his knees,
So when your work is finished, you can wash your hands and pray
For the Glory of the Garden that it may not pass away!
And the Glory of the Garden it shall never pass away!
=========
The Way Through The Woods
Poet: Rudyard Kipling
They shut the road through the woods
Seventy years ago.
Weather and rain have undone it again,
And now you would never know
There was once a road through the woods
Before they planted the trees.
It is underneath the coppice and heath,
And the thin anemones.
Only the keeper sees
That, where the ring-dove broods,
And the badgers roll at ease,
There was once a road through the woods.
Yet, if you enter the woods
Of a summer evening late,
When the night-air cools on the trout-ringed pools
Where the otter whistles his mate,
(They fear not men in the woods,
Because they see so few.)
You will hear the beat of a horse's feet,
And the swish of a skirt in the dew,
Steadily cantering through
The misty solitudes,
As though they perfectly knew
The old lost road through the woods.
But there is no road through the woods.
=========
Read More: Edgar A. Guest Famous Poems