What do you think success is? Is it to acquire a lot of wealth, to acquire some values, to make a place in someone's heart or something else. Success can vary from person to person. Here are the inspirational poems about success that will tell you real success.
What Is Success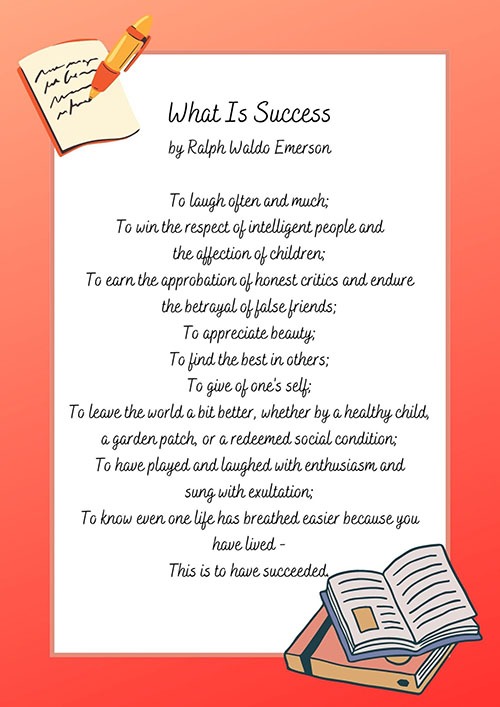 ==========
You May Succeed At Last
Poet: J.J. Thorne
Passions and violence destroy labor,
But hope and energy is hard to blast;
Stick tight to your integrity,
You may succeed at last.
Think with care before you start,
Of your business and methods to cast;
Labor faithful with an honest heart.
You may succeed at last.
Personal vigilance is the price of prosperity,
Frugality saves without driving so fast;
Prate for rights but not ignore charity.
You may succeed at last.
Be a servant on virtue's ship,
When duty commands climb up the mast;
Pilot your way for security's shore,
You may succeed at last.
We are bound to regret our evils and wrongs,
And grieve of disobedience in the past;
Make hope and reformation humble songs,
You may succeed at last.
Life is trouble, trials are many,
A hero is he that completes his task;
Completion gives repose and awaits next duty,
You may succeed at last.
Time and eternity waits for no one,
Honor and duties are many and vast;
Pursue your way noble daughter and son,
You may succeed at last.
All blessings of God is bestowed upon Us,
We do not have to ask —
Beseech his mercy with humble hearts,
You may succeed at last.
==========
Determination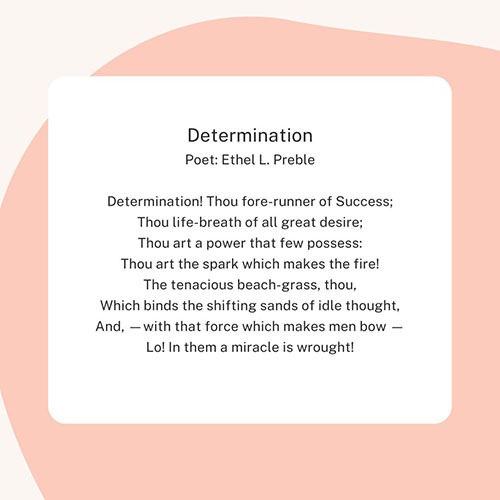 ==========
The Job
Poet: Edgar A Guest
The job will not make you, my boy;
The job will not bring you to fame
Or riches or honor or joy
Or add any weight to your name.
You may fail or succeed where you are,
May honestly serve or may rob;
From the start to the end
Your success will depend
On just what you make of your job.
Don't look on the job as the thing
That shall prove what you're able to do;
The job does no more than to bring
A chance for promotion to you.
Men have shirked in high places and won
Very justly the jeers of the mob;
And you'll find it is true
That it's all up to you
To say what shall come from the job.
The job is an incident small;
The thing that's important is man.
The job will not help you at all
If you won't do the best that you can.
It is you that determines your fate,
You stand with your hand on the knob
Of fame's doorway to-day,
And life asks you to say
Just what you will make of your job.
==========
The Keenest Pleasure
Poet: Strickland Gillilan
We are so built, we human things,
That we may touch joy's deepest springs
Now and again. We should be glad
That real pleasure may be had
From our accomplishment of what
Our brains conceived, our two hands wrought
But still the finest joy, indeed,
Is seeing some one else succeed.
'Tis only now and then that we
Can bring the longed-for thing to be
That we ourselves had planned and dreamed,
That we had plotted for and schemed.
So if our only triumphs come
When we have crowned with doing, some
Of our own plans, we miss a lot
Of earthly joy we might have got!
For all the time some one's succeeding
In some great thing that had been breeding
In mind and soul of him; and so
A sympathetic joy we know
When he brings triumph out of chaos
And with his vict'ry song would stay us.
This makes of earth a Neighborhood –
Our joy when some one else makes good.
==========
Not In Vain
Poet: Emily Dickinson
If I can stop one heart from breaking,
I shall not live in vain;
If I can ease one life the aching,
Or cool one pain,
Or help one fainting robin
Unto his nest again,
I shall not live in vain.
==========
As We Live
Poet: Ella Wheeler Wilcox
As we gaze up life's slope, as we gaze
In the morn, ere the dewdrops are dry,
What splendour hangs over the ways,
What glory gleams there in the sky,
What pleasures seem waiting us, high
On the peak of that beauteous slope,
What rainbow-hued colours of hope,
As we gaze!
As we climb up the hill, as we climb,
Our hearts, our illusions, are rent:
For Fate, who is spouse of old Time,
Is jealous of youth and content.
With brows that are brooding and bent
She shadows our sunlight of gold,
And the way grows lonely and cold
As we climb.
As we toil on, through trouble and pain,
There are hands that will shelter and feed;
But once let us dare to attain―
They will bruise our bare hearts till they bleed.
'Tis the worst of all crimes to succeed,
Know this as ye feast on a crust,
Know this in the darkness and dust,
Ye who climb.
As we stand on the heights of success,
Lo! success seems as sad as defeat!
Through the lives we may succour and bless
Alone may its bitter turn sweet!
And the world lying there at our feet,
With its cavilling praise and its sneer,
We must pity, condone, but not hear,
Where we stand.
As we live on those heights, we must live
With the courage and pride of a god;
For the world, it has nothing to give
But the scourge of the lash and the rod.
Our thoughts must be noble and broad,
Our purpose must challenge men's gaze,
While we seek not their blame or their praise
As we live.
==========
The Essentials of Success
by Marshal Foch, Said in 1922
He who hesitates is lost. He who moves forward wins.
The way not to move forward is by adopting the methods
of the board who ruthlessly pushes others aside that
he may reach the front of the crowd –
the self seeker, who tries to impress on everyone
that he is entitled to what he is not;
the nervous, arrogant man who cannot wait,
but who feels that if he does not reach the
front at once the world is lost for him.
The way to move forward is by patience, by earnest endeavor,
by diligent study, by tireless work.
Plan your battle of life in advance.
Map out every detail of what you want to accomplish and
then follow out your program.
No man who has been successful in life can
be counted as lucky.
His success has been due to his own effort.
Success is work and work is success.
The two are inseparable.
==========
Read More: Awakening Poems About Failure on Life