It is difficult to put into words how much God loves us, we can see the reflection of His love in mother's love. It happens to us wherever we are, and whether we are able to see it or not. We also need to love him. He can only be good if we do good to the people and make the society a haven of peace. We have collected beautiful and famous Poems about Gods Love for you. Enjoy them
You Are The Music
By Marcia A. Newton
You are the music. You are the song.
You are the words of truth and love.
You are the voice that speaks to our heart.
You are the music, the song of our heart.
You are the music we love and adore.
You are the song that we sing evermore.
You are the voice that calls us to pray.
You are the words of goodness and strength.
You are the music that brings us delight.
You are the song that brings hope to our life.
You are the voice that calls us to faith.
You are the words of kindness and grace.
You are the music we sing joyfully.
You are the song that brings light to our day.
You are the voice that calls us to serve.
You are the words of love we have heard.
You are the music that fills us with peace.
You are the song that we sing and believe.
You are the voice that calls us to grace.
You are the words we pray every day.
You are the music that blesses our soul.
You are the love song that makes our lives whole.
You are the voice that calls us to Him.
You are the words of life without end.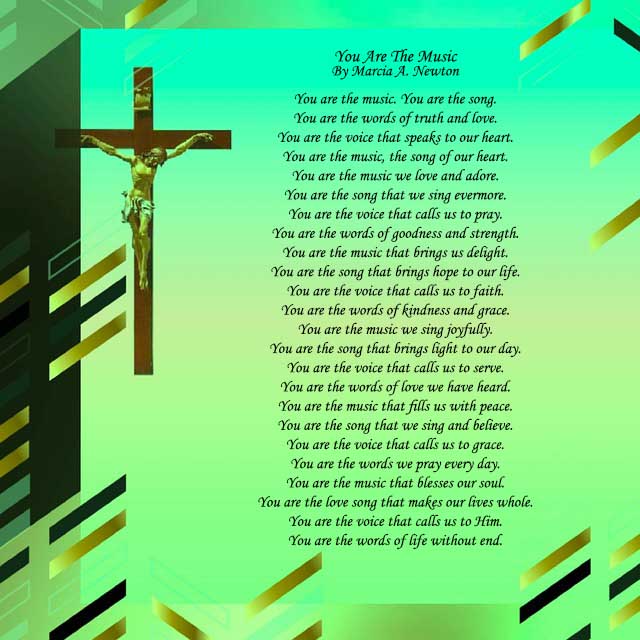 ****—-****—-****
God, The Great Creator
By Debra L. Brown
A crisp, cool autumn evening,
Stars fill the night up high.
God, the great creator,
Decking out the sky.
A garden lit by the moonlight,
A rose kissed by His hand.
The beauty He created,
Even the smallest pieces of sand.
Petals of the roses
Glisten in the night.
The Master of creation,
His colors are pure delight.
From void He created beauty,
From dark He created light.
The Master of creation,
And to man He gave them life.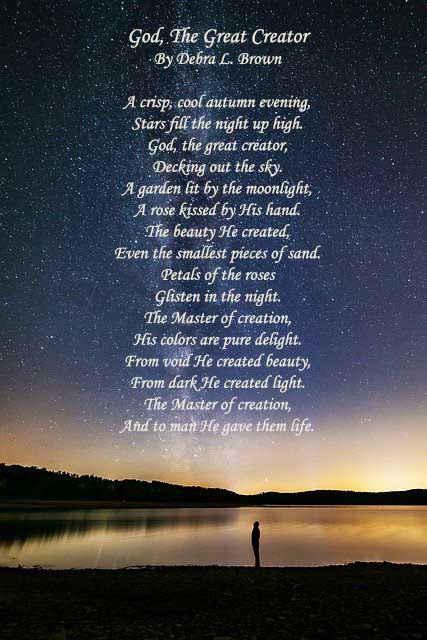 ****—-****—-****
Od Of All Comfort
By Edarly Edouard
Our God supplies us everything we need.
When we need help, to Him we reach.
He is always with us when we are lonely.
He loves us so much and takes anger slowly.
Our God comforts us in our tribulation.
Our affliction is for our consolation and salvation.
God has established all of us in Christ's name,
For in Christ's name, we will never suffer in shame.
Glory be to God who sent the Holy Spirit.
If it were not for the Spirit, we would never have limits.
Our comfort abounds through Christ, while His suffering abounds us
We are all encouraged to know that Christ is our only trust.
In the name of the Living, there shall be no pain.
Beyond now and forever, our Lord is always the same.
God is on our side, so we don't need to count on others.
Blessed be the Lord, the God of all comfort.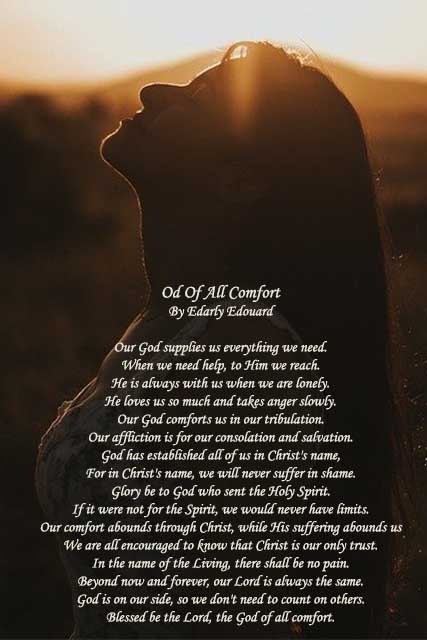 ****—-****—-****
My Personal Prayer
By Angie M Flores
God, grant me the strength to handle life's challenges,
In order to overcome these life long obstacles.
God, grant me the courage to stand up for what I believe in,
In order to express my true opinions without fear.
God, grant me the answers to my questions,
In order to find some understanding.
God, grant me the piece of mind I so desperately need,
In order to remain sane in this inside universe.
God, grant me the patience I thought I once had,
In order to with stand everything thrown to me.
God, grant me the guidance to be able to succeed,
In order to be whatever it is I want to be.
God, I need you now and forever, please help me.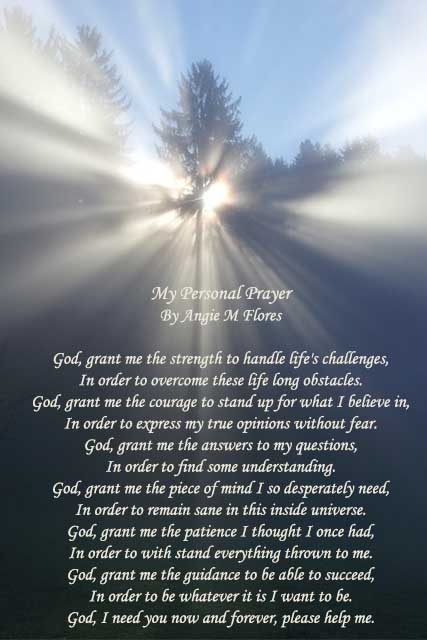 ****—-****—-****
Thank You God
By Sharon Sewpaul
Every night before I sleep
I look up to the Heavens and try not to weep.
For my heart is full
with the Lord's will,
My strength, my health, and pockets full.
He has blessed me every day
Since birth till today.
Thank you, Lord
'cause now I can afford,
to testify and praise you
Precious, love, and True-
Thank you.
****—-****—-****
I'm Your Friend No Matter What
By Ruthie Willis
I have been with you all your life. . .
I have guided you through all your mountains and valleys.
The times you were crying,
I made you bloom, my flower.
When you thought you were alone,
I was those footprints in the sand.
I gave you wings so you could fly.
I was the one that took you up so high.
When you felt that lift my child,
that was I; that's why today you feel so free.
I am God, I am your friend no matter what.
****—-****—-****
Feelings Hidden
By Miranda Levorson
I'm crushed, I'm broken,
I'm confused by the word you've spoken
I run to the shelter of a friend
who truly is a helping hand.
I'm torn, I'm scared,
I fear of what could happen
I grab onto the outstretched arms
Comforting me more than words can tell.
I'm empty, I'm lonely,
I only want a place of belonging
I reach and touch the hymn so vibrant
Healing my broken heart.
I'm hurt, I'm bleeding,
These feelings I hold so dear inside
I reach out yet again to this loving hand
Guiding me to the place of Redemption
No longer were my feelings hidden.
****—-****—-****
Thank You God
By Marc Nix
As I awoke this morning and placed my feet upon the floor,
I prayed, "Thank you God, I get to enjoy another day."
As I recall the precious memories of family and friends
I prayed, "Thank you God, for they are all so dear."
When I walked into work and begin,
I prayed, "Thank you God, for good health and the ability to provide for my family."
I live in America, the land of the free and home of the brave,
Thank you God, and keep our country strong, and free.
But most of all, thank you God for sending Jesus to die for me.
****—-****—-****
I Went To The Life Store
By Mitchell Browder
I went to the life store,
one I've never been before
I wanted a new life
new house, new job, new wife
the Keeper pointed…aisle three
there they were; price…free
they were countless; but no label
I asked the Keeper; how am I able…
He stopped me and said, "here's the deal,
you have to pick….pick by feel"
so I took one up
and held it tight
Oh! the is the one
it's full of love, hope, joy and light
I'll take it, can I open it to see?
The Keeper said "Sure, but no return, no guarantee"
No problem I said….perfectly fine
I looked inside; and it was MINE
"Funny" the Keeper said
"that happens every time"
****—-****—-****
Day By Day
By Lenora McWhorter
Day by day, God walks with me,
and my burdens he helps me bear.
Each step I take along the way,
my loving Father is always there.
Day by day, I feel God's love
encircling me all around.
His grace and mercy cover me
and pick me up when I am down.
Day by day, the Lord keeps me
from danger, hurt and harm.
Safe from the snares of the enemy
and protected from life's alarms.
Day by day, I rely on the Father
to strengthen me when I am weak.
He comforts me with His love
and to my heart He speaks peace.
Day by day, I feel God's presence,
and my spirit is always revived.
God is faithful to watch over me
as a father does his own child.
God imparts his grace to me
minute by minute, day by day.
By faith, I walk in step with him
as He guides me on life's way.
****—-****—-****
Searching For God
By John P. Read
When searching for God,
There's no need to look far.
He's not in the clouds
Or some far away star.
He doesn't hide in the shadows,
Even though he's hard to see.
God resides in the minds
Of those who believe.
Our bodies are a temple,
So be good; never stray.
Be truthful and honest.
Praise God every day.
For God is your spirit.
God is your soul.
God's in your heart.
God is love; this I know.
****—-****—-****
Our Trustworthy God
By Lenora McWhorter
Glory to our loving Lord, who is a
Mighty God and a faithful friend.
His divine love for us is pure and perfect,
and His great mercy knows no end.
God comforts those who are troubled,
and to the weak He gives strength.
He fills the empty souls with joy
and makes the anxious hearts content.
Our God binds the broken spirits,
and He will calm all our fears.
God meets us in the valley of weeping,
and with His love, He dries our tears.
Our faithful Lord hears our prayers,
and He sees our hurts and pain.
He shines His light in our darkness
and sends sunshine after the rain.
God is awesome and trustworthy.
He's an amazing God, like no other.
He walks with us through hard times
and sticks closer than any brother.
There's no problem God can't solve,
and there's no need He cannot meet.
God promises to always be with us,
and every promise given, He will keep!
****—-****—-****
God's Side
By Patricia A. Fleming
I do my very best each day
Though some days prove worse than others.
I'm everywhere I'm needed,
No need more crucial than another.
I'm there to calm each worry.
I'm drenched by every tear.
I bear the weight of every heartache,
And I'll defend against each fear.
I take the hand of those who have to go
And walk beside them to the Gates,
And sit vigil by the bedsides
Of all those who suffer still in wait.
I wrap my arms around those weary souls
Who lay sleepless through the night.
So laden by their anguished sadness
They've lost their will to live this life.
I whisper words of strength and tenderness
To give them hope again,
And fill their hearts with all my love
To help their souls to mend.
I have so many who depend on me
But I have endless love to share.
I can sit and comfort you alone
And still be everywhere.
But how the Devil works against me
As he wields his monstrous hand.
He sets his sights on all those fragile souls
And preys upon the sinful man.
I feel how angry and betrayed you feel
When the Devil seems to rise,
Convincing you that I don't care
And am no longer by your side.
But I will always take your deepest pain
And carry it for you.
Even times that you give up on me
I won't give up on you!
I know this life can be so wearisome
And the losses can be great.
But I will never leave you on your own
Or your faith in me forsake.
I watch you every second
And I see everything you do,
And what a wondrous sight you are to see,
When seeing from my point of view.
We are in this fight together
And there is nothing we can't do
As long as you stand firmly by my side
And I stand steadfast by you too.
****—-****—-****
Dear Diary
By Bethny Ricks
in my weeping, He is still good
in my fear, He is still good
in my weariness, He is still good
in my pain, frustration, hurt, and shame
He is still good
and when hope seems distant, my God is still good.
****—-****—-****
God's Providence
By Lenora McWhorter
When night changes into day
we get a chance to start over again.
We can complete the things left undone
and reach back and make amends.
God protects us by His power.
We are not here by happenstance
But by a divine connection with God
He upholds us with His hand.
God oversees all that concerns us
keeping watch night and day.
With His all-seeing eyes He leads us.
He orders our steps and direct our way.
God surrounds us with His mercy,
and He covers us with His love.
He speaks peace to our weary souls
as He looks down from up above.
God knows the way that we take,
our lives are in His hand.
And the outcome of every situation
is under His divine command.
God's all-seeing eyes are upon us.
He protects and shelters His own.
We are forever secure in His loving care
and He promises not to leave us alone.
****—-****—-****
Faith
By Cheryl Williamson
In times of trouble,
It's good to know
That God is with us
Wherever we go.
At work or play
Or when we're apart,
He's right there with us,
Inside our heart.
****—-****—-****
My Angel
By James Polk
I felt the love of an angel today,
For the first time since I walked away.
I've felt guilt and shame for so many years,
But the angel freed me of that through my tears.
I cried to him and confessed my sin,
I opened the door and let him in.
The angel greeted me with a smile,
He held me in his arms and said, "It's been awhile."
He said, "My child, it is going to be alright.
No longer will you cry yourself to sleep at night,
All those times when you were full of fear,
It was I who pulled you through; I have always been near."
He said, "I have loved you since the beginning of forever,
And my love for you will stop never.
My child, I am always there,
All you have to do is come to me in prayer."
****—-****—-****
Chill And Be Still
By Kristie N. Woodard
Chill and be still, my child, for I am God,
the Creator of all things, the Master upon high,
Lord of all Lords, King of all Kings.
With your faith in me I can change anything.
Believe in me, for my word is true.
I will never leave nor forsake you.
Hard times will come and troubled times will perish.
This is just a test of life; it won't last forever.
This I can assure to you, for I have paid the price
when I carried the cross to Calvary,
the hill on which I died.
Faith of a mustard seed is all you need.
Just ask the blind man
whom I gave sight to see.
I sit so high yet see so low.
Your pain and struggle this, too, I know.
Your weeping eyes and sleepless nights,
this, too, can change in the nick of time.
I will never put more on you than you can stand,
so take a walk with me; come hold my hand.
You are covered in my blood and protected at all costs.
As long as you are my child, you will never be lost.
My word is true, my love is strong.
Trusting in me you can never go wrong.
Let go of all your worries; hand me all your fears.
Sleep and rest tonight, for a new beginning starts here!
****—-****—-****
My Lord Told Me
By Kenny C.
My LORD told me that HIS love would not fail,
as HE showed me a hand that was pierced by a nail.
HE told me I'm safe, started lifting the veil,
then my eyes became clear, I saw what life entails.
I saw beauty without measure and felt love's complete peace,
I willfully surrendered but felt no trace of defeat.
I listened to my heart and caught the rhythm of its beat
as HE says our hearts are one and that this is where love meets.
HE told me that I'm HIS and HE'd never let me go,
HE just thought that I should know.
If there ever comes a time in life that's really low,
look back to where our hearts met so that love can begin to show.
I smiled as I heard a melody of joy dancing through the sky.
It was my LORD singing this song to me of words I can't deny.
HE said HE fought the battle and won it for me, there's no need in asking why
because HE's true, loving, faithful, and kind–with HIM I will never die.
I cried at the sound of HIS words for me, my tears soaking my face
HE reached down and wiped the tears away and said, "No need for tears in this place."
I said,"LORD, why would you do this for me? My life has been such a disgrace."
HE said, "Say no more, for it is done and my FATHER has dismissed your case."
"Have trust in ME, as I in you, your life begins today,
though you may stumble along the path, I'LL help you keep your way."
"I'LL never let you fall again, never lead you astray.
For your sins have all been forgiven my love, and for them you will never pay."
****—-****—-****
A Strong Comfort
By Shirley Denton
He gives me strength
when I have none,
on days when I'm weary
and can do nothing but weep.
The Lord is there
to dry my sore eyes.
Sometimes I wander off the path,
losing sight.
That is when he gently
guides me into his light.
He is a loving father
to the fatherless,
a comfort to the broken hearted,
to those who are abused
and have forgotten
the Lord is their healer.
When storms toss you about,
causing confusion,
just find a place to pray.
Then the Lord will stay by your side, guiding you all the way.
****—-****—-****
Happy Birthday, Jesus
By Raj Debbarma
You called me out into the ocean,
And I followed you out of devotion.
Never knowing you were testing my faith,
Still you told me it's never too late.
You sent your angels to be my guide.
I looked them in the eyes and lied.
I told them I was strong on my own,
But I was lying from the flesh to the bone.
I didn't take the hand of my Savior.
Still you forgave me for my behavior.
You took me deeper than my feet could ever wander.
Now I know that was to make me stronger.
With you I can walk upon the waters.
Your love for me knew no borders.
I know you will forgive me before I can say I'm sorry.
Now it's my time to keep my promise, so don't you worry.
When I couldn't walk, you picked me up,
So tired I couldn't even talk.
But you gave me your strength and your will.
Now watch me make you proud forever and still.
Watch me conquer the great unknown without any fear?
What's there to fear when you are here?
For now, this is all I can say:
Thank you and have a happy birthday.
****—-****—-****
God & Me
By Devvin
I felt alone, I felt betrayed,
I felt hurt, I felt ashamed.
Was it something I did wrong,
Is it something I said,
I kept asking God why,
Why me, why this, why that.
Please God, cut me some slack.
Never did I think this was God's plan,
And I would be blessed with his spiritual hands.
God knows me well, he knows my pain,
He knows the hurt and all the strains,
For he himself has felt my pain,
So now I don't feel
Alone, betrayed, hurt or ashamed.
****—-****—-****
Dear God
By Brittany W.
What do I do
Where do I turn
Who can I talk to
Which bridge do I burn
Should I keep trying
Should I step back
Why am I crying
Why the sudden attack
When will it end
Will the pain cease
What would you recommend
Will I ever find peace.
****—-****—-****
He's Only A Breath Away!
By Louvenia Duncan
When I feel far from God,
There's a special thing that I do;
I take a very deep breath!
He gave it also to you.
The breath that we breathe so easily,
It came from God above.
It's a divine connection,
To the one that we love.
His offspring we are, and,
It is Him from whence we came.
He gave us our lives,
And He knows us by name.
He's aware of our conditions,
Having numbered our head of hairs.
God is not far from us;
God is near and He cares.
Breathing into man the breath of life,
Man became a living soul!
Reach to Him, He reaches back!
He wants to make us whole.
So when you are feeling far from God,
And are having a lonesome day,
Take a deep breath and remind yourself,
"God is only a breath away!
He's only a breath away!"
****—-****—-****
True Friend
By Ma. Agnes E. Abordo
There's SOMEONE in your life
Who's always there at your side,
Someone who's ready to help,
Even before you ask for it.
He makes your day bright,
Puts colors in your gloomy life;
He's always there, if you only know
To lean on and hold on to.
Wherever you are and whatever you do,
Just remember He is leading you.
There'll be stumbling blocks and hindrances,
Yet He'll turn these into stepping stones and bridges.
So, just walk on and don't be afraid,
You're precious to Him because you're His beloved.
Don't be discouraged for the failures you see.
Someone is always with you on your journey
Because He is your TRUE FRIEND and ever will be.
****—-****—-****
Through The Ashes
By Haily Ann Powers
Keeping me safe when I destroyed myself,
He gave me strength I always felt.
Even through my denial,
Spitting rage, toxic and bile,
He was there.
Black and blue,
Battered and shattered,
I had lost the fight.
Broken, he knew
Every step took all my might.
My decision he made easy.
My life previously made me queasy.
I picked up my pieces and brought them with me.
He is here.
Now there is hope
That I can mend my soul,
That I may learn to grow
And make a home.
He saved me.
****—-****—-****