When our family or someone close to us leaves this world, the words that are chosen to commemorate or pay homage to him are called Epitaph. These words can be in the form of a poem, prose or quotes. These words are usually inscribed on the tombstone of the deceased. Let's read some famous Epitaph Poems and Quotes from it.
Epitaph Poems
Epitaph by Merrit Malloy
When I die
When I die
Give what's left of me away
To children
And old me that wait to die.
And if you need to cry,
Cry for your brother
Walking the street beside you.
And when you need me,
Put your arms
Around anyone
And give them
What you need to give to me.
I want to leave you something,
Something better
Than words
Or sounds.
Look for me
In the people I've known
Or loved,
And if you cannot give me away,
At least let me live on in your eyes
And not your mind.
You can love me most
By letting
Hands touch hands,
By letting bodies touch bodies,
And by letting go
Of children
That need to be free.
Love doesn't die,
People do.
So, when all that's left of me
Is love,
Give me away.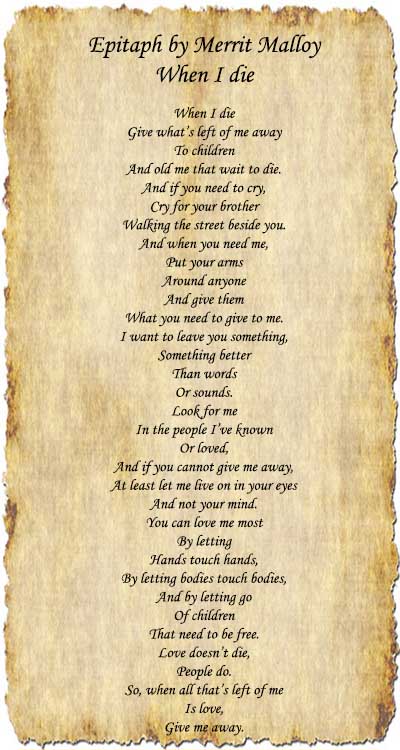 ****—****—-****
Epitaph
By Katherine Philips
On her Son H.P. at St. Syth's Church where her body also lies interred
What on Earth deserves our trust?
Youth and Beauty both are dust.
Long we gathering are with pain,
What one moment calls again.
Seven years childless marriage past,
A Son, a son is born at last:
So exactly lim'd and fair,
Full of good Spirits, Meen, and Air,
As a long life promised,
Yet, in less than six weeks dead.
Too promising, too great a mind
In so small room to be confined:
Therefore, as fit in Heaven to dwell,
He quickly broke the Prison shell.
So the subtle Alchemist,
Can't with Hermes Seal resist
The powerful spirit's subtler flight,
But t'will bid him long good night.
And so the Sun if it arise
Half so glorious as his Eyes,
Like this Infant, takes a shrowd,
Buried in a morning Cloud.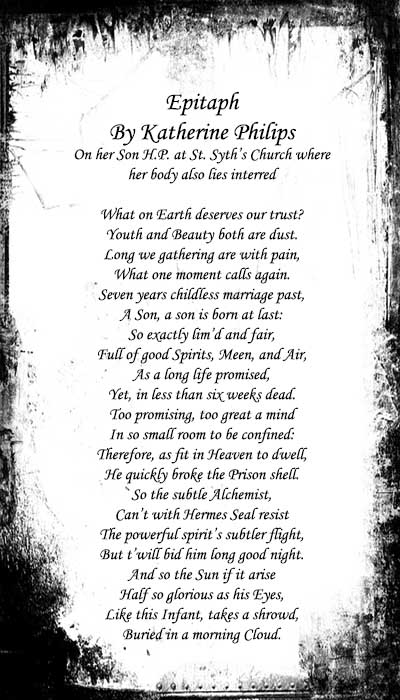 ****—****—-****
Epitaph by Thomas Gray
Stanza 30
Here rests his head upon the lap of Earth,
A Youth, to Fortune and to Fame unknown:
Fair Science frown'd not on his humble birth,
And Melancholy mark'd him for her own.
Stanza 31
Large was his bounty, and his soul sincere,
Heav'n did a recompense as largely send:
He gave to Misery (all he had), a tear,
He gained from Heav'n ('twas all he wish'd) a friend.
Stanza 32
No farther seek his merits to disclose,
Or draw his frailties from their dread abode,
(There they alike in trembling hope repose,)
The bosom of his Father and his God.
****—****—-****
Epitaph Quotes
Robert Frost's Epitaph
"And were an epitaph to be my story
I'd have a short one ready for my own.
I would have written of me on my stone:
I had a lover's quarrel with the world."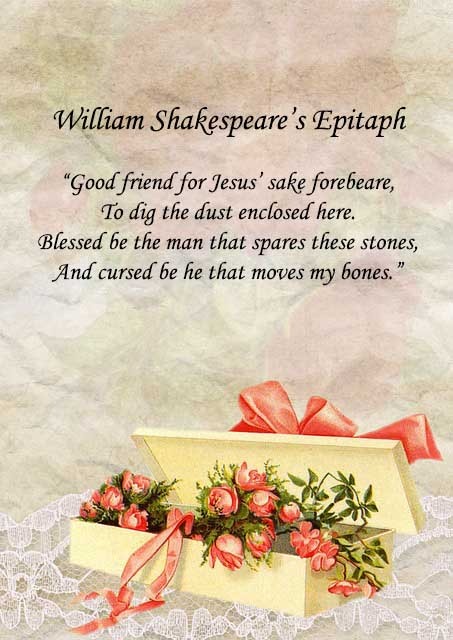 ****—****—-****
Oscar Wilde's Epitaph
"And alien tears will fill for him,
Pity's long-broken urn,
For his mourners will be outcast men,
And outcasts always mourn."
****—****—-****
William Shakespeare's Epitaph
"Good friend for Jesus' sake forebeare,
To dig the dust enclosed here.
Blessed be the man that spares these stones,
And cursed be he that moves my bones."
****—****—-****
Read More: Remember Me Poems