A collection of Deep Meaningful Love Poems for Him that will express your selfless love for him in an extraordinary way. When you love someone it seems the whole world is the same person. Words can describe this love feeling very well and make your boyfriend astonished when he will read your passionate words are created for him. 
You're My Everything
It makes me happy just being by your side.
All these feelings I just can't hide.
You'll always be in my heart.
Can't bear the pain when we are apart.
Nobody is as special as you are to me.
I hope you are beginning to see
Just how much I care for you,
And all my feelings will always be true.
I can't describe how much I care,
But when you need me, I'll be there
To wipe those tears when you are sad,
To make you happy when you are mad.
All these things I can really do.
Just remember I'm thinking of you!
– Jetem Westbrook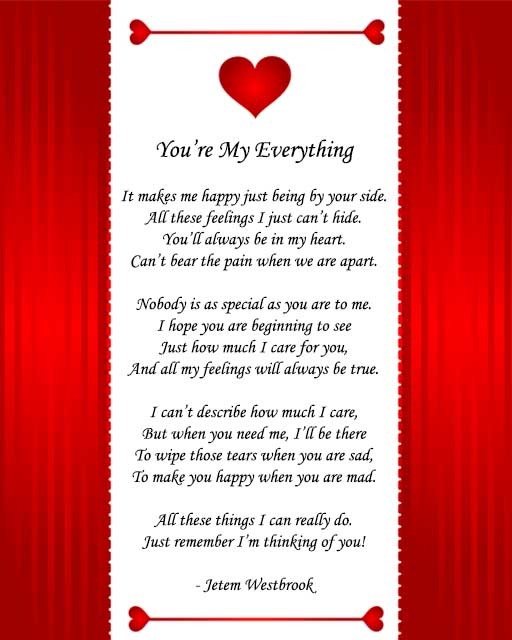 ****—-****—-****
If Not For You 
If not for you, I wouldn't know
What true love really meant.
I'd never feel this inner peace;
I couldn't be content.
If not for you, I'd never have
The pleasures of romance.
I'd miss the bliss, the craziness,
Of love's sweet, silly dance.
I have to feel your tender touch;
I have to hear your voice;
No other one could take your place;
You're it; I have no choice.
If not for you, I'd be adrift;
I don't know what I'd do;
I'd be searching for my other half,
Incomplete, if not for you.
 – Joanna Fuchs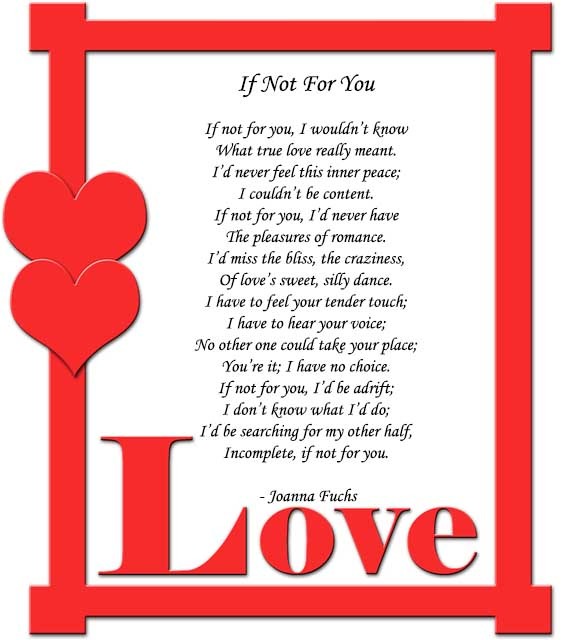 ****—-****—-****
Echo 
I think I was searching for treasures or stones
in the clearest of pools
when your face…
when your face,
like the moon in a well
where I might wish…
might well wish
for the iced fire of your kiss;
only on water my lips, where your face…
where your face was reflected, lovely,
not really there when I turned
to look behind at the emptying air…
the emptying air.
– Carol Ann Duffy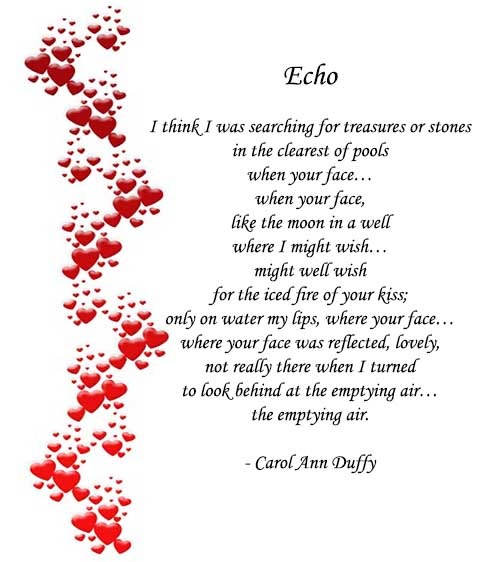 ****—-****—-****
Forever And Always 
You are the sun that shines brightly throughout my day.
You are the gravity that holds me down in every way.
You are the moon that shimmers throughout my night.
You are stars that glimmer oh so bright.
You are the oxygen that keeps me alive.
You are my heart that beats inside.
You are the blood that flows through me.
You are the only guy I can see.
You have the voice of when a mockingbird sings.
You are my everything.
You are my one and only.
You stop me from being so lonely.
We plan our future as if we have a clue.
I never want to lose you.
I want you to be my husband, and I want to be your wife.
I want to be with you for the rest of my life.
– Mercedes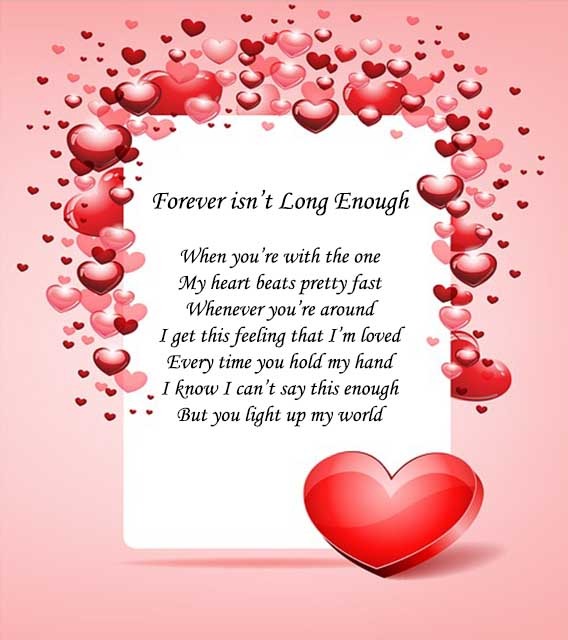 ****—-****—-****
To My Dear And Loving Husband 
If ever two were one, then surely we.
If ever man were loved by wife, then thee.
If ever wife was happy in a man,
Compare with me, ye women, if you can.
I prize thy love more than whole mines of gold,
Or all the riches that the East doth hold.
My love is such that rivers cannot quench,
Nor ought but love from thee give recompense.
Thy love is such I can no way repay;
The heavens reward thee manifold, I pray.
Then while we live, in love let's so persevere,
That when we live no more, we may live ever.
– Anne Bradstreet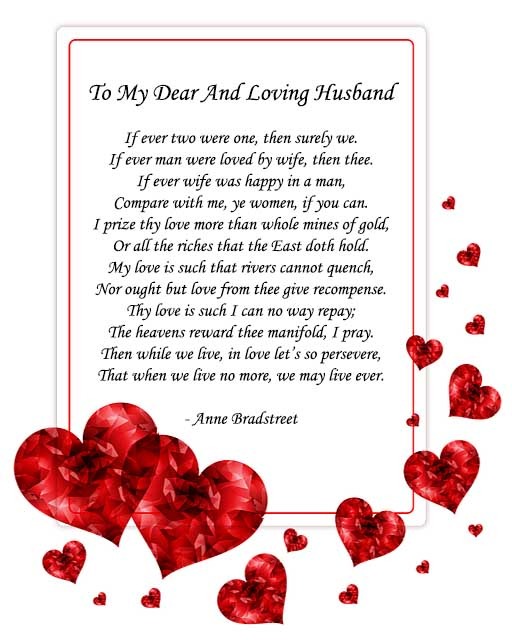 ****—-****—-****
I Love You 
I love your lips when they're wet with wine
And red with a wild desire;
I love your eyes when the lovelight lies
Lit with a passionate fire.
I love your arms when the warm white flesh
Touches mine in a fond embrace;
I love your hair when the strands enmesh
Your kisses against my face.
Not for me the cold, calm kiss
Of a virgin's bloodless love;
Not for me the saint's white bliss,
Nor the heart of a spotless dove.
But give me the love that so freely gives
And laughs at the whole world's blame,
With your body so young and warm in my arms,
It sets my poor heart aflame.
So kiss me sweet with your warm wet mouth,
Still fragrant with ruby wine,
And say with a fervor born of the South
That your body and soul are mine.
Clasp me close in your warm young arms,
While the pale stars shine above,
And we'll live our whole young lives away
In the joys of a living love.
– Ella Wheeler Wilcox
****—-****—-****
I Love You More Than My Words
I never really knew you
You were just another friend
But when I got to know you,
I let my heart unbend.
I couldn't help past memories
that would only make me cry
I had to forget my first love
and give love another try.
So I've fallen in love with you
and I'll never let you go
I love you more than anyone
I just had to let you know.
And if you ever wonder why
I don't know what I'll say
But I'll never stop loving you
each and every day.
My feelings for you will never change
Just know my feelings are true
Just remember one thing.
I Love You
– Vanessa Benitez
****—-****—-****
Life Without You 
Me without you
is like a leafless fall,
a snowless winter,
and a flowerless spring.
Me without you
is like a colorless rainbow,
a sunless day,
and a starless night.
Me without you
is like the ocean without a wave,
the beach without sand,
and a flameless fire.
Me without you
is like a book without words,
a man without a face,
and a child with no name.
– Nikki Wilfong
****—-****—-****
How Do I Love Thee? (Sonnet 43) 
How do I love thee? Let me count the ways.
I love thee to the depth and breadth and height
My soul can reach, when feeling out of sight
For the ends of Being and ideal Grace.
I love thee to the level of everyday's
Most quiet need, by sun and candle-light.
I love thee freely, as men strive for Right;
I love thee purely, as they turn from Praise.
I love thee with the passion put to use
In my old griefs, and with my childhood's faith.
I love thee with a love I seemed to lose
With my lost saints,—I love thee with the breath,
Smiles, tears, of all my life!—and, if God choose,
I shall but love thee better after death.
– Elizabeth Barrett Browning
****—-****—-****
You Are A Beautiful Part of Life
I love you more than words can ever show
You give meaning to my life
Something no one else can
You make my life complete
And I feel lost without you
I love every moment we spend
I pray they never end.
****—-****—-****
Forever isn't Long Enough
When you're with the one
My heart beats pretty fast
Whenever you're around
I get this feeling that I'm loved
Every time you hold my hand
I know I can't say this enough
But you light up my world.
****—-****—-****
Our Eyes Lock Across The Room
You smile ever so slightly.
My heart beats fast.
We cross paths in the hallway,
I can feel you stare as you watch me go.
You stand a little too close next to me,
You whisper in my ear,
Tonight.
****—-****—-****
Read More: Poems About Unconditional Love