A Collection of Angel Poems and Poetry from the most famous poets and authors you know and love. Read and share Christmas Angel Poems & Quotes.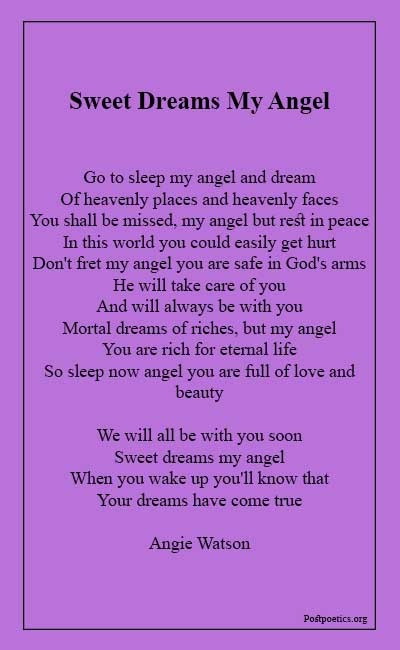 Sweet Dreams My Angel
Go to sleep my angel and dream
Of heavenly places and heavenly faces
You shall be missed, my angel but rest in peace
In this world you could easily get hurt
Don't fret my angel you are safe in God's arms
He will take care of you
And will always be with you
Mortal dreams of riches, but my angel
You are rich for eternal life
So sleep now angel you are full of love and beauty
We will all be with you soon
Sweet dreams my angel
When you wake up you'll know that
Your dreams have come true
Angie Watson
__________________________________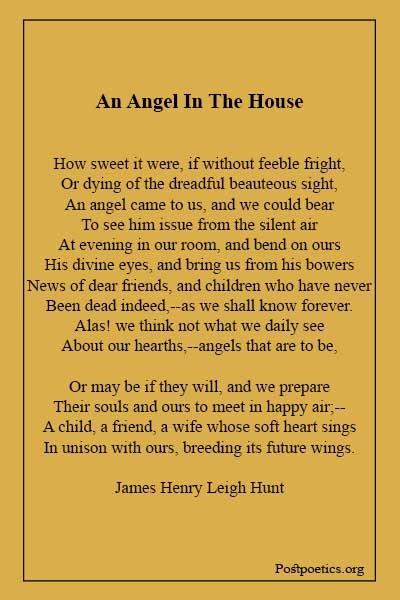 An Angel In The House
How sweet it were, if without feeble fright,
Or dying of the dreadful beauteous sight,
An angel came to us, and we could bear
To see him issue from the silent air
At evening in our room, and bend on ours
His divine eyes, and bring us from his bowers
News of dear friends, and children who have never
Been dead indeed,–as we shall know forever.
Alas! we think not what we daily see
About our hearths,–angels that are to be,
Or may be if they will, and we prepare
Their souls and ours to meet in happy air;–
A child, a friend, a wife whose soft heart sings
In unison with ours, breeding its future wings.
James Henry Leigh Hunt
__________________________________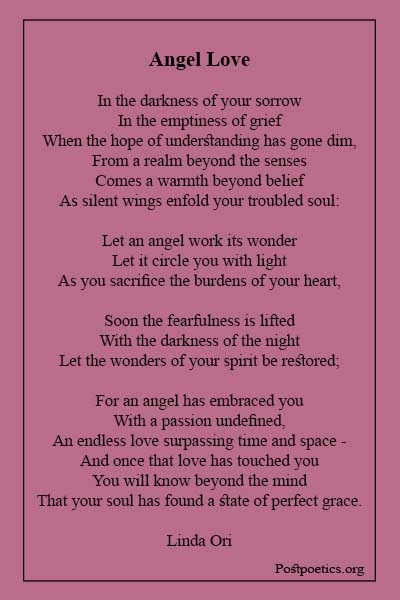 Angel Love
In the darkness of your sorrow
In the emptiness of grief
When the hope of understanding has gone dim,
From a realm beyond the senses
Comes a warmth beyond belief
As silent wings enfold your troubled soul:
Let an angel work its wonder
Let it circle you with light
As you sacrifice the burdens of your heart,
Soon the fearfulness is lifted
With the darkness of the night
Let the wonders of your spirit be restored;
For an angel has embraced you
With a passion undefined,
An endless love surpassing time and space –
And once that love has touched you
You will know beyond the mind
That your soul has found a state of perfect grace.
Linda Ori
__________________________________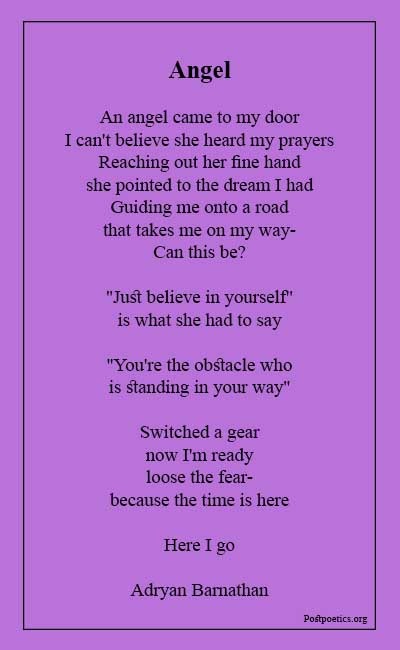 Angel
An angel came to my door
I can't believe she heard my prayers
Reaching out her fine hand
she pointed to the dream I had
Guiding me onto a road
that takes me on my way-
Can this be?
"Just believe in yourself"
is what she had to say
"You're the obstacle who
is standing in your way"
Switched a gear
now I'm ready
loose the fear-
because the time is here
Here I go
__________________________________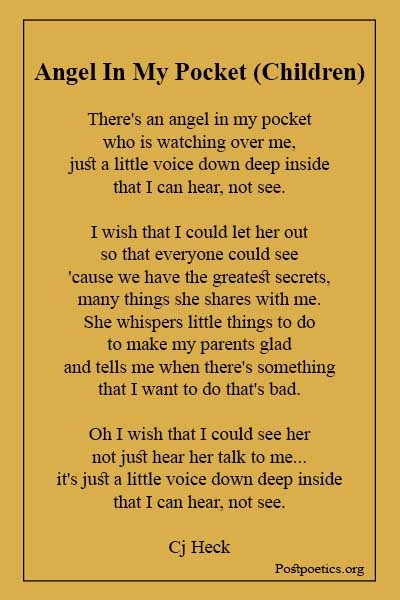 Angel In My Pocket (Children)
There's an angel in my pocket
who is watching over me,
just a little voice down deep inside
that I can hear, not see.
I wish that I could let her out
so that everyone could see
'cause we have the greatest secrets,
many things she shares with me.
She whispers little things to do
to make my parents glad
and tells me when there's something
that I want to do that's bad.
Oh I wish that I could see her
not just hear her talk to me…
it's just a little voice down deep inside
that I can hear, not see.
Cj Heck
__________________________________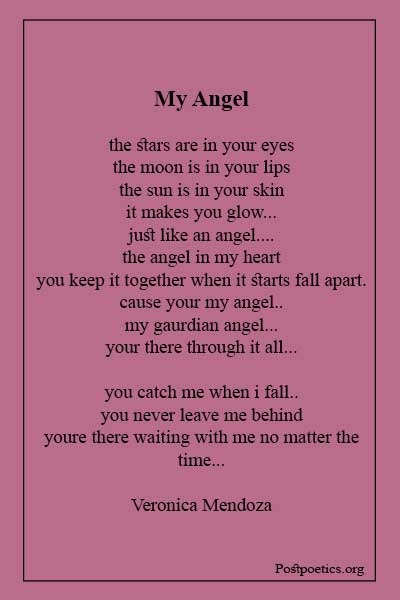 My Angel
the stars are in your eyes
the moon is in your lips
the sun is in your skin
it makes you glow…
just like an angel….
the angel in my heart
you keep it together when it starts fall apart.
cause your my angel..
my gaurdian angel…
your there through it all…
you catch me when i fall..
you never leave me behind
youre there waiting with me no matter the time…
Veronica Mendoza
__________________________________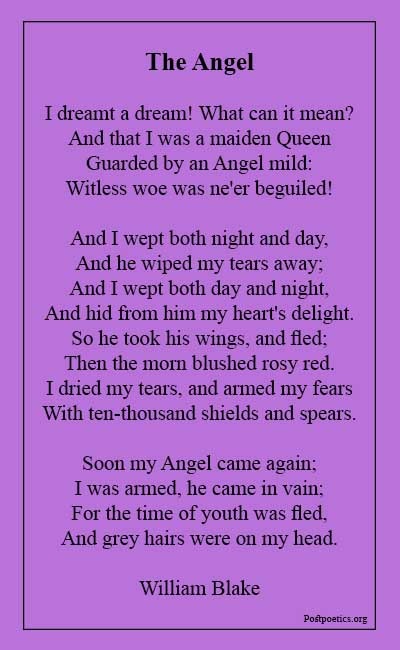 The Angel
I dreamt a dream! What can it mean?
And that I was a maiden Queen
Guarded by an Angel mild:
Witless woe was ne'er beguiled!
And I wept both night and day,
And he wiped my tears away;
And I wept both day and night,
And hid from him my heart's delight.
So he took his wings, and fled;
Then the morn blushed rosy red.
I dried my tears, and armed my fears
With ten-thousand shields and spears.
Soon my Angel came again;
I was armed, he came in vain;
For the time of youth was fled,
And grey hairs were on my head.
William Blake
__________________________________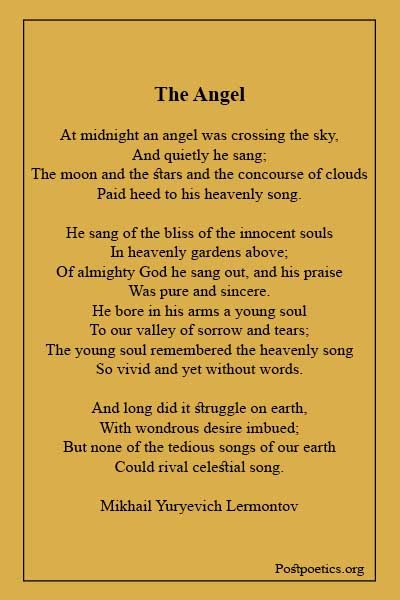 The Angel
At midnight an angel was crossing the sky,
And quietly he sang;
The moon and the stars and the concourse of clouds
Paid heed to his heavenly song.
He sang of the bliss of the innocent souls
In heavenly gardens above;
Of almighty God he sang out, and his praise
Was pure and sincere.
He bore in his arms a young soul
To our valley of sorrow and tears;
The young soul remembered the heavenly song
So vivid and yet without words.
And long did it struggle on earth,
With wondrous desire imbued;
But none of the tedious songs of our earth
Could rival celestial song.
Mikhail Yuryevich Lermontov
__________________________________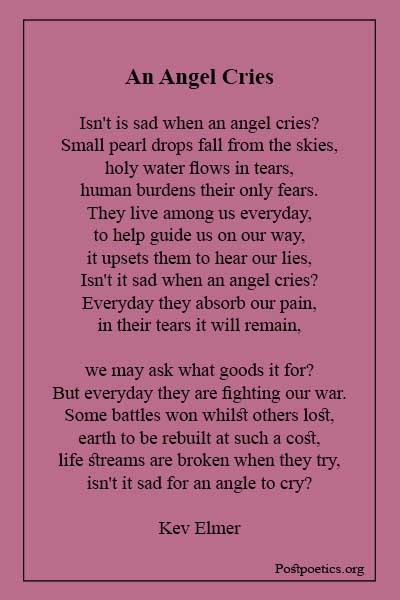 An Angel Cries
Isn't is sad when an angel cries?
Small pearl drops fall from the skies,
holy water flows in tears,
human burdens their only fears.
They live among us everyday,
to help guide us on our way,
it upsets them to hear our lies,
Isn't it sad when an angel cries?
Everyday they absorb our pain,
in their tears it will remain,
we may ask what goods it for?
But everyday they are fighting our war.
Some battles won whilst others lost,
earth to be rebuilt at such a cost,
life streams are broken when they try,
isn't it sad for an angle to cry?
Kev Elmer
__________________________________
Fallen Angel
I have fallen from sky,
Fallen to the ground,
I am the angel of sadness,
Angel of lost hopes,
Angel of lost dreams,
I am the fallen angel,
Fear me not,
I am here for reason,
That reason is to have a second chance in life,
That life I was given for a reason,
They took my wings,
They took me apart made me human,
I was the fallen angel,
But that fallen angel had one chance in life that she was given,
This angel won't make the same mistakes she made before,
This angel will go down the right path that has been chosen for her,
This fallen angel know what she has to do to be forgiven.
Jennifer Cook
__________________________________
The Angel That Presided O'Er My Birth
The Angel that presided o'er my birth
Said, 'Little creature, form'd of Joy and Mirth,
'Go love without the help of any Thing on Earth.'
William Blake
__________________________________
The Child-Angel
They clamour and fight, they doubt and despair, they know no end
to their wrangling.
Let your life come amongst them like a flame of light, my
child, unflickering and pure, and delight them into silence.
They are cruel in their greed and their envy, their words are like
hidden knives thirsting for blood.
Go and stand amidst their scowling hearts, my child, and let
your gentle eyes fall upon them like the forgiving peace of the
evening over the strife of the day.
Let them see your face, my child, and thus know the meaning
of all things; let them love you and thus love each other.
Come and take your seat in the bosom of the limitless, my
child. At sunrise open and raise your heart like a blossoming
flower, and at sunset bend your head and in silence complete the
worship of the day.
Rabindranath Tagore
__________________________________
The Angel's Kiss
An angel stood beside the bed
Where lay the living and the dead.
He gave the mother — her who died —
A kiss that Christ the Crucified
Had sent to greet the weary soul
When, worn and faint, it reached its goal.
He gave the infant kisses twain,
One on the breast, one on the brain.
"Go forth into the world," he said,
"With blessings on your heart and head,
"For God, who ruleth righteously,
Hath ordered that to such as be
"From birth deprived of mother's love,
I bring His blessing from above;
"But if the mother's life he spare
Then she is made God's messenger
"To kiss and pray that heart and brain
May go through life without a stain."
The infant moved towards the light,
The angel spread his wings in flight.
But each man carries to his grave
The kisses that in hopes to save
The angel or his mother gave.
Banjo Paterson
__________________________________
My Angel
There's an Angel within me who KNOWS what I need.
I can have what I ask for, if I only BELIEVE.
My Angel is with me where ever I go.
If there is DANGER ahead, my Angel will KNOW.
When I KNOW in my HEART, and can SEE with my mind,
I can have what I ask for. I'm a child of the DIVINE.
If I want something SPECIAL, I need only to THINK.
My Angel within me, creates, QUICK AS A WINK!
My Angel and I, are ONE of a kind.
When I want to SEE one, I can LOOK, with my MIND.
Pauline DiBenedetto
__________________________________
The Hour Of The Angel
Sooner or late–in earnest or in jest–
(But the stakes are no jest) Ithuriel's Hour
Will spring on us, for the first time, the test
Of our sole unbacked competence and power
Up to the limit of our years and dower
Of judgment–or beyond. But here we have
Prepared long since our garland or our grave.
For, at that hour, the sum of all our past,
Act, habit, thought, and passion, shall be cast
In one addition, be it more or less,
And as that reading runs so shall we do;
Meeting, astounded, victory at the last,
Or, first and last, our own unworthiness.
And none can change us though they die to save!
Rudyard Kipling
__________________________________
An Angel Goes To Bed
It is raining
Slowly
In Detroit tonight.
It makes you think
God has
No sense of time.
Somewhere in the world
There is a girl
Who should have
Her forehead kissed
Before she falls asleep
Uriah Hamilton
__________________________________
Read More: Kids Funny Poems