Flowers are a telling proof of the beauty of nature. The beauty of flowers has captivated poets. Here is a collection of Famous Poems About Flowers that will surely impress you.
Flower Of Love
The perfume of your body dulls my sense.
I want nor wine nor weed; your breath alone
Suffices. In this moment rare and tense
I worship at your breast. The flower is blown,
The saffron petals tempt my amorous mouth,
The yellow heart is radiant now with dew
Soft-scented, redolent of my loved South;
O flower of love! I give myself to you.
Uncovered on your couch of figured green,
Here let us linger indivisible.
The portals of your sanctuary unseen
Receive my offering, yielding unto me.
Oh, with our love the night is warm and deep!
The air is sweet, my flower, and sweet the flute
Whose music lulls our burning brain to sleep,
While we lie loving, passionate and mute.
Claude McKay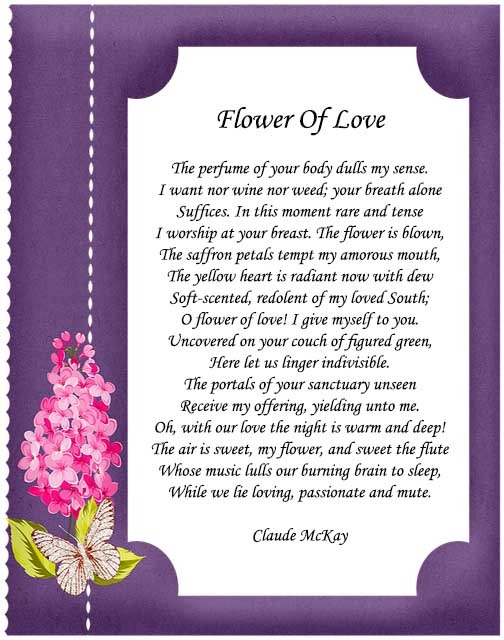 ****—-****—-****
My Beautiful Flower
You are my flower
you are my sweet soft petal
hand in hand
…in my hand
holding this precious gift
the blossom of your beauty
you are my beautiful flower
You are my flower
you are my sweet soft petal
heart in heart
just one heart
beating to your sweet aroma
the aroma of your splendor
you are my beautiful flower
You are my flower
you are my first blossom
blossoming love
you are my love
you are my first and true
like sunset ocean blue
you are my beautiful flower
I am glad i picked you
Allen Steble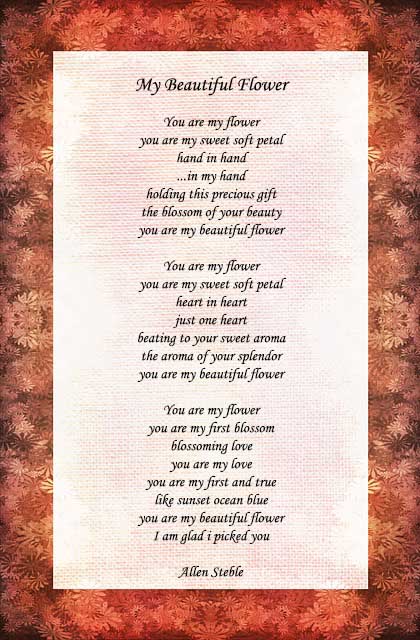 ****—-****—-****
To See
To see a world in a grain of sand,
And a heaven in a wild flower,
Hold infinity in the palm of your hand
And eternity in an hour.
William Blake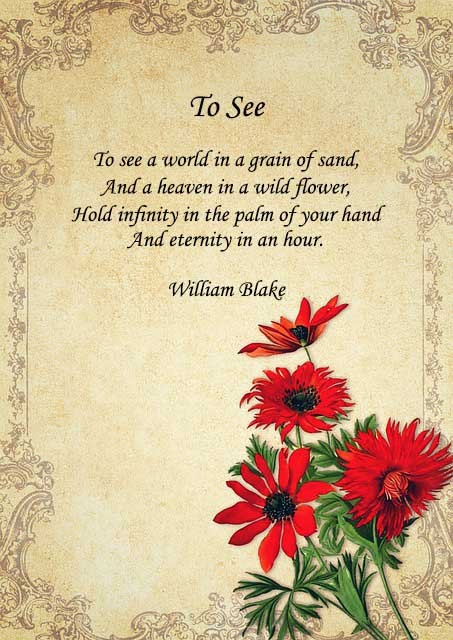 ****—-****—-****
My Pretty Rose Tree
A flower was offered to me,
Such a flower as May never bore;
But I said 'I've a pretty rose tree,'
And I passed the sweet flower o'er.
Then I went to my pretty rose tree,
To tend her by day and by night;
But my rose turned away with jealousy,
And her thorns were my only delight.
William Blake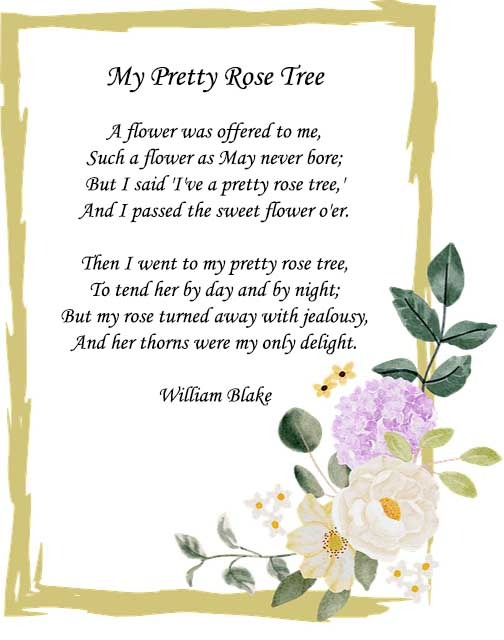 ****—-****—-****
Apparently With No Surprise
Apparently with no surprise,
To any happy flower,
The frost beheads it at its play,
In accidental power.
The blond assassin passes on.
The sun proceeds unmoved,
To measure off another day,
For an approving God.
Emily Dickinson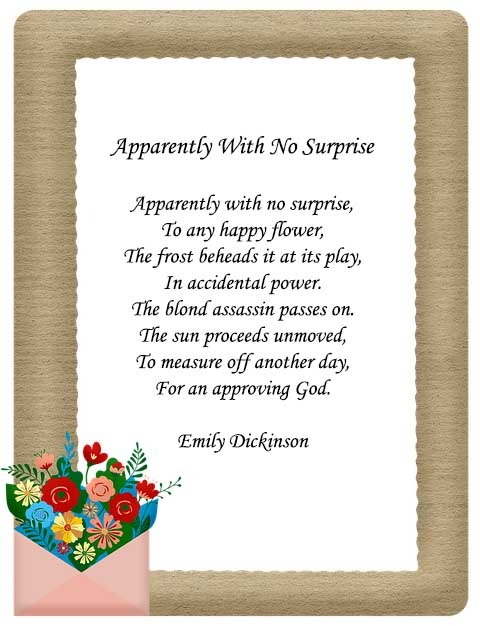 ****—-****—-****
Nothing Gold Can Stay
Nature's first green is gold,
Her hardest hue to hold.
Her early leaf's a flower;
But only so an hour.
Then leaf subsides to leaf,
So Eden sank to grief,
So dawn goes down to day
Nothing gold can stay.
Robert Frost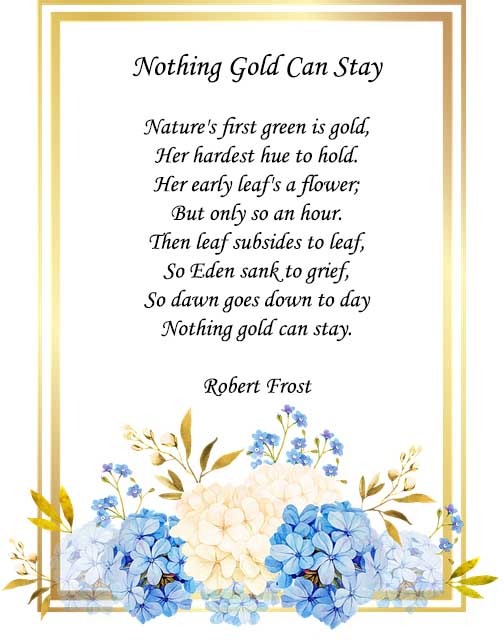 ****—-****—-****
The Violet
own in a green and shady bed,
A modest violet grew;
Its stalk was bent, it hung its head
As if to hide from view.
And yet it was a lovely flower,
Its colour bright and fair;
It might have graced a rosy bower,
Instead of hiding there.
Yet thus it was content to bloom,
In modest tints arrayed;
And there diffused a sweet perfume,
Within the silent shade.
Then let me to the valley go
This pretty flower to see;
That I may also learn to grow
In sweet humility.
Jane Taylor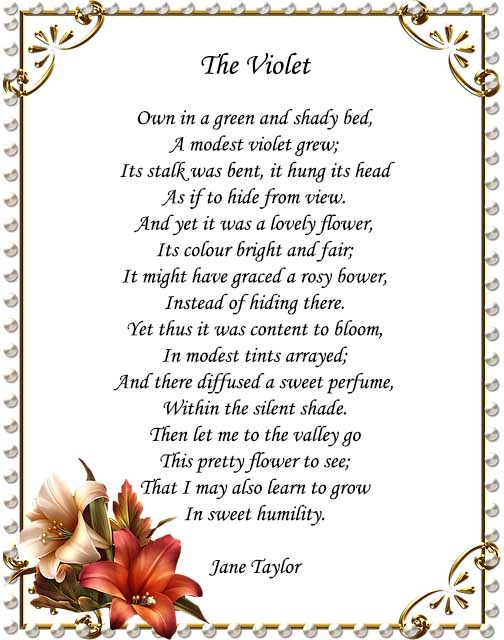 ****—-****—-****
Dirge
COME away, come away, death,
And in sad cypres let me be laid;
Fly away, fly away, breath;
I am slain by a fair cruel maid.
My shroud of white, stuck all with yew,
O prepare it!
My part of death, no one so true
Did share it.
Not a flower, not a flower sweet,
On my black coffin let there be strown;
Not a friend, not a friend greet
My poor corse, where my bones shall be thrown:
A thousand thousand sighs to save,
Lay me, O, where
Sad true lover never find my grave
To weep there!
William Shakespeare
****—-****—-****
Design
I found a dimpled spider, fat and white,
On a white heal-all, holding up a moth
Like a white piece of rigid satin cloth
Assorted characters of death and blight
Mixed ready to begin the morning right,
Like the ingredients of a witches' broth 
A snow-drop spider, a flower like a froth,
And dead wings carried like a paper kite.
What had that flower to do with being white,
The wayside blue and innocent heal-all?
What brought the kindred spider to that height,
Then steered the white moth thither in the night?
What but design of darkness to appall?
If design govern in a thing so small.
Robert Frost
****—-****—-****
Leaves Compared With Flowers
A tree's leaves may be ever so good,
So may its bar, so may its wood;
But unless you put the right thing to its root
It never will show much flower or fruit.
But I may be one who does not care
Ever to have tree bloom or bear.
Leaves for smooth and bark for rough,
Leaves and bark may be tree enough.
Some giant trees have bloom so small
They might as well have none at all.
Late in life I have come on fern.
Now lichens are due to have their turn.
I bade men tell me which in brief,
Which is fairer, flower or leaf.
They did not have the wit to say,
Leaves by night and flowers by day.
Leaves and bar, leaves and bark,
To lean against and hear in the dark.
Petals I may have once pursued.
Leaves are all my darker mood.
Robert Frost
****—-****—-****
St. Francis And The Sow
The bud
stands for all things,
even those things that don't flower,
for everything flowers, from within, of self-blessing;
though sometimes it is necessary
to reteach a thing its loveliness,
to put a hand on its brow
of the flower
and retell it in words and in touch
it is lovely
until it flowers again from within, of self-blessing;
as St. Francis
put his hand on the creased forehead
of the sow, and told her in words and in touch
blessings of earth on the sow, and the sow
began remembering all down her thick length,
from the earthen snout all the way
through the fodder and slops to the spiritual curl of
the tail,
from the hard spininess spiked out from the spine
down through the great broken heart
to the blue milken dreaminess spurting and shuddering
from the fourteen teats into the fourteen mouths sucking
and blowing beneath them:
the long, perfect loveliness of sow.
Galway Kinnell
****—-****—-****
Fragmentary Blue
Why make so much of fragmentary blue
In here and there a bird, or butterfly,
Or flower, or wearing-stone, or open eye,
When heaven presents in sheets the solid hue?
Since earth is earth, perhaps, not heaven (as yet)
Though some savants make earth include the sky;
And blue so far above us comes so high,
It only gives our wish for blue a whet.
Robert Frost
****—-****—-****
Alchemy
I lift my heart as spring lifts up
A yellow daisy to the rain;
My heart will be a lovely cup
Altho' it holds but pain.
For I shall learn from flower and leaf
That color every drop they hold,
To change the lifeless wine of grief
To living gold.
Sara Teasdale
****—-****—-****
A Poet! He Hath Put His Heart To School
A poet!–He hath put his heart to school,
Nor dares to move unpropped upon the staff
Which art hath lodged within his hand–must laugh
By precept only, and shed tears by rule.
Thy Art be Nature; the live current quaff,
And let the groveller sip his stagnant pool,
In fear that else, when Critics grave and cool
Have killed him, Scorn should write his epitaph.
How does the Meadow-flower its bloom unfold?
Because the lovely little flower is free
Down to its root, and, in that freedom, bold;
And so the grandeur of the Forest-tree
Comes not by casting in a formal mould,
But from its own divine vitality.
William Wordsworth
****—-****—-****
Hope
Our lives, discoloured with our present woes,
May still grow white and shine with happier hours.
So the pure limped stream, when foul with stains
Of rushing torrents and descending rains,
Works itself clear, and as it runs refines,
till by degrees the floating mirror shines;
Reflects each flower that on the border grows,
And a new heaven in it's fair bosom shows.
Joseph Addison
****—-****—-****
Flower God, God Of The Spring
FLOWER god, god of the spring, beautiful, bountiful,
Cold-dyed shield in the sky, lover of versicles,
Here I wander in April
Cold, grey-headed; and still to my
Heart, Spring comes with a bound, Spring the deliverer,
Spring, song-leader in woods, chorally resonant;
Spring, flower-planter in meadows,
Child-conductor in willowy
Fields deep dotted with bloom, daisies and crocuses:
Here that child from his heart drinks of eternity:
O child, happy are children!
She still smiles on their innocence,
She, dear mother in God, fostering violets,
Fills earth full of her scents, voices and violins:
Thus one cunning in music
Wakes old chords in the memory:
Thus fair earth in the Spring leads her performances.
One more touch of the bow, smell of the virginal
Green – one more, and my bosom
Feels new life with an ecstasy.
Robert Louis Stevenson
****—-****—-****
Wind And Window Flower
Lovers, forget your love,
And list to the love of these,
She a window flower,
And he a winter breeze.
When the frosty window veil
Was melted down at noon,
And the cagèd yellow bird
Hung over her in tune,
He marked her through the pane,
He could not help but mark,
And only passed her by,
To come again at dark.
He was a winter wind,
Concerned with ice and snow,
Dead weeds and unmated birds,
And little of love could know.
But he sighed upon the sill,
He gave the sash a shake,
As witness all within
Who lay that night awake.
Perchance he half prevailed
To win her for the flight
From the firelit looking-glass
And warm stove-window light.
But the flower leaned aside
And thought of naught to say,
And morning found the breeze
A hundred miles away.
Robert Frost
****—-****—-****
In Back Of The Real
railroad yard in San Jose
I wandered desolate
in front of a tank factory
and sat on a bench
near the switchman's shack.
A flower lay on the hay on
the asphalt highway
–the dread hay flower
I thought–It had a
brittle black stem and
corolla of yellowish dirty
spikes like Jesus' inchlong
crown, and a soiled
dry center cotton tuft
like a used shaving brush
that's been lying under
the garage for a year.
Yellow, yellow flower, and
flower of industry,
tough spiky ugly flower,
flower nonetheless,
with the form of the great yellow
Rose in your brain!
This is the flower of the World.
Allen Ginsberg
****—-****—-****
A Parsonage In Oxfordshire
Where holy ground begins, unhallowed ends,
Is marked by no distinguishable line;
The turf unites, the pathways intertwine;
And, wheresoe'er the stealing footstep tends,
Garden, and that domain where kindred, friends,
And neighbours rest together, here confound
Their several features, mingled like the sound
Of many waters, or as evening blends
With shady night. Soft airs, from shrub and flower,
Waft fragrant greetings to each silent grave;
And while those lofty poplars gently wave
Their tops, between them comes and goes a sky
Bright as the glimpses of eternity,
To saints accorded in their mortal hour.
William Wordsworth
****—-****—-****
Greece
The sea was sapphire coloured, and the sky
Burned like a heated opal through the air;
We hoisted sail; the wind was blowing fair
For the blue lands that to the eastward lie.
From the steep prow I marked with quickening eye
Zakynthos, every olive grove and creek,
Ithaca's cliff, Lycaon's snowy peak,
And all the flower-strewn hills of Arcady.
The flapping of the sail against the mast,
The ripple of the water on the side,
The ripple of girls' laughter at the stern,
The only sounds: -when 'gan the West to burn,
And a red sun upon the seas to ride,
I stood upon the soil of Greece at last!
Oscar Wilde
****—-****—-****
Tall Nettles
TALL nettles cover up, as they have done
These many springs, the rusty harrow, the plough
Long worn out, and the roller made of stone:
Only the elm butt tops the nettles now.
This corner of the farmyard I like most:
As well as any bloom upon a flower
I like the dust on the nettles, never lost
Except to prove the sweetness of a shower.
Edward Thomas
****—-****—-****
In White
A dented spider like a snow drop white
On a white Heal-all, holding up a moth
Like a white piece of lifeless satin cloth –
Saw ever curious eye so strange a sight? –
Portent in little, assorted death and blight
Like the ingredients of a witches' broth? –
The beady spider, the flower like a froth,
And the moth carried like a paper kite.
What had that flower to do with being white,
The blue prunella every child's delight.
What brought the kindred spider to that height?
(Make we no thesis of the miller's plight.)
What but design of darkness and of night?
Design, design! Do I use the word aright?
Robert Frost
****—-****—-****
All All And All The Dry Worlds Lever
I
All all and all the dry worlds lever,
Stage of the ice, the solid ocean,
All from the oil, the pound of lava.
City of spring, the governed flower,
Turns in the earth that turns the ashen
Towns around on a wheel of fire.
How now my flesh, my naked fellow,
Dug of the sea, the glanded morrow,
Worm in the scalp, the staked and fallow.
All all and all, the corpse's lover,
Skinny as sin, the foaming marrow,
All of the flesh, the dry worlds lever.
II
Fear not the waking world, my mortal,
Fear not the flat, synthetic blood,
Nor the heart in the ribbing metal.
Fear not the tread, the seeded milling,
The trigger and scythe, the bridal blade,
Nor the flint in the lover's mauling.
Man of my flesh, the jawbone riven,
Know now the flesh's lock and vice,
And the cage for the scythe-eyed raver.
Know, O my bone, the jointed lever,
Fear not the screws that turn the voice,
And the face to the driven lover.
III
All all and all the dry worlds couple,
Ghost with her ghost, contagious man
With the womb of his shapeless people.
All that shapes from the caul and suckle,
Stroke of mechanical flesh on mine,
Square in these worlds the mortal circle.
Flower, flower the people's fusion,
O light in zenith, the coupled bud,
And the flame in the flesh's vision.
Out of the sea, the drive of oil,
Socket and grave, the brassy blood,
Flower, flower, all all and all.
Dylan Thomas
****—-****—-****