Read some of the most moving and memorable funeral poems for dad that will perfectly express your feelings of loss of your dad.
Goodbye To My Dad
Goodbye Dad, I had to say
A few months ago on a cold winter day
I'll remember the good times and try not to be sad
But saying goodbye still hurts so bad
I miss you more then I can express
My love for you will never grow less
I keep trying to imagine how I will go on
I realize tomorrow is another dawn
I know you're in heaven above
Looking down on us with all your love
Only to whisper in our ear
Remember that I'll never stopped loving you dear
I'll always remember the good times we had
Remember the man, my wonderful Dad
I'll remember you each and every day
And if I need to talk to you, I'll just sit down and pray
One day we'll be together again
To talk about all the places we been
Until the time I'll always treasure
Having you for a Dad was such a great pleasure.
by Debra Marie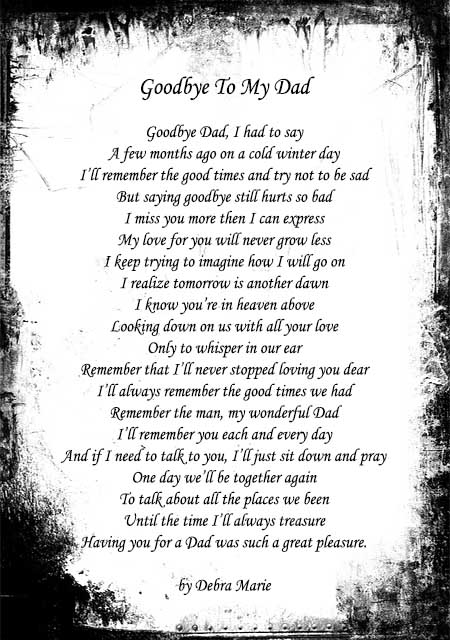 ***——***——***
Life Lessons
You may have thought I didn't see,
Or that I hadn't heard,
Life lessons that you taught to me,
But I got every word.
Perhaps you thought I missed it all,
And that we'd grow apart,
But Dad, I picked up everything,
It's written on my heart.
Without you, Dad, I wouldn't be
The (woman)(man) I am today;
You built a strong foundation
No one can take away.
I've grown up with your values,
And I'm very glad I did;
So here's to you, dear father,
From your forever grateful kid
by Joanna Fuchs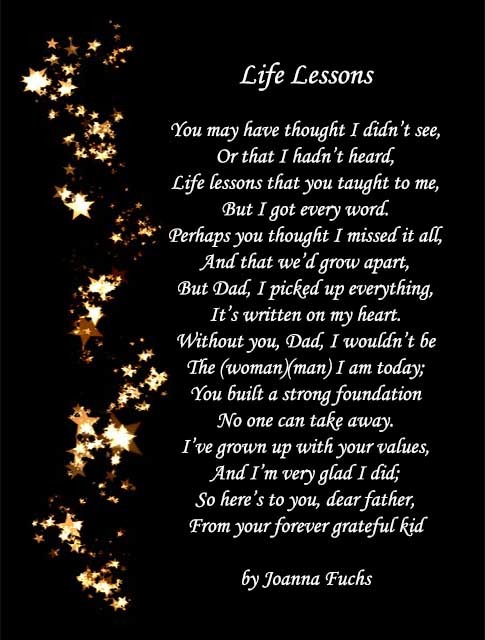 ***——***——***
Broken Chain
We little knew the day that
God was going to call your name.
In life we loved you dearly,
In death we do the same.
It broke our hearts to lose you
But you didn't go alone.
For part of us went with you
The day God called you home.
You left us peaceful memories.
Your love is still our guide,
And though we cannot see you
You are always at our side.
Our family chain is broken
and nothing seems the same,
but as God calls us one by one
the chain will link again.
By Ron Tranmer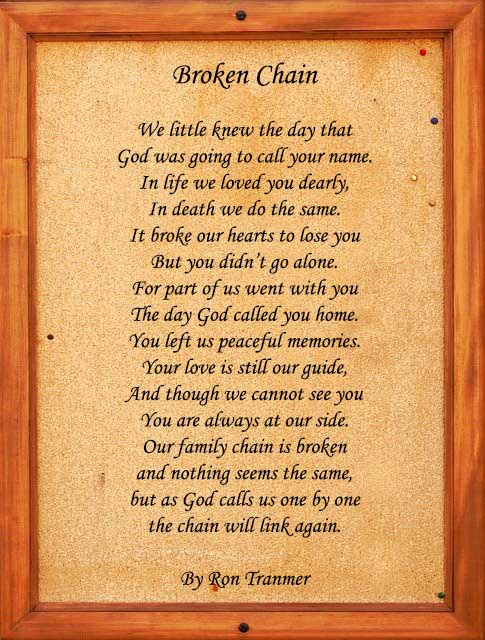 ***——***——***
Epitaph on a Friend
An honest man here lies at rest,
The friend of man, the friend of truth;
The friend of age, and guide of youth:
Few hearts like his, with virtue warm'd,
Few heads with knowledge so inform'd:
If there's another world, he lives in bliss;
If there is none, he made the best of this.
by Robert Burns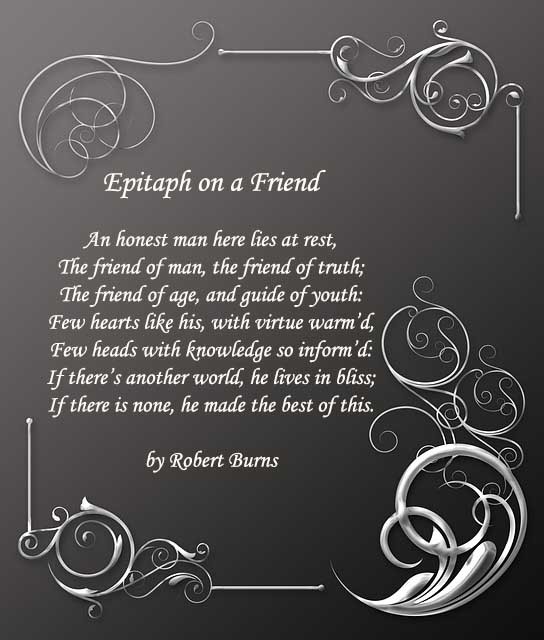 ***——***——***
He is Gone
You can shed tears that he is gone,
or you can smile because he has lived.
You can close your eyes and pray that he'll come back,
or you can open your eyes and see all he's left.
Your heart can be empty because you can't see him,
or you can be full of the love you shared.
You can turn your back on tomorrow and live yesterday,
or you can be happy for tomorrow because of yesterday.
You can remember him only that he is gone,
or you can cherish his memory and let it live on.
You can cry and close your mind,
be empty and turn your back.
Or you can do what he'd want:
smile, open your eyes, love and go on.
By David Harkins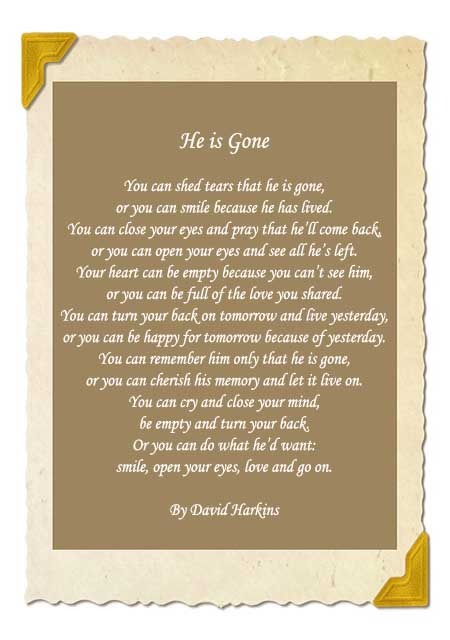 ***——***——***
Daddy's Hands
I remember Daddy´s hands, folded silently in prayer.
And reaching out to hold me, when I had a nightmare.
You could read quite a story, in the calluses and lines.
Years of work and worry had left their mark behind.
I remember Daddy´s hands, how they held my Mama tight,
And patted my back, for something done right.
There are things that I´ve forgotten, that I loved about the man,
But I´ll always remember the love in Daddy´s hands.
Daddy's hands were soft and kind when I was cryin´.
Daddy´s hands, were hard as steel when I´d done wrong.
Daddy´s hands, weren´t always gentle But I´ve come to understand.
There was always love in Daddy´s hands.
I remember Daddy´s hands, working 'til they bled.
Sacrificed unselfishly, just to keep us all fed.
If I could do things over, I´d live my life again.
And never take for granted the love in Daddy´s hands.
Daddy's hands were soft and kind when I was cryin´.
Daddy´s hands, were hard as steel when I´d done wrong.
Daddy´s hands, weren´t always gentle But I´ve come to understand.
There was always love in Daddy´s hands.
Song and Lyrics by Holly Dunn
***——***——***
My Father, My Father
My father, my father,
I love he,
my father, my father,
made me see,
how beautiful this world really can be.
My father, my father,
said to me,
my daughter my daughter,
come see me,
I wont be around forever, and I have things that must be.
My father, my father,
don't die on me.
By Dakota Ellerton
***——***——***
His Journey's Just Begun
Don't think of him as gone away
his journey's just begun,
life holds so many facets
this earth is only one.
Just think of him as resting
from the sorrows and the tears
in a place of warmth and comfort
where there are no days and years.
Think how he must be wishing
that we could know today
how nothing but our sadness
can really pass away.
And think of him as living
in the hearts of those he touched…
for nothing loved is ever lost
and he was loved so much.
By Ellen Brenneman
***——***——***
Mirror
Dad, I am often told I am just like you.
I am honored beyond measure if that is true.
You were the best example of what a man should be.
I am overwhelmed that someone would say that of me.
I never told you enough, how proud I am to be called your son,
Now that you are gone, I want to tell everyone.
You gave me much more than a name,
Someday, I hope my son says the same.
by J. Allen Shaw
***——***——***
Moments Before
Moments before our walk that afternoon,
I realized the path ended too soon.
Not long enough to hold his hand,
this amazing person, this loving man.
Not long enough to engage his eyes
and remember his always brimming with pride.
Not long enough to stand by his side,
as he was by mine after every rough tide.
Not long enough to laugh with him still,
after every bad joke,
after every tough hill.
Not long enough to walk with this man,
who has taught me to be the person I am.
Not long enough as we walked by his wife,
to thank them both for my wonderful life.
In all the walks I've taken in my life,
first as a girl and now as a wife,
I'll remember that walk I took with my father
and always wish it could have been longer.
By Kelly Horn
***——***——***
Your Spirit
I know that no matter what
You will always be with me.
When life separates us
I'll know it is only your soul
Saying goodbye to your body
But your spirit will be with me always.
When I see a bird chirping on a nearby branch
I will know it is you singing to me.
When a butterfly brushes gently by me so care freely
I will know it is you assuring me you are free from pain.
When the gentle fragrance of a flower catches my attention
I will know it is you reminding me
To appreciate the simple things in life.
When the sun shining through my window awakens me
I will feel the warmth of your love.
When I hear the rain pitter patter against my window sill
I will hear your words of wisdom
And will remember what you taught me so well
That without rain trees cannot grow
Without rain flowers cannot bloom
Without life's challenges I cannot grow strong.
When I look out to the sea
I will think of your endless love for your family.
When I think of mountains, their majesty and magnificence
I will think of your courage for your country.
No matter where I am
Your spirit will be beside me
For I know that no matter what
You will always be with me.
By Tram-Tiara T. Von Reichenbach
***——***——***
Memories Of My Dad
He wasn't a hero,
Known by the world.
But a hero he was,
To his little girl.
My daddy was God,
Who knew all things.
And better than Santa,
With the gifts he'd bring.
I knew his voice,
Before I could speak.
And loved it when,
He would sing me to sleep.
He changed my diapers,
And sat up all night.
When my body was weak
And I'd put up a fight.
He'd come home late,
With not much to say.
And made us all kneel,
As he taught me to pray.
He taught me life's lessons,
Of right from wrong.
And instilled in me values,
That I might be strong.
And so through the years,
Like a hero he stood.
Working to give,
All that he could.
His presence was important,
And we loved to see him smile.
For no one in the world,
Could emulate his style.
And so dear Dad,
My best memory to recall.
Is the gift of your presence,
The greatest gift of all.
By Rebecca D. Cook
***——***——***
A Love Like No Other
From the time I was born
I guess you would know
Ten perfect fingers
Ten little toes
When you first put your finger in my tiny hand that's when I first knew
You were my papa no one else would do
As I grow older
and reach for the sky
My Papa is still there
to keep that twinkle in my eye
When I need someone to hold me
you never say I'm too big
You pick me up and squeeze me
and whisper you're my little kid
Most other people don't understand me
or maybe just not as well
That's why you're the one I run to
when I have something to tell
I love you Papa
as you can see
I'm so glad
that you're a part of me
By Paula M. Newman
***——***——***
Fathers are Wonderful People
Fathers are wonderful people
Too little understood,
And we do not sing their praises
As often as we should…
For, somehow, Father seems to be
The man who pays the bills,
While Mother binds up little hurts
And nurses all our ills…
And Father struggles daily
To live up to "HIS IMAGE"
As protector and provider
And "hero or the scrimmage" …
And perhaps that is the reason
We sometimes get the notion,
That Fathers are not subject
To the thing we call emotion,
But if you look inside Dad's heart,
Where no one else can see
You'll find he's sentimental
And as "soft" as he can be…
But he's so busy every day
In the grueling race of life,
He leaves the sentimental stuff
To his partner and his wife…
But Fathers are just WONDERFUL
In a million different ways,
And they merit loving compliments
And accolade of praise,
For the only reason Dad aspires
To fortune and success
Is to make the family proud of him
And to bring them happiness…
And like our heavenly father,
He's a guardian and a guide,
Someone that we can count on
To be always on our side.
By Helen Steiner Rice
***——***——***
Father
He never made a fortune, or a noise
In the world where men are seeking after fame;
But he had a healthy brood of girls and boys
Who loved the very ground on which he trod.
They thought him just little short of God;
Oh you should have heard the way they said his name –
'Father.'
There seemed to be a loving little prayer
In their voices, even when they called him 'Dad.'
Though the man was never heard of anywhere,
As a hero, yet somehow understood
He was doing well his part and making good;
And you knew it, by the way his children had
Of saying 'Father.'
He gave them neither eminence nor wealth,
But he gave them blood untainted with a vice,
And opulence of undiluted health.
He was honest, and unpurchable and kind;
He was clean in heart, and body, and in mind.
So he made them heirs to riches without price –
This father.
He never preached or scolded; and the rod –
Well, he used it as a turning pole in play.
But he showed the tender sympathy of God.
To his children in their troubles, and their joys.
He was always chum and comrade with his boys,
And his daughters – oh, you ought to hear them say
'Father.'
Now I think of all achievements 'tis the least
To perpetuate the species; it is done
By the insect and the serpent, and the beast.
But the man who keeps his body, and his thought,
Worth bestowing on an offspring love-begot,
Then the highest earthly glory he was won,
When in pride a grown-up daughter or a son
Says 'That's Father.'
By Ella Wheeler Wilcox
***——***——***
Last Journey
There is a train at the station
With a seat reserved just for me
I'm excited about its destination
As I've heard it sets you free
The trials and tribulations
The pain and stress we breathe
Don't exist were I am going
Only happiness I believe
I hope that you will be there
To wish me on my way
It's not a journey you can join in
It's not your time today
There'll be many destinations
Some are happy, some are sad
Each one a brief reminder
Of the great times that we've had
Many friends I know are waiting
Who took an earlier train
To greet and reassure me
That nothing has really changed
We'll take the time together
To catch up on the past
To build a new beginning
One that will always last
One day you'll take your journey
On the train just like me
And I promise that I'll be there
At the station and you will see
That Life is just a journey
Enriched by those you meet
No one can take that from you
It's always yours to keep'
But now as no seat is vacant
You will have to muddle through
Make sure you fulfill your ambitions
As you know I'll be watching you
And if there's an occasion
To mention who you knew
Speak kindly of that person
As one day it will be you
Now U can't except this ending
And as it's time for me to leave
Please make haste to the reception
To enjoy my drinks, they're free!
By Timothy Coote
***——***——***
Crossing The Bar
Sunset and evening star,
And one clear call for me!
And may there be no moaning of the bar,
When I put out to sea,
But such a tide as moving seems asleep,
Too full for sound and foam,
When that which drew from out the boundless deep
Turns again home.
Twilight and evening bell,
And after that the dark!
And may there be no sadness of farewell,
When I embark;
For tho' from out our bourne of Time and Place
The flood may bear me far,
I hope to see my Pilot face to face
When I have crossed the bar."
Alfred Lord Tennyson
***——***——***
Happy the Man
Happy the man, and happy he alone,
He who can call today his own:
He who, secure within, can say,
Tomorrow do thy worst, for I have lived today.
Be fair or foul or rain or shine
The joys I have possessed, in spite of fate, are mine.
Not Heaven itself upon the past has power,
But what has been, has been, and I have had my hour.
by John Dryden
***——***——***
You May Interest: Remember Me Poems