Seductive poems are the key to understand how to love her/him. Best romantic poetry engages you to feel the beauty of the beloved. Read Seductive poetry on popular poetry site.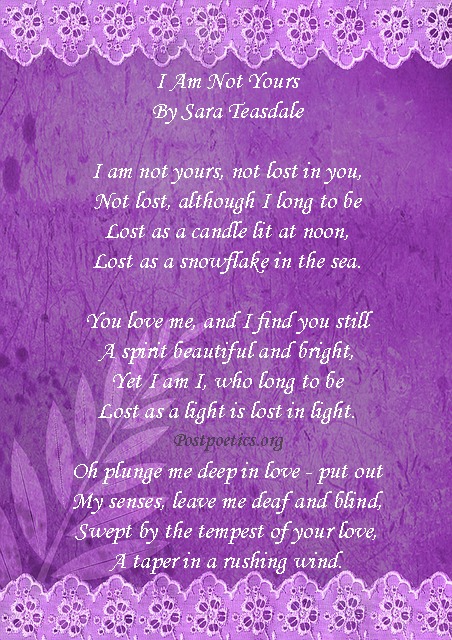 I Am Not Yours
By Sara Teasdale
I am not yours, not lost in you,
Not lost, although I long to be
Lost as a candle lit at noon,
Lost as a snowflake in the sea.
You love me, and I find you still
A spirit beautiful and bright,
Yet I am I, who long to be
Lost as a light is lost in light.
Oh plunge me deep in love – put out
My senses, leave me deaf and blind,
Swept by the tempest of your love,
A taper in a rushing wind.
—————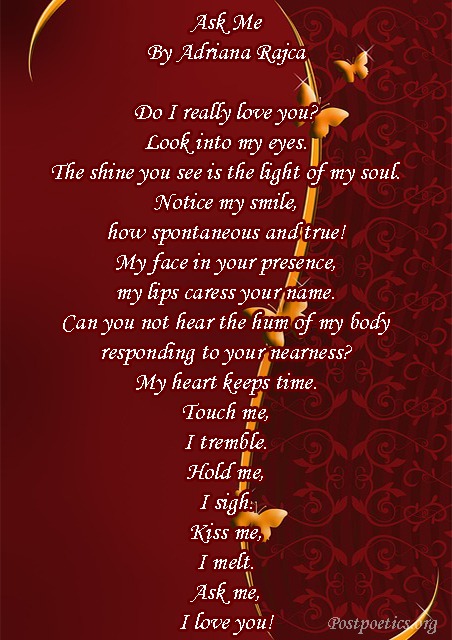 Ask Me
By Adriana Rajca
Do I really love you?
Look into my eyes.
The shine you see is the light of my soul.
Notice my smile,
how spontaneous and true!
My face in your presence,
my lips caress your name.
Can you not hear the hum of my body
responding to your nearness?
My heart keeps time.
Touch me,
I tremble.
Hold me,
I sigh.
Kiss me,
I melt.
Ask me,
I love you!
—————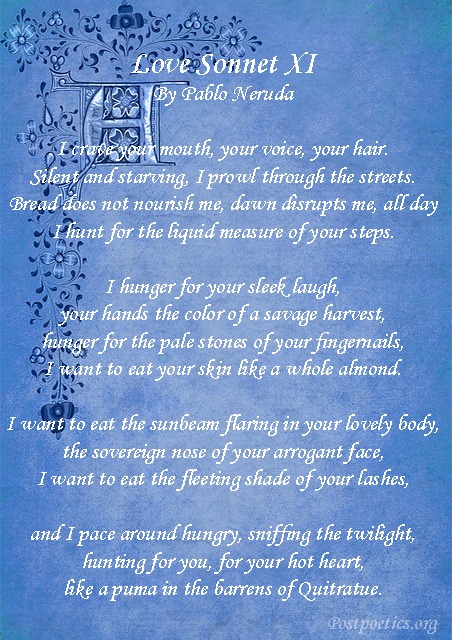 Love Sonnet XI
By Pablo Neruda
I crave your mouth, your voice, your hair.
Silent and starving, I prowl through the streets.
Bread does not nourish me, dawn disrupts me, all day
I hunt for the liquid measure of your steps.
I hunger for your sleek laugh,
your hands the color of a savage harvest,
hunger for the pale stones of your fingernails,
I want to eat your skin like a whole almond.
I want to eat the sunbeam flaring in your lovely body,
the sovereign nose of your arrogant face,
I want to eat the fleeting shade of your lashes,
and I pace around hungry, sniffing the twilight,
hunting for you, for your hot heart,
like a puma in the barrens of Quitratue.
—————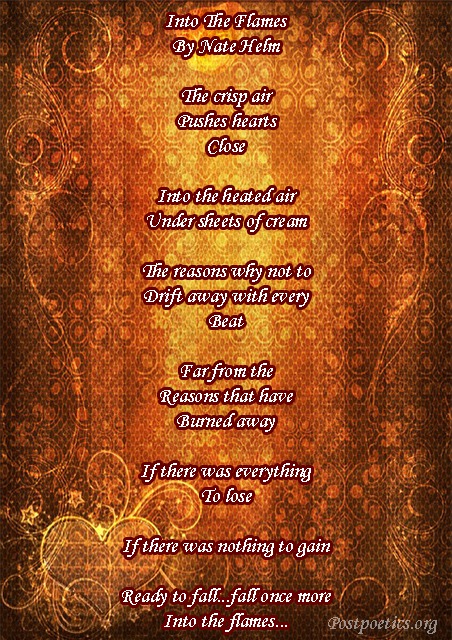 Into The Flames
By Nate Helm
The crisp air
Pushes hearts
Close
Into the heated air
Under sheets of cream
The reasons why not to
Drift away with every
Beat
Far from the
Reasons that have
Burned away
If there was everything
To lose
If there was nothing to gain
Ready to fall…fall once more
Into the flames…
—————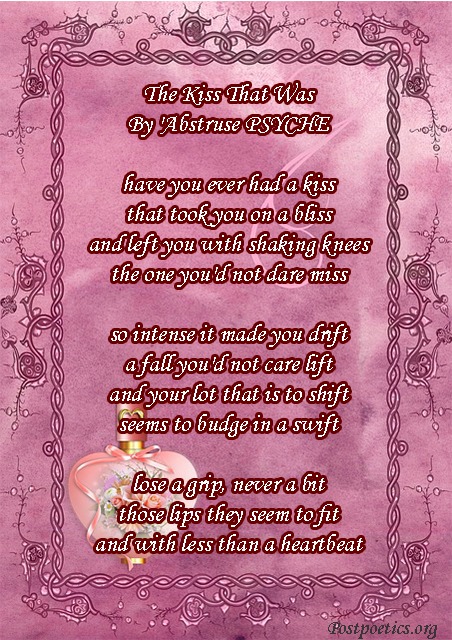 The Kiss That Was
By 'Abstruse PSYCHE
have you ever had a kiss
that took you on a bliss
and left you with shaking knees
the one you'd not dare miss
so intense it made you drift
a fall you'd not care lift
and your lot that is to shift
seems to budge in a swift
lose a grip, never a bit
those lips they seem to fit
and with less than a heartbeat
your souls are apt to meet
—————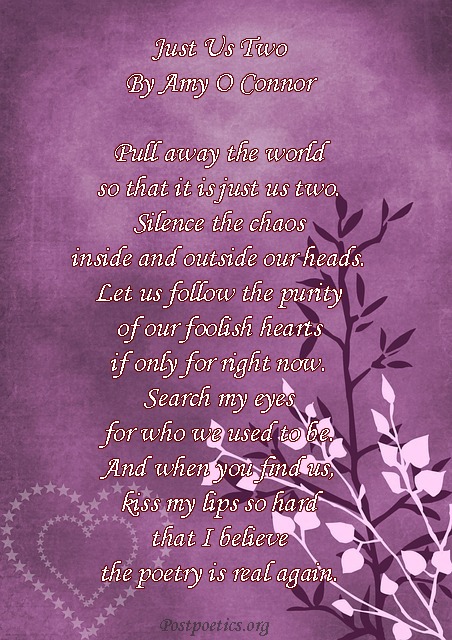 Just Us Two
By Amy O Connor
Pull away the world
so that it is just us two.
Silence the chaos
inside and outside our heads.
Let us follow the purity
of our foolish hearts
if only for right now.
Search my eyes
for who we used to be.
And when you find us,
kiss my lips so hard
that I believe
the poetry is real again.
—————
In Your Arms
By Kaylee
In your arms you hold me tight,
Never letting go through the night.
All my dreams are peaceful because of you,
Holding me in your arms like you do.
Your lips are as sweet as ever;
I wish to kiss them forever.
My heart beats only for you,
Holding me in your arms like you do.
When we met I knew it was fate.
I found my one true soulmate,
As I look into your loving eyes,
Knowing our love will never die.
So hold me in your warm embrace.
In your arms I'll be no other place.
To be with the one I love, which is you,
Holding me in your arms like you do.
—————
Candid Love
By Precious Oppong
Like a piece of diamond,
Shining bright like the stars,
Your smile is warming
And your lips so tender.
My heart skips a beat
Not just by the beauty of your face
But your charisma.
The charm in your soul,
Echoing in my head,
Reaching toward me,
Makes me feel like I'm melting
As ice does under the scorching sun.
You're like a whiskey
That burns and arises my urge,
The urge to love yet too freely but hard.
Every step of the way together with you has been a milestone.
For me, I'll cherish and forever live up to it,
For you're like a one-in-a-million-years miracle
That makes me lose it all.
Today, sweet angel of warmth,
I guarantee you that I'll forever be in dept to you for showing how to love
And feel loved all the same.
—————
A Passionate Heart
By Ericka
When I look at you,
It makes my heart overwhelmed with love
flowing from my spirit through my itty bitty tiny veins.
The glow that your face gives
when I look into your eyes
as I stare at you,
it's like your love
for me spells out in the air saying
baby, I will always be there.
Thinking 'bout that day when we met,
it was like we were meant for one another…
The way we connected,
the thoughts we shared,
the love we showed,
if only everybody could see and know that
my heart is a passionate reflection of you
that no one can ever undo.
My passionate heart…
It cries for you,
but only if you knew
that my passionate heart is
a reflection of how I feel about you.
—————
Sweet Dreams
By Rosemarie DiEmedio
S- You are so Special to me!
W- You are a Wonderful man whom I love Wholeheartedly!
E- I am in Ecstasy when I am with you!
E- Every touch Energizes and Electrifies my body.
T- Your kisses are Tantalizing and Terrific and Taste like sweet wine.
D- You, my Darling, I save all my kisses for you!
R- I love having Romantic evenings with you!
E- Our Evenings are so very Enjoyable!
A- You are Awesome, and I love having Adventures with you!
M- I cherish our Magnificent Moments all the time.
S- I love when we Snuggle and feel the Sensual energy!
—————
Your Lips
By JUKe
Lips sweet as sugar,
how to touch them I linger.
Lips that enslave me with their grandeur,
just to see them near I ponder.
Upper so tender, lower so exquisite
when together makes me avid;
when drenched, they yearn to be perceived;
when arid, they desire to be embraced;
Lips that laugh, lips that smile
with your prongs makes me eye.
Lips that moan, lips that sigh,
takes me to a loathsome high.
Within my imprisoned wish I conceive
but laugh at myself at the way they deceive.
Words your lips whisper, I long to hear,
but just memories I have to keep them dear.
Lips of love, lips of ire,
lips of sweetness, lips on fire,
lips of golden heavenly mire,
hope they won't leave me in dire.
—————
Making Love
By Brandee Lyann Hilbert
Underneath the moonlit sky, beneath a blanket of stars,
I lay with you in a land afar.
It's so quiet; all I can hear
is my breath I vaguely take with you so near.
You have my body bound.
I'm lost in your presence, where I can't be found.
You kiss my neck; it feels so nice.
You have me feeling so enticed.
As my body emerges,
it yearns and it urges
to feel your embrace
and to taste your taste.
As you put it in,
a little smile grins.
Should I whisper, faster?
Or should I scream for my Master?
You're pulling my hair,
I feel, as if I were floating on air.
As I tremble and begin to shake,
you quiver and quake.
Underneath the moonlit sky, beneath a blanket of stars,
I'm yours, wherever you are.
—————
The Night
By Anthony W. Williams
The evening is gone
The darkness makes little sound
except for the two of us
As I look down at you, the sweat falls
Your face catching each drop
your tongue tasting those in reach
Your hand on mine, your intentions clear
My heart pounds heavily in my chest
trying to catch my breath, for the next
waiting with a fever
I can see your eyes in the darkness
that fiery glow lets me know
I must call upon more strength
Now our hands are locked
and I mean tight
Our voices breaking the silence.
—————
My Sanctuary
By Camilla Park
In your arms
Time stops for a brief moment
We're in our own world
Worries or thoughts
Completely gone
Focused on each other
Speaking briefly
Or in peaceful silence
We enjoy each other's presence
I take in the way you smell
Masculine with a hint of sensitivity thrown in
Holding your hand
Studying your long, slender fingers
Your hand as a whole
Strong, yet gentle
Memorizing every detail of your face
Your long lashes
Covering your blue-grey eyes
With flecks of green
Your aquiline nose
That balances your long lean face
Just right
—————
Read More: How much I Love You Poems