When we think about the past we become anxious and worried even though there are some good events of the past that we ignore. We must forget the bitter memories of the past and enjoy the happy moments. We've put together 15 great poems of mindfulness for meditation, gratitude and patience that you will surely enjoy.
The Way It Is

by William Stafford
There's a thread you follow. It goes among
things that change. But it doesn't change.
People wonder about what you are pursuing.
You have to explain about the thread.
But it is hard for others to see.
While you hold it you can't get lost.
Tragedies happen; people get hurt
or die; and you suffer and get old.
Nothing you do can stop time's unfolding.
You don't ever let go of the thread.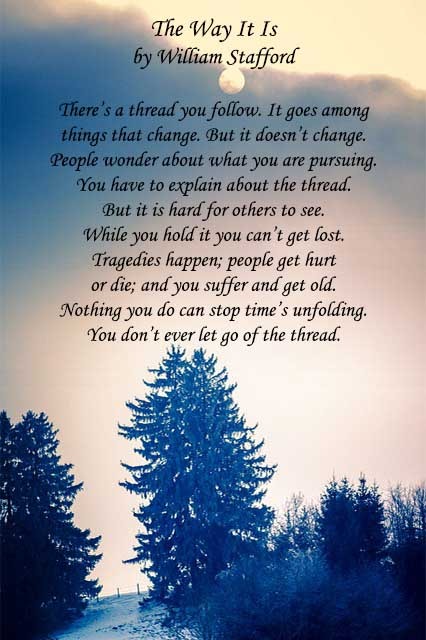 **********
Be Empty of Worrying

by Rumi
Be empty of worrying
Think of who created thought
Why do you stay in prison
When the door is so wide open
Move outside the tangle of fear thinking
Live in silence
Flow down and down
Into always widening
Rings of being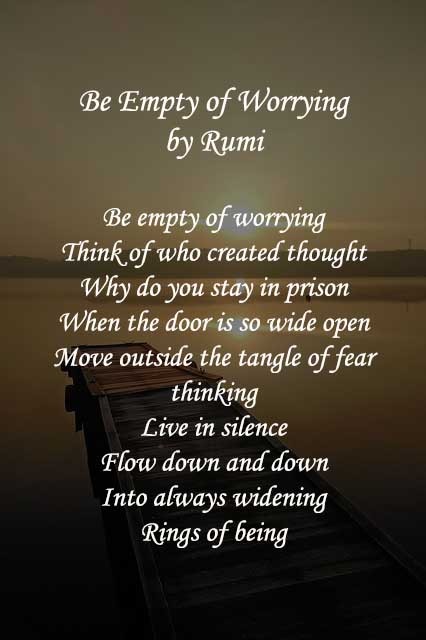 **********
Living in the Now

by Vanessa Hughes
What's gone has made you what you are
So don't fear what's ahead
Put trust in what will be, will be
And choose to live instead
Don't live in the now worrying
What may or may not be
Take this moment in your time
And live it totally
There's no time like the present
Breathe deep and feel alive
Living in the here and now
Will help you rise and thrive
Now is all there ever is
It's the only time that's real
Let the future take its course
And leave the past to heal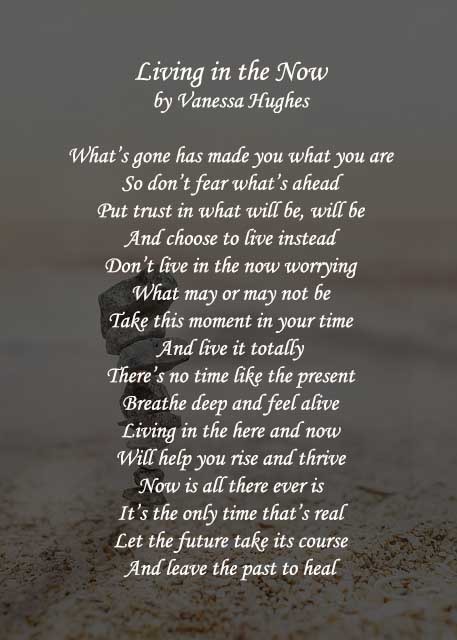 **********
Don't Hesitate

by Mary Oliver
If you suddenly and unexpectedly feel joy,
don't hesitate. Give in to it. There are plenty
of lives and whole towns destroyed or about
to be. We are not wise, and not very often
kind. And much can never be redeemed.
Still, life has some possibility left. Perhaps this
is its way of fighting back, that sometimes
something happens better than all the riches
or power in the world. It could be anything,
but very likely you notice it in the instant
when love begins. Anyway, that's often the
case. Anyway, whatever it is, don't be afraid
of its plenty. Joy is not made to be a crumb.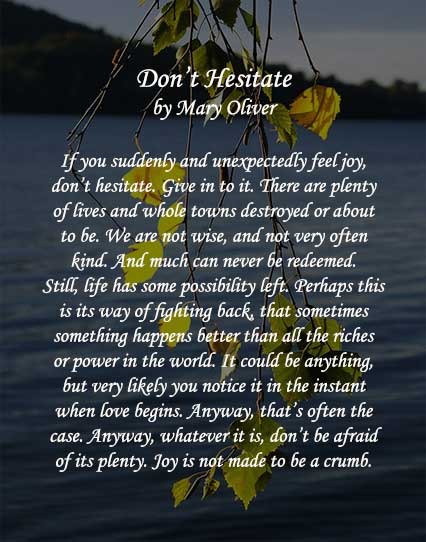 **********
Happiness

by Hermann Hesse
If luck you chase, you have not grown
enough for happiness to stay,
not even if you get your way.
If, what you lost, you still bemoan,
and grasp at tasks, and dash and dart,
you have not known true peace of heart.
But if no wishes are your own,
and you don't try to win the game,
and Lady Luck is just a name,
then tides of life won't reach your breast
and all your strife
and all your soul will rest.
**********
You Reading This, Be Ready

by William Stafford
Starting here, what do you want to remember?
How sunlight creeps along a shining floor?
What scent of old wood hovers, what softened
sound from outside fills the air?
Will you ever bring a better gift for the world
than the breathing respect that you carry
wherever you go right now? Are you waiting
for time to show you some better thoughts?
When you turn around, starting here, lift this
new glimpse that you found; carry into evening
all that you want from this day. This interval you spent
reading or hearing this, keep it for life–
What can anyone give you greater than now,
starting here, right in this room, when you turn around?
**********
The Peace of Wild Things

by Wendell Berry
When despair for the world grows in me
and I wake in the night at the least sound
in fear of what my life and my children's lives may be
I go and lie down where the wood drake
rests in his beauty on the water, and the great heron feeds.
I come into the peace of wild things
who do not tax their lives with forethought
of grief. I come into the presence of still water.
And I feel above me the day-blind stars
waiting with their light. For the time
I rest in the grace of the world, and am free.
**********
Stand Still

by David Wagoner
The trees before you and the bushes beside you are not lost.
Wherever you are is a place called Here,
And you must treat it as a powerful stranger,
Must ask permission to know it and be known.
The forest breathes. Listen. It answers,
I have made this place around you,
If you leave it you may come back again saying Here.
No two trees are the same to Raven.
No two branches the same to Wren.
If what a tree or a bush does is lost on you,
You are surely lost. Stand still. The forest knows
Where you are. You must let it find you.
**********
The Sparrow

by Paul Laurence Dunbar
A little bird, with plumage brown,
Beside my window flutters down,
A moment chirps its little strain,
Then taps upon my window-pane,
And chirps again, and hops along,
To call my notice to its song;
But I work on, nor heed its lay,
Till, in neglect, it flies away.
**********
The Guest House

by Rumi
This being human is a guest house.
Every morning a new arrival.
A joy, a depression, a meanness,
some momentary awareness comes
as an unexpected visitor.
Welcome and entertain them all!
Even if they are a crowd of sorrows,
who violently sweep your house
empty of its furniture,
still, treat each guest honorably.
He may be clearing you out
for some new delight.
The dark thought, the shame, the malice.
Meet them at the door laughing and invite them in.
Be grateful for whatever comes.
Because each has been sent
as a guide from beyond.
**********
Enough

by David Whyte
Enough. These few words are enough.
If not these words, this breath.
If not this breath, this sitting here.
This opening to the life
We have refused again and again
Until now.
Until now.
Dust of Snow
by Robert Frost
The way a crow
Shook down on me
The dust of snow
From a hemlock tree
Has given my heart
A change of mood
And saved some part
Of a day I had rued.
**********
Each Moment is Precious

by Patricia A. Fleming
Live in the moment,
Just take it all in.
Pay attention to everything,
Right there and right then.
Don't let your mind wander
To what's coming next.
Cherish this moment
And give it your best.
Don't let tomorrow
Make you rush through today,
Or too many great moments
Will just go to waste.
And the person you're with,
In that moment you share,
Give them all of your focus;
Be totally there.
Laugh till it hurts,
Let the tears drop.
Fill up each moment
With all that you've got.
Don't miss the details;
The lesson is there.
Don't get complacent;
Stay sharp and aware.
It can take but a moment
To change your life's path.
And once it ticks by,
There is no going back.
In just 60 seconds,
You may make a new friend.
Find your true love,
Or see a life start or end.
You become who you are
In those moments you live.
And the growth's not in taking
But in how much you give.
Life is just moments,
So precious and few.
Whether valued or squandered,
It's all up to you!
**********
Awareness

by John Austen
Awareness
her gaze is so constant,
our every move
watched
with such affection,
a ceaseless vigil
without condition
or agenda,
silent,
patient,
unrelenting in her
embrace.
There is endless room in
the heart of this lover,
infinite space for whatever
foolishness we may
toss her way.
But she is also
crafty, this one-
a thief who will steal away
everything we ever cherished,
all our beliefs,
all our ideas,
all our philosophies,
until nothing is left
but her shimmering
wakefulness,
this simple love
for what is.
**********
Read More: Poems about Nature