Read and share all types of great Grandpa Poems. View a list of new Poems for Grandfather by authors you know and love.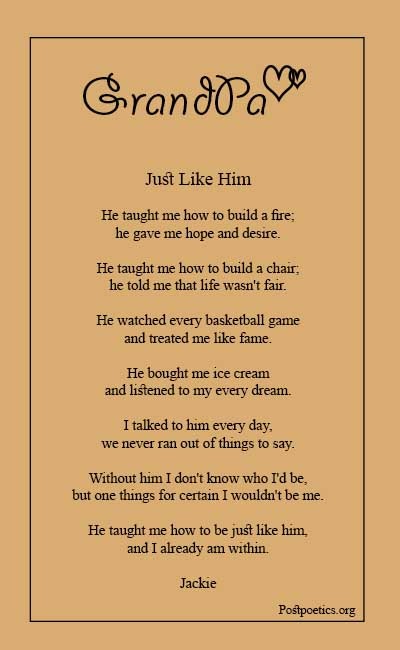 Just Like Him
He taught me how to build a fire;
he gave me hope and desire.
He taught me how to build a chair;
he told me that life wasn't fair.
He watched every basketball game
and treated me like fame.
He bought me ice cream
and listened to my every dream.
I talked to him every day,
we never ran out of things to say.
Without him I don't know who I'd be,
but one things for certain I wouldn't be me.
He taught me how to be just like him,
and I already am within.
Jackie
—————————–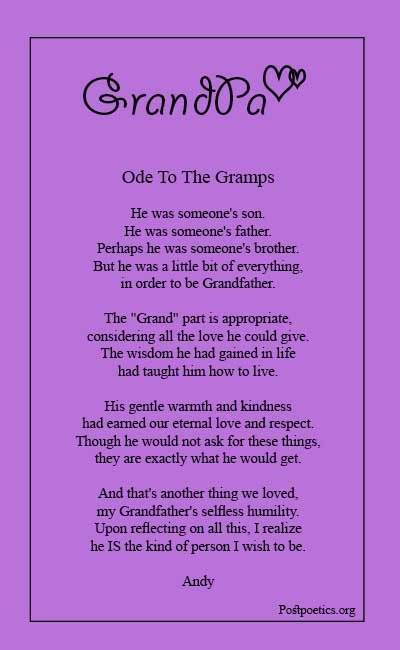 Ode To The Gramps
He was someone's son.
He was someone's father.
Perhaps he was someone's brother.
But he was a little bit of everything,
in order to be Grandfather.
The "Grand" part is appropriate,
considering all the love he could give.
The wisdom he had gained in life
had taught him how to live.
His gentle warmth and kindness
had earned our eternal love and respect.
Though he would not ask for these things,
they are exactly what he would get.
And that's another thing we loved,
my Grandfather's selfless humility.
Upon reflecting on all this, I realize
he IS the kind of person I wish to be.
Andy
—————————–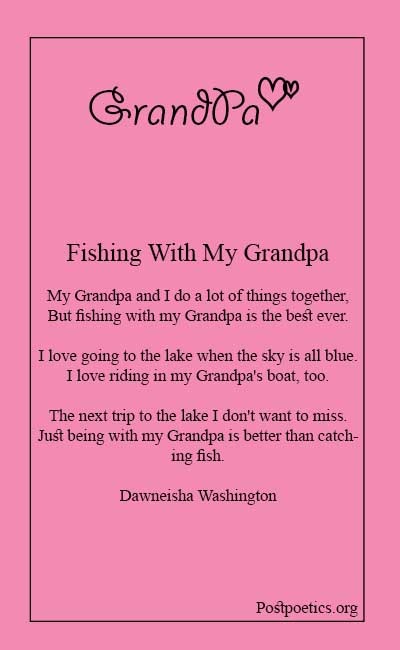 Fishing With My Grandpa
My Grandpa and I do a lot of things together,
But fishing with my Grandpa is the best ever.
I love going to the lake when the sky is all blue.
I love riding in my Grandpa's boat, too.
The next trip to the lake I don't want to miss.
Just being with my Grandpa is better than catching fish.
Dawneisha Washington
—————————–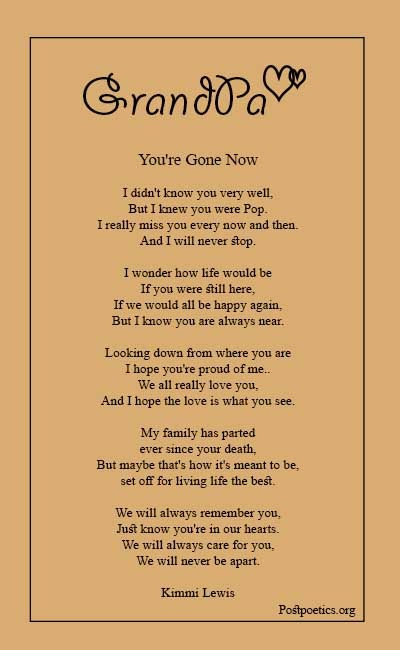 You're Gone Now
I didn't know you very well,
But I knew you were Pop.
I really miss you every now and then.
And I will never stop.
I wonder how life would be
If you were still here,
If we would all be happy again,
But I know you are always near.
Looking down from where you are
I hope you're proud of me..
We all really love you,
And I hope the love is what you see.
My family has parted
ever since your death,
But maybe that's how it's meant to be,
set off for living life the best.
We will always remember you,
Just know you're in our hearts.
We will always care for you,
We will never be apart.
Kimmi Lewis
—————————–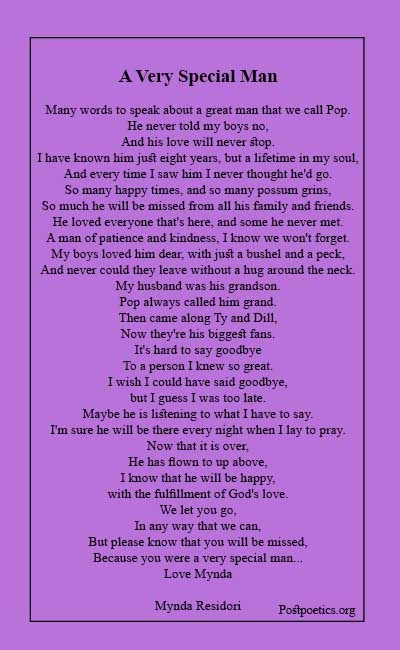 A Very Special Man
Many words to speak about a great man that we call Pop.
He never told my boys no,
And his love will never stop.
I have known him just eight years, but a lifetime in my soul,
And every time I saw him I never thought he'd go.
So many happy times, and so many possum grins,
So much he will be missed from all his family and friends.
He loved everyone that's here, and some he never met.
A man of patience and kindness, I know we won't forget.
My boys loved him dear, with just a bushel and a peck,
And never could they leave without a hug around the neck.
My husband was his grandson.
Pop always called him grand.
Then came along Ty and Dill,
Now they're his biggest fans.
It's hard to say goodbye
To a person I knew so great.
I wish I could have said goodbye,
but I guess I was too late.
Maybe he is listening to what I have to say.
I'm sure he will be there every night when I lay to pray.
Now that it is over,
He has flown to up above,
I know that he will be happy,
with the fulfillment of God's love.
We let you go,
In any way that we can,
But please know that you will be missed,
Because you were a very special man…
Love Mynda
Mynda Residori
—————————–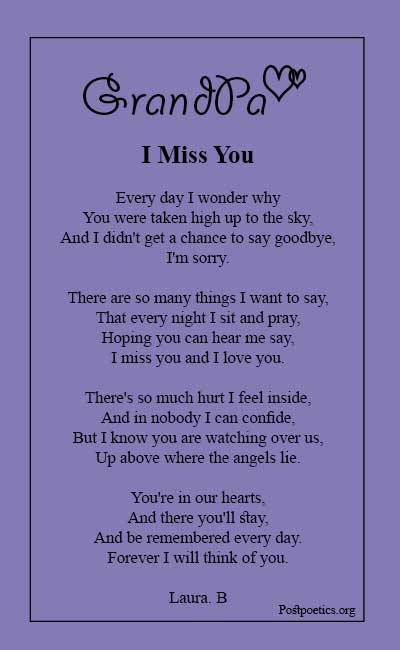 I Miss You
Every day I wonder why
You were taken high up to the sky,
And I didn't get a chance to say goodbye,
I'm sorry.
There are so many things I want to say,
That every night I sit and pray,
Hoping you can hear me say,
I miss you and I love you.
There's so much hurt I feel inside,
And in nobody I can confide,
But I know you are watching over us,
Up above where the angels lie.
You're in our hearts,
And there you'll stay,
And be remembered every day.
Forever I will think of you.
Laura. B
—————————–
Great Grandpa
Great Grandpa is a wise old man who says he's ninety-four.
He tells me that he lost his leg fighting in some war.
When I was just a little tot with eyes and nose still runny,
He swears that he forgot my name, so now he calls me Sonny.
Great Grandpa is a carpenter; he makes things out of wood,
Chairs and stairs and pegs and legs; gee, I wish I could.
He has saws and tools and tapes and rules in the shed where he does work.
Most times he's out there late at night with his dear old helper, Turk.
Together they talk of good old days, 'bout things they used to do,
And sometimes they just kick around what are lies and what is true.
Once at breakfast, I asked my gramps when he learned his trade.
He said, "Sonny, I'm very proud to say it was down in second grade."
"Gramps," I said, "Now that's a fib; you weren't but seven or eight.
A boy can't be a carpenter at such an early date."
Grandpa winked and took a swig of cider for his thirst.
"Why, sure you can; it's easy Sonny, after nine straight years in first!"
We laughed and then he took a nap; his skin grew pale and lighter.
I loved his wrinkled face and brow, this great old freedom fighter.
He had a restful sleep awhile snoring soft and steady.
I wonder if Great Grandpa knows I'm missing him already.
Alan Balter
—————————–
My Granddaddy, My Best Friend
The one that is my friend,
The one that is my guide.
How much I love and how much I care,
Is too much to describe.
You've always been my hero.
You've always been my pride.
You've always given so much love
And shown what's deep inside.
My heart is full of love,
And my soul is all delight.
You're the one who sang me to sleep
and whispered nighty night.
And every day I pray to God;
I thank him for sending you
Because you're the one who wrote me the song
And made all my dreams come true!
—————————–
Northern Star
Northern Star, Northern Star,
I gaze up at you from afar.
Shining brightly in the curtain of night,
Northern Star, you are my light.
Your beams of light fall on my face.
I wish to remain in this beautiful place.
Silenced by your beauty,
Northern Star, you flow through me.
You place me where I should be.
I'm grateful you made me feel free.
You've always been the rock in my wall.
Northern Star, don't ever let me fall.
Northern Star, you are so bright.
I look up at you every night.
You've always helped me deal with strife.
Northern Star, you are my life.
Kelly Graham
—————————–
The Definition Of A Gentleman
The definition of a gentleman is clear to detect,
it's one of warmth love and respect.
When you're feeling low they will understand,
like they have the answers in the palm of their hands.
The kind words that are often spoken,
to their trust that is never broken.
To the warmth of their smile from the shake of their hand,
that says more than words ever can.
I'm not talking about pulling out chairs or opening doors,
it's the knowledge that you're never far from their thoughts.
With wings of hope, they will always catch you,
if money was love, they'd make you richer.
I think we should learn to be just like these beautiful human beings.
They're from a generation that is becoming a great loss,
where simple things like manners had no cost.
So we should help this new generation and keep them from harm,
and teach them the definition of a gentleman is….Patrick McMahon
Gary Bowdery
—————————–
Together Yet Apart
It's gotten harder and harder
since the day you went away
but still people keep telling me
everything shall be okay
I know deep inside
that it's better up there
but we're not together
which makes it unfair
Seems like yesterday
that we were together
then I opened my eyes
to realize gone means forever
It hurts and it aches
it's slicing my heart
for the rest of my life
we shall be apart
I'm waiting for the future
hoping to see
that when I die
You'll open up those gates for me
Having a Poppy
with a heart made of gold
is my favorite treasure
which will never grow old
Family reunions
will never be the same
'cause you're not there with us
to be stronger I aim
Your chair at the table
is empty and cold
you need to come home
I need someone to hold
Now that you're gone
I have novone to run to
Am I doing this right
please send me a clue
I don't understand
the meaning of life
I can't get this right
Keep getting in strife
Do you know
How much we all love you
Do you realize
How much I trust You
You're officially gone
But forever in my heart
You and me Poppy
together, yet apart
Kyra Lee
—————————–
Granddad
The smile on your face is a lasting memory in our hearts,.
Nothing in this world, not even life or death, can keep us apart.
You have always been the one we went to for advice,
Whenever we were just upset, or even just a bit uptight,
You always seemed to know the right thing to do and say,
But don't worry, you're still the one we go to,
We'll be together again one day,.
We want to say thank you for being the best that you could be.
You're our confidant, our best friend, the head of our family.
Now it is time that you can finally stop worrying about us.
You can relax, have fun, you no longer need to fuss.
We know that if we need you, you'll be here by our side.
We do believe that even though you're not here with us,
This will never be goodbye,
We love you and the happiness you have given us will last a lifetime.
Jessica Styles
—————————–
Memories Last A Lifetime
I wish you were here, but now you are gone.
When times got tough, it was hard to carry on.
I think of your jokes, laughs and smiles.
I can remember when you and I used to ride for miles.
When I was six years old you would drive me to school.
I'd think, "Gosh, riding with Papaw, isn't this cool?"
And of course we would always stop at the store.
But I always wanted Papaw to drive a little more.
Papaw, I now have four children that I wish you could have seen.
They are something really special and make a real good team.
You lit up my world and put a lot of love in my heart.
I still feel you and I aren't very far apart
Because I know that you are the angel that watches over me,
After all, there is no one else in the world I would rather it be.
I still miss you and wish you were here.
I only have to think of you and shed a big tear.
He had to take you home so you wouldn't suffer any more pain.
Now you are in heaven and we can't sit on the porch anymore and watch it rain.
BENAY B. FORD
—————————–
Treasure Remembered
For all the stories that were never to be told,
Back to a time when I was a boy so long ago,
I knew a man whose kindness touched the hearts of many,
And he would often be the first to lend you his last penny,
Yes his heart was pure gold forged from out of love,
Right from the hands of the almighty who sits high above,
There were times I must have driven him crazy as if he were my toy,
With all my "want to's" and "why not's" when I was a boy,
He loved and cared for all those that he knew,
His family, friends and most of all you,
Many happy memories I carry within my heart,
Vowed never to forget and never to be apart,
As a boy I would look up to this man with great awe,
For you see he was my friend and he is my Grandpa.
James M. Carr
—————————–
In Loving Memory Of My Grandpa
You have been out of my life for 2 years now,
But it seems like a lifetime
I remember how you always used to say
Never say goodbye, say see you later
Well, I said see you later a million times
When you were laying in that hospital bed
Well, I wish I could see you now,
Or when I had the hardest time of my life
On March 26, 2008
I know you were looking down on me
Then and you are looking down on me
Now and telling me that it is okay
But it feels like everything falls
Apart when you're not there.
Everyone says it is bad to bottle
Things up and that if I need to cry I should
I don't like crying in front of people
You were the only one, I couldn't care less
If I cried in front of
I had you there to comfort me
When I was sad
But when you died everything
Fell apart because I didn't
Have you to comfort me anymore
I have always wondered, Grandpa,
How is it in heaven?
How is being back with Grandma?
I miss her a lot too…tell her I love her
And I haven't forgotten about her.
I hope one day we can all reunite
In heaven and have it like old times.
And I will be your mermaid turkey.
Megan Curtis
—————————–
Read More: Friendship Poems