When you lose and despair in life, remember that God is with you, He will never let you fall, He will never let you lose, He is waiting for you with open arms. God's promises poems are being given here, among them the absolute verses of God's promises of the Bible are also given.
God With Us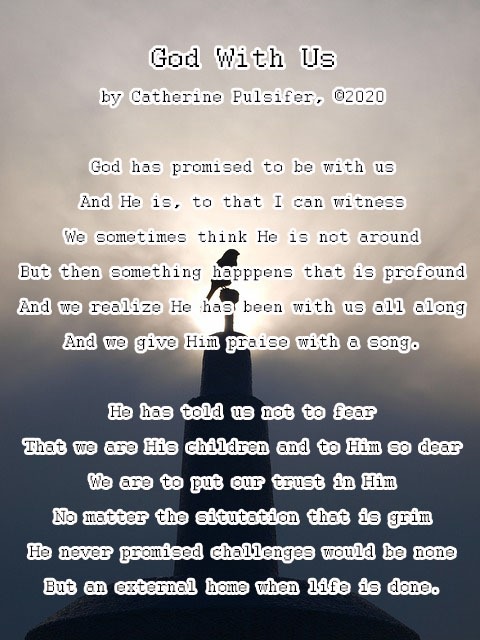 =========
Abram – Gods Promise
Poet: Greta Zwaan, ©2003
Abram, Abram, what have you done?
Remember, God promised to give you a son.
Has He not always been true to His Word?
Was this a message you might not have heard?
Are you still worldly, your trust incomplete?
Because of a need that God couldn't meet?
You gave into Sarai, agreed to her plan;
You let her persuade you, you proved a weak man.
Hagar conceived and gave you a son,
But this child was not God's promised one.
You should have waited, just thought things through;
Been patient and trusting, in God's timing for you.
Many years later the pain is still here,
Ismael and Isaac – that hatred, that fear.
Jews against Arabs, fighting for land,
Heartaches and problems they don't understand.
Abram, Abram, what a burden you bear,
Acting on instinct as if God wasn't there.
Now there is hatred, more than ever before,
Mistrust is rampant and peace is no more.
You were unfaithful, God chose to forgive;
All His compassion allowed you to live.
And not only that, God still blesses your life,
And gave you a son through Sarai, your wife.
Gods' hand's not shortened when man interferes,
Let it be known that each prayer He hears.
Let us learn patience, let us learn trust,
For all that God does is holy and just.
Patience, dear Abram, would have won you the race,
God is sufficient with power and grace.
Yes, He'll forgive you, with love pure and strong,
His presence will bless you if you're where you belong.
Abram, Abram, what a great God you serve,
Rest in His mercy; let your faith never swerve.
=========
What God Hath Promised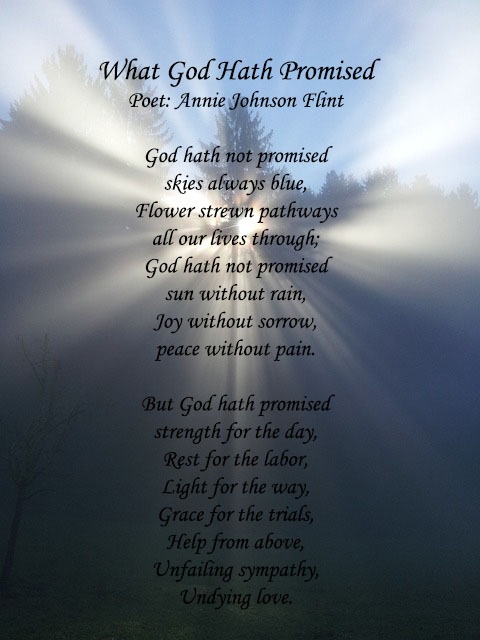 =========
God's Promises – From The Bible
I tell you, you can pray for anything,
and if you believe that you've received it,
it will be yours.
Mark 11:24 (NLT)
but those who hope in the Lord will renew their strength.
They will soar on wings like eagles;
they will run and not grow weary, they will walk and not be faint.
Isaiah 40:31 (NIV)
God is faithful and reliable.
If we confess our sins,
he forgives them and cleanses us
from everything we've done wrong.
1 John 1:9 (GW)
And the Lord, He is the One who goes before you.
He will be with you, He will not leave you nor forsake you;
do not fear nor be dismayed.
Deuteronomy 31:8 (NKJV)
I alone know the plans I have for you,
plans to bring you prosperity and not disaster,
plans to bring about the future you hope for.
Jeremiah 29:11 (GNT)
=========
Promise Of His Word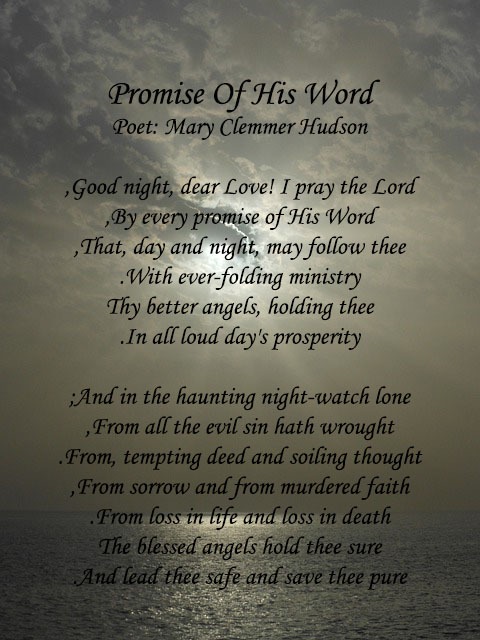 =========
Requests
Poet: Digby Mackworth Dolben
I asked for Peace –
My sins arose,
And bound me close,
I could not find release.
I asked for Truth –
My doubts came in,
And with their din
They wearied all my youth.
I asked for Love –
My lovers failed,
And griefs assailed
Around, beneath, above.
I asked for Thee –
And Thou didst come
To take me home
Within Thy heart to be.
=========
God Will Come Through
Poet: Greta Zwaan, © 1998
Is the answer "No" too hard for me to carry?
Is my faith not strong enough to trust?
When I walk with Christ and soon get weary?
Does it mean that Jesus is not just?
Scripture says that I must claim the promise;
It also says to ask and I'll receive.
Right now, I'm walking in a deep, dark valley;
What more does God want, when I believe?
My neighbours laugh and ridicule; they're mocking,
"There is no God," they say. "It's no big deal."
But in my heart I know they're all mistaken.
His power, His love, His care – I know He is real.
Sometimes I need to thank God that His answers
Do not comply with all of my requests.
It's God who gives the thorns and plants the roses.
It's God who gives to me the very best.
I might shed tears at times and feel rejected,
Depression might sweep over me like a wave.
But in my heart I know I've been accepted;
His constant love and mighty power can save.
My soul can rest securely in His promise
Even though my body racks with pain.
This temporal structure will not always hold me;
Some future day I shall be whole again.
Perfect in the presence of my Saviour;
Knowledge, wisdom, health shall all be mine.
But the greatest joy will be to praise the Master;
Where love and joy and peace shall all entwine.
Right now I need the grace just to be faithful,
To hold my head erect throughout this trial.
To trust that God is cued in on my problems;
He'll take me through, refined after a while.
While others hiss and say, "Forget those notions,
There is no God! You're foolish to pretend."
I'll trust Him, serve Him and always obey Him.
In all the world, He is my dearest friend.
=========
Jesus, A Friend
Poet: Greta Zwaan, © 2018
In the darkness of the night when your soul can find no rest,
When you're overcome with worry and despair,
When the trials seem too great and you've nowhere you can turn,
Jesus opens up the avenue of prayer.
He's the friend who knows your pain and your heavy-burdened life,
He's aware of all the fears that come your way.
In His arms you'll find relief when you share your troubled soul,
And the peace returns when you kneel down to pray.
Far too often we forget as we travel down the road,
But the promise is still there – "Come unto Me."
Jesus' offer stands through time and will never be annulled,
It's the only place you can be truly free.
=========
Read More: Poems About Gods Love and Blessings