Forgiveness Poems allows readers to express their inner feelings with the help of beautiful poetry. Forgiveness Love Poems ranked in order of popularity and relevancy. Read and share to loved ones.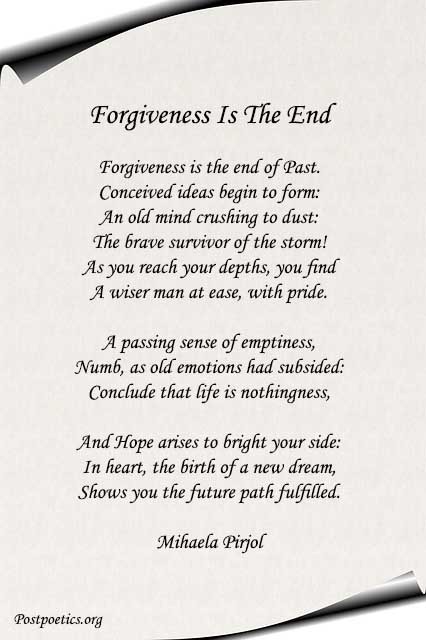 Forgiveness Is The End
Forgiveness is the end of Past.
Conceived ideas begin to form:
An old mind crushing to dust:
The brave survivor of the storm!
As you reach your depths, you find
A wiser man at ease, with pride.
A passing sense of emptiness,
Numb, as old emotions had subsided:
Conclude that life is nothingness,
And Hope arises to bright your side:
In heart, the birth of a new dream,
Shows you the future path fulfilled.
Mihaela Pirjol
—————————-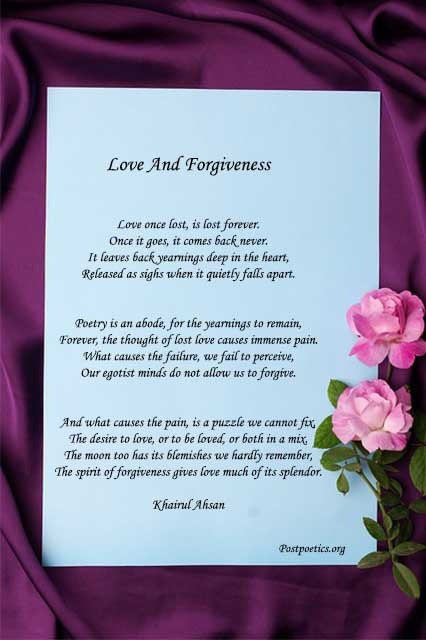 Love And Forgiveness
Love once lost, is lost forever.
Once it goes, it comes back never.
It leaves back yearnings deep in the heart,
Released as sighs when it quietly falls apart.
Poetry is an abode, for the yearnings to remain,
Forever, the thought of lost love causes immense pain.
What causes the failure, we fail to perceive,
Our egotist minds do not allow us to forgive.
And what causes the pain, is a puzzle we cannot fix,
The desire to love, or to be loved, or both in a mix.
The moon too has its blemishes we hardly remember,
The spirit of forgiveness gives love much of its splendor.
Khairul Ahsan
—————————-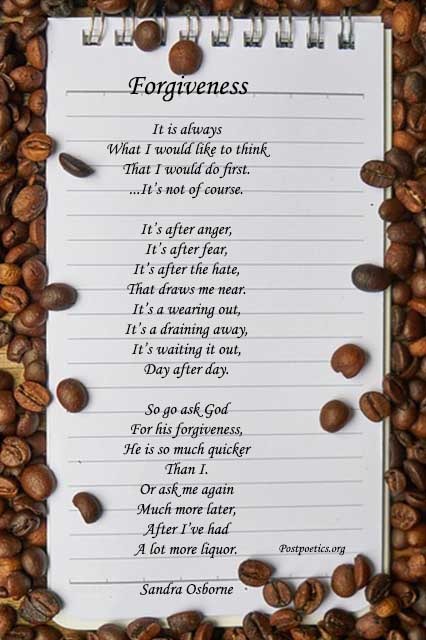 Forgiveness
It is always
What I would like to think
That I would do first.
…It's not of course.
It's after anger,
It's after fear,
It's after the hate,
That draws me near.
It's a wearing out,
It's a draining away,
It's waiting it out,
Day after day.
So go ask God
For his forgiveness,
He is so much quicker
Than I.
Or ask me again
Much more later,
After I've had
A lot more liquor.
Sandra Osborne
—————————-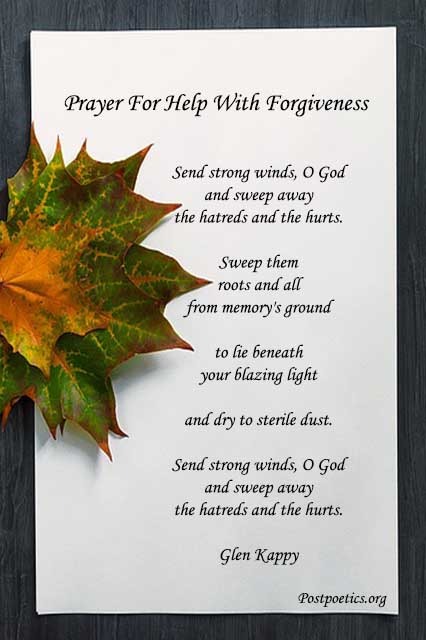 Prayer For Help With Forgiveness
Send strong winds, O God
and sweep away
the hatreds and the hurts.
Sweep them
roots and all
from memory's ground
to lie beneath
your blazing light
and dry to sterile dust.
Send strong winds, O God
and sweep away
the hatreds and the hurts.
Glen Kappy
—————————-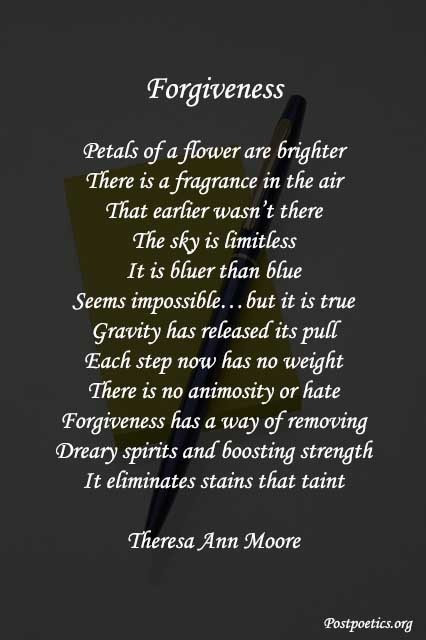 Forgiveness
Petals of a flower are brighter
There is a fragrance in the air
That earlier wasn't there
The sky is limitless
It is bluer than blue
Seems impossible…but it is true
Gravity has released its pull
Each step now has no weight
There is no animosity or hate
Forgiveness has a way of removing
Dreary spirits and boosting strength
It eliminates stains that taint
Theresa Ann Moore
—————————-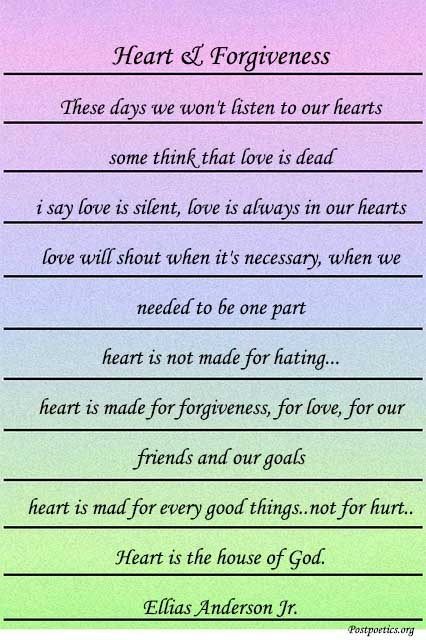 Heart & Forgiveness
These days we won't listen to our hearts
some think that love is dead
i say love is silent, love is always in our hearts
love will shout when it's necessary, when we needed to be one part
heart is not made for hating…
heart is made for forgiveness, for love, for our friends and our goals
heart is mad for every good things..not for hurt..
Heart is the house of God.
Ellias Anderson Jr.
—————————-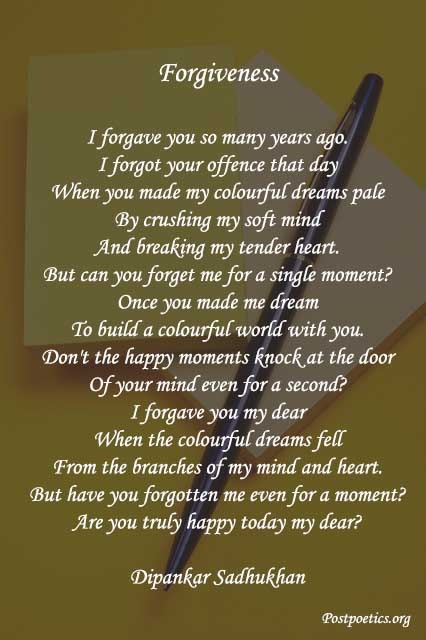 Forgiveness
I forgave you so many years ago.
I forgot your offence that day
When you made my colourful dreams pale
By crushing my soft mind
And breaking my tender heart.
But can you forget me for a single moment?
Once you made me dream
To build a colourful world with you.
Don't the happy moments knock at the door
Of your mind even for a second?
I forgave you my dear
When the colourful dreams fell
From the branches of my mind and heart.
But have you forgotten me even for a moment?
Are you truly happy today my dear?
Dipankar Sadhukhan
—————————-
Forgiveness
I didn't know what to do.
When you just showed up
And said you were sorry
I was shocked
I didn't think
That I would ever see you again
At least not under those conditions.
So I ran
Back inside and slammed the door
Because I was afraid to forgive you
And I was confused.
And now I'm the one
Who is saying sorry.
Akara K.
—————————-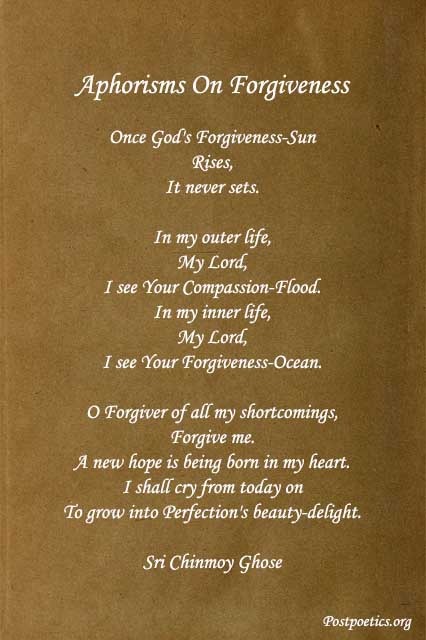 Aphorisms On Forgiveness
Once God's Forgiveness-Sun
Rises,
It never sets.
In my outer life,
My Lord,
I see Your Compassion-Flood.
In my inner life,
My Lord,
I see Your Forgiveness-Ocean.
O Forgiver of all my shortcomings,
Forgive me.
A new hope is being born in my heart.
I shall cry from today on
To grow into Perfection's beauty-delight.
Sri Chinmoy Ghose
—————————-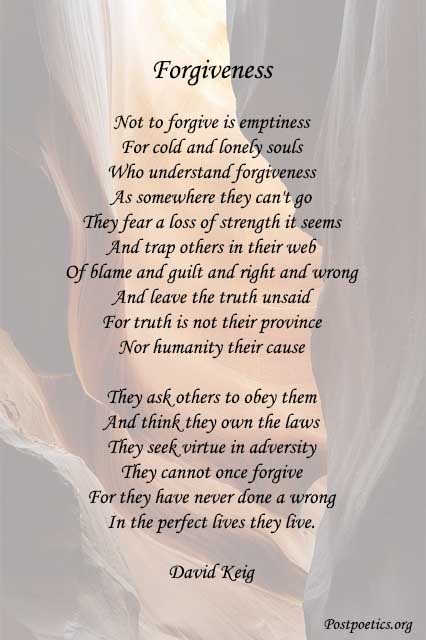 Forgiveness
Not to forgive is emptiness
For cold and lonely souls
Who understand forgiveness
As somewhere they can't go
They fear a loss of strength it seems
And trap others in their web
Of blame and guilt and right and wrong
And leave the truth unsaid
For truth is not their province
Nor humanity their cause
They ask others to obey them
And think they own the laws
They seek virtue in adversity
They cannot once forgive
For they have never done a wrong
In the perfect lives they live.
David Keig
—————————-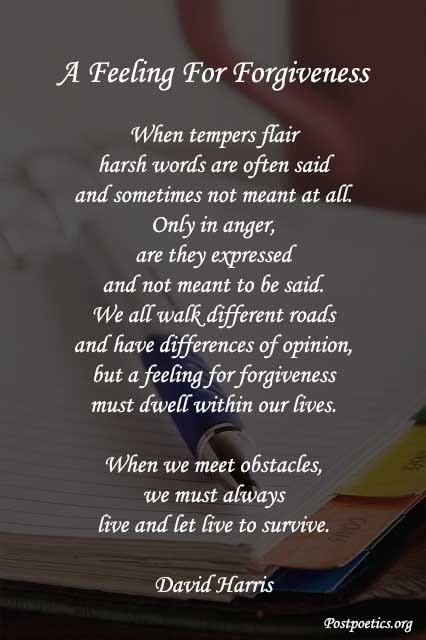 A Feeling For Forgiveness
When tempers flair
harsh words are often said
and sometimes not meant at all.
Only in anger,
are they expressed
and not meant to be said.
We all walk different roads
and have differences of opinion,
but a feeling for forgiveness
must dwell within our lives.
When we meet obstacles,
we must always
live and let live to survive.
David Harris
—————————-
Forgiveness
Now bury with the dead years conflicts dead
And with fresh days let all begin anew.
Why longer amid shrivelled leaf-drifts tread,
When buds are swelling, flower-sheaths peeping through?
Seen through the vista of the vanished years,
How trivial seem the struggle and the crown,
How vain past feuds, when reconciling tears
Course down the channel worn by vanished frown.
How few mean half the bitterness they speak!
Words more than feelings keep us still apart,
And, in the heat of passion or of pique,
The tongue is far more cruel than the heart.
Since love alone makes it worth while to live,
Let all be now forgiven, and forgive.
Alfred Austin
—————————-
Asking For Forgiveness…
God's Forgiveness Grace & Love
God keeps His every prophecy and promise
As we depend on His divine intervention from above.
No matter how we blunder, or fall short of His glory,
We trust our Shepherd for His forgiveness, grace and love.
All the heroes of God's Bible
Had to learn their lessons the hard way.
We still study their stories and compare their outcomes
Every time we read His Word and pray.
The Lord can close doors no man can open
And open doors no man can close.
It's up to us to prove our Heavenly worth
By our lifetime example of the path we chose.
Tom Zart
—————————-
Anger And Forgiveness
When I am full of anger
I think in anger's terms
Part of my existing life
Is full of anger's germs
Nothing seems a perfect right
Most of things gone wrong
I get such vengeful feelings
When I carry anger along
When I think of forgiveness
I think in forgiveness' terms
My life is held in gentle hands
Softly in those twists and turns
Very few are perfect wrongs
So many things are right
Show me God forgiveness' face
So I can live in light
Ray Andrews
—————————-
Forgiveness
Forgiveness is a cure
Forgive all your enemies
Forgive all your sins
One day you will look back
And be glad
You threw them all
Into a bin……
suzan gumush
—————————-
The Path Of Forgiveness
As I creep down the path of forgiveness
and I search for my own lonely heart,
I yearn for the feel of completion.
I must finish what God made me start.
I can see in the distant horizon
there resembles someone I once knew.
Do I have the strength needed to reach her?
If I don't can I get it from you?
Will you help clear my path as I'm trudging
down that frightfully winding old road?
Can I lean on your arm for my safety
even though you can't carry my load?
This old path is alive in my memory.
It knew I'd return on this day.
I am listening to my own heartbeat
while the unknown is leading the way.
My legs have been turned into jelly.
I see myself walking along.
I wonder if I should be back here.
For some reason this feels very wrong.
Mary Nagy
—————————-
Forgiveness Is
Forgiveness is great quality
Not all people are blessed with by almighty
Only few people really practice
They stick up to their demise
The love can not be won over by hate
You may get revenge but very late
The desired result will be not worth
That shall trouble you till death
It is nice to feel other's woe
Your heart and mind should always go
For entire humanity and think
How to work toward that direction and bring?
Today only good wish is needed
Commodity is traded
But noble work is asking no return
Only god may help in return
Such kind of people do exist
They not only perform but insist
With their words and action
They do not worry for any reaction
Mehta Hasmukh Amathalal
—————————-
Forgiveness Is Not The Key
I look down at the people, I worry about their woes
I worry about their joys, their friends, their foes
I worry about their lives and the way they live it
I worry about their dreams and wonder if they'll heed it
I worry about the tears I see running down their face
I worry about their lies they tell in this time and place
I worry about their truths that always hurt more
I worry about what they will definitely have in store
I look down at the people who never showed compassion
Who hate each other with the strongest passion
Who pushed me aside as though I were nothing
I wonder, do they care about anything?
I realise they treat each other as dirt
And they revel within all the hurt
Not one ever worried for me
I'm so glad that I can finally see
I refuse to worry or care about them and their petty ways
I will never again worry for their days
Because not one ever cared for me
Forgiveness is not the key
Not when I live life so lonely
I want to be loved only
For them I'll never again feel woe
Because I'll be nothing but their foe
Lenore Lee
—————————-
Forgiveness Is Simple Thing
It is not hit and run
By speeding van
But by own thought wagon
So far you have gone
It is endless crusade
When you spade
Entire land
To make it cultivable and fertile land
You are not prisoner
But commoner
Who does his job?
And never feels robbed
There may be jealousy
There may be greedy eyes
But this is common
In every human
Despite all these
You are like trees
In position to give something
"Forgiveness" is simple thing
Mehta Hasmukh Amathalal
—————————-
The Joy Of Forgiveness
The joy of forgiveness
lightens one's burden,
It showers happiness,
Showers our heart with
blessedness, so we wake up
in a lighter mood of wellness.
Just try, unload your baggage,
Throw away such garbage,
Let our heart fly and set a voyage,
Feel free to take out such bondage,
And stop our physique from its wreckage.
The joy of forgiveness is the key,
To live on earth peacefully,
And wake up the morning readily,
A fresh air dominates comfortably,
So sweet a conscience of harmony.
I forgive you and you forgive me,
Another flow of peace release,
Another love and acceptance dominate,
Let the trust once again surface,
As we give each other a chance,
We mean forgiveness at hand.
—————————-
Forgiveness
God gives his child upon his slate a sum-
To find eternity in hours and years;
With both sides covered, back the child doth come,
His dim eyes swollen with shed and unshed tears;
God smiles, wipes clean the upper side and nether,
And says, 'Now, dear, we'll do the sum together!'
George MacDonald
—————————-
Despaired Forgiveness
Enraged eyes of fire and doom,
To no extent I've made a sin,
To no forgiveness I broke their trust,
And I know I must regain… I must.
I have deceived and I am cursed,
I've tried no tries; I've made it worse,
My guilt has drowned me in my lies,
And now my damaged conscience cries.
So here I sit in silence, blind,
There's no solution I can find,
I am trapped in broken glass,
As time and chances pass by fast.
I'm so sorry, so nonsense I know,
Useless, I see,
Cause I've done much wrong,
So tragically.
I don't know what to do anymore,
Without you, I'm wept of my shore,
Without you guys, I'm an empty hole,
Endless, sorrows and regrets to roll.
I've said things that I did not intend,
Can you still try to comprehend?
Or there's no use in my beseech,
There's none to beg, there's none to teach.
I've done my wrong, my pang of guilt,
I've sunken down, ensconced in filth,
To no forgiveness I broke their trust,
And I know I must regain… I must.
And now I must regain, I must.
Nashy Lamen
—————————-
Forgiveness
Lucky the man who never judges
Another, or bears any grudges!
Sometimes it's so hard to forgive –
I guess it's a question of 'live and let live'.
When someone has wronged you or hurt your pride
And hatred is eating you up inside,
Try to forgive and release the pain,
Don't take those walks down memory lane,
Don't be a victim again and again.
Anger can really drive you mad
And scorn and contempt are just as bad,
Better just to forget and let it go,
Let the spirit say Yes, though the flesh says No.
John Thorkild Ellison
—————————-
When Forgiveness Can'T Be Forgiven
Love is a virtue,
Based on forgiveness and peace.
But once –
True love is established between two,
Then parting or leaving
Cannot be agreed in any case.
The depth of love
Can never forgive the parting in between.
On peace and forgiveness,
Love's plinth may be built upon.
But once the cocoon is formed with love
Forgiveness never exists.
The attachment between two true lovers
Is so strong and concrete,
They don't agree with any parting
Though mortality does exist.
Thus selfless love becomes so selfish
Once true love is formed between the two.
True lovers' love never exhausts
neither forgets nor forgives.
Amitava Sur
—————————-
Read More: Best Soulmate Poems