Read beautiful poems for mother who passed away. Motherhood is a beautiful relationship that has no substitute. The love of mother has for her children is second to none. It is difficult to describe in words when the mother is passing away. Tribute to a mother with poems who is not in this world.
If Roses Grow in Heaven
By Dolores M. Garcia
If roses grow in heaven,
Lord please pick a bunch for me,
Place them in my Mother's arms
and tell her they're from me.
Tell her I love her and miss her,
and when she turns to smile,
place a kiss upon her cheek
and hold her for awhile.
Because remembering her is easy,
I do it every day,
but there's an ache within my heart
that will never go away.
****—-****—–****
Child and Mother
By Eugene Field
O mother-my-love, if you'll give me your hand,
And go where I ask you to wander,
I will lead you away to a beautiful land,
The Dreamland that's waiting out yonder.
We'll walk in a sweet posie-garden out there,
Where moonlight and starlight are streaming,
And the flowers and the birds are filling the air
With the fragrance and music of dreaming.
There'll be no little tired-out boy to undress,
No questions or cares to perplex you,
There'll be no little bruises or bumps to caress,
Nor patching of stockings to vex you;
For I'll rock you away on a silver-dew stream
And sing you asleep when you're weary,
And no one shall know of our beautiful dream
But you and your own little dearie.
And when I am tired I'll nestle my head
In the bosom that's soothed me so often,
And the wide-awake stars shall sing, in my stead,
A song which our dreaming shall soften.
So, Mother-my-Love, let me take your dear hand,
And away through the starlight we'll wander,
Away through the mist to the beautiful land,
The Dreamland that's waiting out yonder.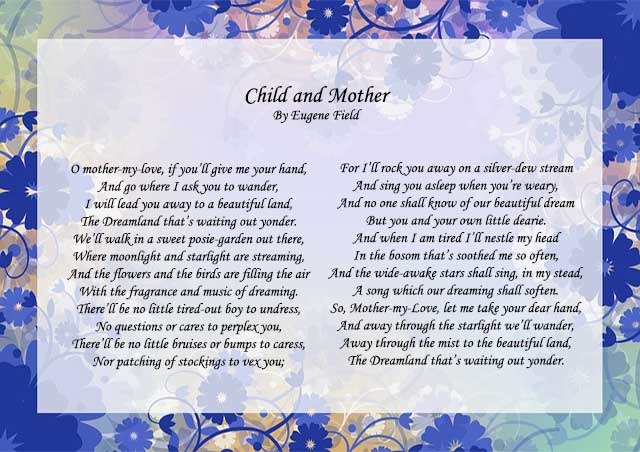 ****—-****—–****
My Mother, My Friend
by J. Allen Shaw
Mom, I wasn't prepared for you to pass so soon,
There was so much more I had hoped we'd do.
I wanted to thank you for loving me again and again,
From the day I was born, I always knew my best friend.
No matter how many times I said, "You don't know what it's like."
You knew what I needed to hear and would always be right.
Now you're gone, I wish I had listened more and talked less,
I would have handled things better, with much less stress.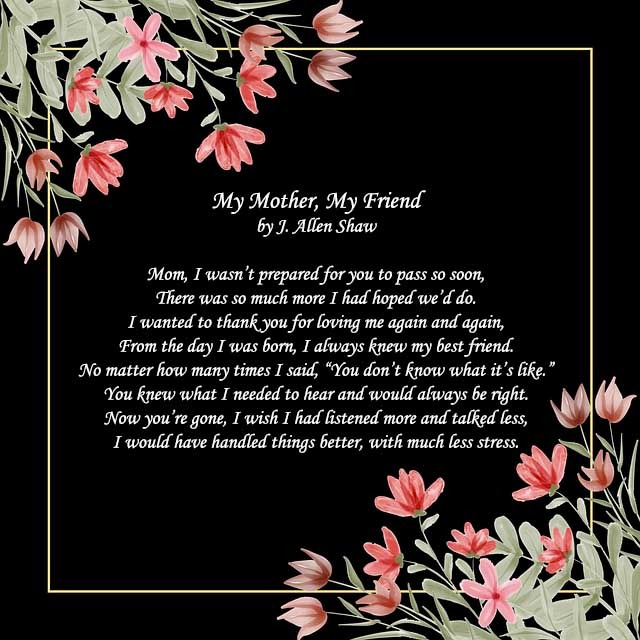 ****—-****—–****
Mother o' Mine
By Rudyard Kipling
If I were hanged on the highest hill,
Mother o' mine, O mother o' mine!
I know whose love would follow me still,
Mother o' mine, O mother o' mine!
If I were drowned in the deepest sea,
Mother o' mine, O mother o' mine!
I know whose tears would come down to me,
Mother o' mine, O mother o' mine!
If I were damned of body and soul,
I know whose prayers would make me whole,
Mother o' mine, O mother o' mine!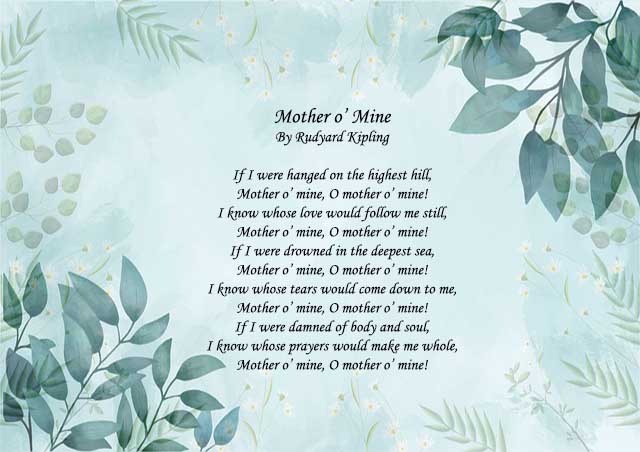 ****—-****—–****
The Mother
by Robert Service 
There will be a singing in your heart,
There will be a rapture in your eyes;
You will be a woman set apart,
You will be so wonderful and wise.
You will sleep, and when from dreams you start,
As of one that wakes in Paradise,
There will be a singing in your heart,
There will be a rapture in your eyes.
There will be a moaning in your heart
There will be an anguish in your eyes;
You will see your dearest ones depart,
You will hear their quivering good-byes.
Yours will be the heart-ache and the smart,
Tears that scald and lonely sacrifice;
There will be a moaning in your heart,
There will be an anguish in your eyes.
There will come a glory in your eyes,
There will come a peace within your heart;
Sitting 'neath the quiet evening skies,
Time will dry the tear and dull the smart.
You will know that you have played your part;
Yours shall be the love that never dies:
You, with Heaven's peace within your heart,
You, with God's own glory in your eyes.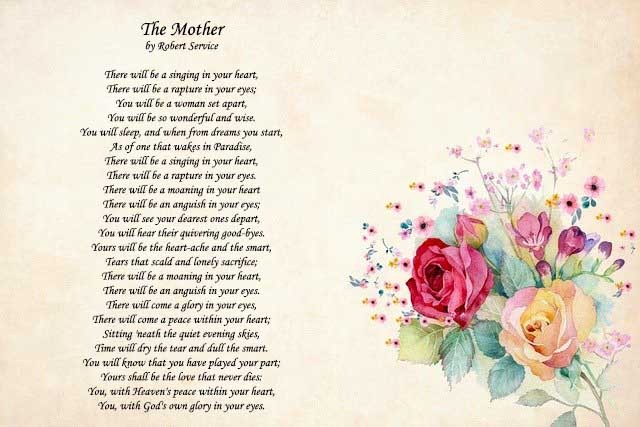 ****—-****—–****
Richer Then Gold
By Strickland Gillilan
You may have tangible wealth untold;
Caskets of jewels and coffers of gold.
Richer than I you can never be,
I had a mother who read to me.
****—-****—–****
If There are Any Heavens My Mother Will
by E. E. Cummings
If there are any heavens my mother will (all by herself) have one.
It will not be a pansy heaven nor
a fragile heaven of lilies-of-the-valley but
it will be a heaven of black red roses my father will be
(deep like a rose tall like a rose)
standing near my (swaying over her silent) with eyes which are really petals and see
nothing with the face of a poet really which
is a flower and not a face with hands which whisper
This is my beloved my
(suddenly in sunlight he will bow,
and the whole garden will bow)
****—-****—–****
Mother to Son
by Langston Hughes
Well, son, I'll tell you:
Life for me ain't been no crystal stair.
It's had tacks in it,
And splinters,
And boards torn up,
And places with no carpet on the floor
Bare.
But all the time
I'se been a-climbin' on,
And reachin' landin's,
And turnin' corners,
And sometimes goin' in the dark
Where there ain't been no light.
So, boy, don't you turn back.
Don't you set down on the steps.
'Cause you finds it's kinder hard.
Don't you fall now
For I'se still goin', honey,
I'se still climbin',
And life for me ain't been no crystal stair.
****—-****—–****
In Memory of My Mother
By Patrick Kavanagh
I do not think of you lying in the wet clay
Of a Monaghan graveyard; I see
You walking down a lane among the poplars
On your way to the station, or happily
Going to second Mass on a summer Sunday,
You meet me and you say:
'Don't forget to see about the cattle,
Among your earthiest words the angels stray.
And I think of you walking along a headland
Of green oats in June,
So full of repose, so rich with life,
And I see us meeting at the end of a town
On a fair day by accident, after
The bargains are all made and we can walk
Together through the shops and stalls and markets
Free in the oriental streets of thought.
O you are not lying in the wet clay,
For it is harvest evening now and we
Are piling up the ricks against the moonlight
And you smile up at us — eternally.
****—-****—–****
Wonderful Mother
by Patrick O'Reilly
God made a wonderful mother,
A mother who never grows old;
He made her smile of the sunshine.
And He moulded her heart of pure gold;
In her eyes He placed bright shining stars,
In her cheeks fair roses you see;
God made a wonderful mother,
And He gave that dear mother to me.
****—-****—–****
Your Mother Is Always With You
by Deborah Culver
She's the whisper of the leaves as you walk down the street.
She's the smell of certain foods you remember, flowers you pick, the fragrance of life itself.
She's the cool hand on your brow when you're not feeling well.
She's your breath in the air on a cold winters' day.
She is the sound of the rain that lulls you to sleep, the colors of a rainbow.
She is Christmas morning.
Your mother lives inside your laughter.
She's the place you come from, your first home.
She's the map you follow with every step you take.
She's your first love, your first friend, even your first enemy.
But nothing on Earth can separate you.
Not time.
Not space.
Not even death.
****—-****—–****
The Watcher
by Margaret Widdemer
She always leaned to watch for us
Anxious if we were late,
In winter by the window,
In summer by the gate.
And though we mocked her tenderly
Who had such foolish care,
The long way home would seem more safe,
Because she waited there.
Her thoughts were all so full of us,
She never could forget,
And so I think that where she is
She must be watching yet.
Waiting 'til we come home to her
Anxious if we are late
Watching from Heaven's window
Leaning from Heaven's gate.
****—-****—–****
Away
by James Whitcomb Riley
I cannot say and I will not say
That she is dead, she is just away.
With a cheery smile and a wave of hand
She has wandered into an unknown land;
And left us dreaming how very fair
Its needs must be, since she lingers there.
And you-oh you, who the wildest yearn
From the old-time step and the glad return-
Think of her faring on, as dear
In the love of there, as the love of here
Think of her still the same way, I say;
She is not dead, she is just away.
****—-****—–****
Mother's Hands
by Marian Jones
Hands that rocked the cradle
From the moment of my birth,
Their tender touch remembered
By those still here on Earth.
Soft as silk those hands
That taught me how to pray,
Banishing childhood fears;
They soothed each one away.
When I grew much older
And troubles came my way,
Those hands caressing mine
Did more than words could say.
Mother's hands were gentle,
They're missed so very much,
I'd give the world to feel once more
Their warm and tender touch.
Those hands were full of comfort
Now they lie at rest,
But memories hold them close
To the ones they served the best.
****—-****—–****
Are You There Momma?
by Katherine Gallagher
All it takes is one picture, one memory, one song
Ever since you left us everything seems wrong
The sadness can hit me and knock me on the floor
They say it gets easier but it's hurting so much more
I still can hear your voice and I visualize your face
But all I want is to have you right back in your place
Can you hear me momma, in my dreams I call for you
And I try so hard to get to you but I don't know what to do
Can you see me momma, are you watching over me?
Is Heaven all they say it is, are you healthy and happy?
Your family is hurting, it's so hard since you've been gone
I'm crying so much now, but I once was very strong
Losing you has changed me, made me someone new
I know you want me happy so I'll try to be that for you
Please watch over us all, from your perch up in the sky
And every time I think of you I'll try hard not to cry
Can you hear me momma, calling out your name
I feel you all around me, but it'll never be the same
Can you see me momma, as you look down from your cloud?
I hope and pray with all my might that I still make you proud.
****—-****—–****
Last Journey
by Timothy Coote
There is a train at the station
With a seat reserved just for me
I'm excited about its destination
As I've heard it sets you free
The trials and tribulations
The pain and stress we breathe
Don't exist were I am going
Only happiness I believe
I hope that you will be there
To wish me on my way
It's not a journey you can join in
It's not your time today
There'll be many destinations
Some are happy, some are sad
Each one a brief reminder
Of the great times that we've had
Many friends I know are waiting
Who took an earlier train
To greet and reassure me
That nothing has really changed
We'll take the time together
To catch up on the past
To build a new beginning
One that will always last
One day you'll take your journey
On the train just like me
And i promise that I'll be there
At the station and you will see
That Life is just a journey
Enriched by those you meet
No one can take that from you
It's always yours to keep'
But now as no seat is vacant
You will have to muddle through
Make sure you fulfill your ambitions
As you know I'll be watching you
And if there's an occasion
To mention who you knew
Speak kindly of that person
As one day it will be you
Now i can't except this ending
And as it's time for me to leave
Please make haste to the reception
To enjoy my drinks, they're free!
****—-****—–****
A Sonnet for My Incomparable Mother
by Joanna Fuchs
I often contemplate my childhood, Mom.
I am a mother now, and so I know
Hard work is mixed together with the fun;
You learned that when you raised me long ago.
I think of all the things you gave to me:
Sacrifice, devotion, love and tears,
Your heart, your mind, your energy and soul,
All these you spent on me throughout the years.
You loved me with a never-failing love
You gave me strength and sweet security,
And then you did the hardest thing of all:
You let me separate and set me free.
Every day, I try my best to be
A mother like the mom you were to me.
****—-****—–****
Richer Than Gold
by Strickland Gillilan
You may have tangible wealth untold;
Caskets of jewels and coffers of gold.
Richer than I you can never be,
I had a mother who read to me.
****—-****—–****
In Remembrance
by Christine Currah
You gave me life
To live as I please,
You gave me love and
Support to follow my dreams.
Your beauty lives
Forever deep in my soul,
The memory of your love
Fills my heart
And I am never alone.
****—-****—–****
Only One Mother
by George Cooper
Hundreds of stars in the pretty sky,
Hundreds of shells on the shore together,
Hundreds of birds that go singing by,
Hundreds of birds in the sunny weather.
Hundreds of dewdrops to greet the dawn,
Hundreds of bees in the purple clover,
Hundreds of butterflies on the lawn,
But only one mother the wide world over.
****—-****—–****
The Peace of Wild Things
by Wendell Berry
(This poem is written in the mother's voice.
It is a beautiful poem for the nature lover.)
When despair for the world grows in me
and I wake in the night at the least sound
in fear of what my life and my children's lives may be,
I go and lie down where the wood drake
rests in his beauty on the water, and the great heron feeds.
I come into the peace of wild things
who do not tax their lives with forethought
of grief. I come into the presence of still water.
And I feel above me the day-blind stars
waiting with their light. For a time
I rest in the grace of the world, and am free.
****—-****—–****
So Let Them Pass These Songs of Mine
by Don Marquis
So let them pass, these songs of mine,
Into oblivion, nor repine;
Abandoned ruins of large schemes,
Dimmed lights adrift from nobler dreams,
Weak wings I sped on quests divine,
So let them pass, these songs of mine.
They soar, or sink ephemeral-
I care not greatly which befall!
For if no song I e'er had wrought,
Still have I loved and laughed and fought;
So let them pass, these songs of mine;
I sting too hot with life to whine!
Still shall I struggle, fail, aspire,
Lose God, and find Gods in the mire,
And drink dream-deep life's heady wine-
So let them pass, these songs of mine.
****—-****—–****
Fairy Song
by John Keats
Shed no tear! O shed no tear!
The flower will bloom another year.
Weep no more! O, weep no more!
Young buds sleep in the root's white core.
Dry your eyes! Oh! dry your eyes!
or I was taught in Paradise
To ease my breast of melodies
Shed no tear.
Overhead! look overhead!
'Mong the blossoms white and red
Look up, look up. I flutter now
On this flush pomegranate bough.
See me! 'tis this silvery bell
Ever cures the good man's ill.
Shed no tear! O, shed no tear!
The flowers will bloom another year.
Adieu, adieu—I fly, adieu,
I vanish in the heaven's blue
Adieu, adieu!
****—-****—–****
Read More: Funeral Poems for Grandma