Holidays are very important for some people because they have to go to their relatives, some have to go for a walk with friends, some have to celebrate New Year, some have winter Snowfall is to be enjoyed and some are to be enjoyed on Christmas Day. Why not share some poems with you to enjoy the holidays that will double your happiness.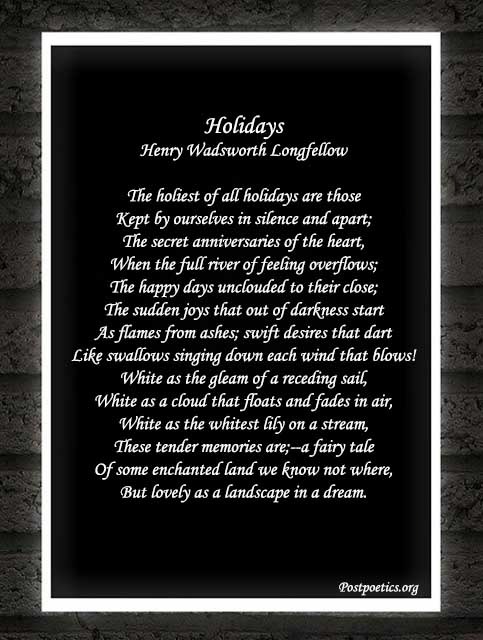 Holidays
Henry Wadsworth Longfellow
The holiest of all holidays are those
Kept by ourselves in silence and apart;
The secret anniversaries of the heart,
When the full river of feeling overflows;
The happy days unclouded to their close;
The sudden joys that out of darkness start
As flames from ashes; swift desires that dart
Like swallows singing down each wind that blows!
White as the gleam of a receding sail,
White as a cloud that floats and fades in air,
White as the whitest lily on a stream,
These tender memories are;–a fairy tale
Of some enchanted land we know not where,
But lovely as a landscape in a dream.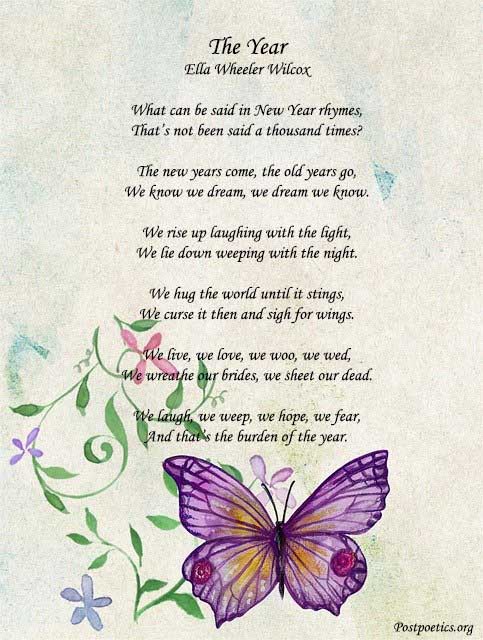 The Year
Ella Wheeler Wilcox
What can be said in New Year rhymes,
That's not been said a thousand times?
The new years come, the old years go,
We know we dream, we dream we know.
We rise up laughing with the light,
We lie down weeping with the night.
We hug the world until it stings,
We curse it then and sigh for wings.
We live, we love, we woo, we wed,
We wreathe our brides, we sheet our dead.
We laugh, we weep, we hope, we fear,
And that's the burden of the year.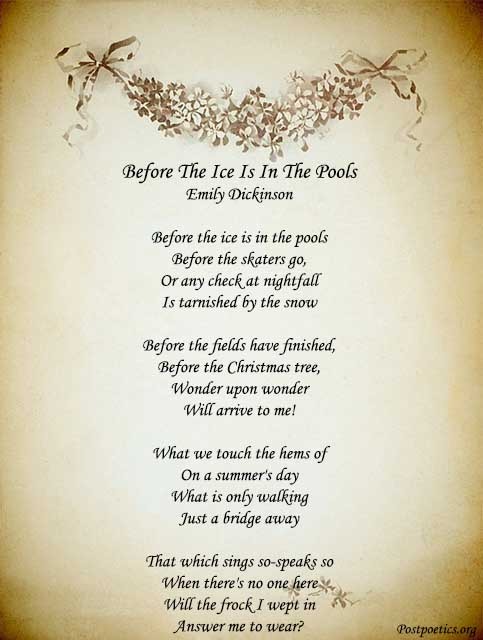 Before The Ice Is In The Pools
Emily Dickinson
Before the ice is in the pools
Before the skaters go,
Or any check at nightfall
Is tarnished by the snow
Before the fields have finished,
Before the Christmas tree,
Wonder upon wonder
Will arrive to me!
What we touch the hems of
On a summer's day
What is only walking
Just a bridge away
That which sings so-speaks so
When there's no one here
Will the frock I wept in
Answer me to wear?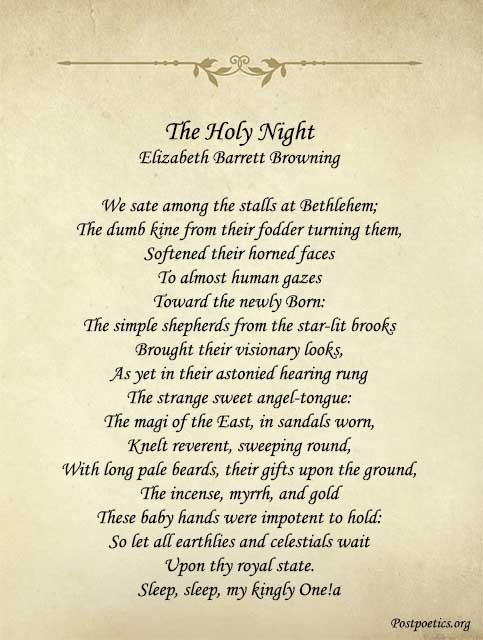 The Holy Night
Elizabeth Barrett Browning
We sate among the stalls at Bethlehem;
The dumb kine from their fodder turning them,
Softened their horned faces
To almost human gazes
Toward the newly Born:
The simple shepherds from the star-lit brooks
Brought their visionary looks,
As yet in their astonied hearing rung
The strange sweet angel-tongue:
The magi of the East, in sandals worn,
Knelt reverent, sweeping round,
With long pale beards, their gifts upon the ground,
The incense, myrrh, and gold
These baby hands were impotent to hold:
So let all earthlies and celestials wait
Upon thy royal state.
Sleep, sleep, my kingly One!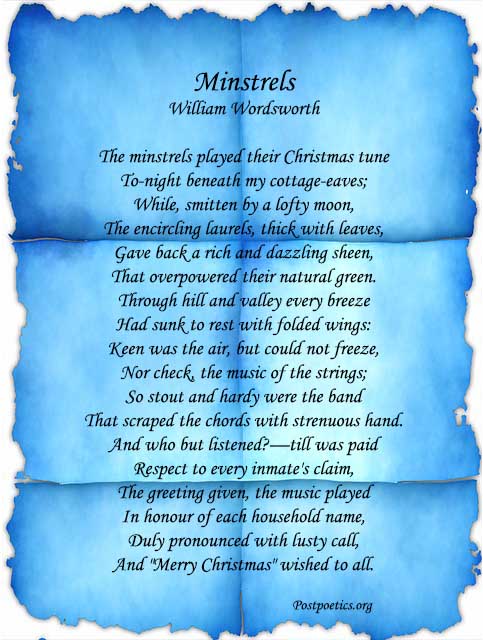 Minstrels
William Wordsworth
The minstrels played their Christmas tune
To-night beneath my cottage-eaves;
While, smitten by a lofty moon,
The encircling laurels, thick with leaves,
Gave back a rich and dazzling sheen,
That overpowered their natural green.
Through hill and valley every breeze
Had sunk to rest with folded wings:
Keen was the air, but could not freeze,
Nor check, the music of the strings;
So stout and hardy were the band
That scraped the chords with strenuous hand.
And who but listened?—till was paid
Respect to every inmate's claim,
The greeting given, the music played
In honour of each household name,
Duly pronounced with lusty call,
And "Merry Christmas" wished to all.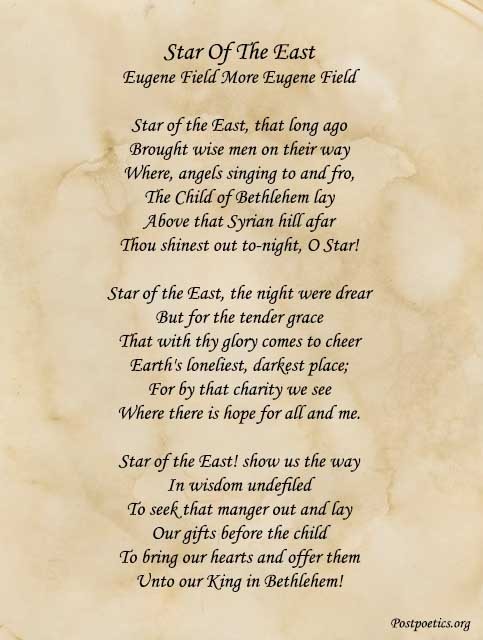 Star Of The East
Eugene Field More Eugene Field
Star of the East, that long ago
Brought wise men on their way
Where, angels singing to and fro,
The Child of Bethlehem lay
Above that Syrian hill afar
Thou shinest out to-night, O Star!
Star of the East, the night were drear
But for the tender grace
That with thy glory comes to cheer
Earth's loneliest, darkest place;
For by that charity we see
Where there is hope for all and me.
Star of the East! show us the way
In wisdom undefiled
To seek that manger out and lay
Our gifts before the child
To bring our hearts and offer them
Unto our King in Bethlehem!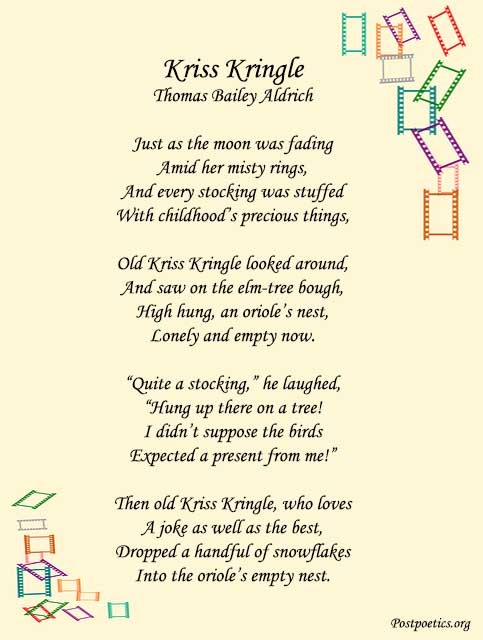 Kriss Kringle
Thomas Bailey Aldrich 
Just as the moon was fading
Amid her misty rings,
And every stocking was stuffed
With childhood's precious things,
Old Kriss Kringle looked around,
And saw on the elm-tree bough,
High hung, an oriole's nest,
Lonely and empty now.
"Quite a stocking," he laughed,
"Hung up there on a tree!
I didn't suppose the birds
Expected a present from me!"
Then old Kriss Kringle, who loves
A joke as well as the best,
Dropped a handful of snowflakes
Into the oriole's empty nest.
——————
Thanksgiving
Ella Wheeler Wilcox
We walk on starry fields of white
And do not see the daisies;
For blessings common in our sight
We rarely offer praises.
We sigh for some supreme delight
To crown our lives with splendor,
And quite ignore our daily store
Of pleasures sweet and tender.
Our cares are bold and push their way
Upon our thought and feeling.
They hang about us all the day,
Our time from pleasure stealing.
So unobtrusive many a joy
We pass by and forget it,
But worry strives to own our lives
And conquers if we let it.
There's not a day in all the year
But holds some hidden pleasure,
And looking back, joys oft appear
To brim the past's wide measure.
But blessings are like friends, I hold,
Who love and labor near us.
We ought to raise our notes of praise
While living hearts can hear us.
Full many a blessing wears the guise
Of worry or of trouble.
Farseeing is the soul and wise
Who knows the mask is double.
But he who has the faith and strength
To thank his God for sorrow
Has found a joy without alloy
To gladden every morrow.
We ought to make the moments notes
Of happy, glad Thanksgiving;
The hours and days a silent phrase
Of music we are living.
And so the theme should swell and grow
As weeks and months pass o'er us,
And rise sublime at this good time,
A grand Thanksgiving chorus.
——————
Ring Out, Wild Bells
Alfred Tennyson
Ring out, wild bells, to the wild sky,
The flying cloud, the frosty light;
The year is dying in the night;
Ring out, wild bells, and let him die.
Ring out the old, ring in the new,
Ring, happy bells, across the snow:
The year is going, let him go;
Ring out the false, ring in the true.
Ring out the grief that saps the mind,
For those that here we see no more,
Ring out the feud of rich and poor,
Ring in redress to all mankind.
Ring out a slowly dying cause,
And ancient forms of party strife;
Ring in the nobler modes of life,
With sweeter manners, purer laws.
Ring out the want, the care the sin,
The faithless coldness of the times;
Ring out, ring out my mournful rhymes,
But ring the fuller minstrel in.
Ring out false pride in place and blood,
The civic slander and the spite;
Ring in the love of truth and right,
Ring in the common love of good.
Ring out old shapes of foul disease,
Ring out the narrowing lust of gold;
Ring out the thousand wars of old,
Ring in the thousand years of peace.
Ring in the valiant man and free,
The larger heart, the kindlier hand;
Ring out the darkness of the land,
Ring in the Christ that is to be.
——————
Christmas Bells
Henry Wadsworth Longfellow
I heard the bells on Christmas Day
Their old, familiar carols play,
And wild and sweet
The words repeat
Of peace on earth, good-will to men!
And thought how, as the day had come,
The belfries of all Christendom
Had rolled along
The unbroken song
Of peace on earth, good-will to men!
Till ringing, singing on its way,
The world revolved from night to day,
A voice, a chime,
A chant sublime
Of peace on earth, good-will to men!
Then from each black, accursed mouth
The cannon thundered in the South,
And with the sound
The carols drowned
Of peace on earth, good-will to men!
It was as if an earthquake rent
The hearth-stones of a continent,
And made forlorn
The households born
Of peace on earth, good-will to men!
And in despair I bowed my head;
"There is no peace on earth," I said;
For hate is strong,
And mocks the song
Of peace on earth, good-will to men!"
Then pealed the bells more loud and deep:
"God is not dead, nor doth He sleep;
The Wrong shall fail,
The Right prevail,
With peace on earth, good-will to men."
——————
A Holiday
Ella Wheeler Wilcox
The Wife
The house is like a garden,
The children are the flowers,
The gardener should come methinks
And walk among his bowers,
Oh! lock the door on worry
And shut your cares away,
Not time of year, but love and cheer,
Will make a holiday.
The Husband
Impossible! You women do not know
The toil it takes to make a business grow.
I cannot join you until very late,
So hurry home, nor let the dinner wait.
The Wife
The feast will be like Hamlet
Without a Hamlet part:
The home is but a house, dear,
Till you supply the heart.
The Xmas gift I long for
You need not toil to buy;
Oh! give me back one thing I lack –
The love-light in your eye.
The Husband
Of course I love you, and the children too.
Be sensible, my dear, it is for you
I work so hard to make my business pay.
There, now, run home, enjoy your holiday.
The Wife (turning)
He does not mean to wound me,
I know his heart is kind.
Alas! that man can love us
And be so blind, so blind.
A little time for pleasure,
A little time for play;
A word to prove the life of love
And frighten care away!
Tho' poor my lot in some small cot
That were a holiday.
The Husband (musing)
She has not meant to wound me, nor to vex –
Zounds! but 'tis difficult to please the sex.
I've housed and gowned her like a very queen
Yet there she goes, with discontented mien.
I gave her diamonds only yesterday:
Some women are like that, do what you may.
——————
At Christmas
Edgar Guest
A man is at his finest
towards the finish of the year;
He is almost what he should be
when the Christmas season is here;
Then he's thinking more of others
than he's thought the months before,
And the laughter of his children
is a joy worth toiling for.
He is less a selfish creature than
at any other time;
When the Christmas spirit rules him
he comes close to the sublime.
When it's Christmas man is bigger
and is better in his part;
He is keener for the service
that is prompted by the heart.
All the petty thoughts and narrow
seem to vanish for awhile
And the true reward he's seeking
is the glory of a smile.
Then for others he is toiling and
somehow it seems to me
That at Christmas he is almost
what God wanted him to be.
If I had to paint a picture of a man
I think I'd wait
Till he'd fought his selfish battles
and had put aside his hate.
I'd not catch him at his labors
when his thoughts are all of pelf,
On the long days and the dreary
when he's striving for himself.
I'd not take him when he's sneering,
when he's scornful or depressed,
But I'd look for him at Christmas
when he's shining at his best.
Man is ever in a struggle
and he's oft misunderstood;
There are days the worst that's in him
is the master of the good,
But at Christmas kindness rules him
and he puts himself aside
And his petty hates are vanquished
and his heart is opened wide.
Oh, I don't know how to say it,
but somehow it seems to me
That at Christmas man is almost
what God sent him here to be.
——————
New-Year's Eve And New-Year's Day
Bessie Rayner Parkes
Good bye, Old Year!
And with thee take
Thanks for the gifts to every land
Thou broughtest in thy bounteous hand,
And all that thou hast taught to hearts thy lingering steps forsake.
Good bye, Old Year!
The Past awaiteth thee.
Who ruleth in her power alone
The kingdom of Oblivion.
Silent she sits in ebon chair;
Falling mists of dusky hair
Veil her dark eyes' glorious shine,
Full of wise help, and truth divine.
Silent, unless a fitful sound,
As from some cavern underground,
Steal from her lips; the company
Of ancient Years that round her be,
Then chanting, one by one, give tongue
To old experience in their song.
Good bye, Old Year!
Thou goest forth alone,
As we shall do: thy pages gay,
Seasons and months who round thee lay,
Attend thee to Earth's farthest verge, then back! to greet thy son.
Hail, New-born Year!
Cradled in morning clouds
Golden and white. I cannot see
Thy face–'tis wrapp'd in mystery;
But Spring for thee is painting flowers,
And Summer decks her woven bowers;
Rich Autumn's sheaves will soon be reap'd,
With store of fruits in sunbeams steep'd,
And one by one with gentle hand folds back thy sunlit shrouds.
Hail, New-born Year!
Shining and beautiful,
Thou wilt step forth in plenitude
Of youth and its rejoicing mood.
Last child of the half-century,
And time of coming victory
Over the spirits of night and sin,
Whose howlings of defeat begin:
Thou bringest hope, and labour bless'd
In visions of successful rest,
Bringest great thoughts, and actions wrought
In fire upon that forge of thought,
And with the soul of earnestness I think thy youths are full.
Hail, New-born Year!
My utterance is too weak
To tell of all I think thou bringest,
To echo back the song thou singest;
But the very winds of Heaven for those who listen to them, speak!
——————
Christmas Carol
Sara Teasdale
The kings they came from out the south,
All dressed in ermine fine;
They bore Him gold and chrysoprase,
And gifts of precious wine.
The shepherds came from out the north,
Their coats were brown and old;
They brought Him little new-born lambs—
They had not any gold.
The wise men came from out the east,
And they were wrapped in white;
The star that led them all the way
Did glorify the night.
The angels came from heaven high,
And they were clad with wings;
And lo, they brought a joyful song
The host of heaven sings.
The kings they knocked upon the door,
The wise men entered in,
The shepherds followed after them
To hear the song begin.
The angels sang through all the night
Until the rising sun,
But little Jesus fell asleep
Before the song was done.
——————
The Eternal Riddle
Philip M. Raskin 
Israel, my people,
God's greatest riddle,
Will thy solution
Ever be told
Fought – never conquered,
Bent – never broken,
Mortal – immortal,
Youthful, though old.
Egypt enslaved thee,
Babylon crushed thee,
Rome led thee captive,
Homeless thy head.
Where are those nations
Mighty and fearsome
Thou hast survived them,
They are long dead.
Nations keep coming,
Nations keep going,
Passing like shadows,
Wiped off the earth.
Thou an eternal
Witness remainest,
Watching their burial,
Watching their birth.
Pray, who revealed thee
Heaven's great secret :
Death and destruction,
Thus to defy
Suffering torture,
Stake, inquisition –
Prithee, who taught thee
Never to die
Ay, and who gave thee
Faith, deep as ocean,
Strong as the rock-hills,
Fierce as the sun
Hated and hunted,
Ever thou wand'rest,
Bearing a message :
God is but one !
Pray, has thy saga
Likewise an ending,
As its beginning
Glorious of old
Israel, my people,
God's greatest riddle,
Will thy solution
Ever be told
——————
The Feast Of Freedom
Philip M. Raskin 
I REMEMBER in my childhood
From my grandfather I heard
Charming tales of gone-by ages
That my soul so deeply stirred.
Charming tales of ancient sages
That I felt I knew were true;
Stories of the hoary ages
That remain forever new.
Of the Pesach-days he told me,
Days that joy and sunshine bring;
Of the Festival of Freedom,
Of Revival and of Spring.
Of the slave-people in Egypt,
Whose hot blood so rashly spilled,
Soaked into cold bricks and mortar
Of the fortresses they built.
How on them, the God-forsaken,
After gloomy wintry days,
Shone at last the rays of freedom,
Heaven's bright and cheerful rays.
How among them rose a leader,
Star-like in a gloomy night,
And he pleaded for their freedom,
And he crushed a tyrant's might.
How he taught the fettered people
Not in vain their blood to spill,
Turning bondmen into freemen,
Men of honor and of will.
How the people's march to Freedom
Could no despot's might restrain,
Till before their will resistless
Stormy ocean oped in twain.
"Then it was our people's springtime,
After which a summer came,
Followed by a golden harvest,
Free from yoke and free from shame."
"Grand-sire, dear," I asked enraptured,
"How long did that summer last?"
But he sadly gazed and pondered,
And he answered me at last.
"Child, it was a long, bright summer,
But a winter came again,
Came with cold and snow and showers,
With its gales of grief and pain.
"Frost and tempest-strife, contention–
Raged once more in every part,
Stealing into souls and freezing
Will and hope in every heart.
"Furious storm once more dispersed us;
Israel rendered free and great,
Into lands of cruel despots
Went to face a bondman's fate."
"Grand-sire, dear, why does this winter
Seem so endless, then?"–I sighed–
And two crystal tears were trembling
In his eyes when he replied.
"Yes, my boy, it seems so endless,
But it cannot, will not be;
Israel will not slave forever,
One day, child, he will be free.
In his soul will re-awaken
Courage, will, and pride, and might;
Freedom's sunrise must needs follow
Israel's starless exile night.
"But till then, ere spring's arrival-
For the winter's steps are slow-
Pesach is a sweet remembrance
Of a spring of long ago."
——————
Read More: