Daniel C. Colesworthy was born in 1814 in Portland. He was involved in printing and book business. His poetry brought many hopeless people out of despair and brought them to light. He was a motivational poet. His poetry inspired many people. He left the world but his poetry will always inspire people.
Look Above
Poet: Daniel C. Colesworthy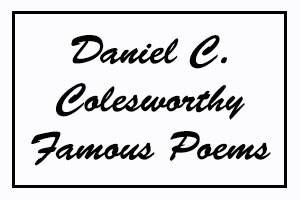 When friends forsake, and health decays,
And clouds of sorrow gather fast,
How sweet to lift the heart in praise
To Him who loves us to the last!
When grief o'erwhelms the heart, and fear,
Like hateful spectre, dark and grim,
To shroud our pleasure hovers near,
How sweet to look in faith to Him!
In every lone, uncertain way,
Amid the cares that checker life,
How sweet to look above, and pray
For strength to bear us through the strife!
In life or death, where'er we be,
With friends at home, or foes abroad,
With humble heart and bended knee,
Communion will be sweet with God.
========
Rural Life
Poet: Daniel C. Colesworthy
How pleasant is the slumbering vale,
Where winds are blowing free,
And gifts of Nature never fail!
Oh, such a home for me!
There songs of birds delight the ear,
And flowers rejoice the eye,
And beauty lingers all the year
On water, field and sky.
Such home be mine, among the hills,
The giant forest-trees,
Where leap along the flashing rills,
And fragrant is the breeze;
Where voice profane and boisterous song
Will never taint the air;
And few are taught to practise wrong,
Or breathe a selfish prayer.
To city life I bid adieu;
Its crowded mart, farewell!
With rural scenes, forever new,
My spirit longs to dwell.
Sweet, oh, how sweet! at morn and eve,
To cast the eye abroad;
Pure truths from Nature's voice receive,
And humbly worship God.
========
A Lesson
Poet: Daniel C. Colesworthy
I'll teach thee a lesson:
Be active and wise;
The deeper the valley,
The brighter the skies;
The harder the labor,
More weary the breast,
The sweeter the slumber
When the pillow is pressed.
When the fierce storm approaches,
Unbend to the blast;
Unyielding, look upward,
Till the whirlwind has passed:
The firm and unshaken,
Who never despair,
The seal of true greatness
Forever shall wear.
========
Why Are You Dull?
Poet: Daniel C. Colesworthy
Why should you be dull and sad?
Nothing can be half so bad,
We'll engage.
All is cheerful, if you look
Rightly into Nature's book,
On each page.
Sighing, weeping, trembling who,
When you make such loud ado,
Will come near?
Peace and joy you drive away,
All that tend to make life gay,
And you cheer.
It is folly, don't you know,
Thus to sink in pools of woe,
And to weep
Now's the time to live and act;
Not the rust of grief contract,
While you sleep.
From the shadows and the mire.
Up! and let the living fire
Of ambition
Glory on your actions cast;
And, for all the guilty past,
Show contrition.
========
A Thought
Poet: Daniel C. Colesworthy
If but a single thought I drop
Into a drowsy ear,
It may revive the spark of hope,
And the desponding cheer.
A word may save where volumes fail,
If spoken from the heart;
And with the dying soul prevail,
And life and strength impart.
Ye all can speak a gentle word,
To bless the weak and low;
And o'er life's dark and thorny road
Sweet flowers and sunshine throw.
========
Stand Up, Brother
Poet: Daniel C. Colesworthy
Stand up, brother! here's the hand
That will help thee rise and stand;
Here's the heart that warmly burns
When a prodigal returns.
Stand up, brother!
For a friend thy spirit yearns.
Stand up, brother! stand upright!
Let the scales fall, see the light;
And no longer in the dust
Let thy mind be clogged with rust.
Stand up, brother!
And the galling fetters burst.
Stand up, brother! fear no ill;
We will love, protect thee still:
When the night of darkness lowers:
In the tempest's strongest hours.
Stand up, brother!
These are warm, kind hearts of ours.
Stand up, brother! yes, thou wilt,
Though so long oppressed by guilt:
On thy brow we gladly read,
"You have been my friends indeed"
Stand up, brother!
We are just the friends you need.
========
What Is It To Live?
Poet: Daniel C. Colesworthy
What is existence, but to give
Our influence to a righteous cause?
To bless the world, and thus receive
The heart's affections, not applause?
To live is but an empty name,
Our lives a blot to truth and right,
When vicious men our deeds proclaim,
And Justice weeps at Virtue's flight.
========
Benevolence
Poet: Daniel C. Colesworthy
It is a little thing to give
A cup of water to the poor,
Or spare a morsel to relieve
The famished stranger at the door;
And yet these trifling favors may
Return to bless ere life shall close,
And cheer through earth's dark, devious way,
If multiplied should be our woes.
========
A Bitter Word
Poet: Daniel C. Colesworthy
How few who speak a bitter word
Can tell the pang it gives!
What angry feelings it hath stirred!
What malice it revives!
Oh! let the words of kindness move
And dwell upon your lips;
For passion, far estranged from love,
Will brightest joys eclipse.
========
Appearances
Poet: Daniel C. Colesworthy
'Tis not the loftiest looks betray
A heart that's free from guile;
For, where the foulest passions prey,
The practised lip may smile.
The noble, generous, and the wise,
With no attractive grace,
May be commissioned from the skies,
A blessing to the race.
========
A Word
Poet: Daniel C. Colesworthy
A little word sometimes has power,
If it is used aright,
To make the skies that darkly lower
Burn with a golden light.
The heart o'erburdened with distress,
In its own dismal cell,
A word will rouse to joyousness,
And gloom and fear dispel.
It lifts the poor from dust, and brings
Sweet sunshine to his home;
And spreads Hope's bright, exulting wings,
Where peace might never come.
A pleasant word, if nothing else,
Ye all have power to give:
Make glad the hearts where sorrow dwells,
And bid the dying live.
Drop pleasant words where'er ye go,
In cot or crowded mart;
And light and peace and love will glow
In many a wretched heart.
========
Nature Full Of God
Poet: Daniel C. Colesworthy
The glory of the mighty God,
Where'er I gaze, my eyes behold;
When Evening spreads her veil abroad,
Or morning clouds are tinged with gold.
The ocean, as it heaves and swells
Around the isles that dot the sea,
In tones as loud as thunder, tells
His awful power and majesty.
The stars that gem the glorious skies,
The solemn sentinels of light,
Speak of that God which bade them rise
To beautify the heavens by night.
The flower that smiles within the vale,
Where careless feet may never tread,
Repeats the same unvarnished tale,
And lowly bows its modest head.
The tiny songsters of the air,
Which joyous float on golden wing,
The same almighty Power declare,
And chant his praises when they sing.
The fields in verdant grandeur drest,
In all their splendor and their bloom,
In silent language praise him best,
And send to heaven their rich perfume.
But where is man? Has he no soul
To speak his Maker's glories forth,
When land and sea, and orbs that roll,
Tell of the Power that gave them birth?
Sin steels his heart, and blinds his eyes,
And makes him careless of his God,
When all that move beneath the skies
Conspire to sound his praise abroad.
Awake, man! thy dormant powers,
And let thy soul His glory sing:
Should Nature's voices rival ours
And shame the praises that we bring?
========
Storm And Sunshine
Poet: Daniel C. Colesworthy
How greatly wise, who never move
When stern Misfortune lowers!
Who see the same kind hand of Love
In sunshine and in showers!
When shadows veil the burning sky,
Behind the clouds they know
Bright fields of golden grandeur lie,
And seas of splendor flow.
They only bend, but never break,
When angry storms arise;
Prepared the hand of Grief to take,
And wait for brighter skies.
========
The Active Mind
Poet: Daniel C. Colesworthy
What if I'm thrown upon my back?
Must I lie still and die?
Or, cringing, ask the help of those
Who heedless pass me by?
No! I will struggle, faint or sick,
Upon my feet to rise:
He is a fool who hugs the sod,
And, without effort, dies.
The active mind was never made
In sluggish fear to rest,
When dark misfortune brings us down,
And sorrow wrings the breast:
Up! nerved with strength, go forth again
To battle in the strife:
They only live who dare and do
In every phase of life.
Who are discouraged, never win
Bright Honor's golden prize;
Or reap the blessings spread before
The diligent and wise.
The fair, bright sky, the broad, green earth
Have no delights for them;
While all who pass look down with pride,
Or scornfully condemn.
So I will persevere, if I
A single limb can move;
Climb up, press on, should foes or friends
Discourage or approve.
I know beyond the rolling clouds
There is a sky serene;
And all its glories I shall view
With not a veil between.
Eternal thanks to God, who gave
A heart that will not cower,
In foul Oppression's darkest night,
Beneath the foot of Power;
A heart, that when beset around
With base, malignant foes,
Is brighter and more active found,
The stronger they oppose.
Ay, stout and iron heart, go on!
And never shalt thou fail:
With zeal and energy and truth
Thou surely must prevail.
Ere long thy foes shall be subdued,
Or in thy path be slain:
Here then I take a fresher start,
Never to yield again.
========
Humble Heart
Poet: Daniel C. Colesworthy
Shouldst Thou bestow the power to raise
But one petition to the skies,
I would not ask for length of days,
For wealth or honor – earthly praise;
But this my fervent prayer should be –
An humble heart to sacrifice,
In faith and love, God! to thee.
========
Never Say Fail
Poet: Daniel C. Colesworthy
Keep pushing – 'tis wiser
Than sitting aside,
And dreaming and sighing,
And waiting the tide:
In Life's earnest battle,
They only prevail
Who daily march onward,
And never say fail.
With an eye ever open,
And a tongue that's not dumb,
And a heart that will never
To sorrow succumb,
You'll battle and conquer,
Though thousands assail:
How strong and how mighty,
Who never say fail!
The spirits of angels
Are active, I know,
As higher and higher
In glory they go:
Methinks on bright pinions
From heaven they sail,
To cheer and encourage
Who never say fail.
Ahead then keep pushing,
And elbow your way,
Unheeding the envious,
And asses that bray:
All obstacles vanish,
All enemies quail,
In the might of their wisdom
Who never say fail.
In life's rosy morning,
In manhood's firm pride,
Let this be the motto
Your footsteps to guide:
In storm and in sunshine,
Whatever assail,
You'll onward and conquer,
And never say fail.
========
Daily Blessings
Poet: Daniel C. Colesworthy
Day by day they fall upon me,
Fall upon me from the skies,
Blessings, blessings, without number,
When I rest and when I rise.
Come they in the rosy morning,
With the gush of golden light,
When my first thank-offering rises,
For the guarded hours of night.
In the heat of noon-day splendor,
Blessings, blessings, still descend;
And my heart leaps joyful upward
To my ever-present Friend.
In the stillness of the twilight,
When is closed the busy day,
Fall they on my heart and household,
As I lowly bend to pray.
Thus have blessings ever fallen
From the hand above the skies,
Teaching me each moment higher
Should the Christian strive to rise.
========
Be Not Discouraged
Poet: Daniel C. Colesworthy
Be never discouraged —
Look up and look on;
When the prospect is darkest
The cloud is withdrawn:
The shadows that blacken
The earth and the sky,
Speak to the strong-hearted,
Salvation is nigh.
Be never discouraged —
Mock, mock at the tears
That fall in your pathway,
And laugh at the fears
That sometimes will darken
The sunniest face;
Push on and be foremost
In the van of the race.
Be never discouraged —
The heart that will quail
And sink at a spectre,
How can it prevail?
From morning till sunset
'Tis cheerless and still,
As the shadows that slumber
On the bleak, icy hill.
Be never discouraged —
The true and the wise,
While others are waiting,
Secure the rich prize:
No object of terror,
No word of alarm.
Shall hinder their progress,
Or stay the strong arm.
Be never discouraged,
If you would secure
The earth's richest blessings
And make heaven sure,
Yield not in the battle,
Nor quail in the blast;
The brave and unyielding
Win nobly at last.
Be never discouraged —
By day and by night
Have glory in prospect
And wisdom in sight;
Undaunted and faithful,
You never will fail.
Though kingdoms oppose you
And devils assail.
========
Your Brother
Poet: Daniel C. Colesworthy
Turn not from your brother
Who strangely has err'd,
Nor speak as in anger
A harsh, bitter word:
In kindness approach him —
With tenderness speak —
If vic'ous, be gentle —
Support him, if weak.
Kind words and compassion!
Sure weapons to save
The fallen and erring,
And snatch from the grave.
Ye all have the power.
Though humble and poor.
These weapons to use
And the lost to restore.
Go then to your brother
Just turning away
From wisdom and virtue,
And be his strong stay.
No moment is wasted.
No words are in vain.
When the lost and the erring
To virtue you gain.
========
There Is A God
Poet: Daniel C. Colesworthy
There is a God! His voice is heard
In every whispering breeze,
In every leaf that's gently stirred
Upon the forest trees.
The whirlwind in its wrath and might,
O'er-sweeping land and sea,
With desolation in its flight,
Tells of a Deity.
The blossoms that betray the spring.
The little birds at play,
The golden birds a-twittering
Throughout the livelong day,
And skies that soft and mild appear,
Whence gentle dews descend,
Tell of a God in lines as clear
As with a sunbeam penned.
The leaves unfolding to the sun,
In Summer's glorious reign,
Streams flashing diamonds as they run,
Slow winding through the plain,
Or tumbling from a craggy height,
Through groves of Araby,
So pure and musical and bright,
Tell of a Deity.
The golden gifts – brown Autumn's pride,
That crown the harvest-field,
The treasures that on every side
The rain and sunshine yield,
The bearded sheaves, the bended bough,
All eloquent exclaim,
There is a God! behold him now!
Be thankful at his name !
The hoar-frost, and the feathery snow
That falls so silently,
The ice that stopped the river's flow,
Which lately dashed so free.
Careering storms and howling winds,
The cold and piercing air,
To hearts devout, uplifted minds,
A God! a God! declare.
There is a God! inscribed I read,
Where'er I turn my eyes:
No less within the mustard-seed
Than on the vaulted skies.
I cannot look below, above,
I cannot gaze abroad,
But wisdom shines and wondrous love
There is, there is a God!
========
Don't Kill The Birds
Poet: Daniel C. Colesworthy
Don't kill the birds — the little birds
That sing about your door,
Soon as the joyous spring has come,
And chilling storms are o'er,
The little birds, how sweet they sing!
O, let them joyous live;
And never seek to take the life
Which you can never give.
Don't kill the birds — the little birds
That play among the trees;
'Twould make the earth a cheerless place,
Should we dispense with these.
The little birds, how fond they play!
Do not disturb their sport;
But let them warble forth their songs,
Till winter cuts them short.
Don't kill the birds — the happy birds
That bless the field and grove;
So innocent to look upon,
They claim oar warmest love.
The happy birds — the tuneful birds,
How pleasant 'tis to see;
No spot can be a cheerless place
Where'er their presence be.
========
Give Every Day
Poet: Daniel C. Colesworthy
Let us give something every day
For one another's weal;
A word, to make the gloomy gay,
Or the crushed spirit heal;
A look, that to the heart will speak,
Of him that's poor and old;
A tear for her, o'er whose wan cheek
Full many a stream has rolled.
The objects of our love and care,
In every path we see,
And when they ask a simple prayer,
Oh, shall we selfish be,
And turn away with haughty trust,
As if the God above
Were partial to our pampered dust,
And only us did love?
Let us give something every day,
To comfort and to cheer;
'Tis not for gold alone they pray,
Whose cries fall on the ear;
They ask for kindness in our speech,
A tenderness of heart,
That to the inmost soul will reach,
And warmth and life impart.
Each one can give – the poor, the weak,
And be an angel guest;
How small a thing, to smile, to speak,
And make the wretched blest!
These favors let us all bestow,
And scatter joys abroad,
And make the vales of sorrow glow
With the sweet smiles of God!
========
Truth
Poet: Daniel C. Colesworthy
Truth will prevail, though men abhor
The glory of its light,
And wage exterminating war
And put all foes to flight.
Though trodden under foot of men,
Truth from the dust will spring,
And from the press – the lip – the pen –
In tones of thunder ring.
Beware – beware, ye who resist
The light that beams around,
Lest, ere you look through error's mist,
Truth strikes you to the ground.
========
Read The Bible
Poet: Daniel C. Colesworthy
Take the Bible – read the Bible –
'Tis a precious, precious book:
Every day you scorn its message,
Careless on its pages look,
You deprive your souls of pleasure
Joys which they alone can tell,
Who have found it golden treasure
From the God of Israel.
Read the Bible love the Bible
Bind it firmly to the heart;
It will cheer you in your darkness,
And a generous light impart:
When the night of sorrow lengthens,
Friends forsake and peace has flown,
It will chase the gloomy shadows
With a brightness all its own.
Take the Bible – love the Bible –
All its precepts treasure up;
And amid life's sharpest trials
It will prove the star of hope:
In your pilgrimage 'twill cheer you
Shade by day and sun by night;
Joy in sorrow, health in sickness,
Peace and pleasure, pure delight.
Read the Bible – love the Bible –
'Tis a gift from God to man;
Every thought is inspiration,
Breathing of redemption's plan;
And the soul, in darkness groping,
Pointing to a region blest,
Where the wicked cease from troubling
And the weary are at rest.
Read the Bible – love the Bible –
Weary pilgrims, guileless youth;
Listen to its sweet instructions,
Words of wisdom, power, and truth:
Read the Bible – love the Bible –
Sick, in health, at home, abroad;
Every time you read its pages
You are nearer brought to God.
========
Don't Be Impatient
Poet: Daniel C. Colesworthy
Don't be impatient –
Wait, wait, wait:
Than plunge into sorrow,
You would better be late.
By striving
And driving,
The mark is not hit:
'Tis wiser to grope,
And feel for a rope,
Than fall in the pit.
Don't be impatient
Stop and think:
Better have cool moments
On Despondency's brink,
Than leaping
And keeping
In water that's hot.
'Tis wisdom to go
On surely and slow,
Content with your lot.
Don't be impatient
Wait and win:
The last foe approaches,
And the last monster sin.
Pursuing
And doing,
With a firm, steady eye,
And a heart that's true,
You'll dare and do,
And bring glory nigh.
Don't be impatient –
Wait; be still:
Loud voice and great bluster
Are nothing but dumb zeal;
They're louder
And prouder
Than wisdom and strength;
They rise, but, alas!
Bring nothing to pass,
And perish at length.
Don't be impatient –
Wait, wait, wait:
Than plunge into sorrow,
You would better be late.
By racing
And chasing,
You soon lose your ground
Be patient and still;
In good time you will
With Wisdom be found.
========
Read More: Alice Cary Famous Poems