Beautiful happy valentine's day quotes – Valentine's day quotes is one way to make your day a sweet day. Let's read and share to love one's.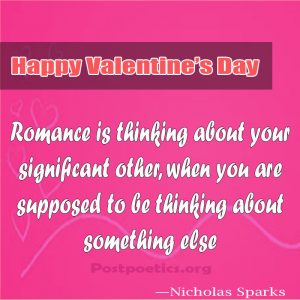 Romance is thinking about your significant other, when you are supposed to be thinking about something else. — Nicholas Sparks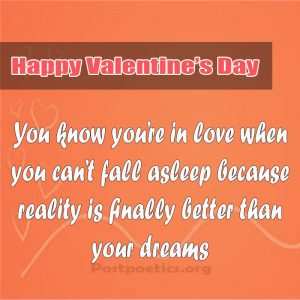 You know you're in love when you can't fall asleep because reality is finally better than your dreams. —Dr. Seuss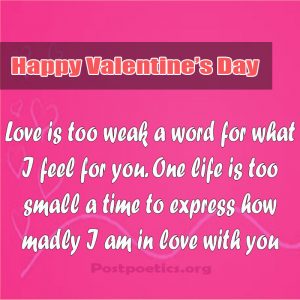 Love is too weak a word for what I feel for you. One life is too small a time to express how madly I am in love with you. —Anonymous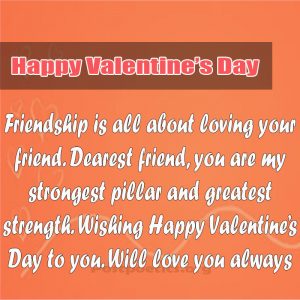 Friendship is all about loving your friend. Dearest friend, you are my strongest pillar and greatest strength. Wishing Happy Valentine's Day to you. Will love you always. —Anonymous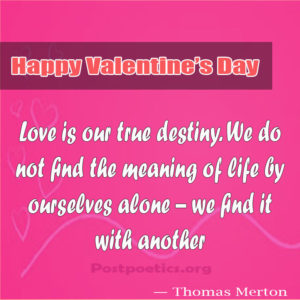 Love is our true destiny. We do not find the meaning of life by ourselves alone – we find it with another.  — Thomas Merton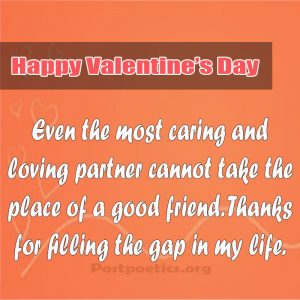 Even the most caring and loving partner cannot take the place of a good friend. Thanks for filling the gap in my life. Happy Valentine's Day. —Anonymous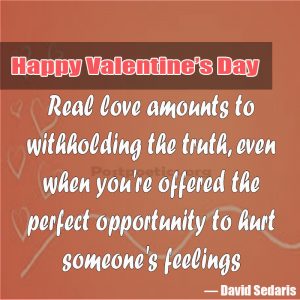 Real love amounts to withholding the truth, even when you're offered the perfect opportunity to hurt someone's feelings. — David Sedaris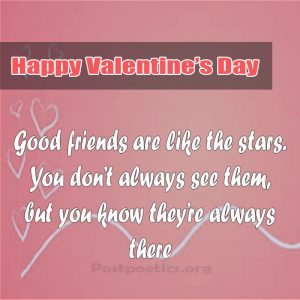 Good friends are like the stars. You don't always see them, but you know they're always there." —Anonymous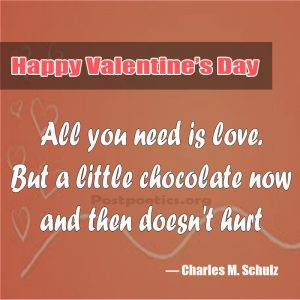 All you need is love. But a little chocolate now and then doesn't hurt. — Charles M. Schulz
You are the person I never knew how to write, and this life is the story I have always wanted to tell. —Tyler Knott Gregson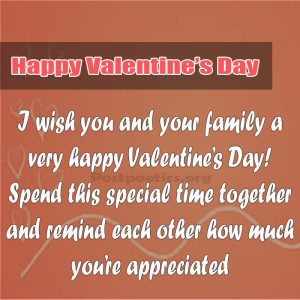 I wish you and your family a very happy Valentine's Day! Spend this special time together and remind each other how much you're appreciated.
More Happy Valentine's Day Quotes
"Where there is great love, there are always wishes." —Willa Cather

"Doubt thou the stars are fire, Doubt that the sun doth move. Doubt the truth to be a liar, But never doubt I love." —William Shakespeare

"If you have only one smile in you give it to the people you love." —Maya Angelou

"This fire that we call Loving is too strong for human minds. But just right for human souls." —Aberjhani

"Most people are slow to champion love because they fear the transformation it brings into their lives. And make no mistake about it: love does take over and transform the schemes and operations of our egos in a very mighty way." —Aberjhani

"This fire that we call Loving is too strong for human minds. But just right for human souls." — Aberjhani

"Each time you love, love as deeply as if it were forever." —Audre Lorde

"Love is when the desire to be desired takes you so badly that you feel you could die of it." —Henri de Toulouse-Lautrec

"I won't give up on us, even if the skies get rough." —Jason Mraz

"We love because he first loved us." — John

"I love you because the entire universe conspired to help me find you." — Paulo Coelho

"The beat of two hearts becomes one when intertwined in a passionate kiss." — Lisa Marbly-Water

A kiss is a lovely trick designed by nature to stop speech when words become superfluous." —Ingrid Bergman

"Love is being stupid together." —Paul Valery

"Love is a condition in which the happiness of another person is essential to your own." —Robert Heinlein

"Anyone can be passionate but it takes real lovers to be silly." —Rose Franken

"Love is our true destiny. We do not find the meaning of life by ourselves- alone we find it with another." —Thomas Merton
Valentine's Day Quotes For Him
"Your eyes are like a smoldering flame, your kiss is like a spark, and your embrace is like a blazing fire. Happy Valentine's Day to my red hot lover." —Anonymous

"In a world full of temporary things you are a perpetual feeling." —Sanober Khan

"Love is like the wind. You can't see it, but you can feel it." —Anonymous

"Before I met you, I had thought that true love existed in books and movies only. You're the most handsome, strongest and kindest man I've ever seen. I really want our love to be everlasting and bring us both much happiness" —Anonymous

"Your tight embrace brings me the sense of security. Your warm kisses give me so much pleasure that I feel like I'm in heaven. Every time I see you my heart starts beating faster and it's getting harder to breath. I know these symptoms: it's love, honey. I must confess that I really love you." —Anonymous

"I don't want our love to be like a flame, because it can burn us and it isn't eternal. I don't want our love to be like a flight, because there always comes a time to come down to earth. I just want our love to be genuine. Happy Valentine's day, darling." —Anonymous

"Without you I would never know how inspiring sunset and sunrise are. I would never know how beautiful I am. And ultimately I would never know what real love is. Thank you for filling my life with all these precious things. I love you, darling." —Anonymous

"You take my breath away. Always." —Anonymous

"Come live in my heart, and pay no rent." —Anonymous

"You have no idea how fast my heart beats when I see you." —Anonymous

"Being someone's first love may be great, but to be their last is beyond perfect." —Anonymous

"February 14th has never been sweeter. You are the most amazing valentine ever, and I feel so much love for you, my chest tears apart from this beautiful feeling. Happy Valentine's day, my darling." —Anonymous

"I love you. I am who I am because of you. You are every reason, every hope, and every dream I've ever had, and no matter what happens to us in the future, every day we are together is the greatest day of my life. I will always be yours." —Anonymous

"I kind of sort of maybe quite possibly like you a lot." —Anonymous

"Love isn't finding the perfect person. It's seeing an imperfect person perfectly." —Sam Keen

"Because, a girl like you is impossible to find." —Anonymous

"The way you make me feel is unexplainable. When I'm with you, I'm on a cloud nine. I want our love to last forever, and I know it will, because it's the purest thing in the world. I love you to the moon and back, honey." —Anonymous

"I love you not only for what you are but, for what I am when I'm with you." —Roy Croft

"Turns out I like you a lot more than I originally planned." —Anonymous

"I love you for all that you are, all that you have been and all that you are yet to be." —Anonymous

Funny Valentine's Day Quotes

"Gravitation is not responsible for people falling in love." —Albert Einstein

"Words cannot expresso how much you mean to me." —Anonymous

"If you were a transformer you'd be Optimus Fine." —Anonymous

"Love is a game that two can play and both win." —Eva Gabor

"On a scale of one to ten, I'd give you a nine — and I'm the one you need." —Anonymous

"If I could rearrange the alphabet, I'd put U and I together." —Anonymous

"If you were on paper, you'd be what they call fine print." —Anonymous

"Do you have a Band-Aid? Because I skinned my knee when I fell for you." —Anonymous

"I think you are suffering from a lack of Vitamin ME." —Anonymous

"I'm yours, no refunds." —Anonymous

"There is no one I'd rather lie in bed and look at my phone next to." —Anonymous

"You're the peanut butter to my jelly." —Anonymous

"I love being married. It's so great to find one special person you want to annoy for the rest of your life." —Rita Rudner

"Being a good husband is like being a stand-up comic. You need 10 years before you can call yourself a beginner."— Jerry Seinfeld

Sweet  Valentine's Day Quotes

"If you live to be a hundred, I want to live to be a hundred minus one day so I never have to live without you." — A.A. Milne

"I love you in the morning and in the afternoon. I love you in the evening and underneath the moon." —Anonymous

"Life is full of lots of things that make it all worthwhile, but none is better than your little smile." —Anonymous

"Know what I like about you? Everything! Happy Valentine's Day." —Anonymous

"You will forever be my always." —Anonymous

"Loving is not just looking at each other, it's looking in the same direction." — Antoine de Saint-Exupéry

"Once in a while, in the middle of an ordinary life love gives us a fairytale." —Anonymous

"Anyone can catch your eye, but it takes someone special to catch your heart." —Anonymous

"In true love the smallest distance is too great and the greatest distance can be bridged." —Hans Nouwens

"You're the jam!" —Anonymous

"I fell in love the way you fall asleep; slowly, and then all at once." —John Green

"You are the brightest star, and I'm in love with who you are." —White Lines & Red Lights

"Unless you love someone, nothing else makes sense." —E.E. Cummings

"You are what I never knew I always wanted." —Fools Rush in

"You never lose by loving. You always lose by holding back." — Barbara De Angelis

"For love, I'd do anything. For you, I'd do more." —Anonymous

Valentine's Day Quotes For Friends

"A friendship that like love is warm; A love like friendship, steady." —Thomas Moore

"You have been my friend through thick and thin. I cannot imagine life without you. I love you, my friend. Happy Valentine's day." —Anonymous

"One of the most beautiful qualities of true friendship is to understand and to be understood." —Lucius Annaeus Seneca

"A true friend knows your weaknesses but shows you your strengths; feels your fears but fortifies your faith; sees your anxieties but frees your spirit; recognizes your disabilities but emphasizes your possibilities." —William Arthur Ward

"As good friends go, you really shine. Let's be each other's Valentine!" —Anonymous

"The greatest gift of life is friendship, and I have received it." —Hubert H. Humphrey

"Life is incomplete without a dear friend and you are the one who completes me. Sending you warm wishes on the occasion of Valentine's Day my dear pal." —Anonymous

"Girlfriends come and go, but brothers are forever! Happy Valentine's day." —Anonymous

"Thanks for being my friend and my Valentine this year." —Anonymous

"Walking with a friend in the dark is better than walking alone in the light." —Helen Keller

"My best friend is the one who brings out the best in me." —Henry Ford

"Valentine's Day and every day, I'm grateful for you." —Anonymous

 "Through this beautiful text message, I send happy valentine day messages for my friends and family and wish you have a beautiful celebration of the day of love. Have a superb valentine's day." —Anonymous

"My friend, you deserve more beautiful love moments in this Valentine's Day and I wish you celebrate the day lovely. I wish you a happy valentine's day." —Anonymous

"You are my dear friend and I love you dearly with all my heart. I wish you a wonderful Valentine's Day celebration and you get cherished moments of love." —Anonymous

"Love is a friendship that has caught fire. It is quiet understanding, mutual confidence, sharing and forgiving. It's loyalty through good and bad times. It settles for less than perfection and makes allowances for human weakness." —Ann Landers

"A friend is someone who gives you total freedom to be yourself." —Jim Morrison

"The only way to have a friend is to be one." —Ralph Waldo Emerson

"Because of you, I laugh a little harder, cry a little less and smile a lot more. Happy Valentine's Day!" —Anonymous

"I have looked at you in millions of ways and I have loved you in each. Happy Valentine's Day." —Anonymous

"If there ever comes a day where we can't be together, keep me in your heart. I'll stay there forever." —Winnie The Pooh

"You are a friend to me, a friend who I would never ever want to lose. I love you more than anything else in this world. Happy Valentine's day." —Anonymous

"Friendship gives wings to the heart as if there is no distance that can set them apart." —Anonymous

Valentine's Day Quotes For You

"Why are you trying so hard to fit in when you were born to stand out?" —Anonymous

"To love yourself is to understand you don't need to be perfect to be good." —Anonymous

"This is love: to fly toward a secret sky, to cause a hundred veils to fall each moment. First to let go of life. Finally, to take a step without feet." — Rumi

 "Your relationship with yourself sets the tone for every other relationship you have." —Anonymous

"You yourself, as much as anybody in the universe, deserve your love and affection." —Buddha

"Until you value yourself, you won't value your time. Until you value your time, you will not do anything with it." —M. Scott Peck

"You are always new, the last of your kisses was ever the sweetest." — John Keats

 "Remember always that you not only have the right to be an individual, you have an obligation to be one." —Eleanor Roosevelt

"If only you could sense how important you are to the lives of those you meet; how important you can be to people you may never even dream of. There is something of yourself that you leave at every meeting with another person." —Fred Rogers

"When a woman becomes her own best friend life is easier." —Diane Von Furstenberg

"They invented hugs to let people know you love them without saying anything. " —Bil Keane

 "Dare to love yourself as if you were a rainbow with gold at both ends." —Aberjhani

"If you have the ability to love, love yourself first." —Charles Bukowski

"Be yourself. There is no one better." —Anonymous

"The most exciting, challenging and significant relationship of all is the one you have with yourself. And if you can find someone who loves the you you love, well, that's just fabulous." —Carrie Bradshaw

"To love oneself is the beginning of a life-long romance." —Oscar Wilde

"It is the passion that is in a kiss that gives to it its sweetness; it is the affection in a kiss that sanctifies it."  — Christian Nestell Bovee

 "The more you like yourself, the less you are like anyone else, which makes you unique." —Walt Disney

"We delight in the beauty of the butterfly, but rarely admit the changes it has gone through to achieve that beauty." —Maya Angelou

"The hours I spend with you I look upon as sort of a perfumed garden, a dim twilight, and a fountain singing to it. You and you alone make me feel that I am alive. Other men it is said have seen angels, but I have seen thee and thou art enough."  — George Edward Moore
Read More: Love Living
Valentine's Day Sayings
For your  Sweetie, Child, Family and Friends
"Especially today, I hope you feel how much I love you and how grateful I am to have you in my life."

"You take my breath away. Always."

"You have no idea how sexy you are."

"I couldn't ask for a more wonderful [husband] than you."

"My heart is all yours."

"Thanks for being you and for being mine."

"Wishing you happiness and love in the coming year!"

"I miss and love you lots, and along with a happy Valentine's Day, I wish you a wonderful year (with a few visits from me!)"

"Wishing you well, Valentine. Hope you have a fantastic day, and can't wait to get together to celebrate"

"Wishing you a Happy Valentine's Day spent with all the ones you love—especially me"

"Hope your day is filled with fun and your mouth is filled with chocolate!"

"Hope your day is just as awesome as you are!"

"What a wonderful day full of sweets, flowers, and love. Wishing you all the best this Valentine's Day."

"Such a wonderful day with so much love in the air. Wishing you plenty of love and celebration with your family"

"I wish you a Happy Valentine's Day! The chocolates are coming later! (If I don't eat them all first)."

"Valentine's day is a day meant to be spent with those you love, so my wish for you is to come visit me"

"I wish you the most wonderful Valentine's Day—I know mine is better thanks to you"

"Hope your day brings just what you want it to."

"Thanks for being the loyal and caring [friend] you are. Love you!"

"Here's to a Valentine's Day filled with good wine, good food and especially good friends like you."

"Happy Valentine's to one of my favorite people. Ever."

"Valentine's Day and every day, I'm grateful for you."

"I don't care what anyone says about you. I'm still sending you this valentine and claiming you as family."

"Valentine's Day is all about love, and [Mom], there is no one better than you at spreading God's love wherever you go."

"Eating a little chocolate cake in your honor, [Dad]. It's not as good as yours, but it still brings back good memories of Valentine's Days growing up!"

"Hope he spoils you. You deserve it."

"Someday, our princes will come."

"Wish we could be together swapping chocolates and laughing over candy hearts like we used to."

"I'll raise an awesome Valentine's cocktail to you."

"I hope you feel loved and appreciated on Valentine's Day. Because you are."
"I wish you and all your loved ones a wonderful Valentine's Day spent together. Hoping it's full of chocolates, flowers, and lots of love"